Africa
,
Madagascar
— By
Kelly
on January 13, 2014 7:45 AM
I didn't realize at the time, with a single phone call, our fated path on the island would begin to unfold.
A voice laced in French confirmed, "Yes madam we have one room available, I will send a driver to fetch you."
Having landed in Madagascar without a plan or a place to stay, I had heeded the advice of a local and called Hotel Sakamanga.
As we waited for our ride, I felt giddy with anticipation of the unknown. The island had beckoned me for years, and while I knew very little about the mysterious land, I knew adventure was out there waiting.
Inside the airport's only restaurant, Tom and I watched Malagasy children press their faces and hands into the wall of windows, squealing in delight as planes soaring into the air.
Just as we were getting up the nerve to brave the sea of desperate taxi drivers outside, our driver appeared out of nowhere, saving us the trouble.
"Hello! You must be Kelly!" said the Malagasy man with a big smile and bright eyes. He shook my hand energetically.
"I am Nolavy; I have come to take you to your hotel."
Confused at first, I wondered how he knew who I was, but a glance around confirmed we were the only non-locals in sight.
We climbed into a white minivan unaware the vehicle would not only transport us to our hotel but to many destined adventures to come.
As we drove the 20km into town, Nolavy inquired about our plans, seemingly un-phased that we literally had none. We knew we wanted to kitesurf in the north, visit national parks, see cool creatures, find adventure and go where the locals recommended.
He spoke of dancing lemurs, ancient baobab trees, national parks, rainforests, pristine beaches, giant tortoises, diving, whale watching, canoeing, hiking; the list went on and on.
We wanted to do and see it all, but with only a month to explore, limited funds, and the preference of slow travel, we knew we would need to stick to a few regions of the massive island. We could and would return another time.
The more he spoke, I began to realize Nolavy was not just a hotel driver; he was a hustling entrepreneur who juggles three cell phones and a hard-working family man. He started his own business offering custom explorations for tourists; I found him quite clever to have intercepted us upon arrival. His work took him away from his wife and daughters for long periods of time, a sad yet unavoidable reality in a country where jobs are scarce and poverty is rampant.
He seemed eager for business, explaining tourism had dropped significantly with the instability of the government. We had known we would have to hire a driver to get around Mada as the infrastructure is inadequate and flights are expensive; however, we had given no thought or worry as to how we might procure one. It had seemed as though we had found our driver without effort, my gut told me we could trust him. I smiled feeling blessed that so often in my life, things have just worked out so well organically, no planning needed.
I gazed out the window as we drove through the littered streets of Antananarivo (aka Tana). We passed blocks lined with prostitutes and cardboard shacks. The people outside looked to be on edge as the town became engulfed with a dark aura with the setting sun.
I had heard this was a dangerous place, so much so that one shouldn't go out at night on foot. Nolavy told us the same, explaining he had moved his family outside of Tana for safety.
I felt a cold chill as I stepped out of the van in front of the hotel. At 1200m above sea level, the central highlands are the coldest region of the island. The uneasy feelings elicited from the streets melted away in the warmth of the brightly lit hotel lobby, only to be replaced by a sense of confusion. How odd it would feel each time I crossed the hearth into a land of fine wines, fresh linens and many French delicacies. The disparity of which, left me feeling unsettled and guilty.
Later in the evening we left our oasis walking briskly with Nolavy two doors down to a dimly lit pub. Over beers and a well-worn map, we negotiated and drafted a contract for a loose itinerary for our first week on the island. We decided to head west.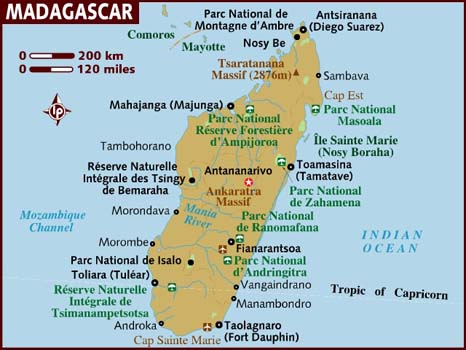 In an effort to save money we gave Nolavy permission to work his magic and find more travelers to share in the cost of transport. Within a day he had secured four other travelers who agreed to our proposed route. Judy, a Chinese woman who worked in Kenya; Sandy, a lawyer from Los Angeles and Aurelien & Catherine, honeymooners from Belgium. While we were all very different, we were also very similar. None of us had come to the island with a plan and we were all adventurers. These were my kind of travelers, and I knew we were all destined to be on this wild path together.
We all piled into the white minivan and headed south, the city seemed less eerie in the light of day and the locals seemingly more friendly and less desperate the further we got outside of town.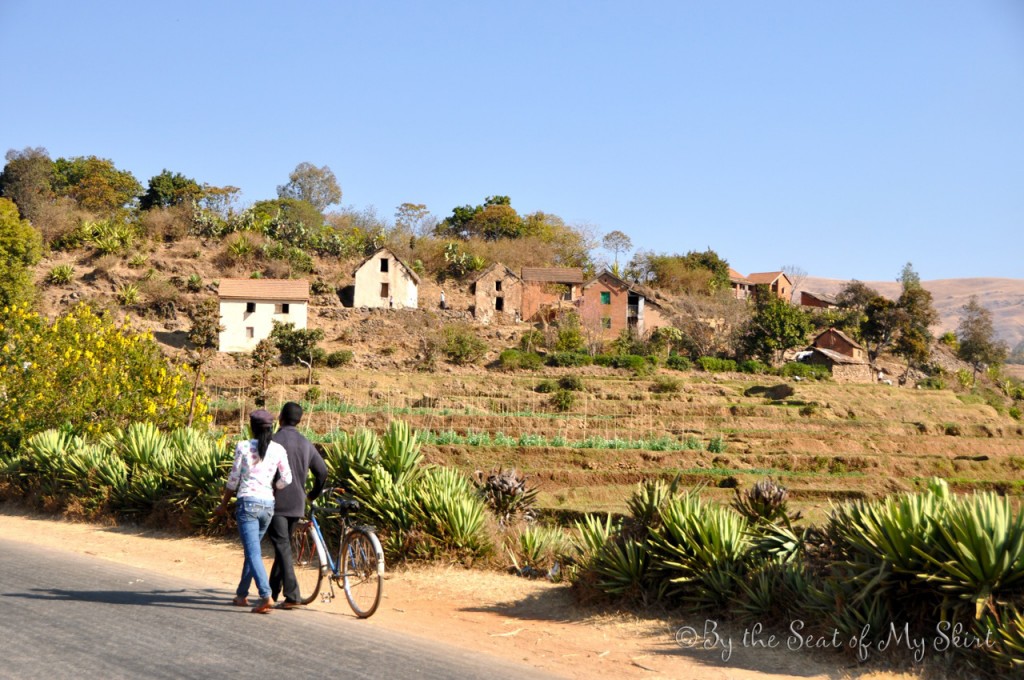 From the front seat Sandy turned around and with a big grin said, "I guess I ought to ask … where are we going??"
I laughed aloud loving his spontaneity, he had agreed to join our adventure without knowing much more than we would be exploring the west for about a week. I felt immediately at ease with Sandy, his essence was familiar, a quintessential Californian, laid back and happy. Well traveled with an optimistic and kind-hearted outlook on life and the world, he made for a very pleasant travel companion.
"This place is totally flipped out!" Sandy said several times a day, and he was right; there is no place in the world like Madagascar.
The countless rice fields sprouted out of the earth, reminding me of Southeast Asia. Nolavy explained that the country had suffered an invasion of giant lotus this year, which had killed a huge portion of the crop, yet the government had yet to do anything to help the people. We were stunned to see at that very moment a giant swarm of lotus invading a small village to the right of the road as we drove on by.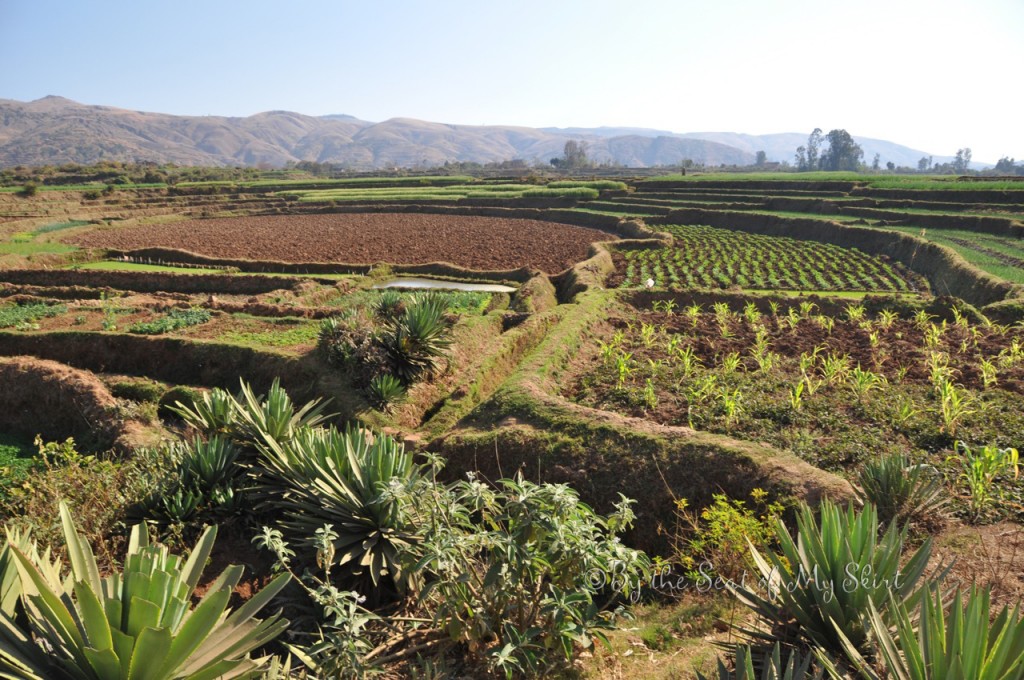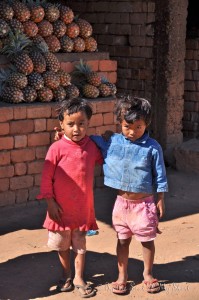 Nolavy stopped at a roadside stand and bought ten pineapples which we squashed into an already full van. He had packed the car with all the necessary food supplies and equipment we would need for the week, all we had to buy was water.
In the back corner of the van I was an odd sight, I wondered what everyone thought about the girl wearing a make-shift neck brace I had constructed out of an inflatable travel pillow. I felt the need to explain to the others that I had suffered whiplash from a kitesurfing crash in Zanzibar the previous week. Despite being in alot of pain with a constant headache, I was determined not to let it spoil my adventure, but with every agonizing bump in the road I began to question the brilliance of my decision to sign up for this adventure. But when in Madagascar … I continued to tell myself.
We stopped for lunch in Antsirabe, the town of rickshaws.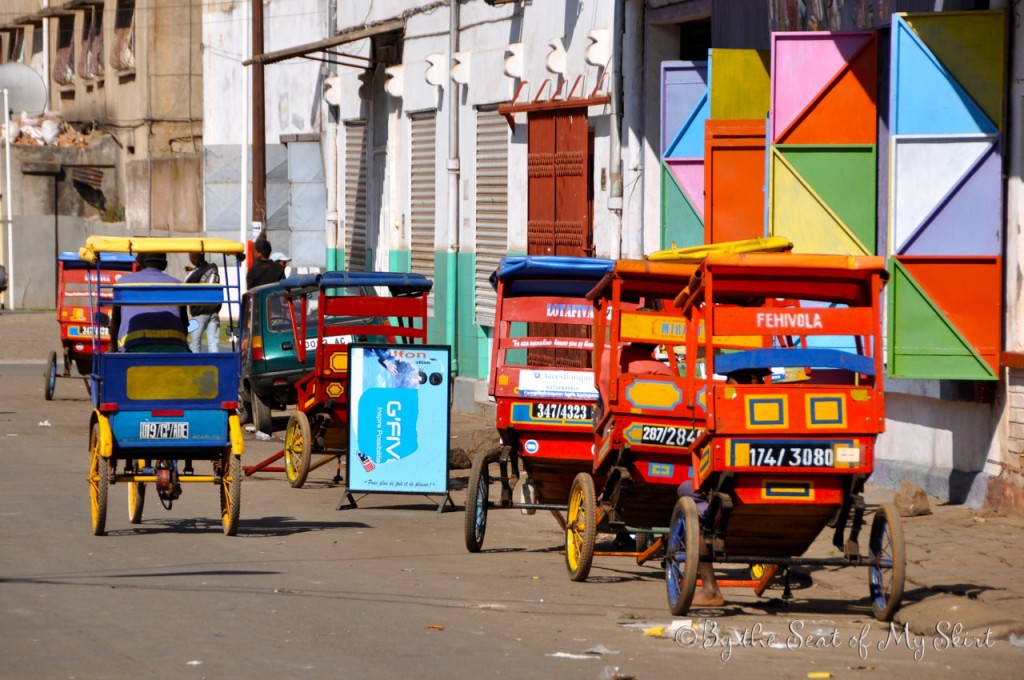 We would drive until dark and spend the night in the small town of Miandrivazo.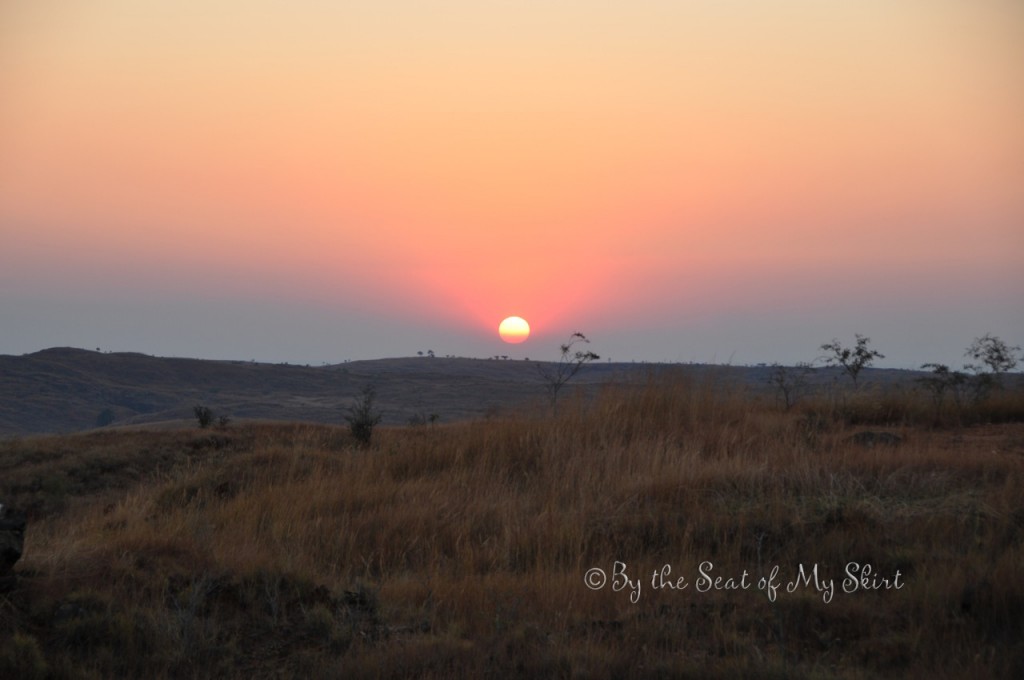 In the morning we were dropped off by the Tsiribihina River, where we were greeted by many curious children and a man selling ice cream.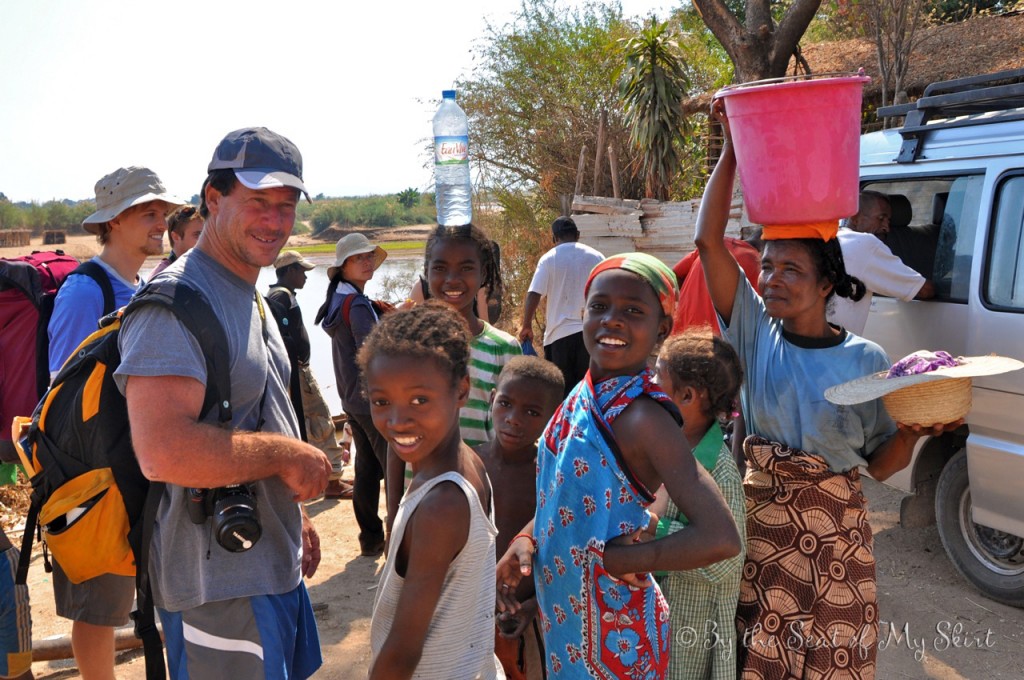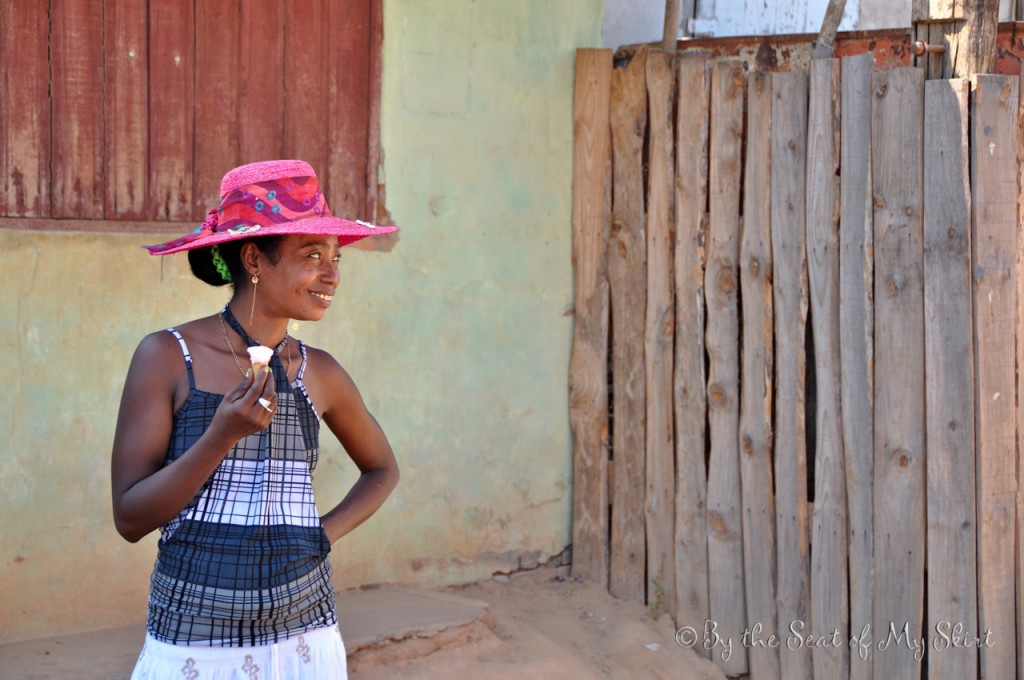 I had never heard of the Tsiribihina River before Nolavy had suggested that instead of driving  the entire way to the west coast, we might prefer canoeing 90 km of the distance down the river, which he estimated would take us about three days. In doing so we could visit villages that would otherwise be inaccessible by car and see cool creatures in the wild. I was sold on adventure.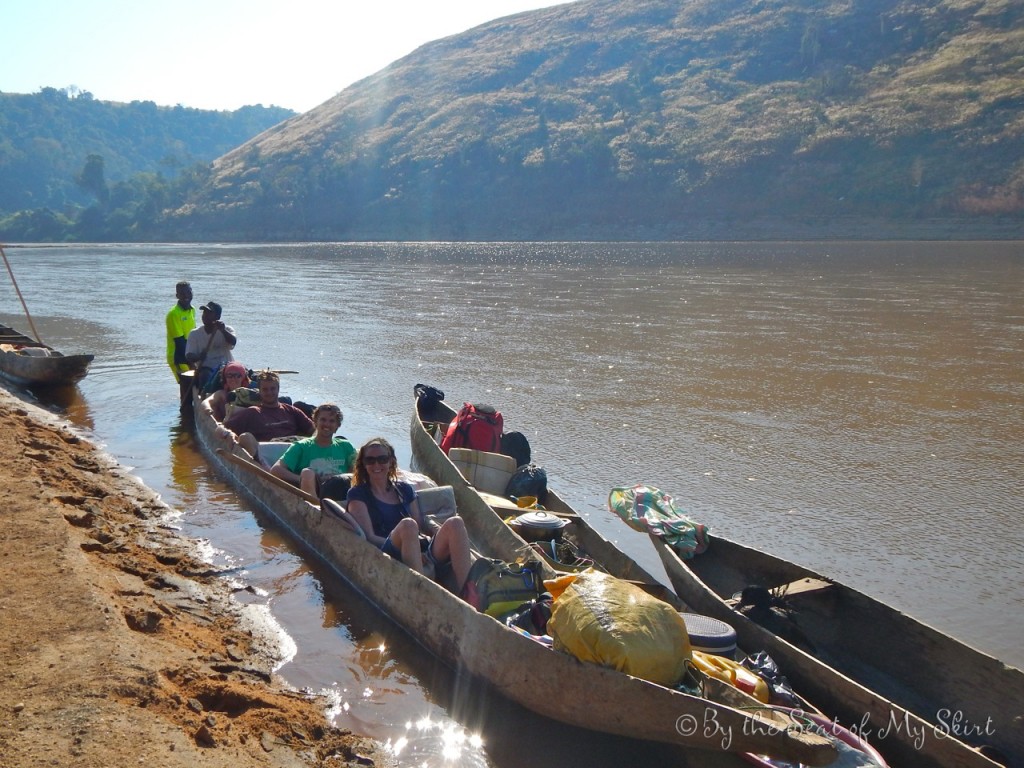 We climbed into one of the three long and skinny dugout canoes that was resting on the riverbank. Our backpacks were poised upright to lean on for support and we sat upon mattress pads that we would then sleep on each night.  Also inside our canoe was water, umbrellas (which would prove necessary for protection from the blazing sun), and two ducks soon to meet their unfortunate demise. Standing on the back was a hired local who did most of the paddling.
Tom and I had the unfortunate luck of having a canoe in which a previous hole had been patched with metal. Our boat tilted drastically to the left causing me much neck pain as I constantly strained to sit upright. As I watched the side of the canoe sink dangerously close to the edge of the water I was convinced it was just a matter of time until we went overboard. Thankfully Nolavy kindly switched canoes with us the following day.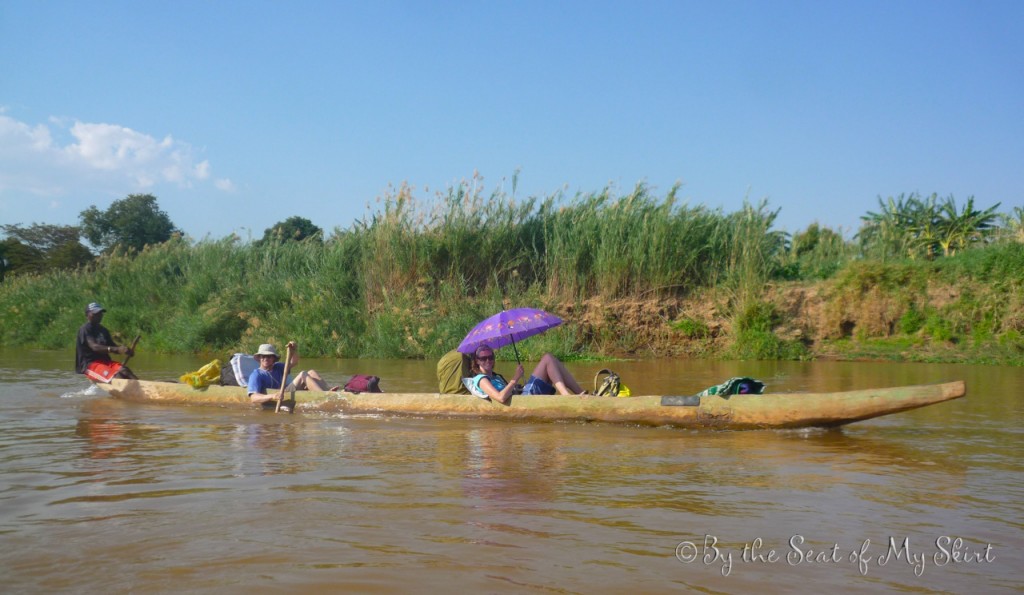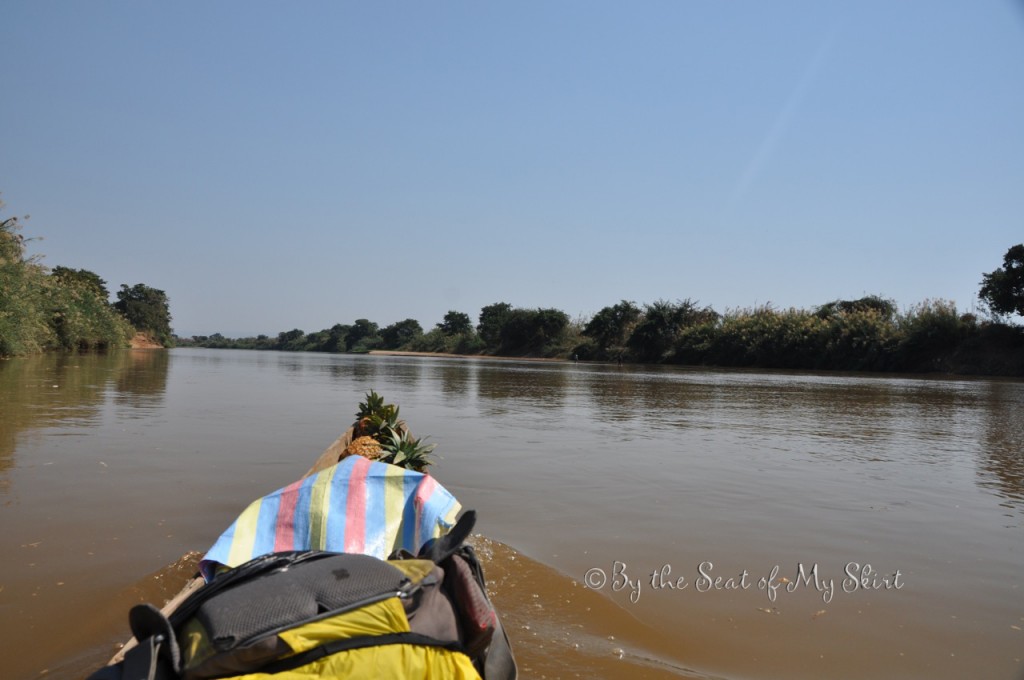 There were many local onlookers as we drifted away from the village. Most were going about their daily chores of washing clothes, bathing or playing in the river.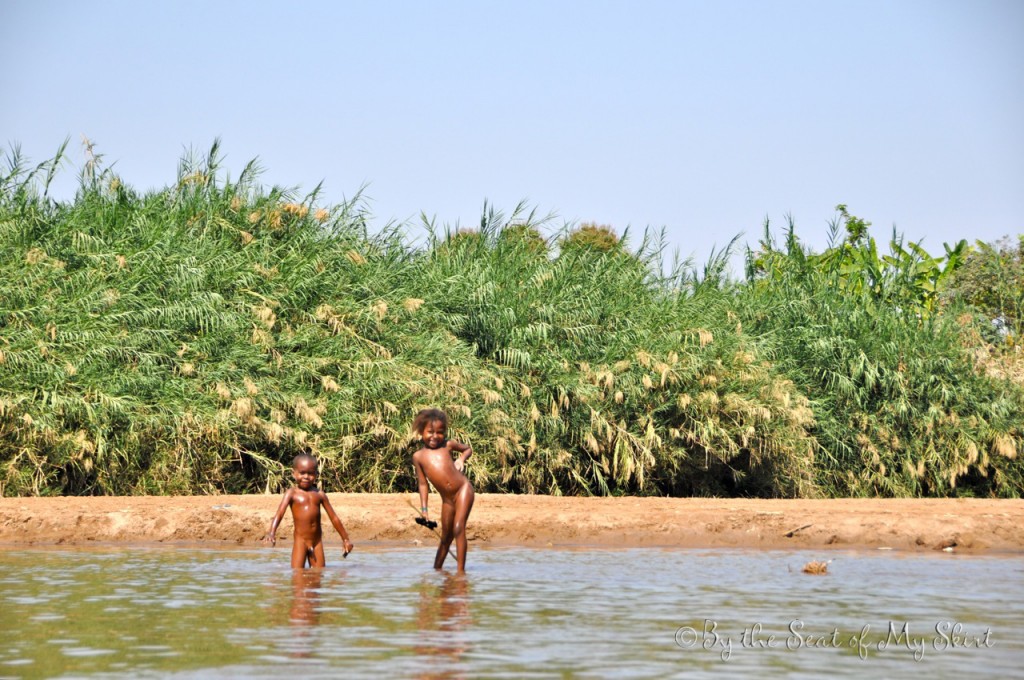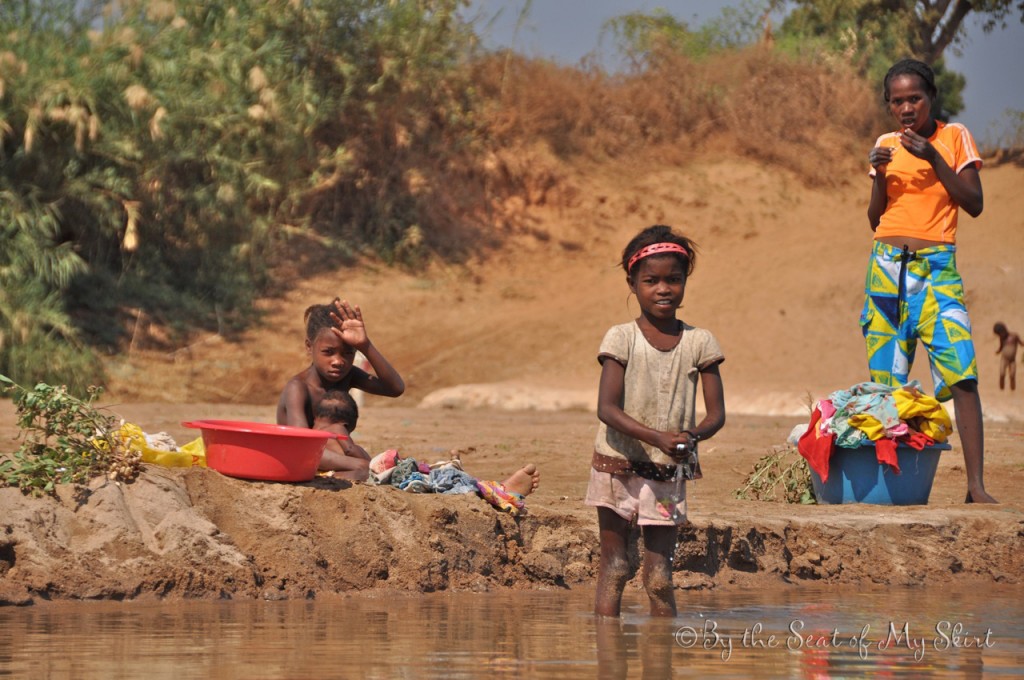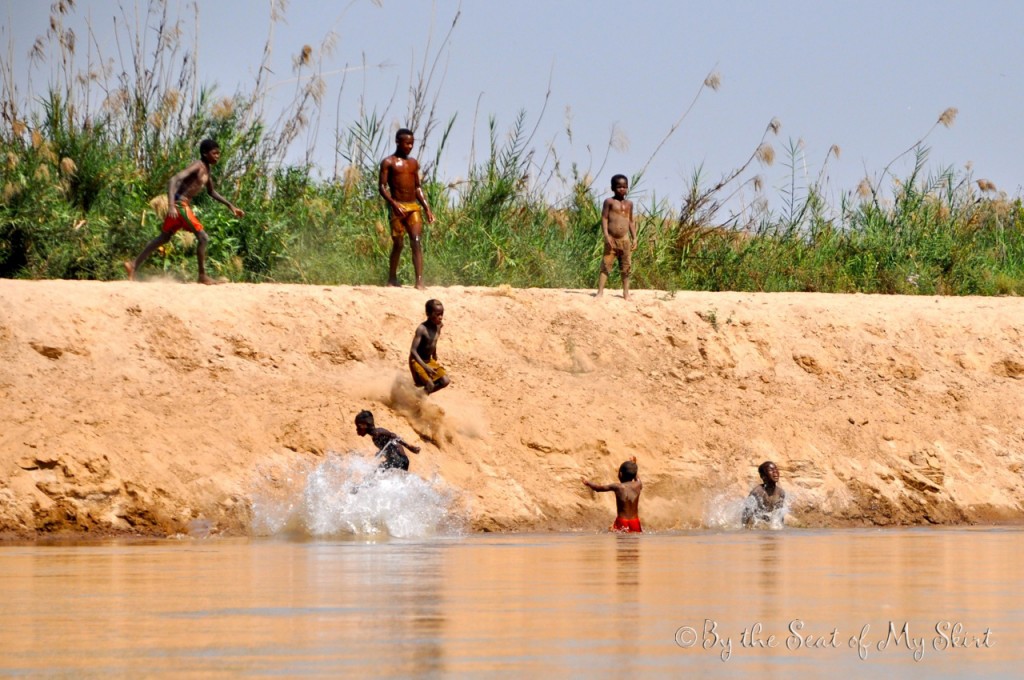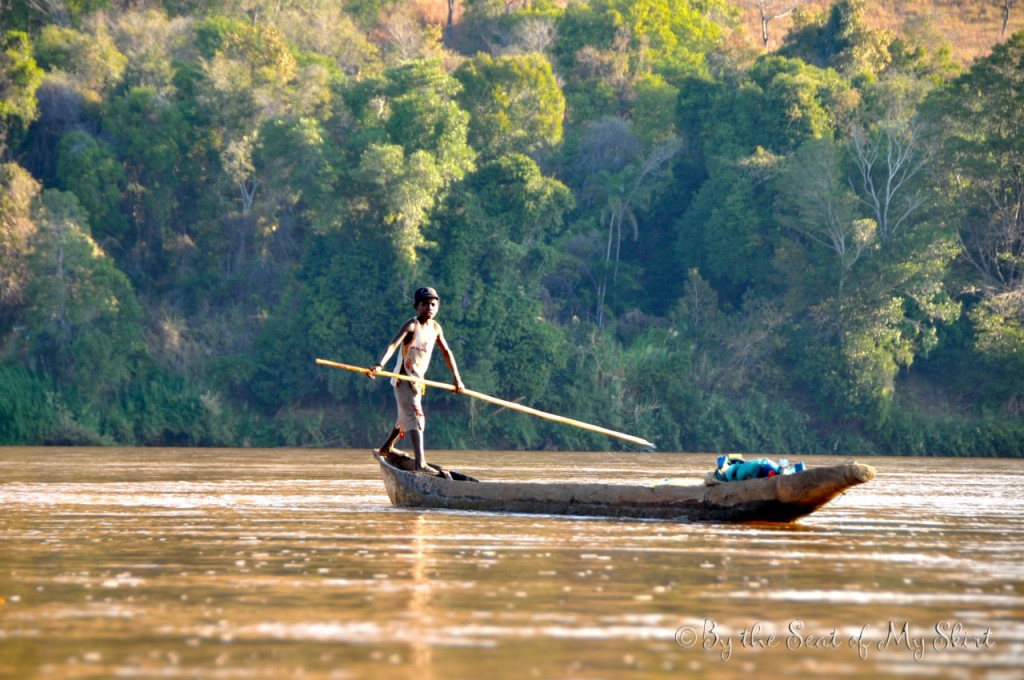 Everyone we passed had smiles on their face, everyone excitedly waved hello and goodbye.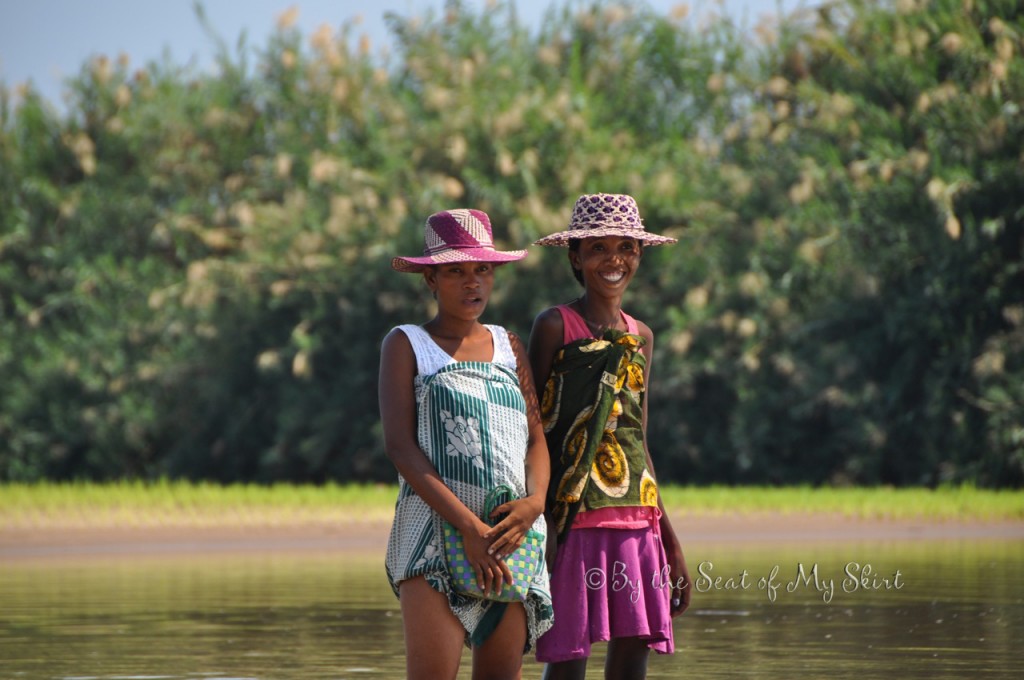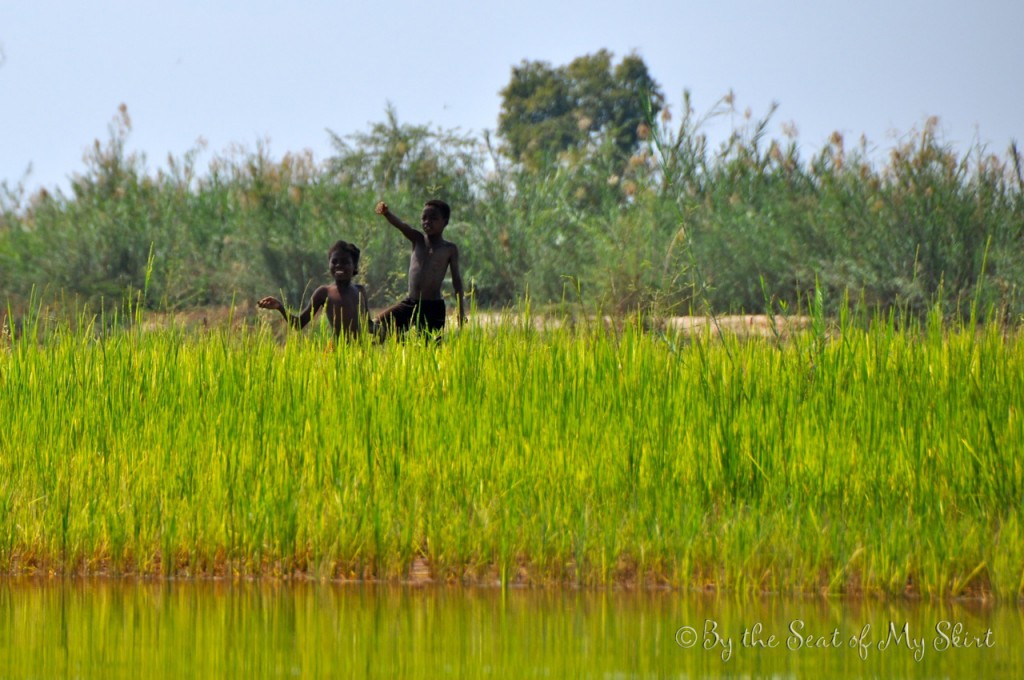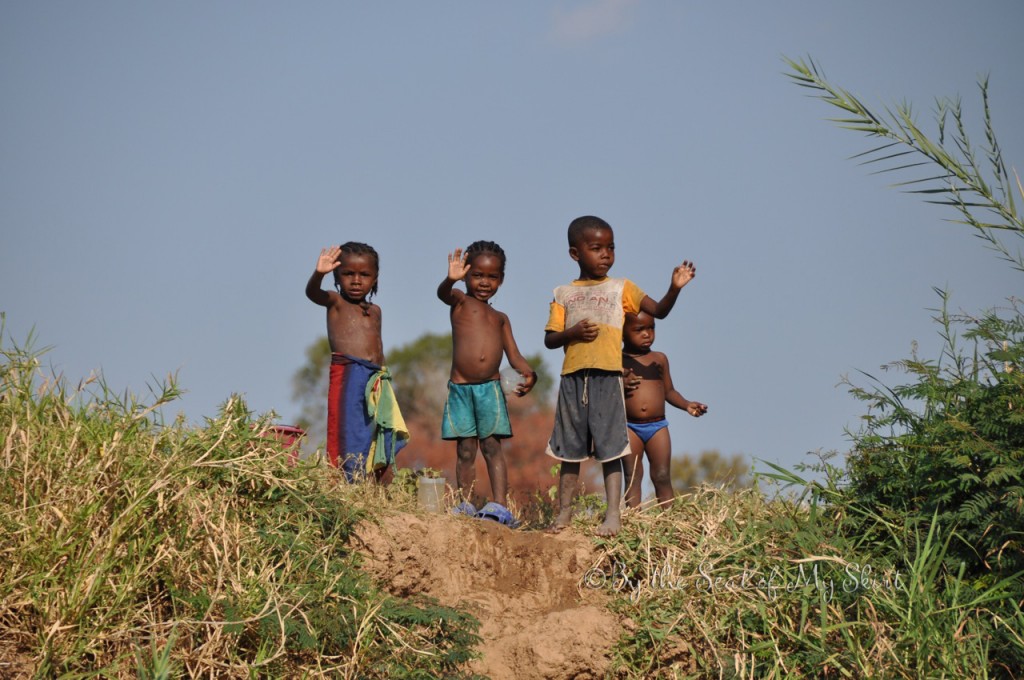 Nolavy pointed with his knuckle toward the bush. He had taught us that per local custom one must never point with your finger as this is tabo. I was always amazed when Nolavy spotted a creature as I would have never seen them on my own, especially the chameleon who are professions in camouflage.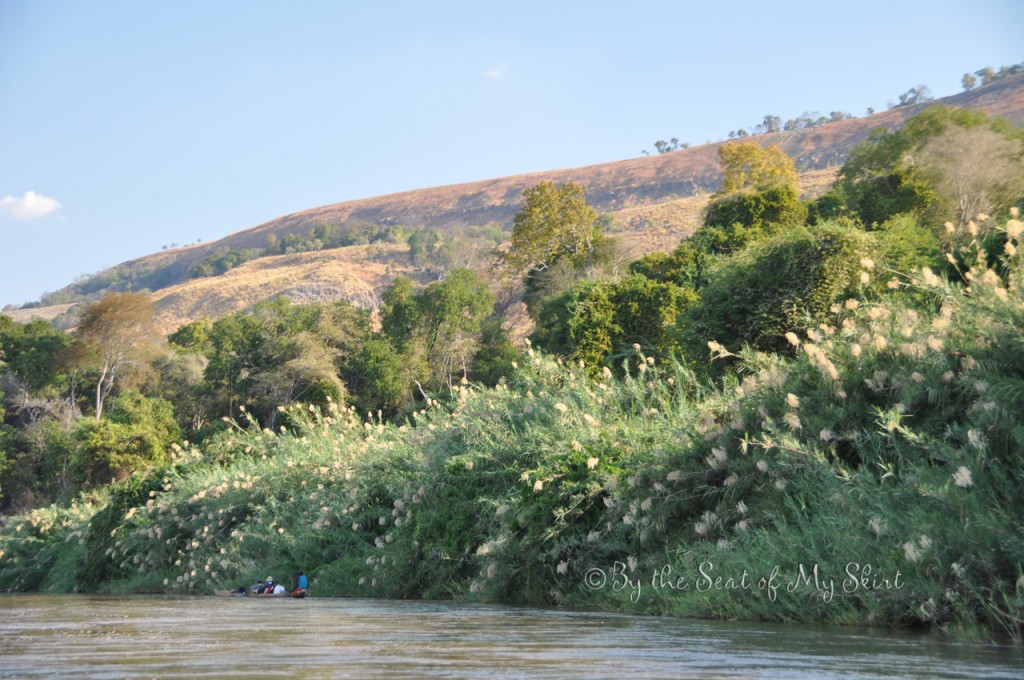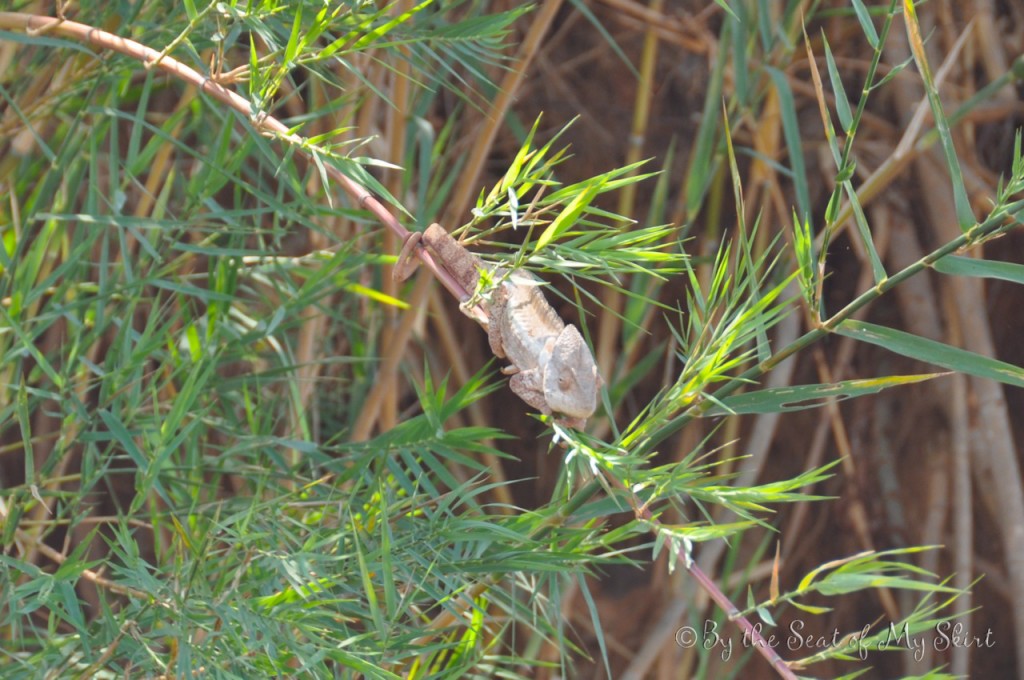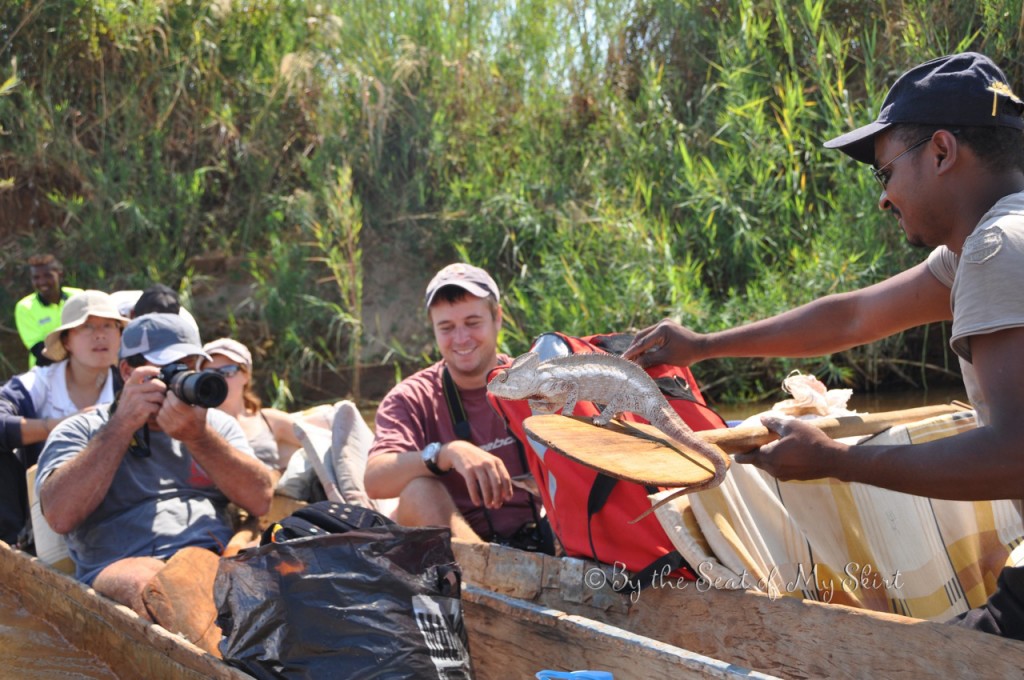 I was hoping to see the chameleon turn purple while resting on my umbrella inside my canoe; however, he didn't ride with me long enough to change his color.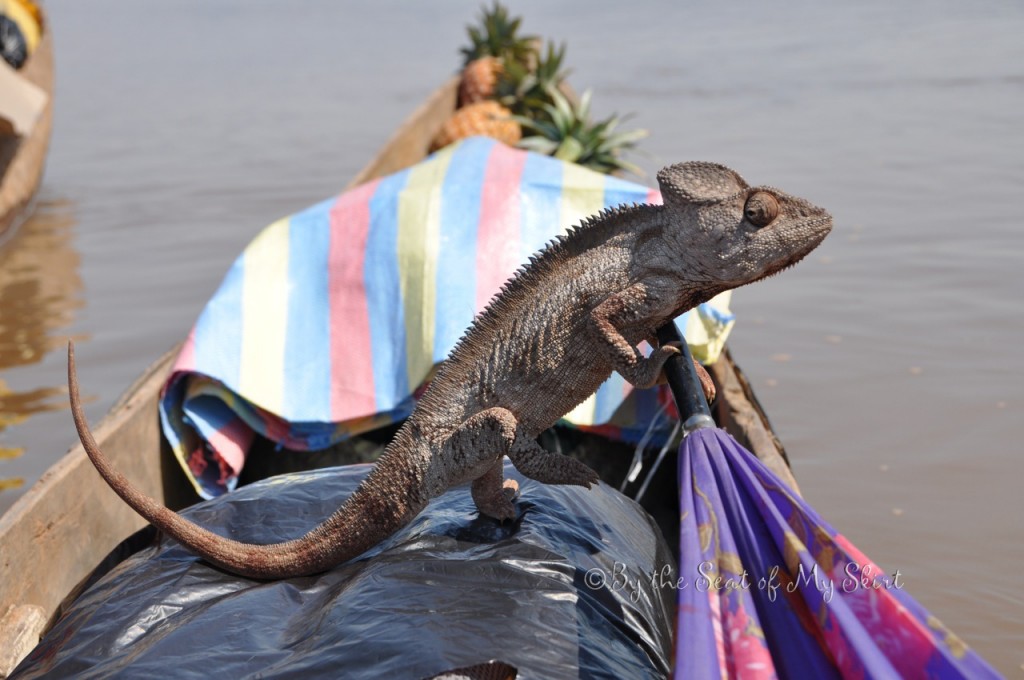 I watched in awe as Nolavy chopped vegetables inside his canoe in preparation for our lunch, while in motion. He began cooking our lunch in a pot inside the canoe as we moved down the river.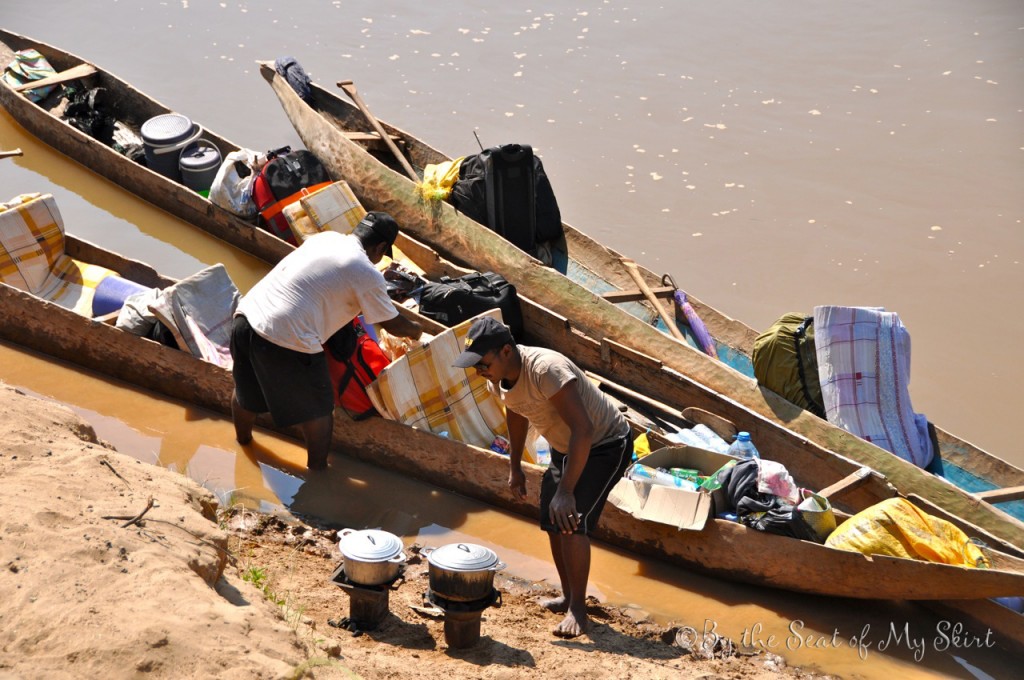 While our lunch continued to simmer on the riverbank, we rested under a big tree near a village shrouded in dry corn fields. Children peered through the corn stalk at us, eventually emerging to sit beside us.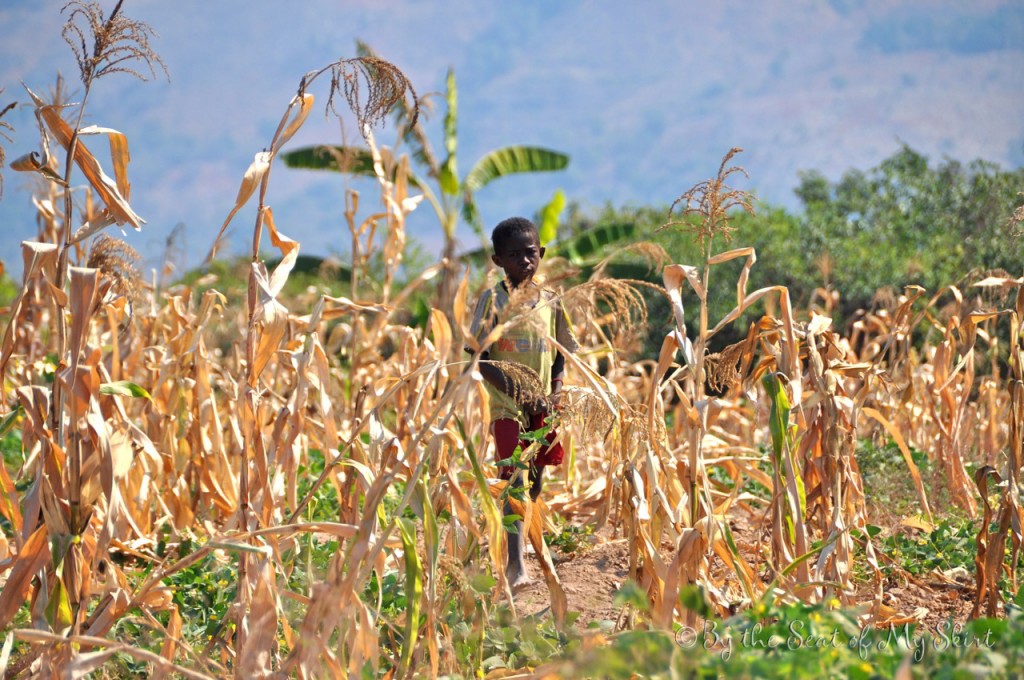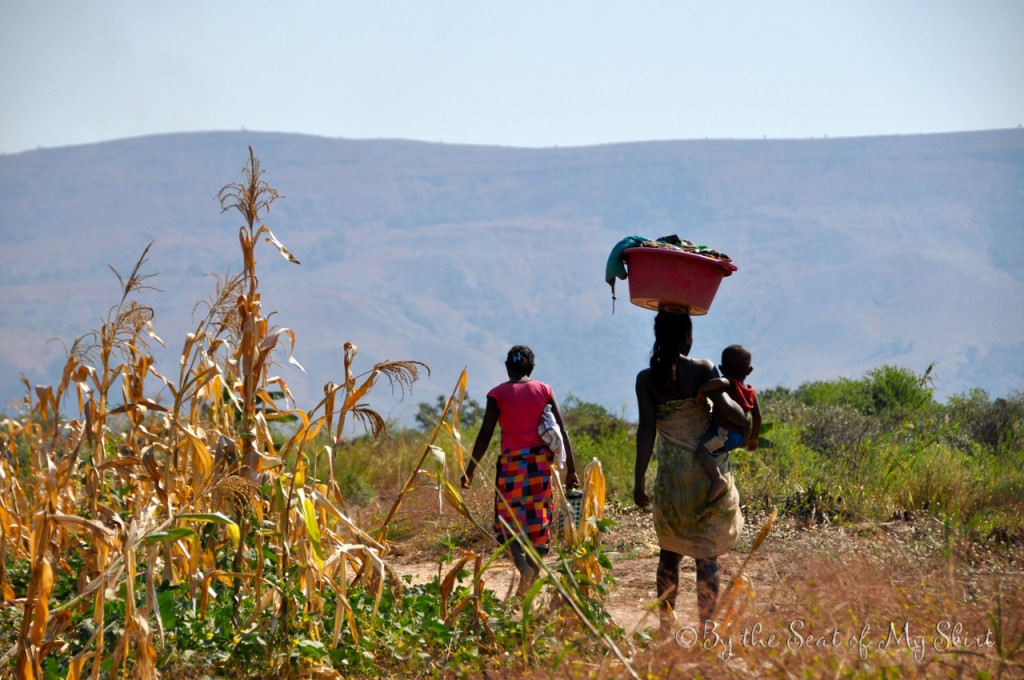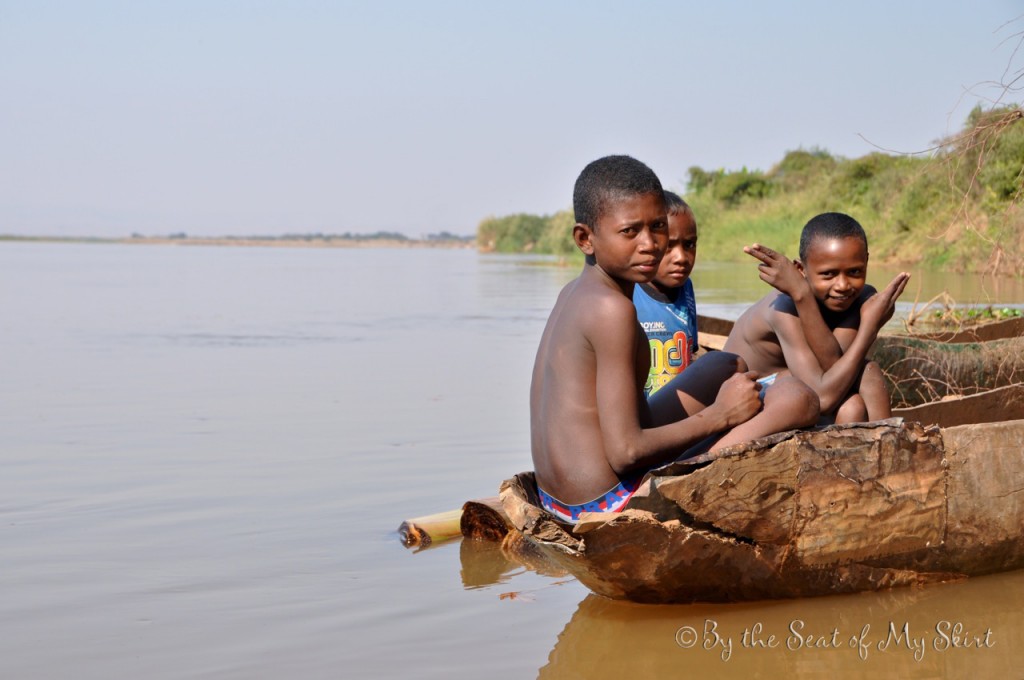 We paddled through the hot afternoon all feeling quite exhausted from the heat.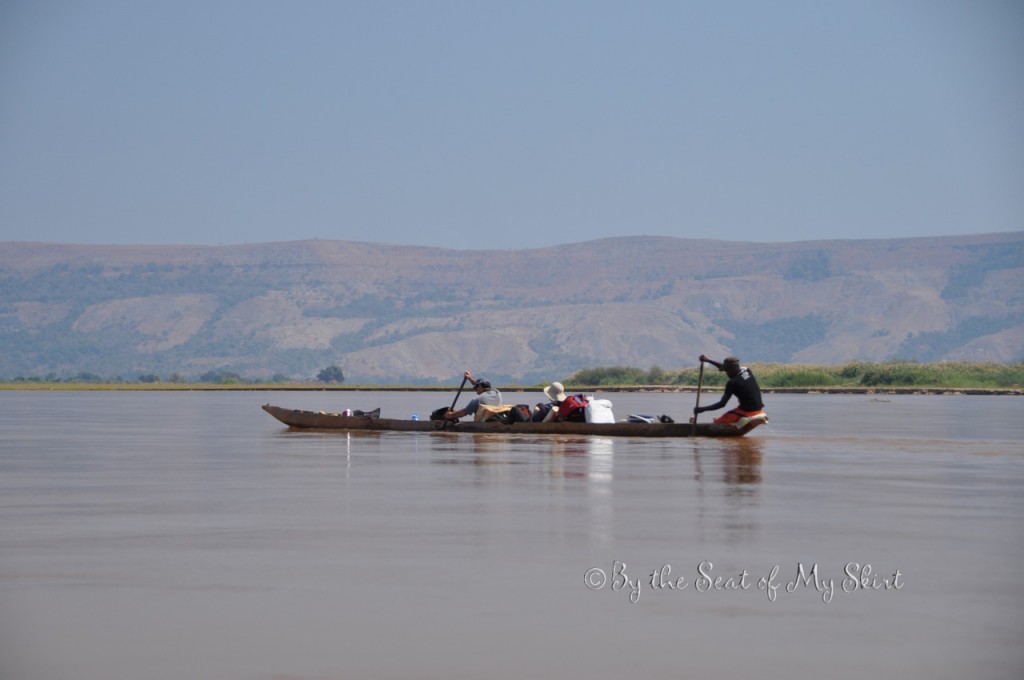 When the sun began to set we parked our canoes on the riverbank and set up camp in the sand. The Belgians had brought their own tent with them from home. Unlike most honeymooners who would opt for luxury accommodation on such a trip, these guys were adventurers and were happy to spend their first nights of marriage snuggled inside a tent together. I was reminded that what really matters is the love you share not where you rest your head each night. I found this couple to be very sweet and inspiring.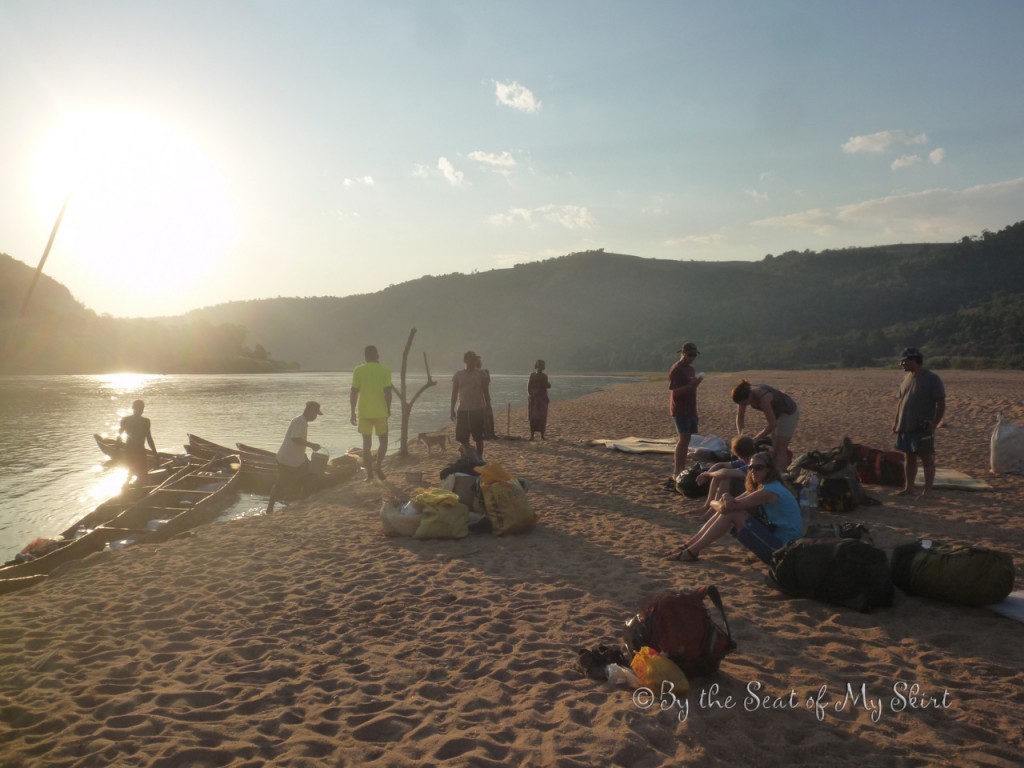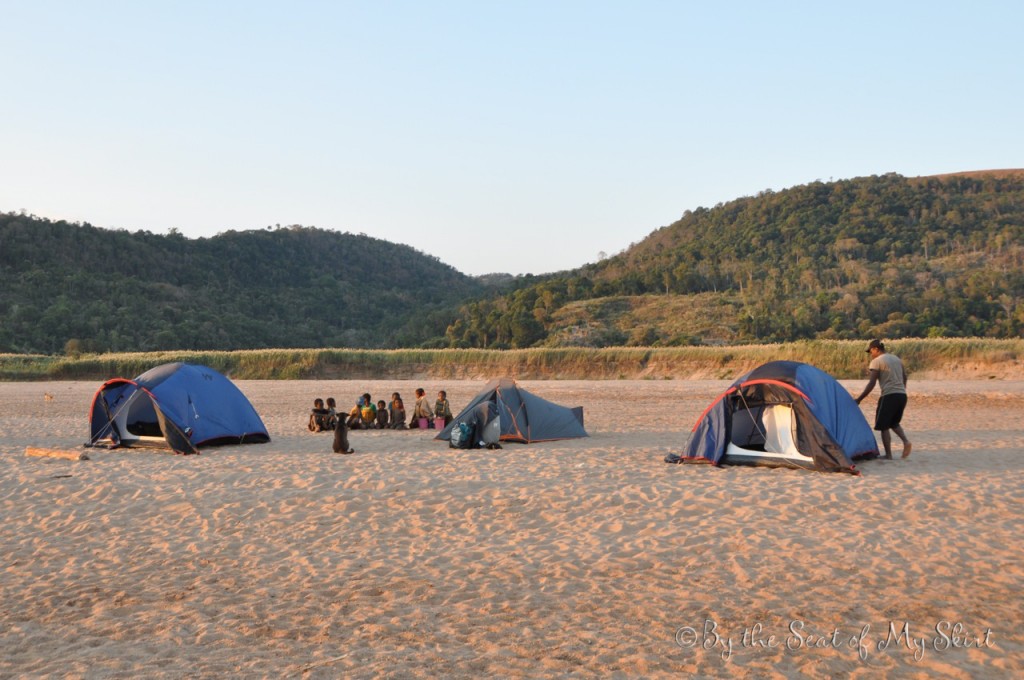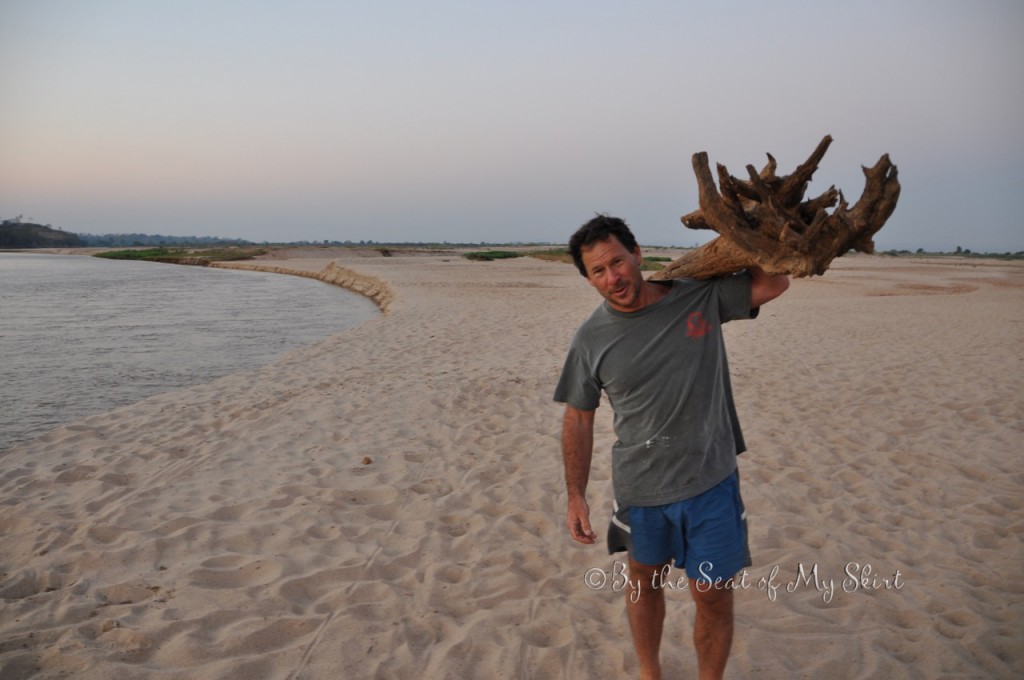 Families holding buckets and babies walked together to the river for bath time.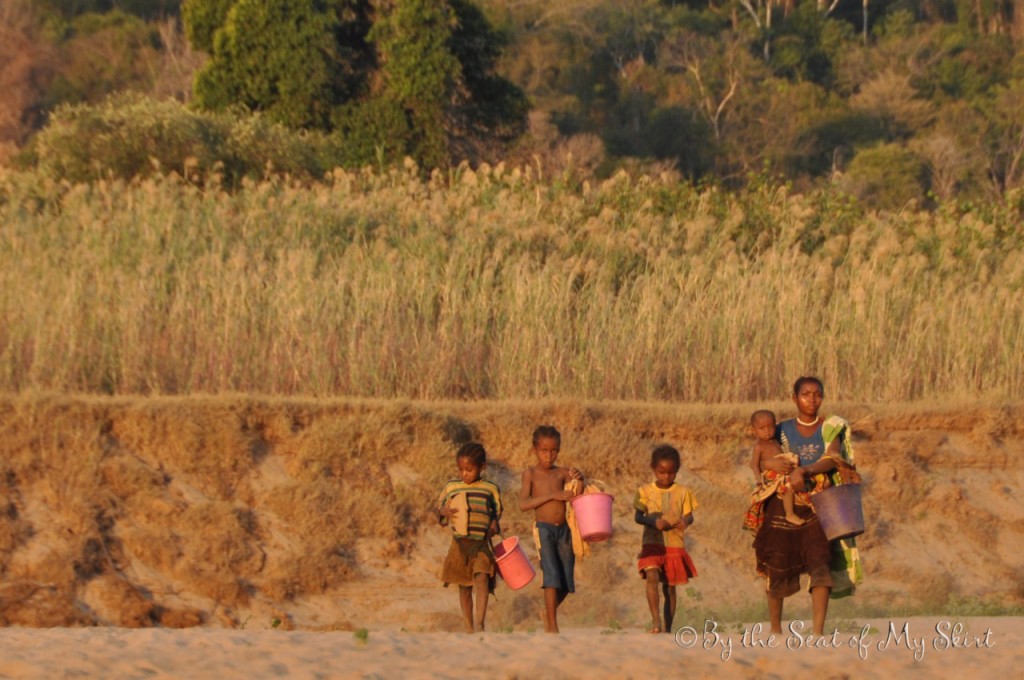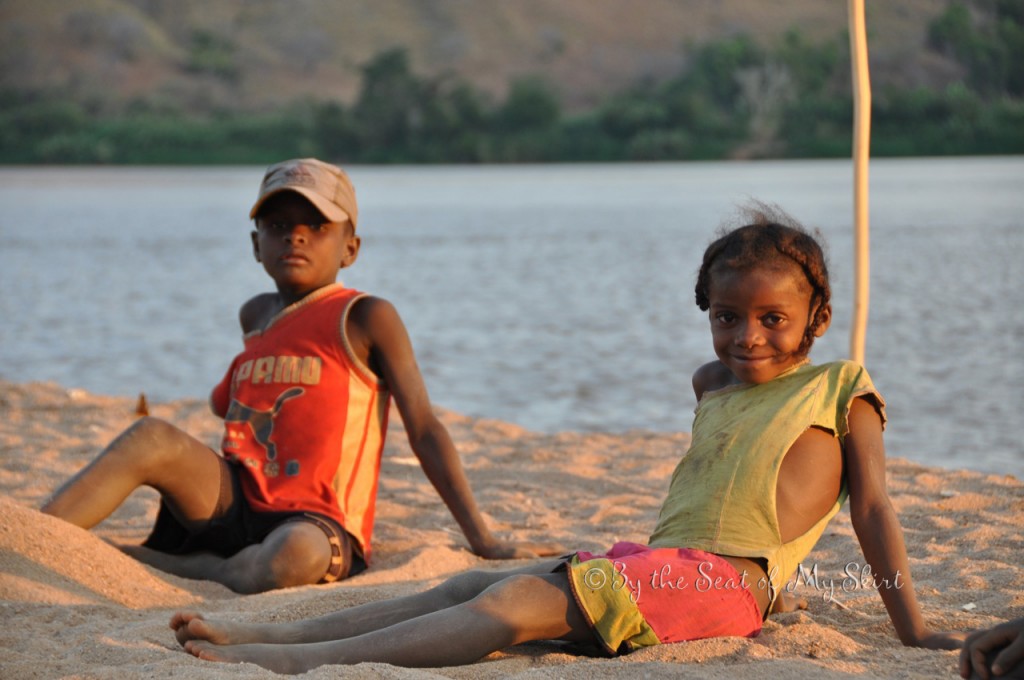 Nolavy prepared us a cocktail with Malagasy run which I called pineapple sangria which we happily enjoyed while he prepared our delicious dinner. Nolavy is an amazing cook!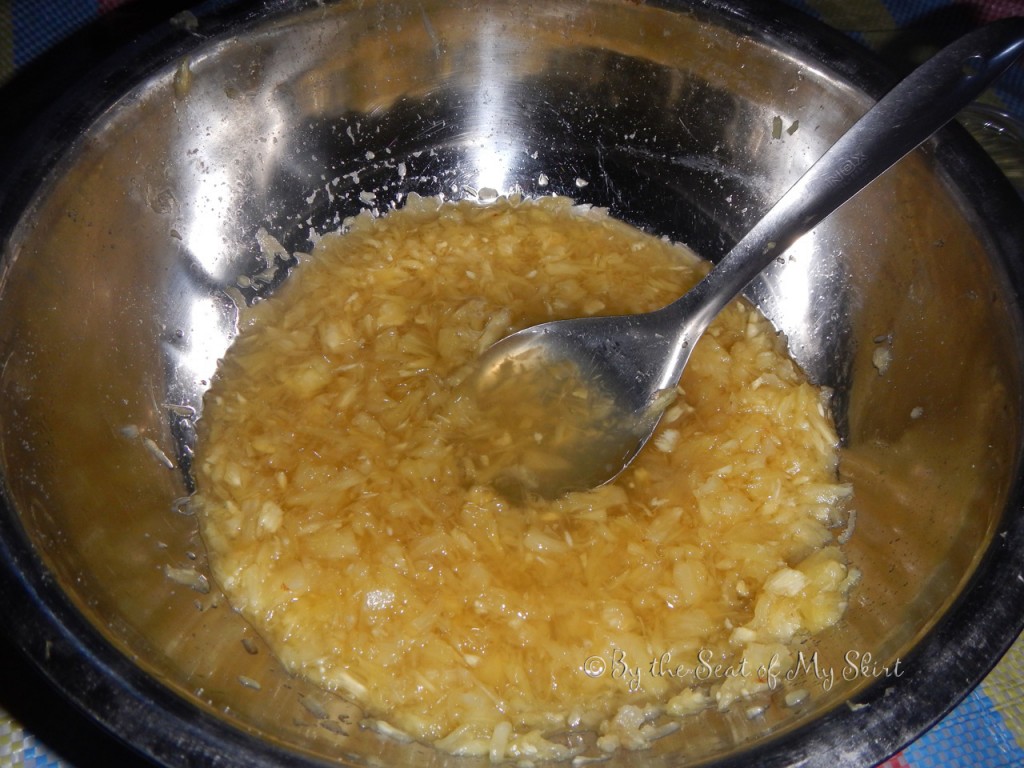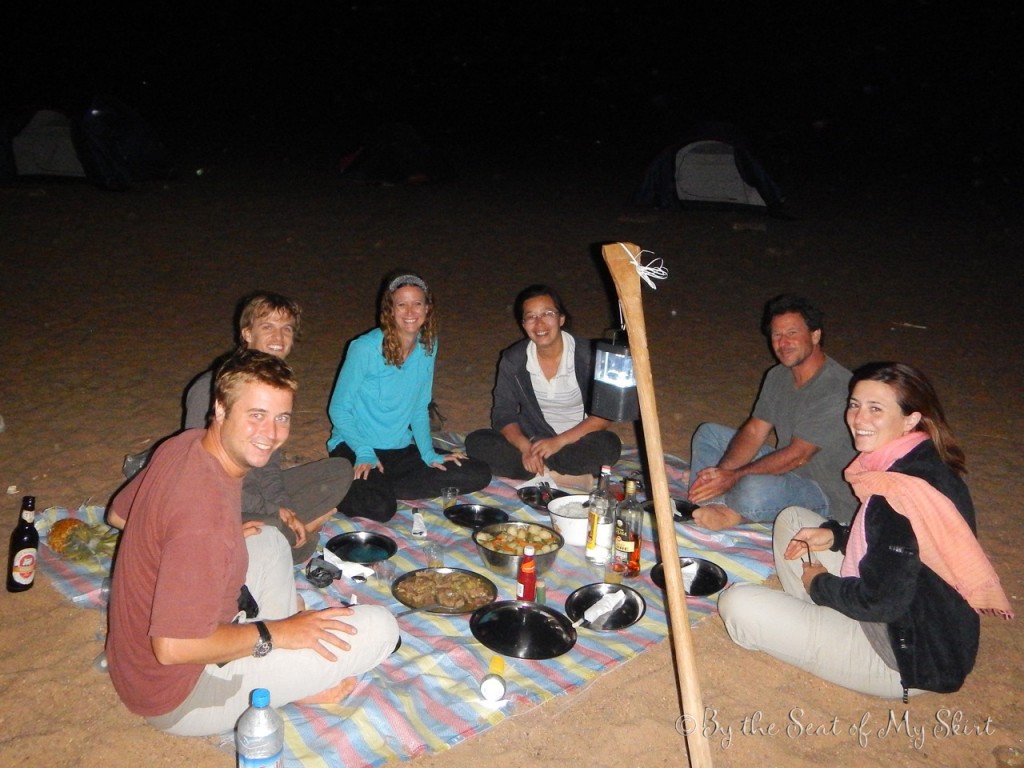 The following day was long and hot on the river. We saw lemurs, birds, zebu and a crocodile.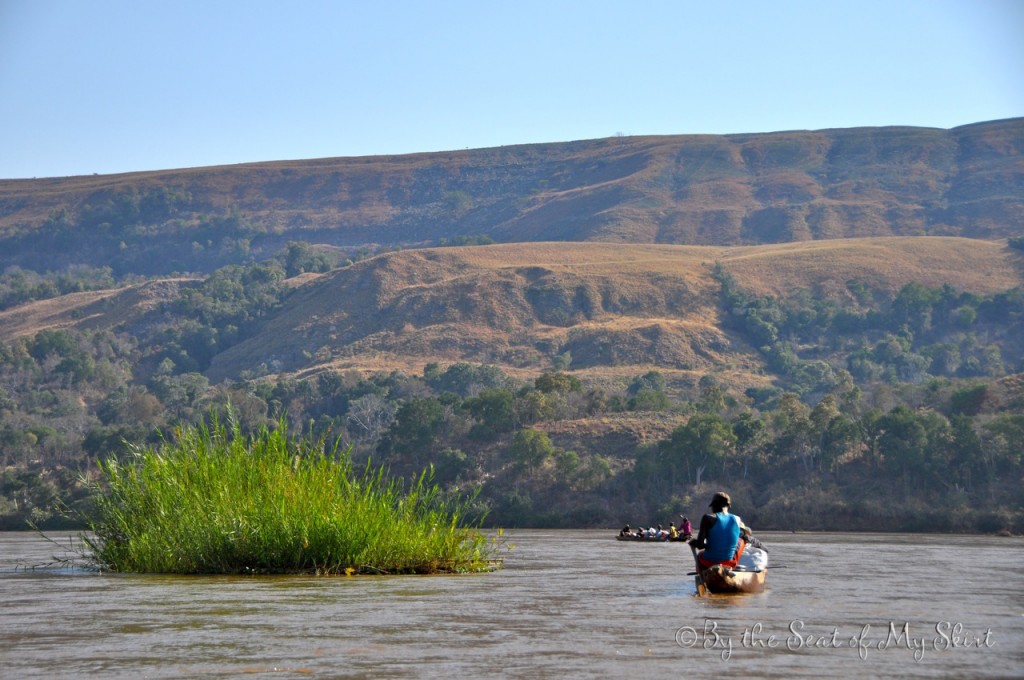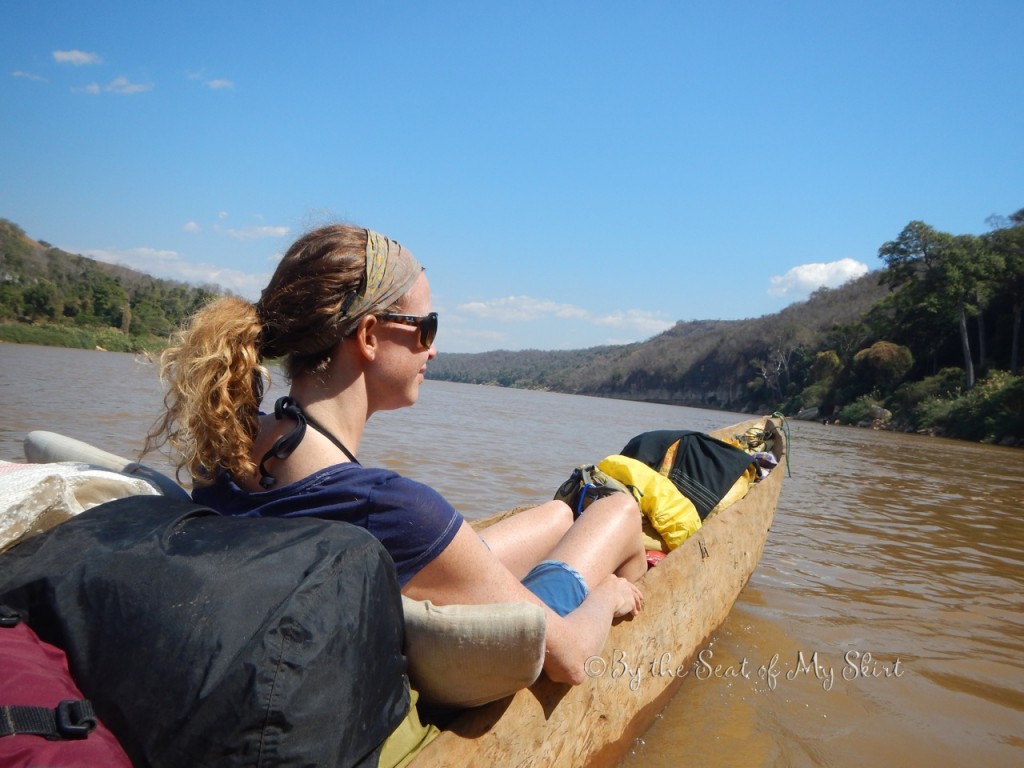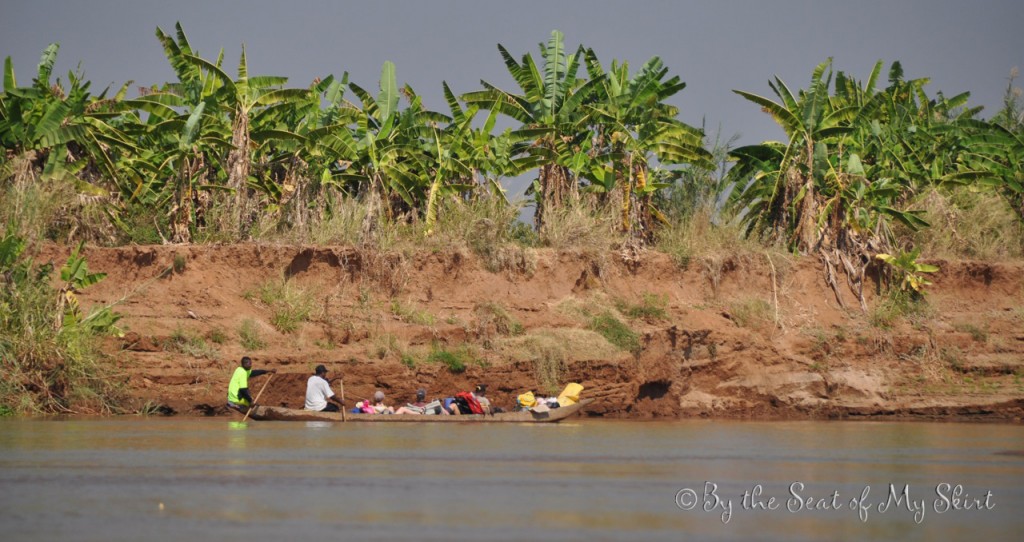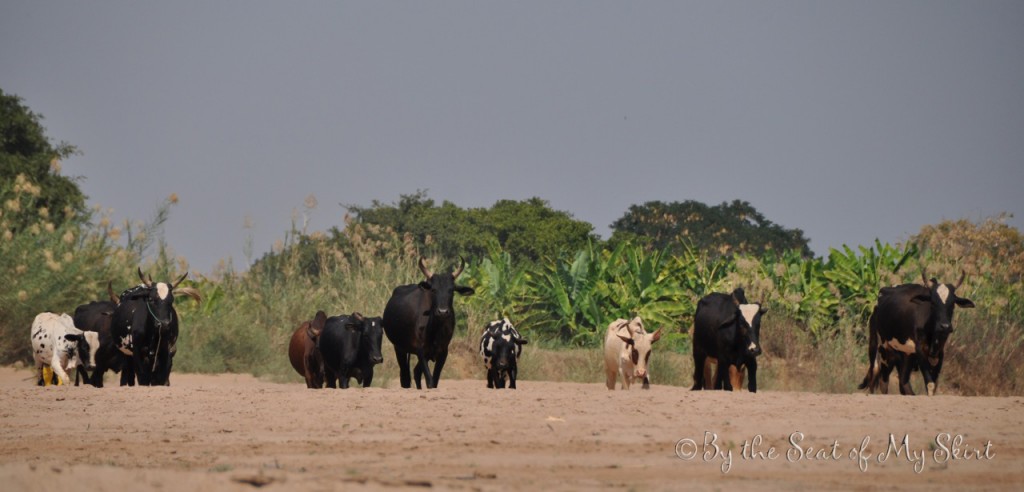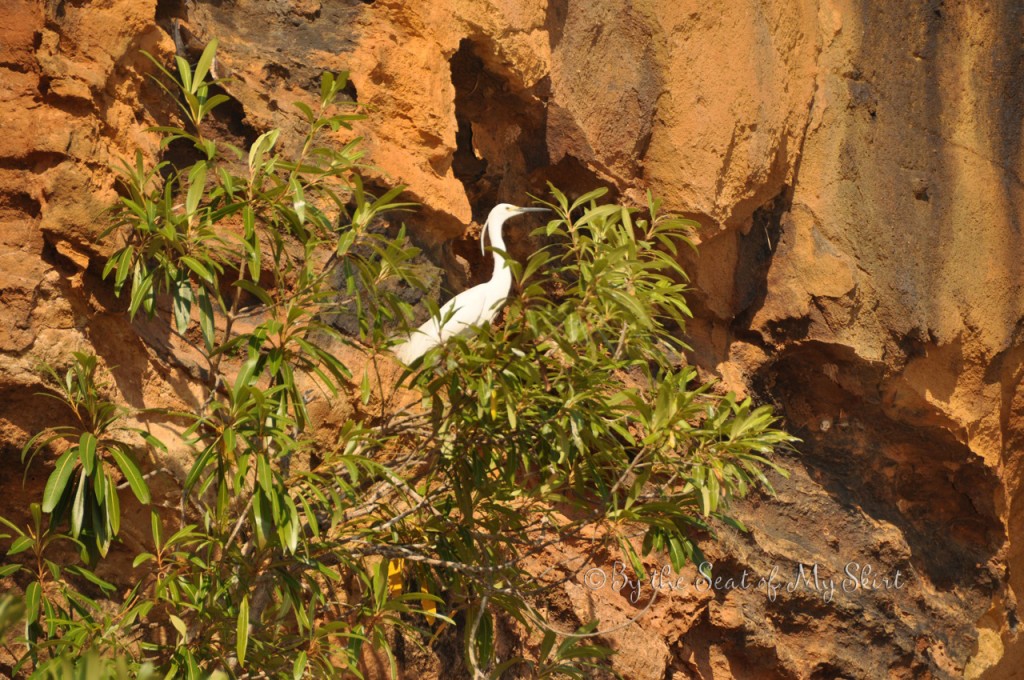 We cooled and refreshed ourselves swimming in a natural pool and under a pounding waterfall. Judy being the modest one in our group, happily watched us splish and splash taking our photos. While I have yet to visit China, I gained much insight into her country's culture from spending time with and talking to Judy.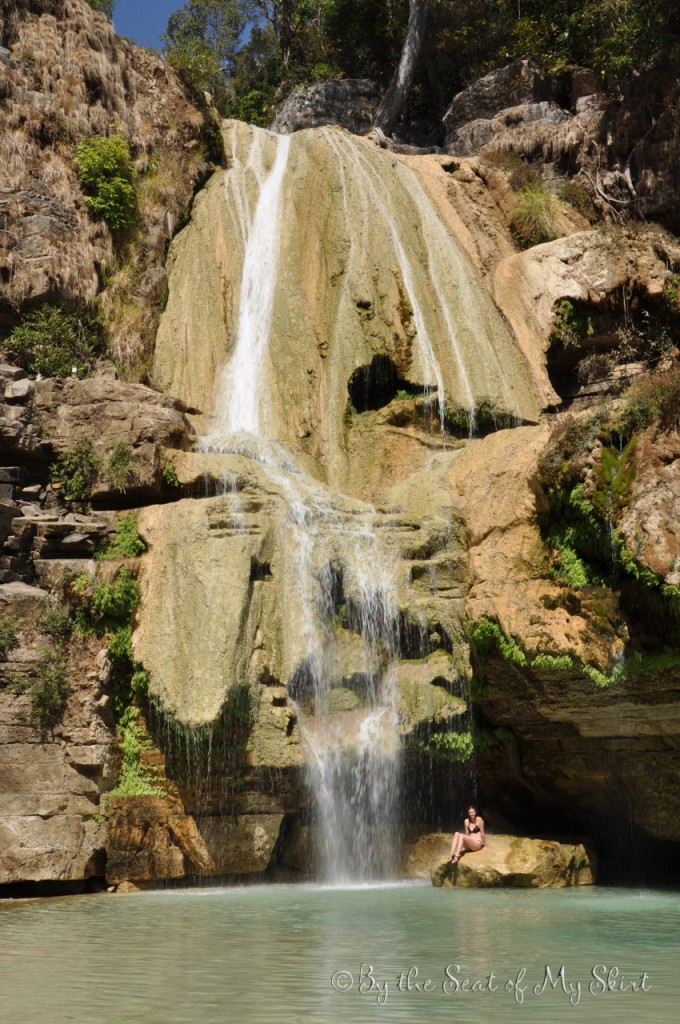 We floated through the gorge of the Bemaraha.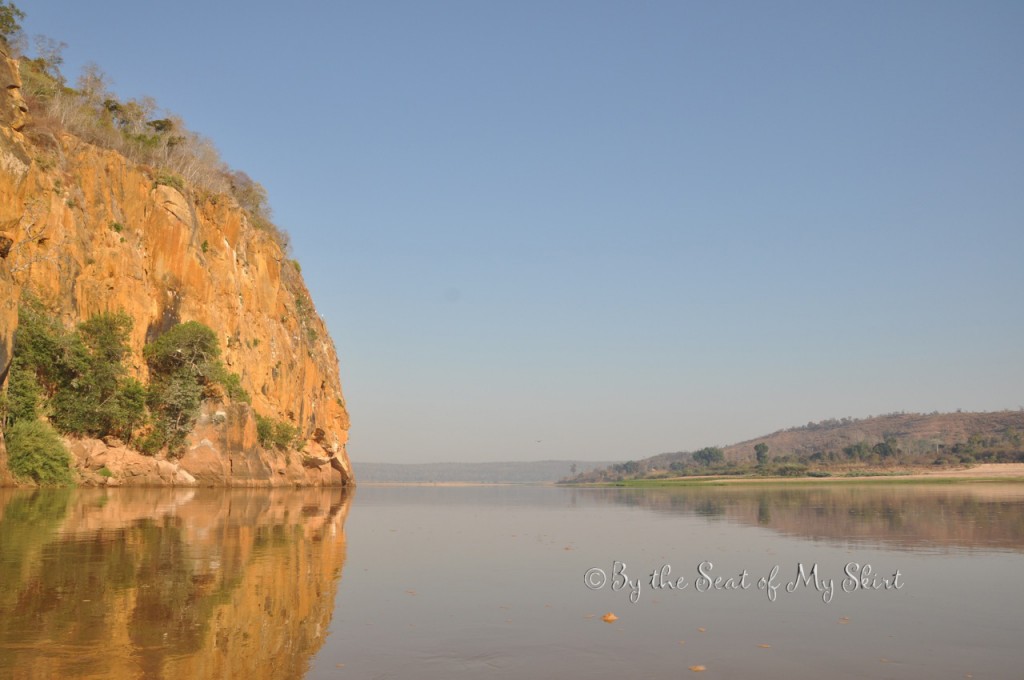 We passed many small villages resting on the riverbank.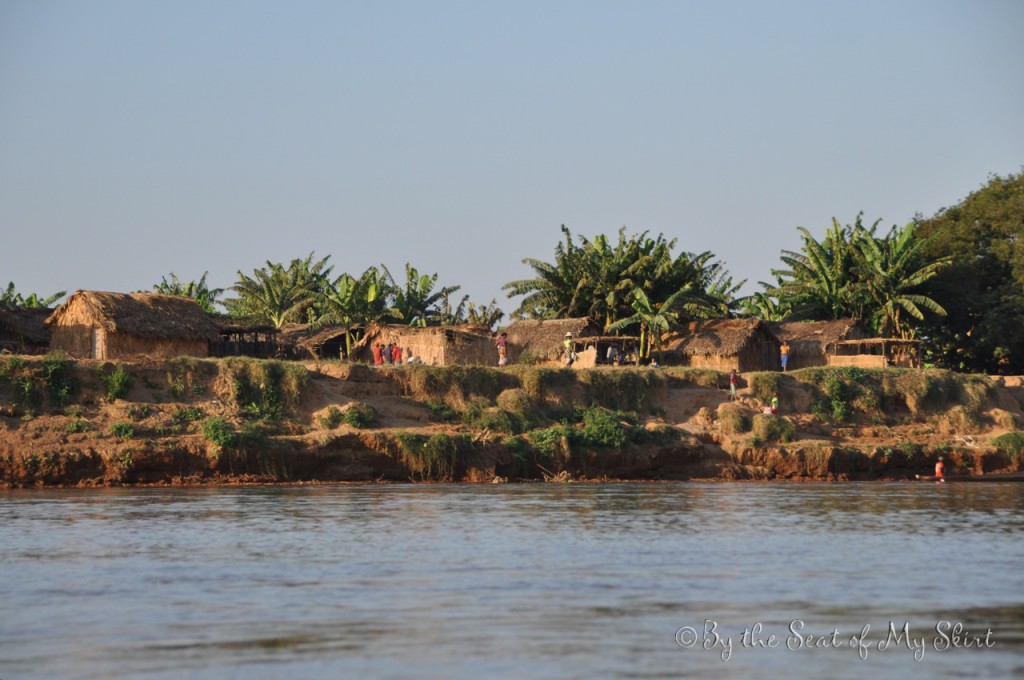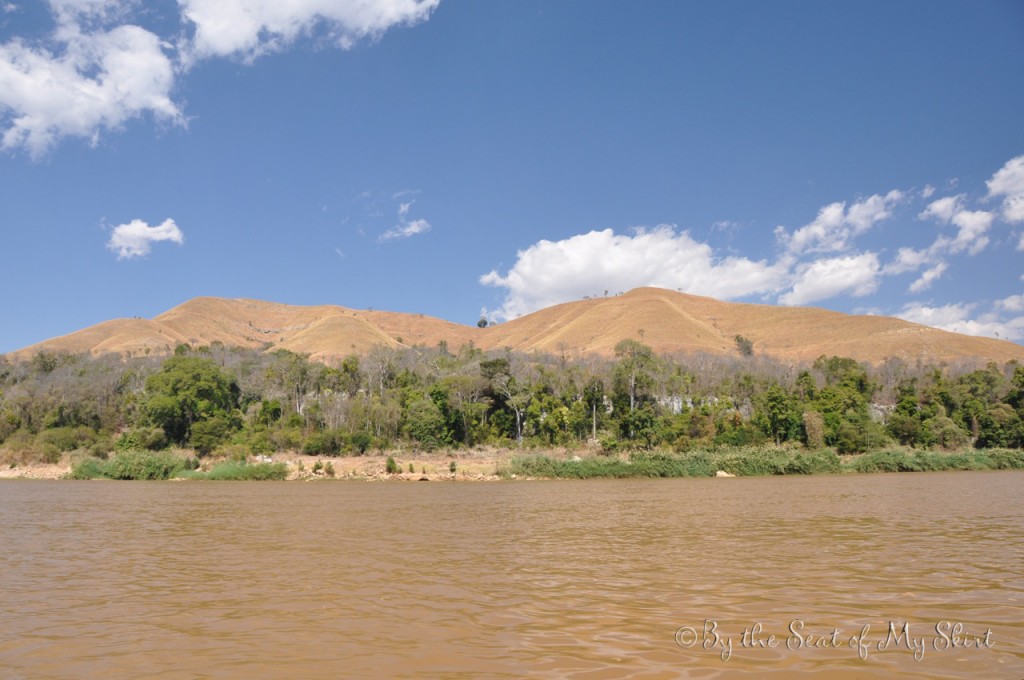 This was also the day the ducks died. We had all become strangely attached to the ducks in our own boat, making it harder to accept they would be our next lunch.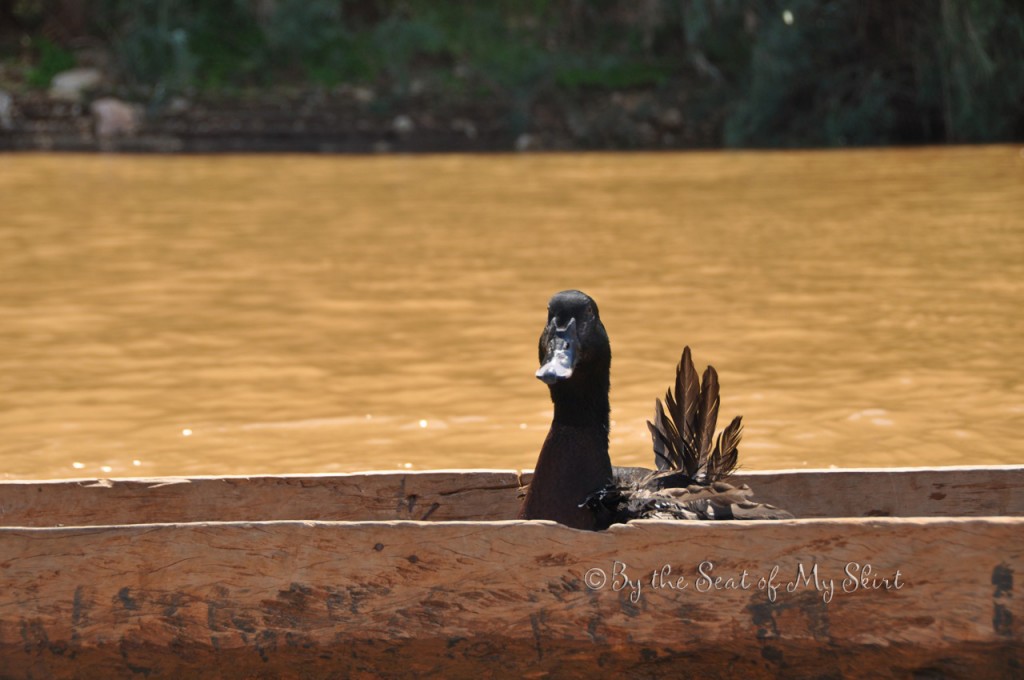 One of the two ducks in our boat must have sensed the end was near as he jumped ship and swam as fast as he could toward the thick brush of the riverbank. I rooted for his escape, yelling "swim faster!" We all thought he had escaped death until our boat man spotted him, grabbed him by the neck and tossed him back inside the dirty canoe. He squawked and rustled his feathers in distress.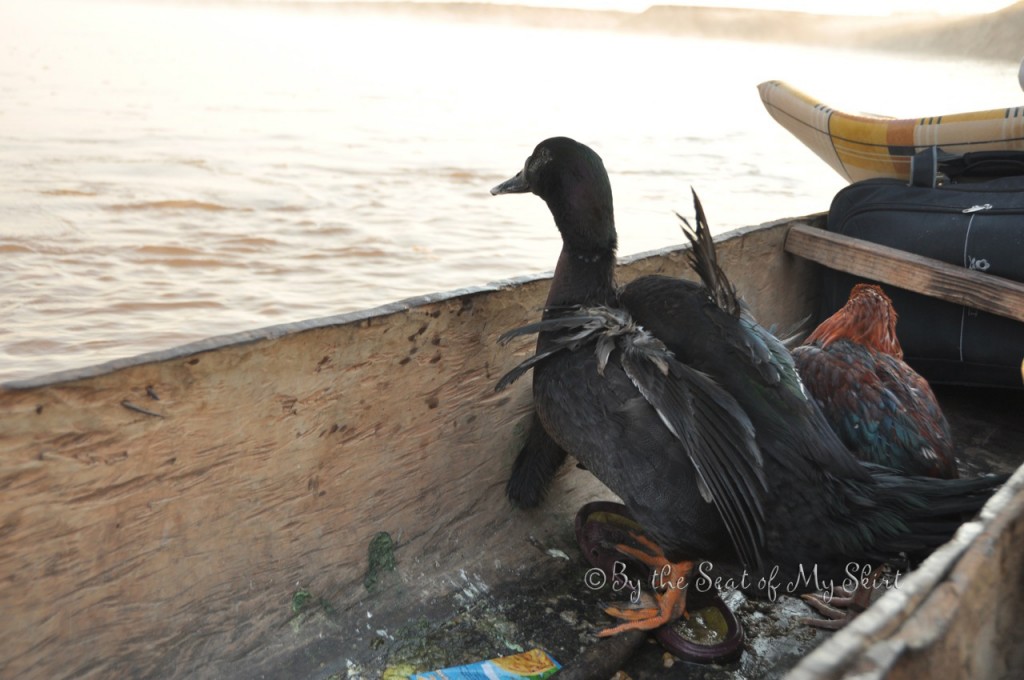 Sandy in particular had the toughest time with the ducks, refraining from eating the meal explaining, "I just can't do it guys."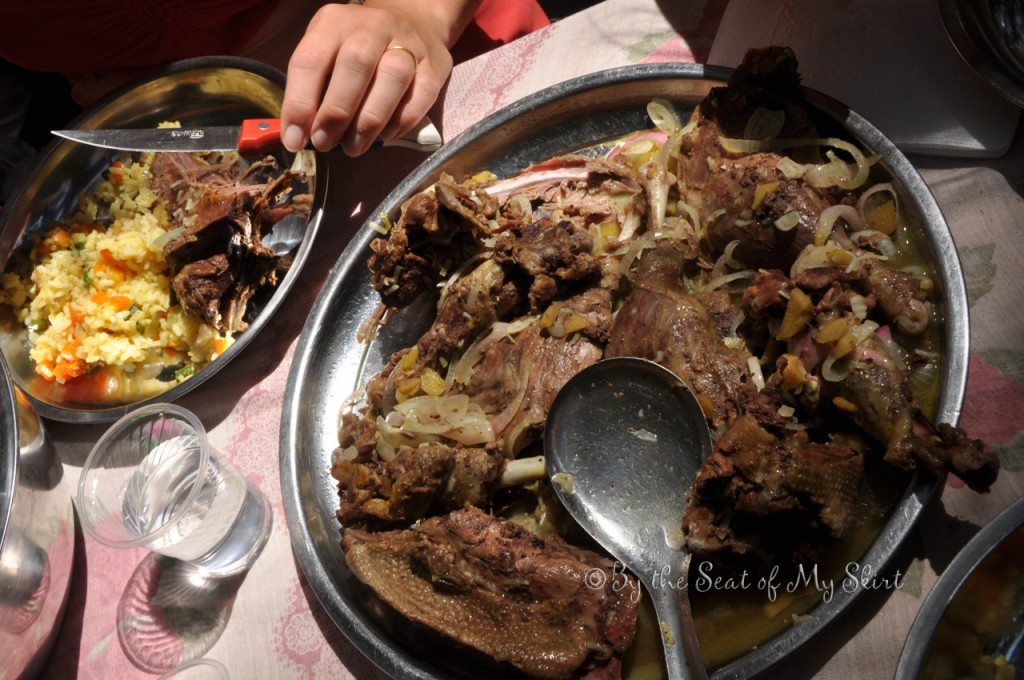 That evening Nolavy informed us we were behind schedule and must make a very early start the following morning, meaning we had to be up before sunrise. I was less than thrilled but once I am up I always appreciate a beautiful sunrise; however, I still prefer sunset.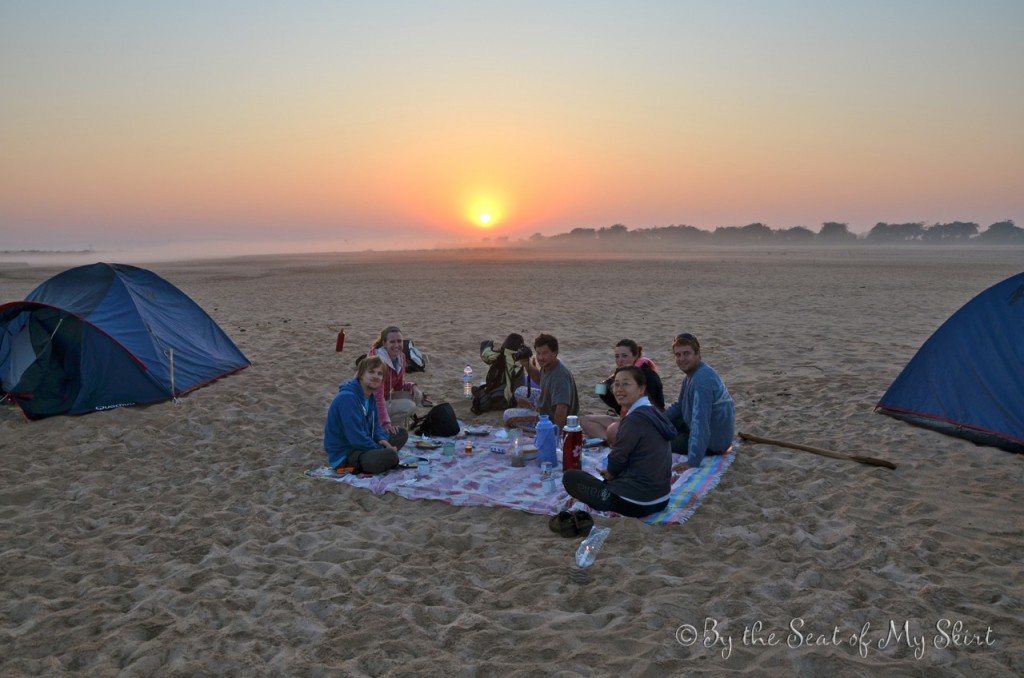 The morning started out strangely cold and foggy only to heat back up and the sun shown down so fiercely we all hid under our pink and purple umbrellas.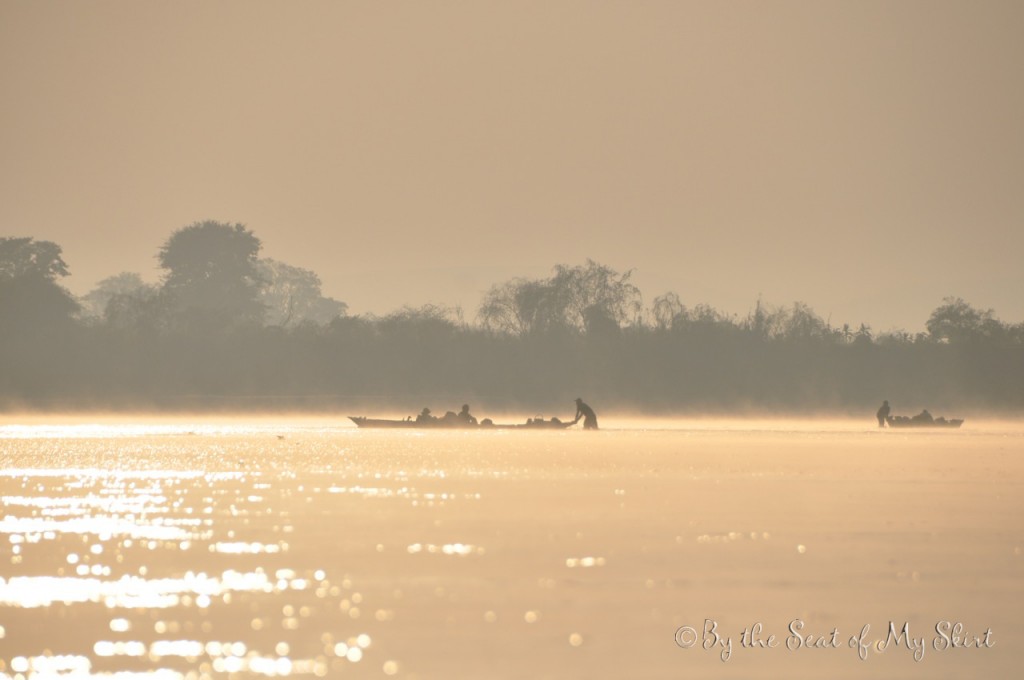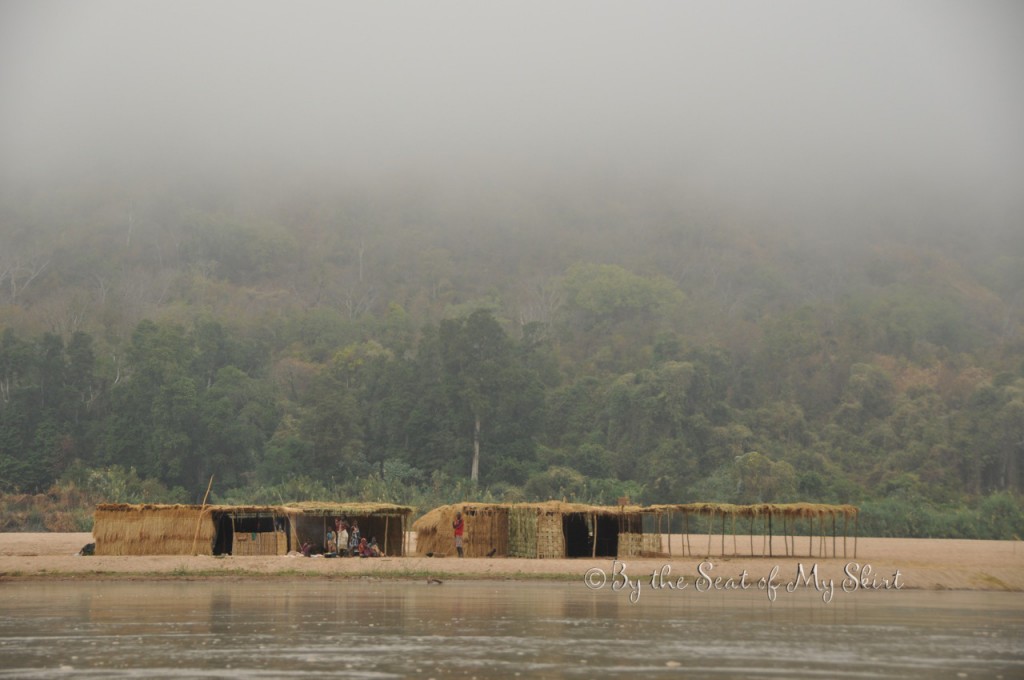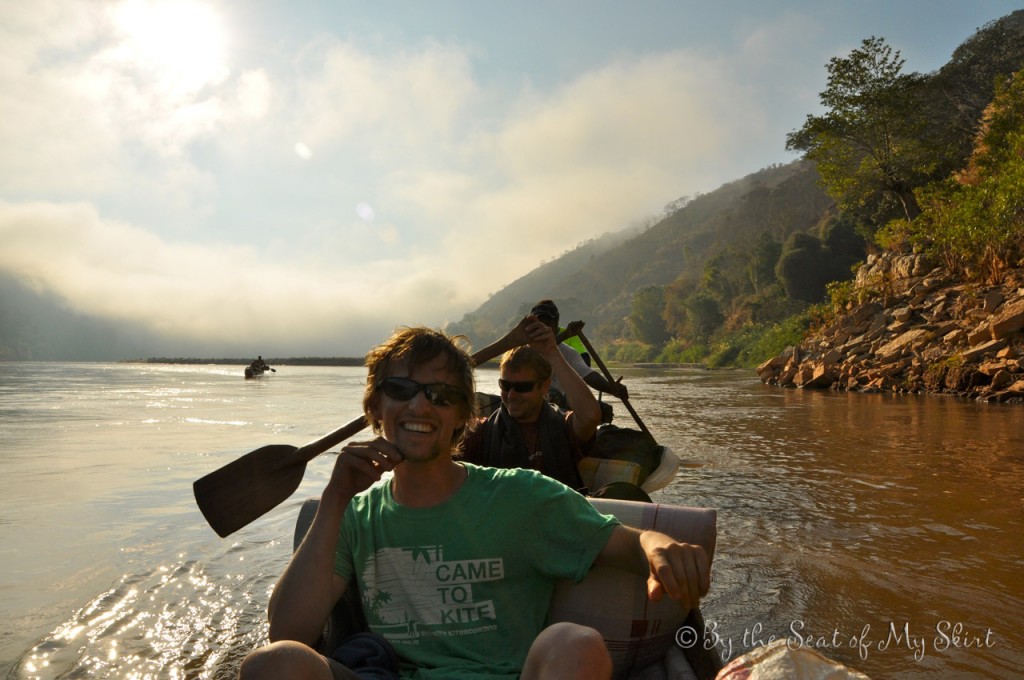 Because we had been slower moving down the river than Nolavy had expected we had to skip our ride in the oxcart, which I had actually been looking forward to; afterall, how often does one really get the chance? Instead our new mode of transport, a 4WD Pajero picked us up further down the riverbank and drove us to the small town of Belo.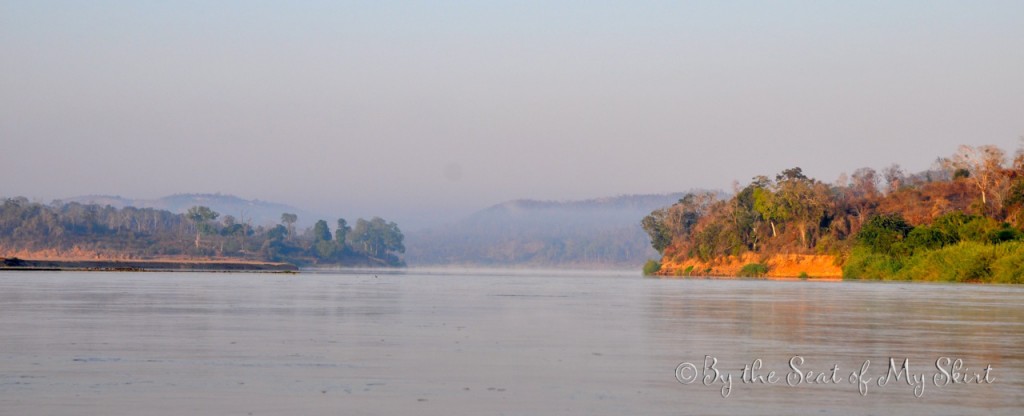 In route we passed many families on their way into town in oxcarts packed with all the goods they intended to sell at the local market.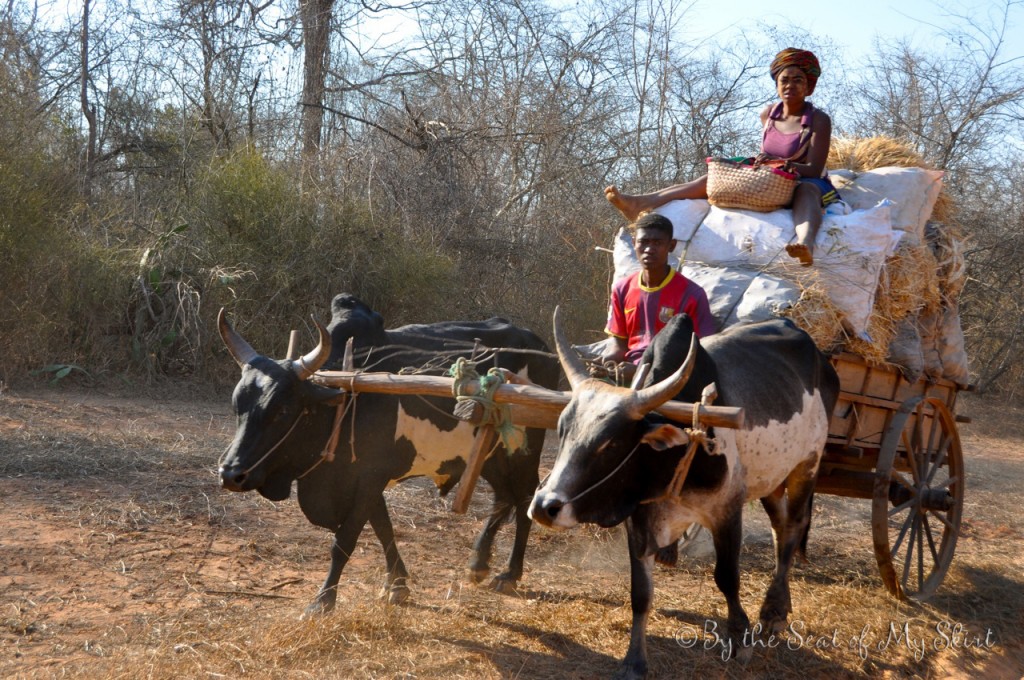 From Belo we all boarded a ferry which took us further down and across the river.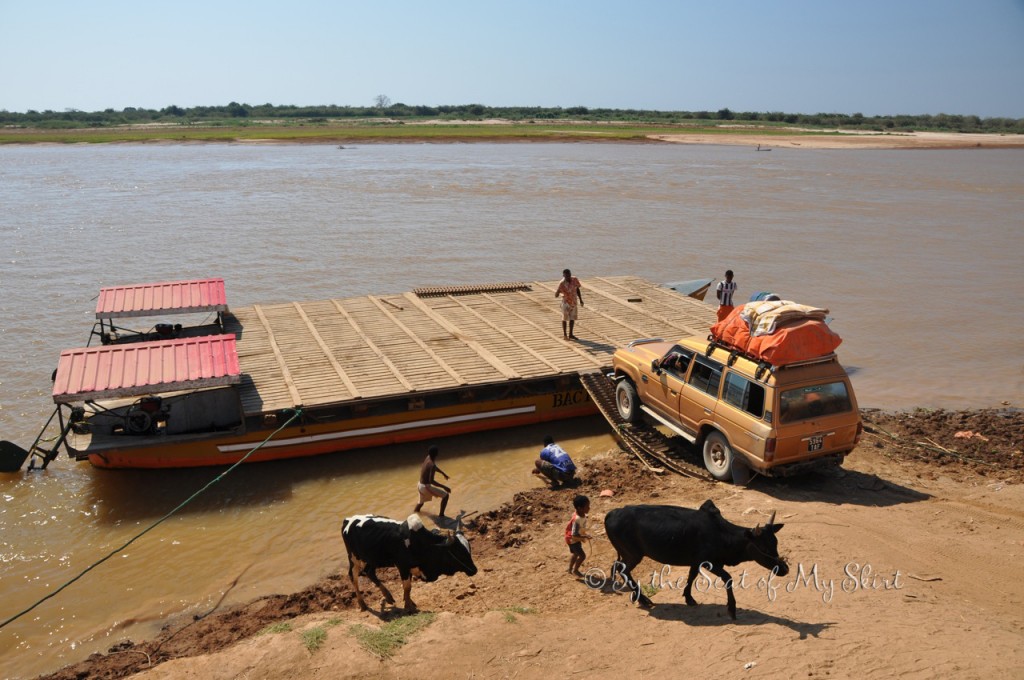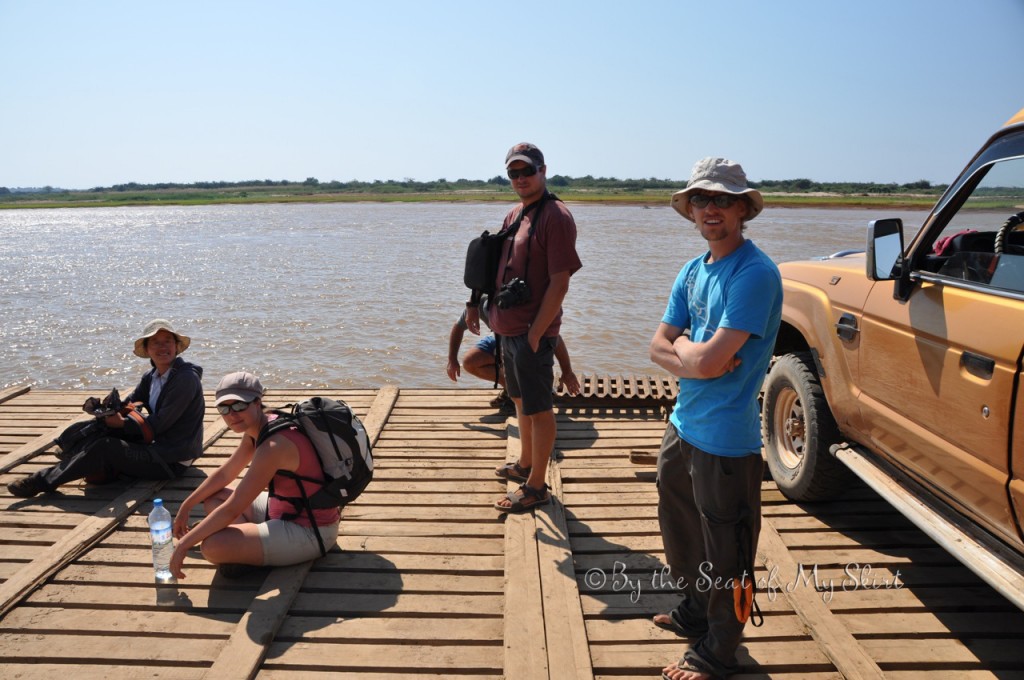 This would mark the end of our first adventure Madagascar, we were all ready for the next.
To see more photos of my canoe trip down the Tsiribihina River  CLICK HERE.
I would highly recommend Nolavy as a driver and tour guide to anyone who visits Madagascar.
No plan, no problem … you can trust that Nolavy will take care of all the details and adventurous exploration. He is an extremely friendly and trustworthy man, I hope to explore more of Madagascar with him in the future.
His contact details are as follows:
Nolavy Robène
Phone: 00 261 33 01 970 93 / 00 261 34 03 186 29
Email: nolamadatrip@yahoo.com
Logistics: If flying within Africa to Madagascar, Air Madagascar is the cheapest options with flights out of Johannesburg South Africa two times a week as well as Nairobi, Kenya. If you book an international flight on Air Madagascar into Madagascar you will then receive a 50% discount on all domestic flights purchased within the country (to receive the discount you must book your domestic flights at an Air Madagascar office).
Resources:
Travel Madagascar: Helpful site listing all of the National Parks in Madagascar
Tags: Africa, canoe, Madagascar, spontaneous travel, travel not planning