Africa
,
Kitesurfing
,
Tanzania
,
Zanzibar
— By
Kelly
on October 1, 2013 8:42 AM
Having summited Kilimanjaro and having lived in a tent for two weeks in Tanzania, I was ready for a change of pace and a change of accommodation. I flew to Zanzibar, a.k.a. The Spice Islands, an archipelago paradise 25 miles from the Tanzanian coast, in search of wind and hammocks. I found both on the southeast coast on Paje Beach, a tropical kite heaven with bungalows in the sand.
Looking out upon the glistening crystal clear sea green waters is an endless kiters playground with and offshore reef 2km out that creates flat conditions on the huge lagoons at low tide and great waves on the reef. This was not my first time in the Indian Ocean, I learned to kite on the other side at Lancelin Australia; however, the brilliant color of the water surrounding Zanzibar was like nothing I had ever seen before.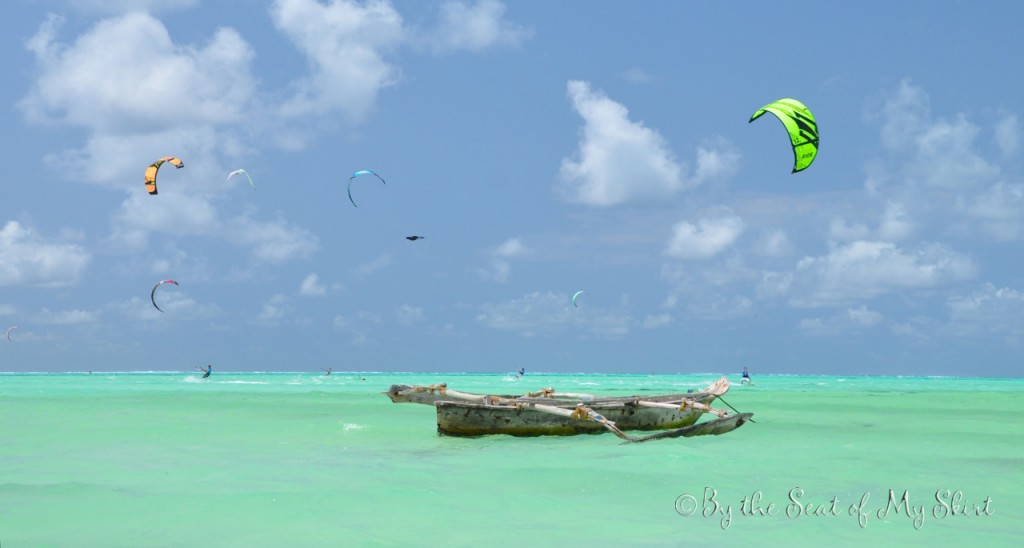 During the two weeks I spent kiting at Paje Beach I was able to make progressions in my riding thanks to consistent winds and waist deep flat water. Specifically, I was able to improve my jumps and go higher than my first baby hop I did in El Gouna, Egypt the previous year. I was thankful for the shallow waters and the sandy bottom of the lagoon each time I crashed. And crash often I did, in fact, I actually gave myself whiplash I would later learn in a hospital in Johanesberg.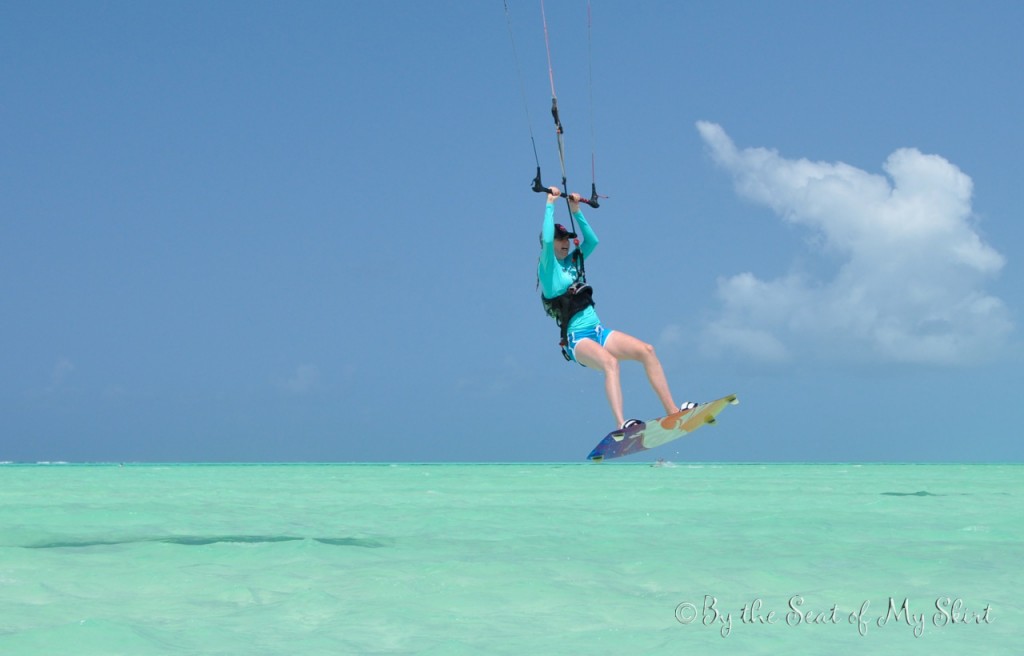 A fellow traveler became aware I was in Zanzibar and asked me to tell him the three best things to do on the island. My answer was kitesurf, kitesurf, kitesurf. When I wasn't kiting, I was relaxing on the grounds at Paje by Night, either in the pool, in a hammock, or under a thatch umbrella on the beach. I did manage to see explore Stones Town for a day and also went on a Spice Tour.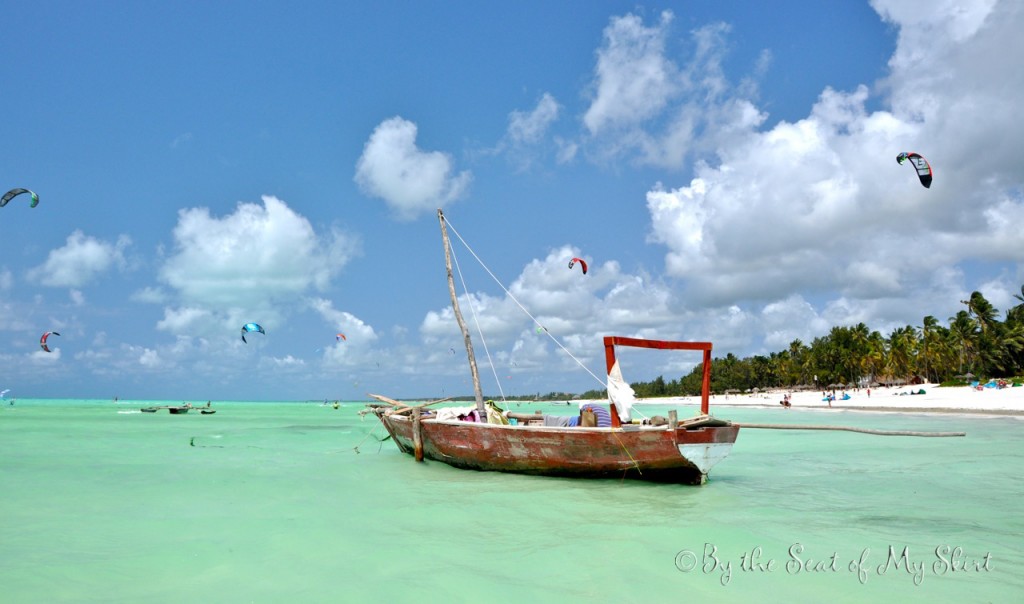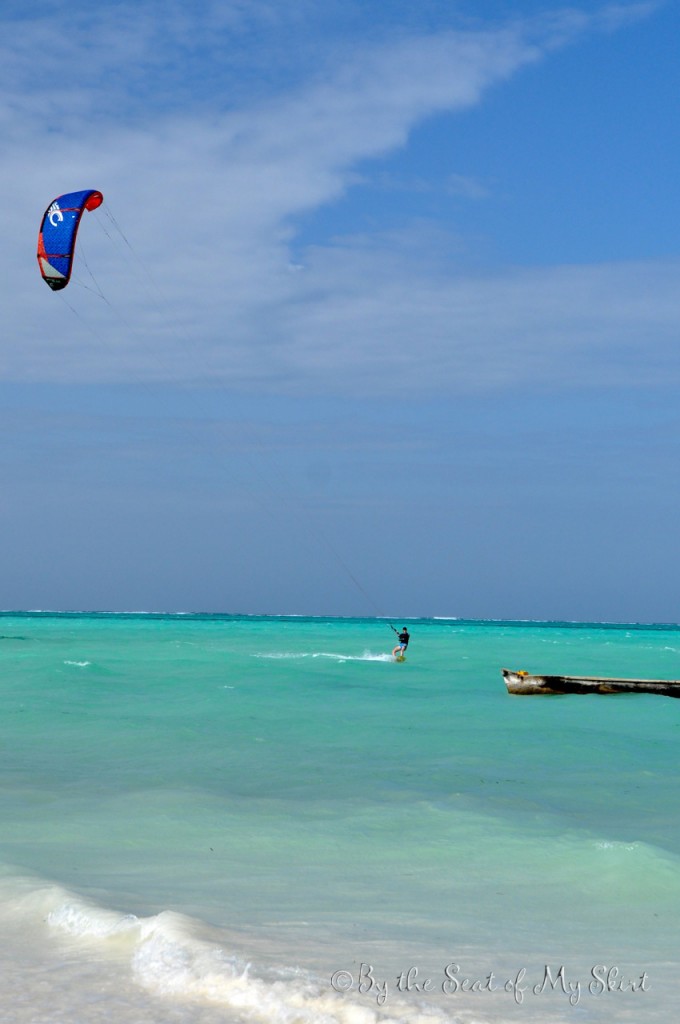 THE GOOD
Shallow water
Flat water lagoon
Waves out at the reef
Great spot for beginners & expert kiters
Warm water
No wetsuit needed
Beautiful crystal clear water green turquoise water
Great spot to practice freestyle tricks
Strong winds
Consistent winds
Sandy bottom
Many resorts/kite clubs to store gear and assist you
Lots of other things to do on the island if there is no wind
THE BAD
low tides
sea urchins
very expensive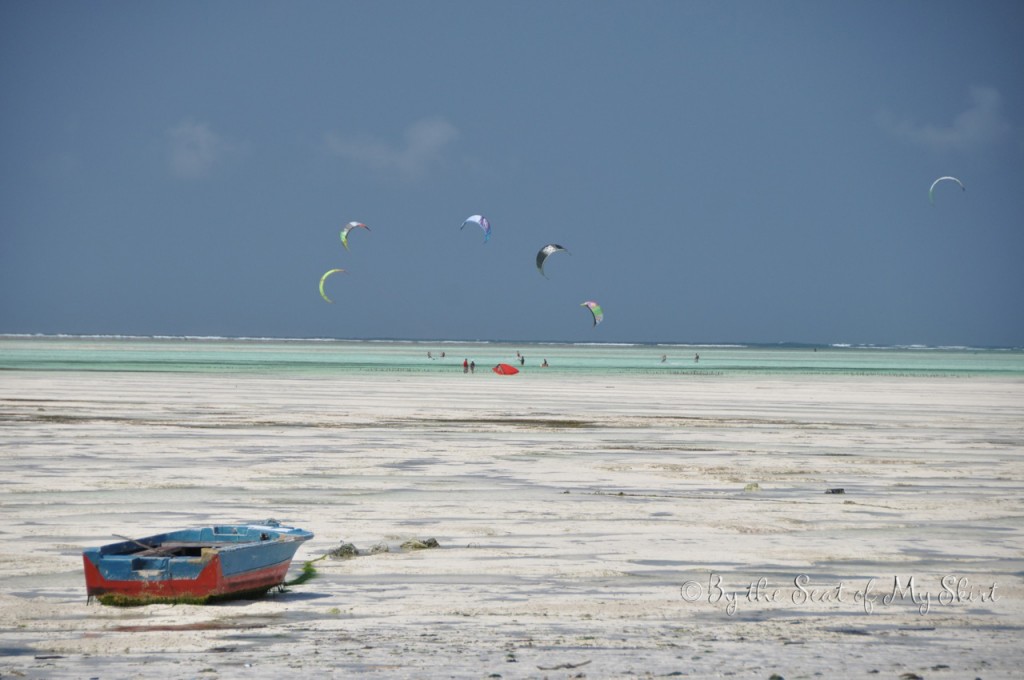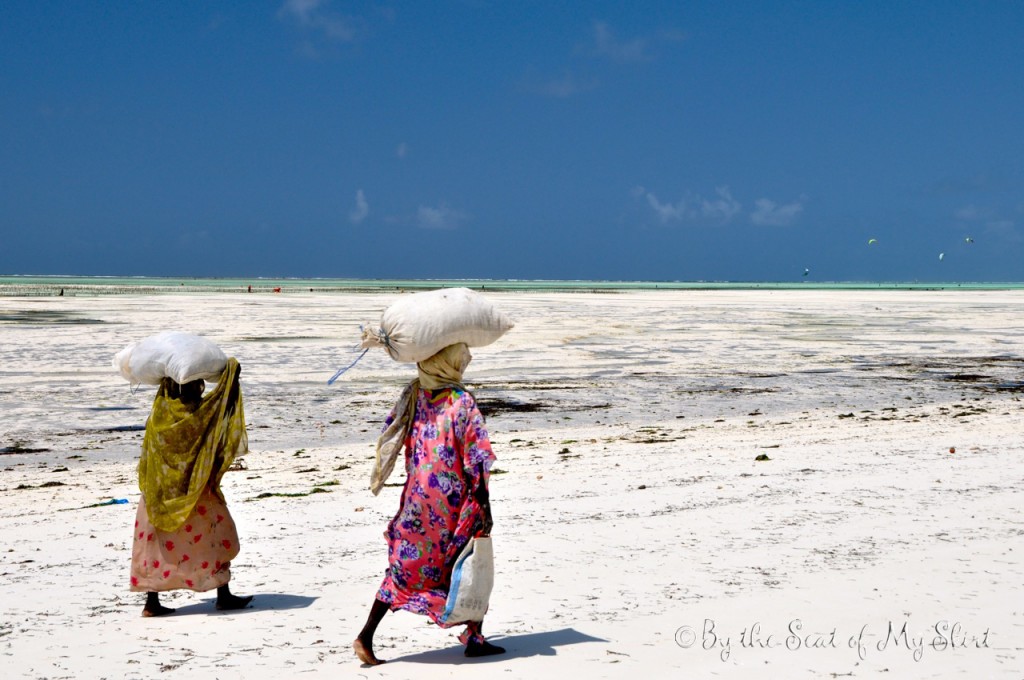 WHO'S ON THE WATER
Mostly Europeans, it is just to far and expensive for the rest of the world to get here!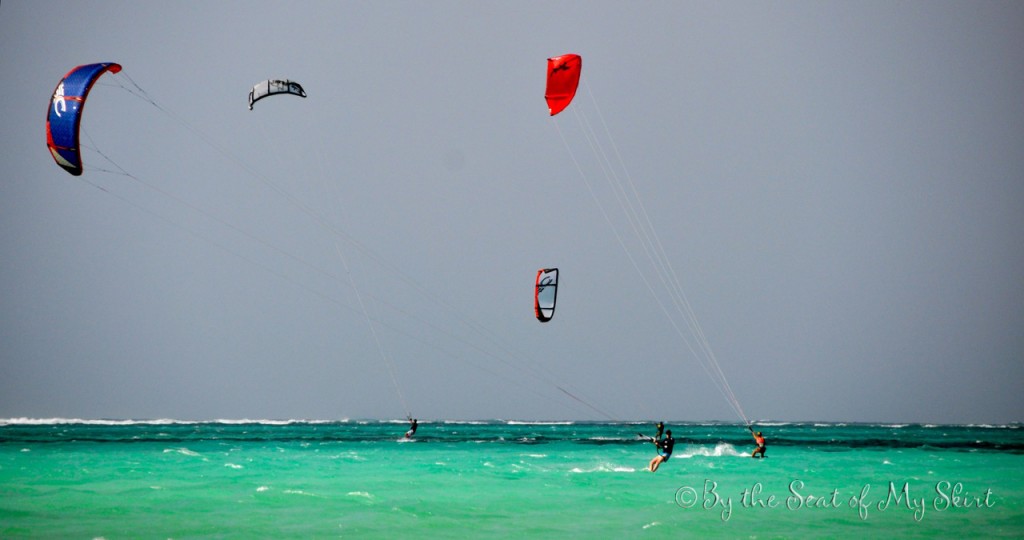 WIND CONDITIONS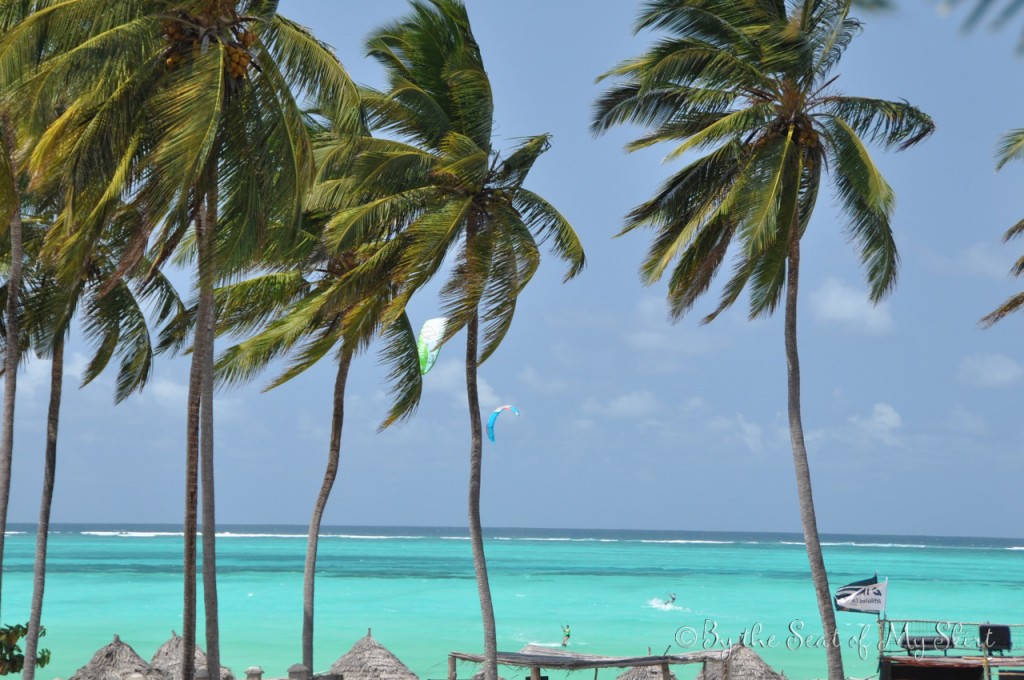 Kusini and Kaskasi are the prevailing wind in the island:
4 months of Kaskasi wind (June 15-October 15)
2 months with no wind (October 15-December 15)
4 months of Kusini wind (December 15-April 15)
2 months with no wind (April 15 – June 15)
From June 15 through October 15 (approx) the wind blows South to North every day running parallel to the beach and slightly onshore. The wind speed is 11-22 knots but there can be a few days where the wind can pick up to 25+ knots.
From December 15 through April 15 (approx) the wind blows North to South.
This wind also blows parallel to the beach, although the speed varies somehow and there are sometimes lulls in the wind. The wind has a speed of 10 to 18 knots but there are also 18-25 knot days if you get lucky.
KITING STYLE
Kiting conditions at Paje change with the tides.
Freestyle: the lagoon is front and center at Paje Beach, at low tide the flat shallow waters providing a great playground for freestylers to progress
Wave Riding: The reef for surfing waves is 1.5km off-shore. Kiting in the waves is recommended when the tide if halfway to full. The waves on a normal day are around 1-1.5m up to 3.5m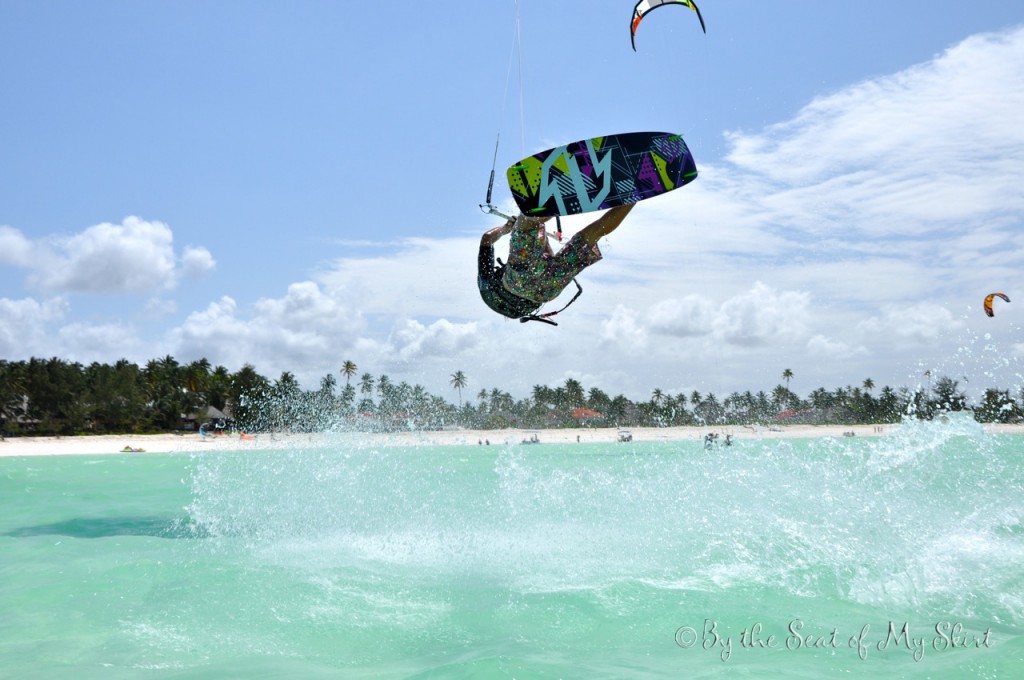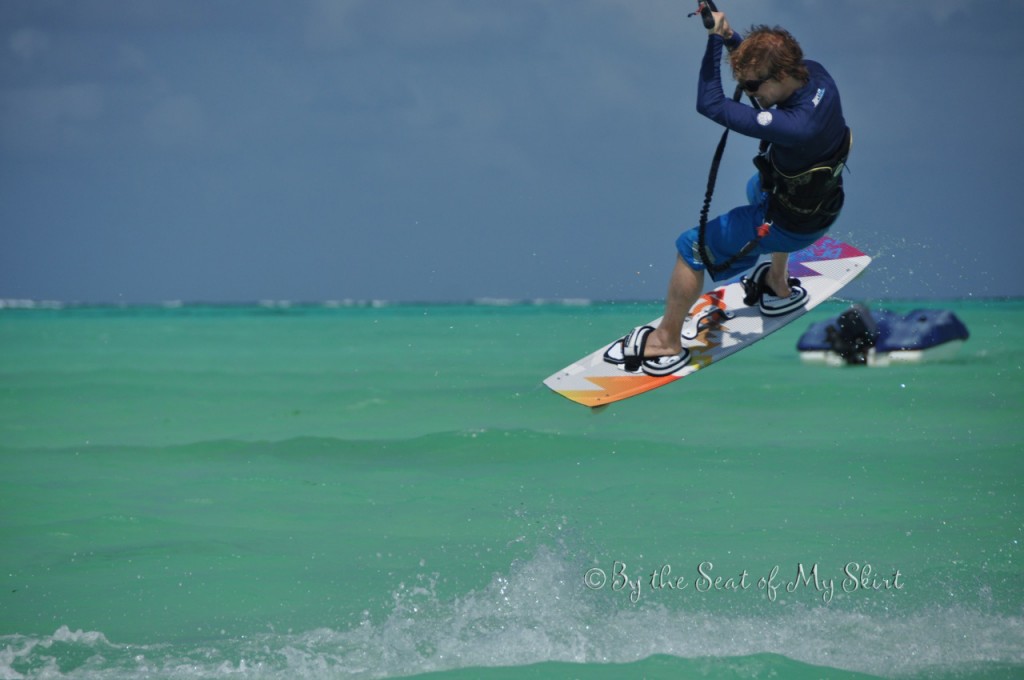 WEATHER CONDITIONS
Average temperatures in Zanzibar do not vary greatly between seasons. February is the hottest month in Zanzibar with an average temperature of 28°C (82.4°F) and the coldest is July at 24°C (75.2°F) with the most daily sunshine hours at 10 in December. The wettest month is April with an average of 401mm of rain. The best month to swim in the sea is in March when the average sea temperature is 30°C (86°F)To see the average temperatures by month can be viewed here.
WHAT SIZE KITE?
While I was kiting in the month of August I used a wide range of kites 6m, 8m, 10m, & 12m (using the 6m the least).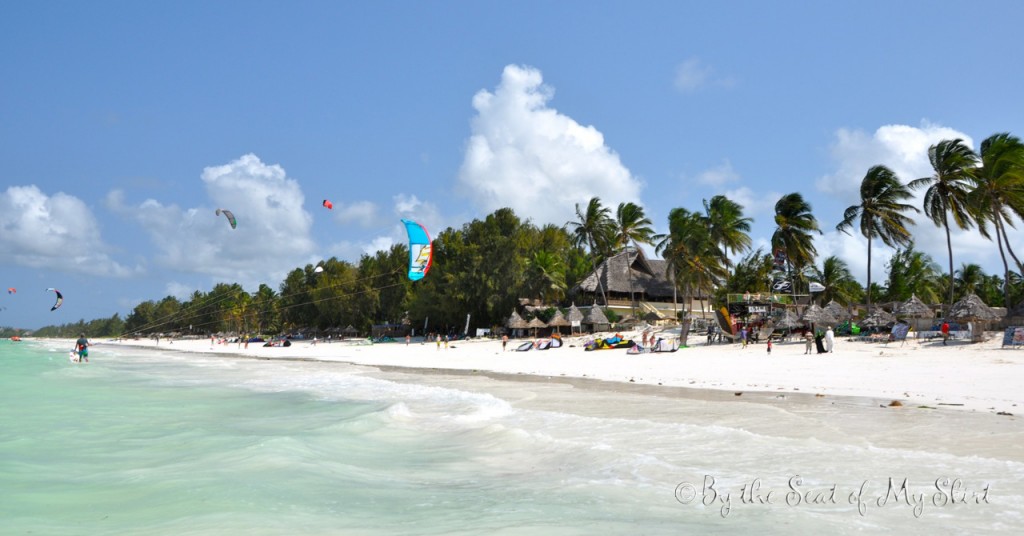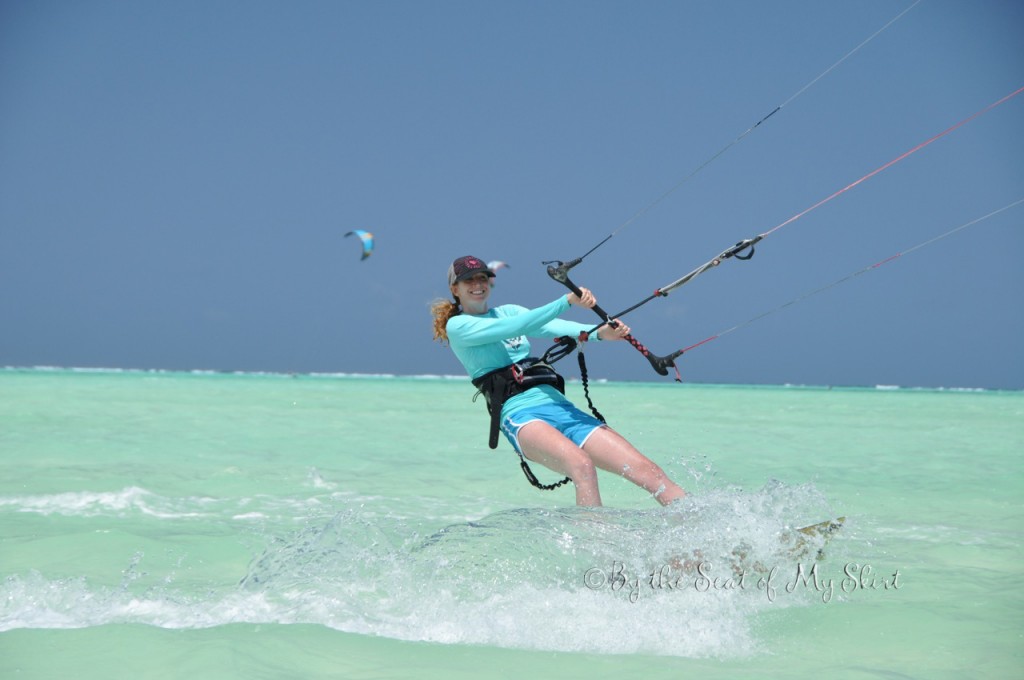 WHAT TO WEAR? 
The water temperature is always over 24 degrees so your wet-suit can stay at home, unless you are easily prone to coldness (like me) which can occasionally happen in Africa's winter months (June-September).  At most though you need a 2mm shorty. I chose to wear mine for late afternoon sessions as I got chilly when the sun went down.
Sea urchins live in the "seaweed farming area", but these areas are easily avoided as the water color is significantly darker in these spots. Booties are recommended for beginners. For the most part though the bottoms are sandy and soft, not requiring booties.
BEST TIME TO KITE
I would say the best time to kite is between mid June to mid October as the wind is stronger and more constant. Additionally, this is winter in Africa, temperatures are slightly cooler and you can go without paying extra for AC.
GETTING THERE
I flew from Kilimanjaro on Fastjet, Africa's new low cost airline, for only $50 including my oversize luggage fee. An amazing deal!
From Europe you can catch a cheap flight on Ethiopian Air, connecting through Addis Ababa. If traveling from within Germany, you can take advantage of "fly and rail" in which you get a free ride on the train to and from the airport when flying Ethiopian Air.
Upon arrival at Zanzibar airport (ZNZ), you take a 1 hour taxi to Paje Beach at a cost of $40-60.
KITE CLUBS/SPOTS
There are many kite clubs & schools to choose from on Paje Beach.
We kited in front of  Paje by Kite which is affiliated with the resort Paje by Night. They offer kite lessons, gear storage, gear rental.  The staff on the beach are extremely nice and helpful and insist on pumpin up your kite and running your lines and there is always someone eager to launch and land your kite. After a long kite session you can rest in the shade under a thatch umbrella or nap in a comfy hammocks on the beach.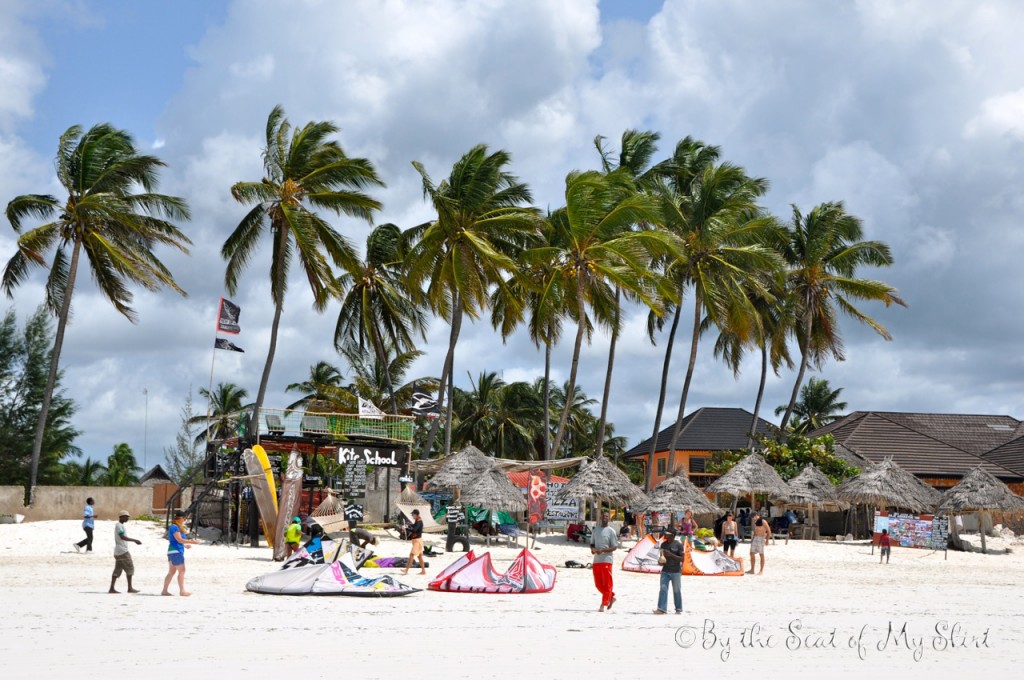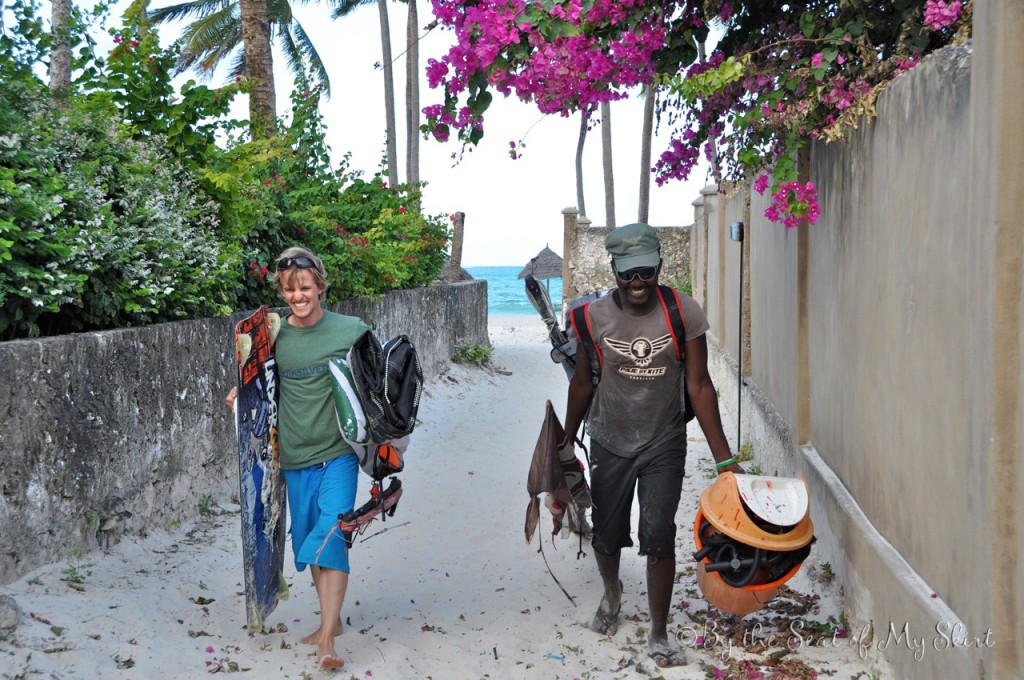 Other kite schools located on Paje Beach, none of these I have experience with.
ACCOMMODATION OPTIONS (on Paje Beach)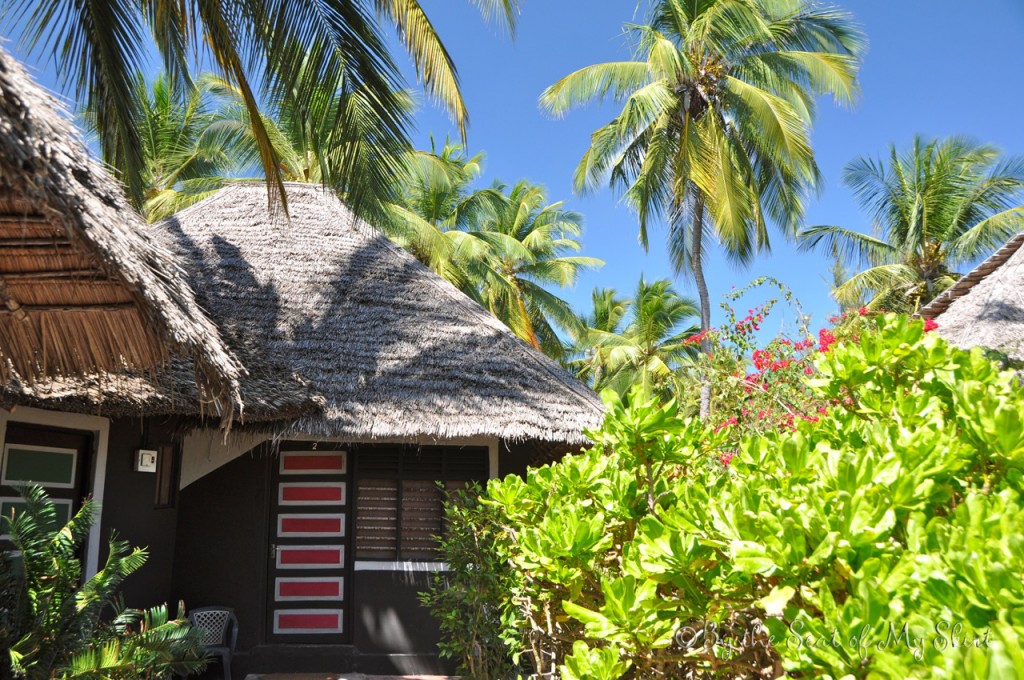 I was shocked by how expensive accommodations can be in Zanzibar. There does seem to be some budget options available if you are willing to rent a bed in a dorm setting.  We decided to splurge and stayed at Paje by Night .
The bungalows were rustic romantic but with electricity and hot water. The grounds gorgeous and offering many different places to lounge (pool, hammock, bar) in between kite sessions. The restaurant serves an extensive menu of local options as well as many dishes from the owners native country … Italia. Free wi-fi in the common area but quite slow.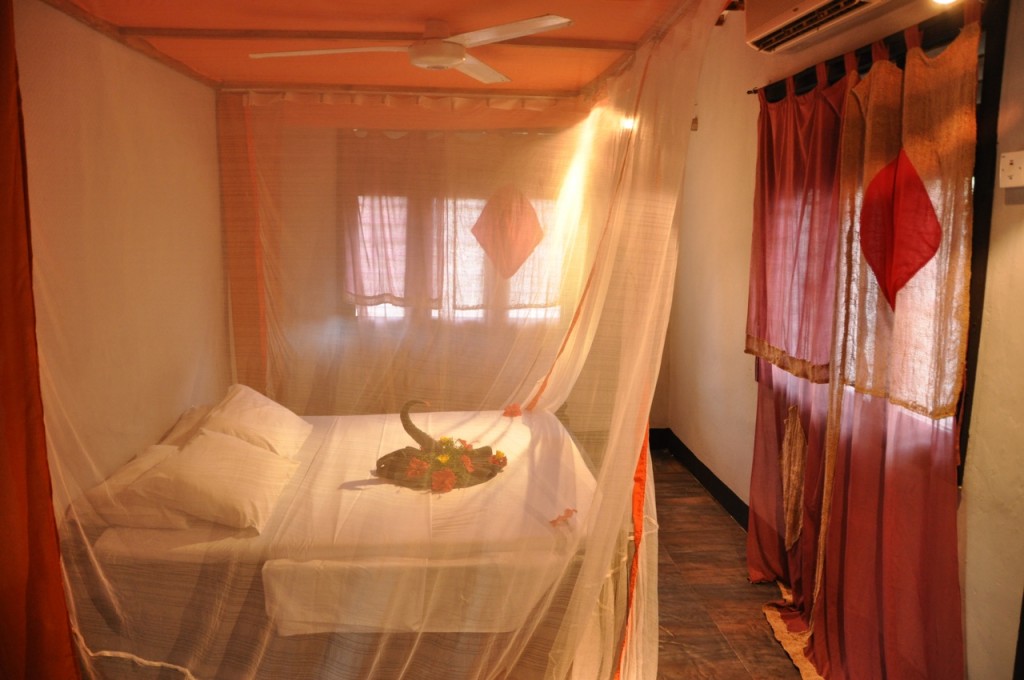 King Room: $125/nt (with AC) or $115/nt (no AC) breakfast included
Standard Room: $100/nt (no AC) breakfast included
The above pricing was quoted to me for my stay during the month of August which is considered high season. Best to inquire directly with the resort for up to date rates.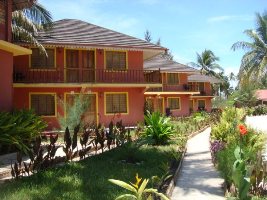 This place is right next to Paje by Night and offers bungalows at a cheaper rate $60-90/night including breakfast. The website seems outdated as the owners have updated the property and now all rooms are equipped with hot water, AC, and there is a pool and free wi-fi.
A very basic but budget option a little further south on Paje Beach. You will most likely run into backpackers vs kiters here. There are dormatory style shared bungalow with beds available for only $17 USD/day and private 2 person bungalows for $50. There is no AC in these units so could be a bit hot in the summer time. I am unsure if Teddy's offers storage for kite gear but you can launch on the beach directly in front of the resort; however, there is not a kite club affiliated with the resort so you will not get as much support at this spot.(This photo of New Teddy's Place is courtesy of TripAdvisor)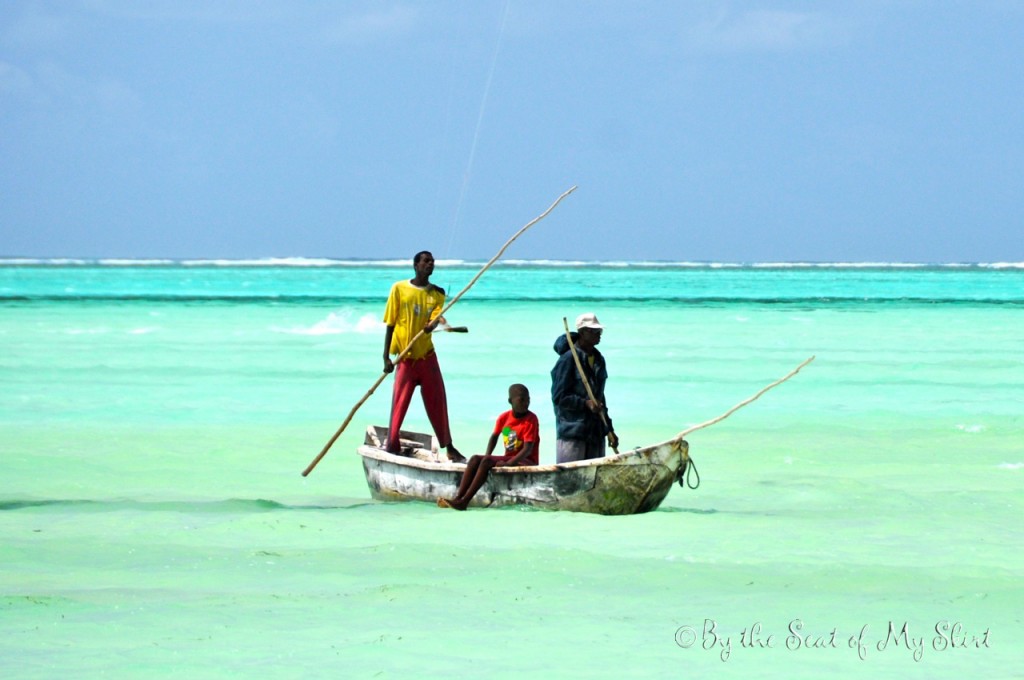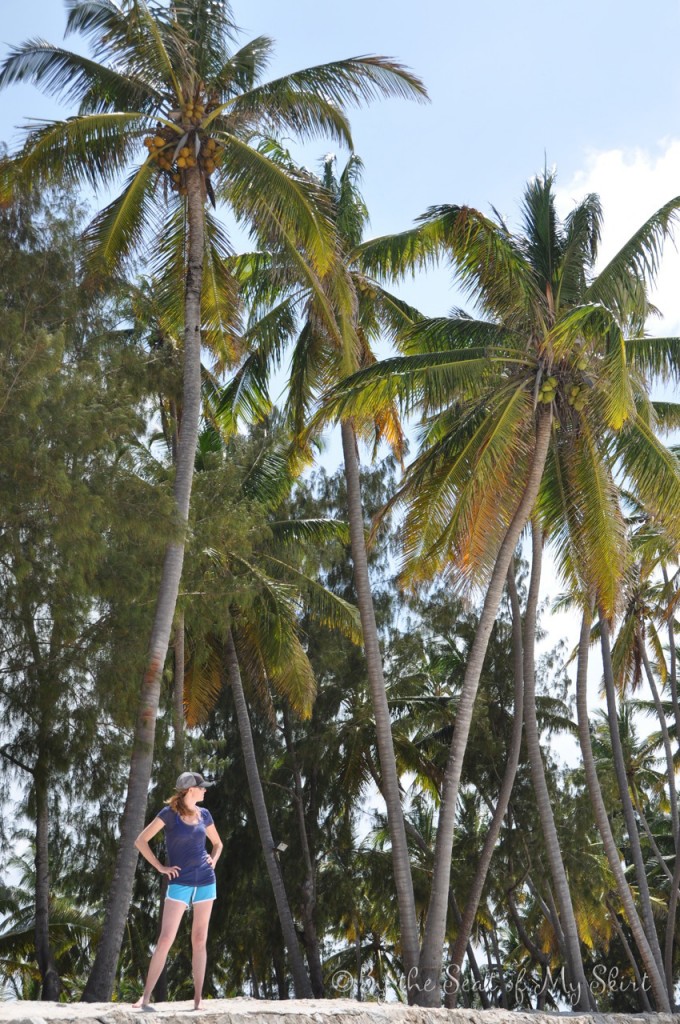 WHAT TO DO IF THERE IS NO WIND?
SUP
Snorkeling
Boat cruises
Fishing
Surfing
Swim in the warm sea
Spice Tour
Explore Stone Town
Shop in the markets
Walk through Jozani forest to see lots of monkeys!
To see more photos of Zanzibar CLICK HERE!
Tags: Africa, Indian Ocean, kiteboarding, kitesurfing, Tanzania, Zanzibar