Europe
,
Europe 2012
,
Turkey
— By
Kelly
on December 21, 2012 12:34 PM
While a weekend in Istanbul is not long enough to fully explore and immerse yourself into the fascinating city, it is possible to see many of the cities sites thanks to a great public transportation system and easy to navigate streets. My good friend Evelien flew from the Netherlands to spend a long weekend with me in Istanbul.  We managed to see and do quite a lot in between just relaxing with a hot cup of apple tea and catching up on the past  three years since we last saw each other.
Below is my recommendation of 10 things to do and see in Istanbul.
1. Visit the Hagia Sophia
The Hagia Sophia was once a church, later a mosque, and now a museum. Just beautiful!
2.  The Grand Bazaar
A must see and must shop experience. Turkish rugs, lamps, jewelry, spices, clothes, paintings, pottery, you name it, they have it! If only I could have fit more in my backpack!
3. Visit the Blue Mosque
Travellers call it the Blue Mosque but Turks call it the Sultan Ahmet Mosque.
4. Buy fresh fruit from a street vendor
5. Take a boat tour of the Bosphorus
6. Tour Topeka Palace
This palace is huge, allow at least a half a day to explore and be sure to visit the harem quarters.
7. Eat well
Turkey is a meat lovers paradise.
Don't like meat? There is other delicious food to be had.
My favorite restaurant was Hamdi, where the food and views were amazing.
 8. Drink well
Fresh squeezed orange juice is available on almost every street.
Drink many cups of delicious apple tea.
9. Eat Turkish Delight
With so many different flavors you can taste test for hours. YUM!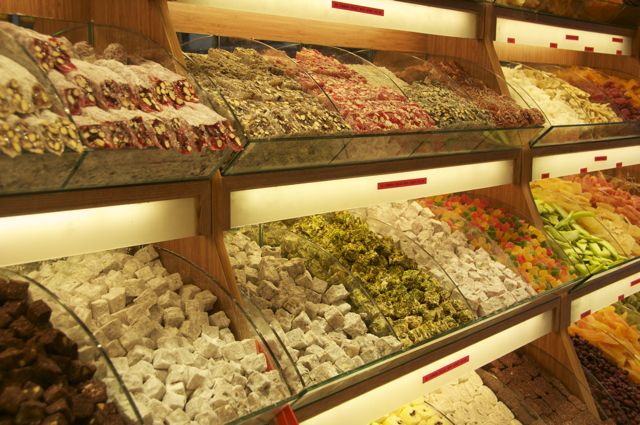 10.  The Basilica Cistern
Go underground the city to see ancient cisterns and two columns with Medusa head carved into, the origin of which is unknown.
And if you can do all of this with a good friend even better!
To see more photos of Istanbul, Turkey CLICK HERE.
Tags: Europe, Istanbul, Turkey