Europe
,
The Netherlands
— By
Kelly
on May 15, 2009 5:45 AM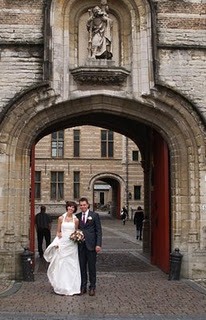 I went to The Netherlands to attend my Dutch friend wedding. I had not seen my friend since she left San Francisco two years ago and I met her fiance for the first time! What a great catch! It was so special to me to be able to be a part of her big day and to see her the happiest I have ever known her to be!
Despite the fact that I do not speak Dutch and often did not know what was being said, this was perhaps the best wedding I have ever been to (and I have been to quite a few)! A beautiful setting in a charming medieval town of Bergen op Zoom in a very old and romantic city castle. A happy couple so in love surrounded by their closest friends and family.
I was very curious how a "Dutch Wedding" would differ from the many weddings I have been a part of in the states. I have been a bridesmaid ten times and had a go at my own wedding plans that never made it to fruition. I know full well the energy and planning that goes into most American weddings! Bridesmaid dresses, color schemes, party favors, dinner menus, flowers, decorations, Bachelor/Bachelorette parties, showers, rehearsal dinners, gift registry,etc…! Not only are the weddings I have been to intricately planned over the course of a year, but they are also expensive! I had all but decided that I would be eloping if the day ever comes that I am ready to say "I DO".
This wedding was different and inspired me in many ways and I realized there is a way to celebrate such a special day with ones closest friends and family without turning into bridezilla or going bankrupt on the way down the alter!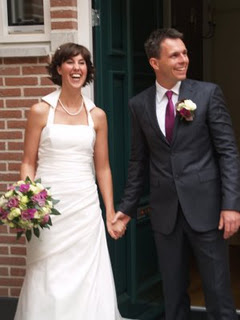 I was very struck by how calm and collected my friend was about the wedding plans. There were last minute details to be taken care of the days before the wedding, but she was so laid back and calm about everything.
My friend explained to me that women in Holland are not born with the idea that marriage is one of the biggest and most important days in your life and it needs to be perfect. She said that many people never get married but choose to have children together. That's perfectly okay in her society. A wedding is icing on the cake and is not the most important thing to look forward to in ones life.
My friend was the perfect bride. Gracious, glowing, beautiful, relaxed. Attending the ceremony was small number of the couple's closest friends and family to witness the exchanging of vows. The ceremony was in Dutch so I had absolutely no idea what was being said but could tell by the glowing smiles of my friend and her fiance that they were extremely happy and excited to begin their new lives together. There were no bridesmaids or groomsmen but one witness who got to choose whatever she wanted to wear for the wedding. The couple sat in chairs side by side and held hands throughout the ceremony.
After the ceremony everyone gathered for tea, coffee, and cakes congratulating the couple. Next, the majority of those attending the ceremony left to get dinner on their own and to rest but were all invited back to the party that would take place a few hours later. The bride and groom then enjoyed a very intimate dinner with close friends and family. I was lucky to be a part of this dinner. Rehearsal dinners do not occur the day before the wedding in The Netherlands. Speeches were given during the dinner on the day of the wedding.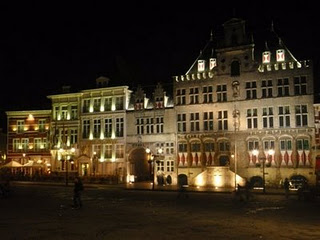 In The Netherlands couples invite a larger group on people to attend the after ceremony party so everyone can literally celebrate their marriage. A band played and drinks were served until the early morning. The strangest thing happened during the party in which a group of people dress in costumes and wigs got up on stage and performed a skit. It is common for people to perform a skit to make fun of something has has happened to bride and or groom in the past. Apparently the groom's friends from University use to call him "Tom Cruise "and performed a skit incorporated photos and stories throughout the years they. Someone was kind enough to translate parts of the skit for me but I had a hard time understanding exactly what was happening but everyone around me seemed very amused!
At the end of the reception everyone was served sausage rolls and coffee. It was a perfect ending to a perfect day!
I love meant to be.
Tags: Europe, friends, Love, medieval cities, The Netherlands, wedding