Europe
,
Italy
— By
Kelly
on July 18, 2012 7:55 AM
Over the past few months I have made three trips to Lake Como, spending most of my time in the small town of Varenna where my good friend Sarah has been residing on an extended career break at Agriturismo Castello Di Vezio.
Beautiful Lake Como is only a three hour drive from where I lived outside of Zurich, and I found Varenna to be a great place to get away to simply relax, slow down, breath deeply and find peaceful solitude in an idyllic natural setting.
Varenna is nestled between lake Como and a mountain, on top of which is a medevil castle built in the 11th century. The towns 800 resident's colorful houses are snuggled against each other overlooking the lake. Cafes and restaurants line the waterfront and narrow cobblestone alleys.
If you get bored of relaxing there is lots to do in Varenna and the surrounding areas.
VARENNA ATTRACTIONS
Castello di Vezio
This partially ruined castle dates back from the 11th century. The castle can be reached by climbing to the very top of the mountain which will take you about 45 minutes from the base of town. The walk up the mountain is steep but the panoramic views afforded from the top are well worth your efforts. From the top you can see the glistening lake, the town below, the Bellagio headland and surrounding mountains.
Vila Montastero
This once inhabited vila on the lakefront is now used as a conference center attracting visitors to its botanical gardens.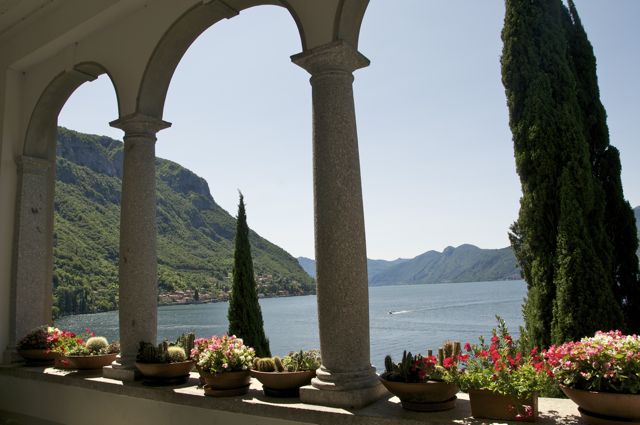 Garden of Villa Cipressi
The botanical pathway of Villa Cipressi winds through centuries-old gardens with inviting lakeside terraces.
Dine along the waterfront
There are many delicious restaurants to choose from situated right on the lake serving traditional Italian cuisine. l I can never decide between pizza and pasta and was happy to have friends that like to share their food.
The Lovers' Walk
This short walk begins at the departure point for ferries past  a small harbour area to a line of lakeside restaurants, gelaterias and shops. On the waterfront is a lovely promenade with hanging willows, cypress trees and wood-planked pedestrian bridges.
Go to Church
Chiesa Di S. Giovanni Battista is a one thousand year old church located in Varenna's old town center. Inside you can see paintings and frescoes dating from the 15th century.
THINGS TO DO AROUND VARENNA
Hike to Flumelatte 
Flumelatte (meaning river of milk) is a small town located just 1km south of Varenna  named after the "shortest river in Italy" that springs from a cave in the mountain. The river only flows half of the year in a cascade of white foam through the town into the lake. Many famous explorers including Leonardo Da Vinci have been here.
On the way to Fumelatte, you will pass a very beautiful cemetery built into the side of the mountain.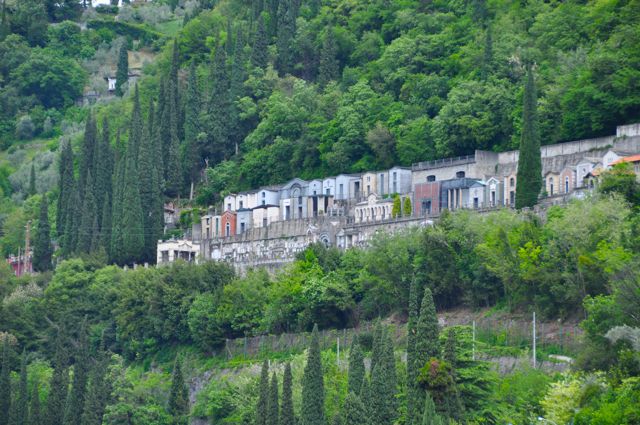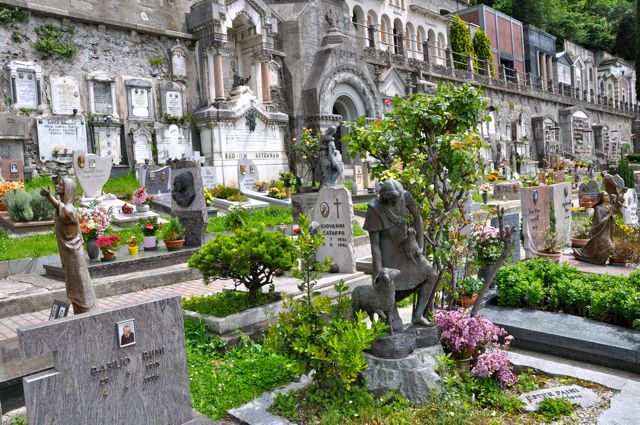 Take a ferry to Bellagio or Mennagio
From Varenna you can take a 15 minute ferry ride for 7 Euro across the lake to the well known town of Bellagio.
Bellagio is a great place to spend a leisurely day eating delicious Italian food, gelato, wine and limoncello tasting, and shopping for leather goods.
Rent a Motorboat to explore the entire lake
No boating license needed! We enjoyed a leisurely afternoon on our own private boat, motoring wherever we like to go next. We negotiated a reduced rate of 150 Euro (from 180 Euro) for a four hour rental.
Keep a lookout for George Clooney!
Enjoy a board sport in Colico
Colico is a 30 minute drive north of Varenna, and can also be reached by boat. There is a grassy beach on the lakefront and a shop where you can rent SUP (Stand Up Paddleboard), kitesurfing and windsurfing gear. Sadly I was unable to kitesurf at this spot as there was no wind the day I was in Colico. So instead, Sarah and I rented a SUP from  Son of the Beach board rental shop for our first experience to stand up paddle board. Being the clumsy balance challenged person I am, I succeeded in falling off my board causing Sarah to laugh so hard she almost fell off too!
 

Take an Italian cooking class
Just east of Varenna in the town of Perledo, the chef of Il Caminetto restaurant offers cooking lessons.
Visit Milan
Only a one hour train ride from Varenna, Milan is a great place to do some serious shopping and see famous landmarks and paintings. I had hoped to set my eyes on Da Vinci's masterpiece … Last Supper; however, tickets were sold out three weeks in advance so be sure to book ahead if you plan a visit!
Lake Como … I will be back!!!
To see more photos of Lake Como CLICK HERE.
Tags: bellagio, Europe, Europe 2012, italy, Lake Como, lakes, traveling with friends, varenna