Africa
,
Dakhla Challenge
,
Morocco
,
Western Sahara
— By
Kelly
on June 23, 2012 6:13 PM
Tom and I went rogue and said goodbye to the other 4×4 teams opting to take a different route to Dakhla on our own. Honey Badger would head north to Marrakesh while the others headed southeast to Dakhla on Day 9 of the Dakhla Challenge,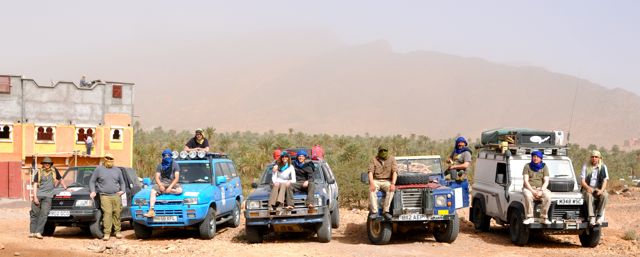 Our decision to forge our own path was nothing against the other teams, they were great and  we had a blast off-roading for a week with Sand Doom, Maverick, Dora, and Armani. They were all very cool and very nice guys and it was a bit sad to say goodbye. But we wanted to have a more diverse experience by checking out the bigger cites of Morocco and see more of the coastline versus continuing to Dakhla through the desert.

Our path took us over the Tizi-n-Teckha mountain pass which links the city of Ouazazate to the south-east of Marrakesh through the High Atlas mountains. We reached an altitude of 2260 m (7500 feet) above  sea level, pausing to commend ourselves for choosing this route.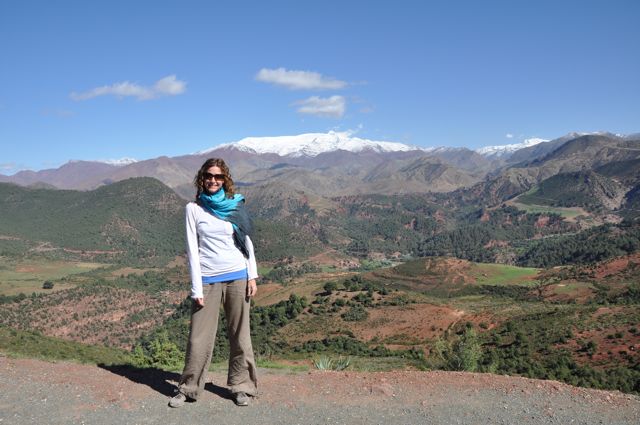 Having enjoyed many days of isolation in the desert, the bustling loud city of Marrakesh was a bit of a shock to us at first. We spent two days in the city, roaming the narrow streets of the ancient medina and being constantly entertained and hassled in the crazy Dajamma square where snake charmers, restaurant owners and monkeys beckoned us.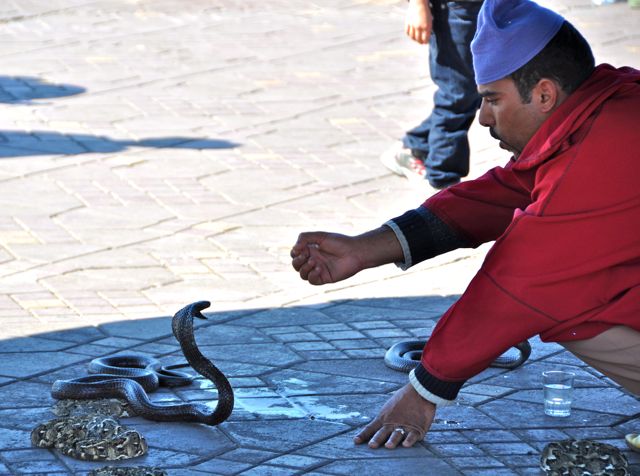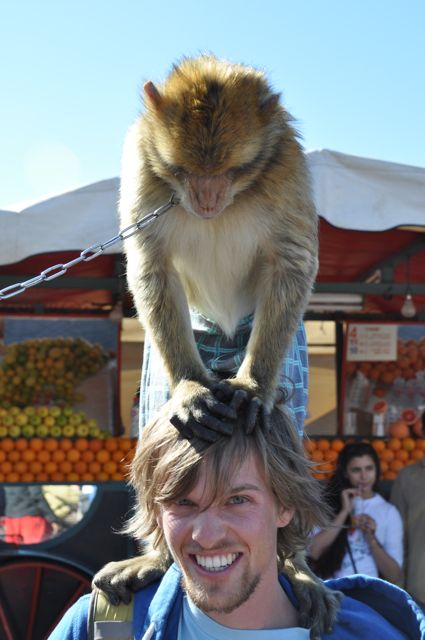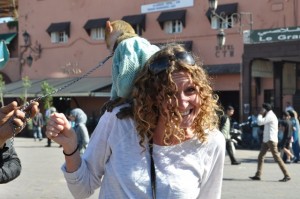 We learned to keep moving within the square or risk having a monkey thrust on your head by it's owner. I looked away for a minute only to turn around and see Tom wearing a silly hat next to a man dangling a limp snake next to him we presume was dead.
As we weaved in and out of the narrow streets, our senses were overloaded and delighted with every turn. The scent of saffron tickled my nose as we passed by mounds of spices, nuts and dried fruits for sell. Brightly colored mosaic bowls and tajines caught my eye. Merchants shouted our way to come inside and see the large collection of rugs for sell. I ran my fingers across the delicate etching upon rows and rows of brightly colored tea glasses. I had a major itch to shop. We savored the taste of freshly bbq lamb pierced between layers of vegetables within our kebabs. I felt the Sahara being scrubbed off of me in a relaxing hamman.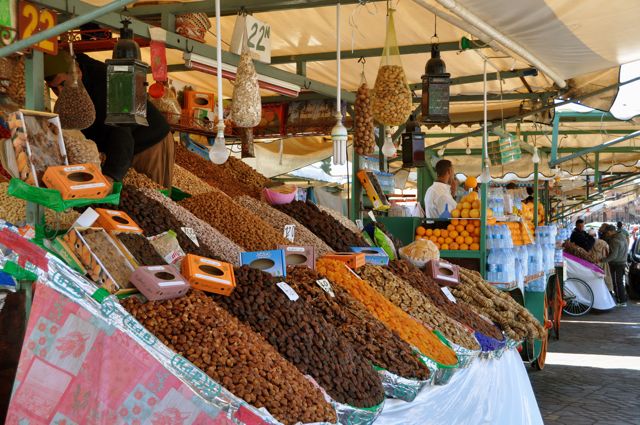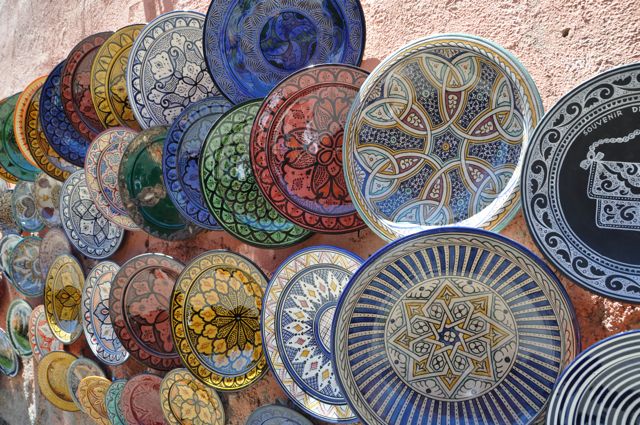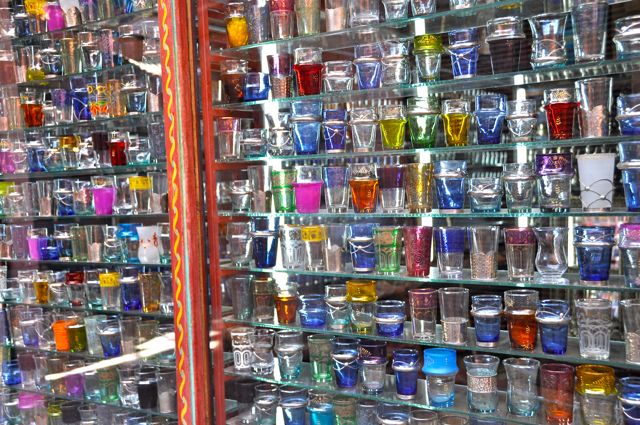 While I am notorious for being directionally challenged, thus never had a clue where we were inside the medina, Tom easily navigated our way back to our hotel every time. I continue to be amazed by Tom's superb sense of direction, and I trustingly followed him wherever he led.  He jokes that I would still be in Marrakesh today, searching for my way out of the medina's maze of narrow streets had it he had not been there to show me the way.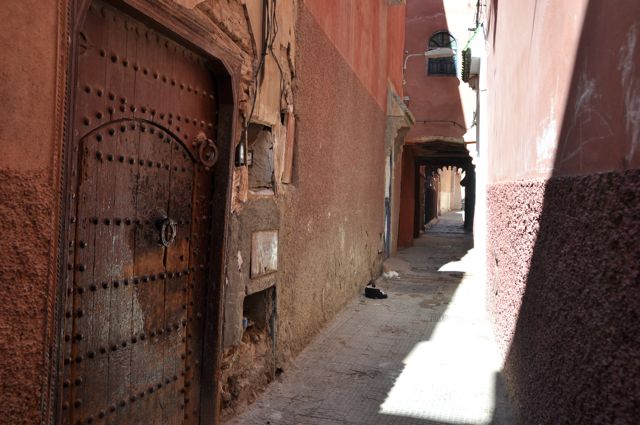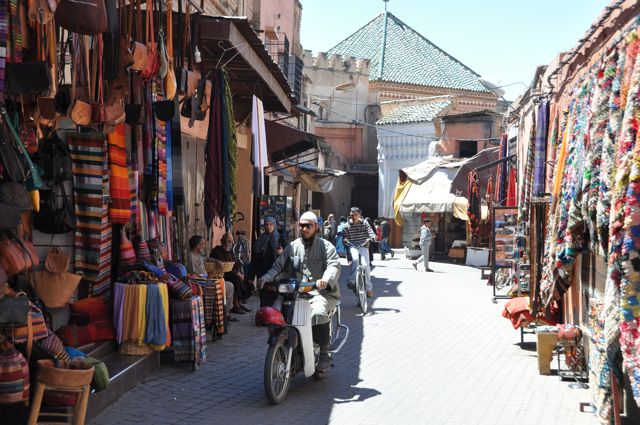 From Marrakesh we headed west, doing a double take when we saw what appeared to be goats on tree tops. At the time we thought for sure this was a tourist trap as the locals had to have placed the goats in the trees as a way to charge money for photos. Turns out  it was not a scam and these crazy goats actually climb the Argan trees of Morocco in search of food, which is otherwise sparse in the region.
We reached the coast at Essaouira, a pretty coastal town with a medina notorious as a great wave riding spot for kite and windsurfers.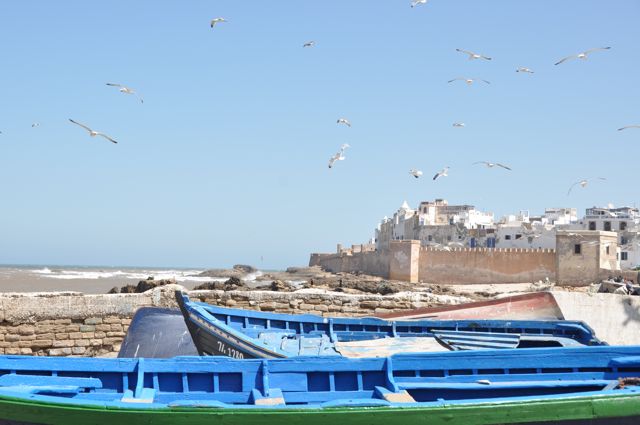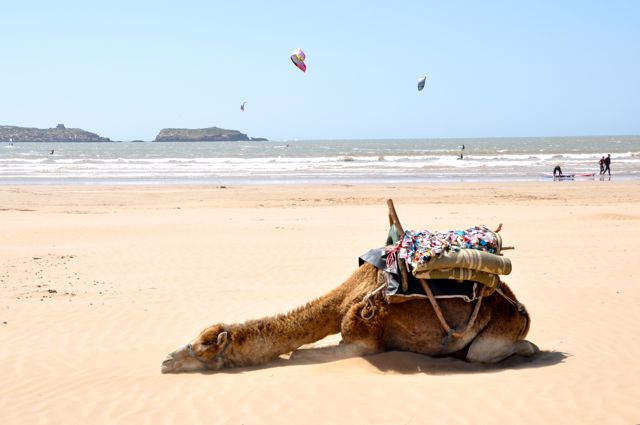 South of Essaouria, we spent a night in a hotel high on a bluff overlooking the ocean in Sidi Ifni.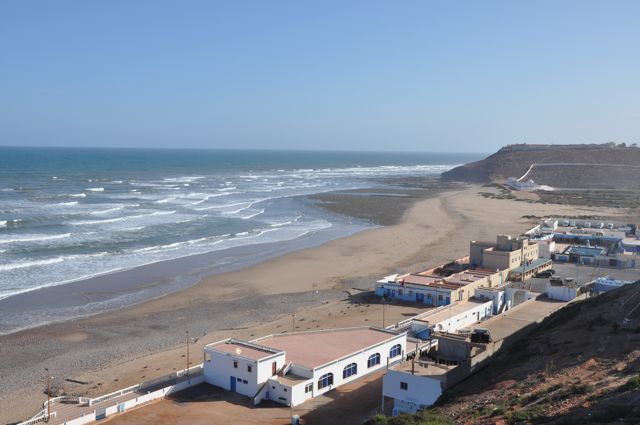 As we continued to make our way south, I grew more anxious about crossing the disputed border into Western Sahara.  I wondered if we had made a mistake in not making the journey in the safety of a convoy. We had our fiches (a document containing personal information such as passport number, occupation, reason for visit, etc.) ready to hand over at the 30+ police check points on the way. We were warned that the police might ask us for brides in exchange for granting us permission to continue driving south. We were  told to refuse and remind the police that "the King has forbidden asking for brides", which sounded very ridiculous when we actually had to say this to the cheeky cop who held us up demanding "souvineers".  I told him we had no money  to give him as we had already given it all to three different police men who had ticketed Tom for various motor violations including speeding, not wearing a seatbelt and the best of all …  not stopping at a stop sign in a round about!?!?! Talk about a tourist trap! If you are heading south through Tan Tan be sure to mind the hidden sign within the roundabout or you will also have to forge up 600 MAD!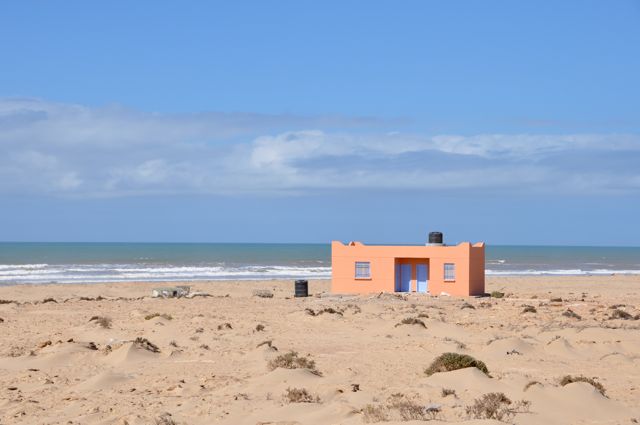 Why the police stops on our way? Western Sahara is a disputed territory of Morocco. The king claims the land to Morocco; however, the Polisario Front (the representative of the Sahrawi people who live there) claim their country's independence. The area today referred to as Western Sahara, remains according to the United Nations one of the world's last remaining major non-self governing territories. To date, large parts of Western Sahara are controlled by the Moroccan Government. Many Sahrawi people have been driven out of the country and live in refugee camps along the Algerian border. Another sad reality of the conflict is the existance of land mines along the disputed border that discourage the people from reentering Western Sahara. This scary fact kept us and other tourists on the well driven tarmac. Honey Badger may befearless, but he ain't stupid!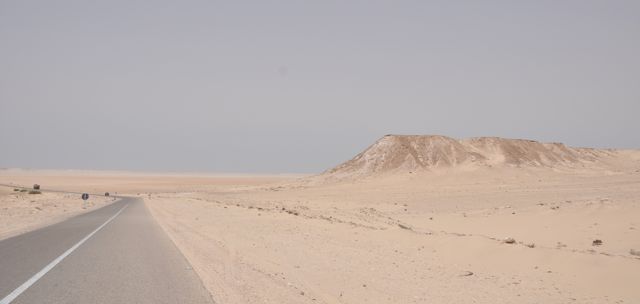 The actual border crossing was very uneventful, and there was no visual indication that we had crossed over to Western Sahara. Petrol prices dropped (one of many ways the Moroccan government lures its people south in hopes of further occupying the area).
It was in the dreary port city of Layonne that we received the bad news that Dora had died just north of Dakhla, and she to be towed the rest of the way. She gave it a good run and we were happy that at least she died doing what she loved.
As we drove south along the coast, the sand brightened to a blinding white. Herds of camel ran rampant in a desert so vast and empty that it seemed we were the only people on the lonely road.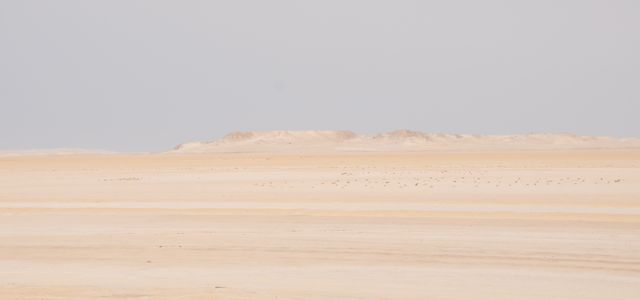 We were quite shocked to see Uncle Buzza fly past us in Piglet heading north. Tom did a quick turnaround and we chased him, curious to know why he wasn't in Dakhla selling his car as originally planned. His story was our first clue that things were a bit shady in Dakhla.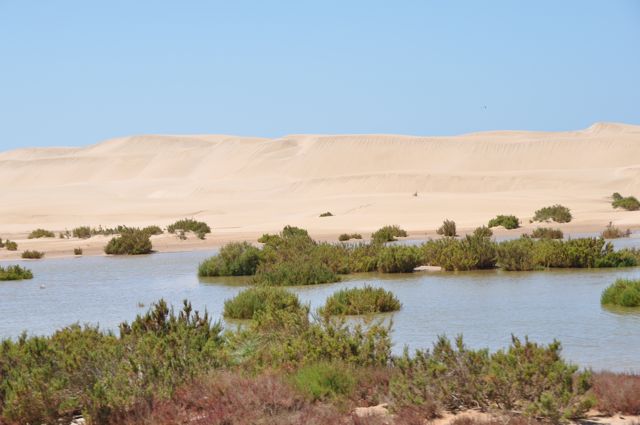 All in all the ride down was smooth,  and Honey Badger delivering us safely across the finish line on day 14 of the Dakhla Challenge! We drove over 5000 km across five countries, ending the challenge in Dakhla, Western Sahara.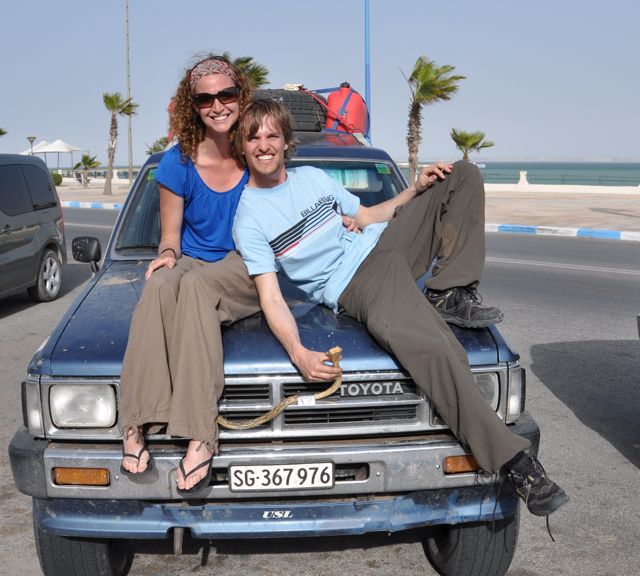 We knew we had arrived in Dakhla when we saw kites in the air!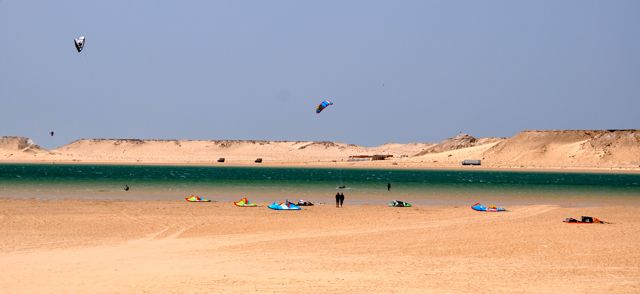 MAP OF OUR ROUTE

Click on these links to see photos of Tizi-n-Tickha mountain pass, Marrakesh, Essaouira and the coastal drive from Sidi Ifni to Dakhla.
Tags: 4x4, Dakhla, dakhla challenge, Essaouira, Honey Badger, Marrakesh, Morocco, offroad, Sidi Ifni