Africa
,
Dakhla Challenge
,
France
,
Morocco
,
Spain
,
Switzerland
,
Western Sahara
— By
Kelly
on April 8, 2012 4:35 PM
Endless golden sands, couscous, medinas, cobras, kitesurfing, clunkers, off roading adventures …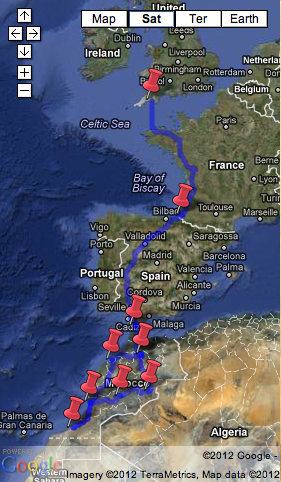 The Dakhla Challenge is a 5000 km off-road rally of clunkers starting in Plymouth England, traversing Morocco to the finish line in the windy city of Dakhla in Western Sahara … with the goal to use as little tarmac as possible, the more inappropriate the car the better.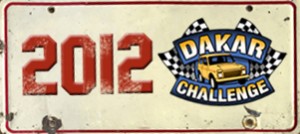 When Thomas forwarded me an email about the Dakhla Challenge , explaining that it was his dream to do an off-road rally like this "one day", he didn't expect my immediate response to be "LET'S DO IT THIS YEAR!" He was shocked by my enthusiasm at first, forgetting momentarily he was dating "by the seat of my skirt" who is always up for an adventure and has been dying to set foot on Africa! We both enjoy offroading and actually met while doing independent offroad/camping adventures through the Australian outback in 2010. A few months ago I had no idea I would be sleeping under the stars in the middle of nowhere in the Sahara. I love letting opportunities unfold on their own instead of planning, the more serendipitous the better.
Our team name is Honey Badgers, as we deem ourselves fearless in our pursuit for adventure!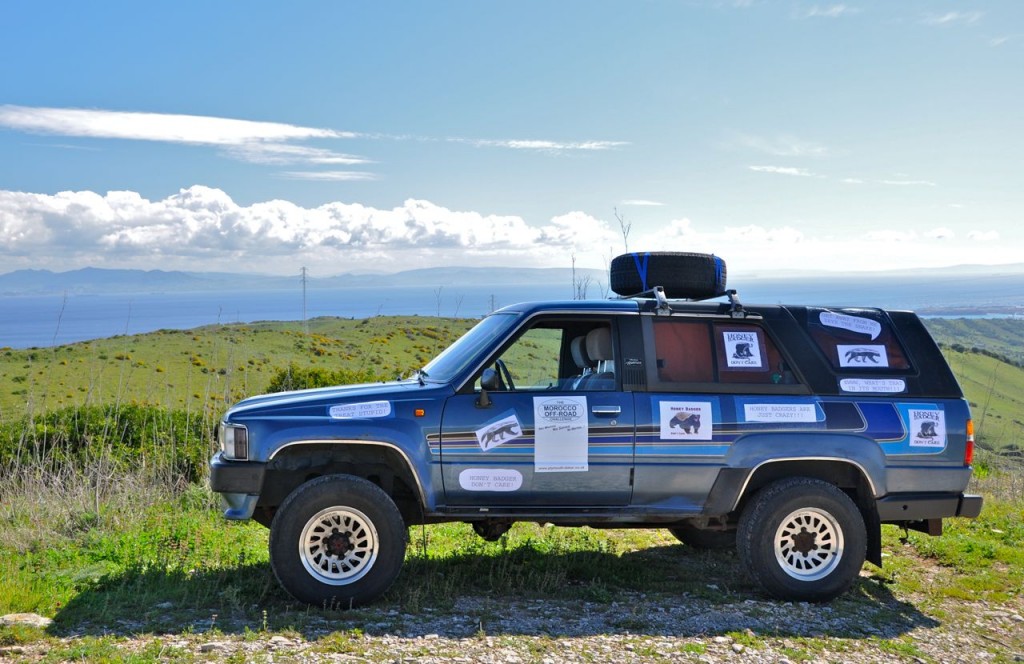 In the event you have been living under a rock the past year and are asking yourself "what is a honey badger" …
THIS is the honey badger … the most fearless creature in the animal kingdom. It's pretty bad ass, isn't it?
Honey Badger is a fearless 1989 4Runner 4×4 with 245,000 km. He smells like an animal, and cigarettes too. He makes strange growling noises, and screeched loudly after 3000 RPMs the entire journey from Switzerland to Spain. Thomas fixed the screeching by tightening the fan belt. The growling we quite like … get out of our way! GRRRRRRR VROOM VROOM!!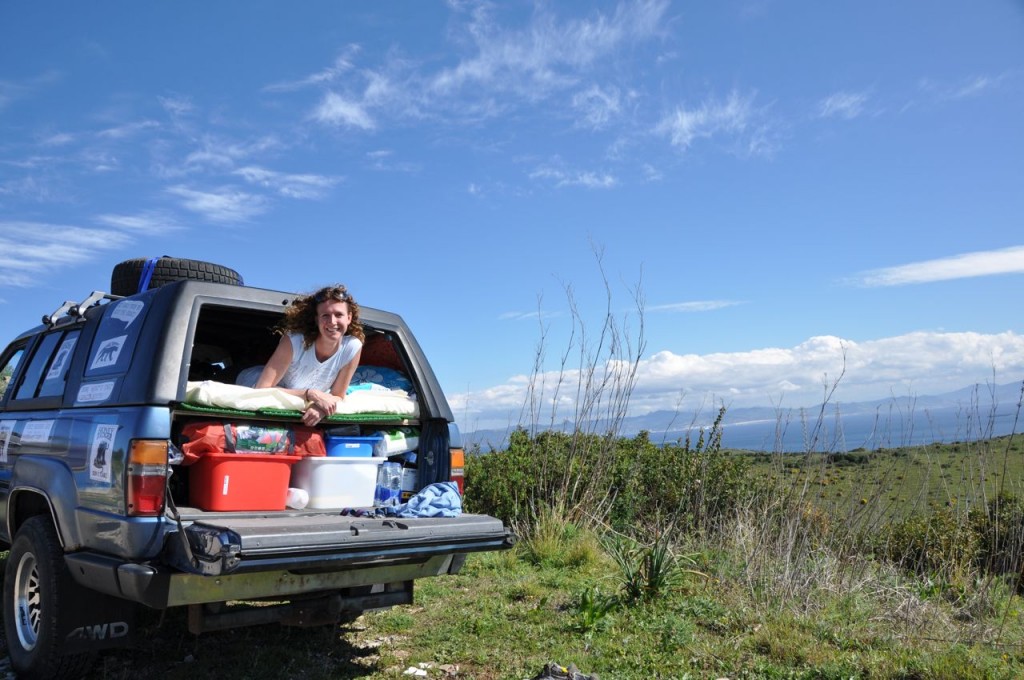 This is not an organized/supported event, nor is it intended for the faint at heart. There are 15 teams participating under the "good Samaritan" theme of helping one another along the way. Of the 33 participants, I am one of two females. We were all given a copy of Chris Scotts "Sahara Overland" which is to be "our bible" both of which I have not read cover to cover. The motto of the rally is: No money, No Sense, No Worries!
The group will split into two, the 4×4 group taking the tougher off-road routes. It is suggested to only spend $500 USD on a vehicle, so having a mechanically inclined teammate is key. Thomas will be filling that role, as well as the making sure we don't get lost as I am, um a little directionally challenged at times.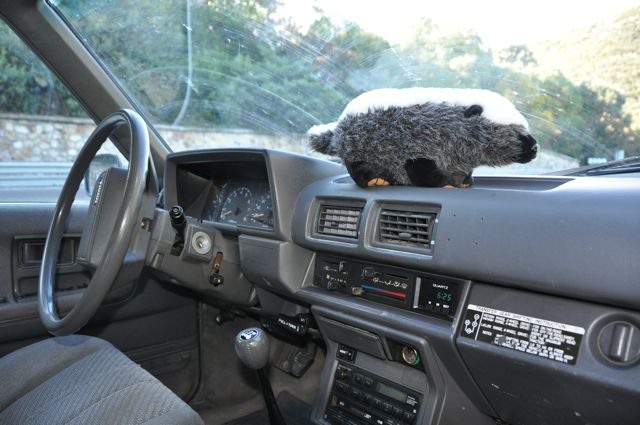 In the end the car will be sold at a charity auction in Dakhla and we will both fly back to Europe, but of course that ticket has yet to be purchased!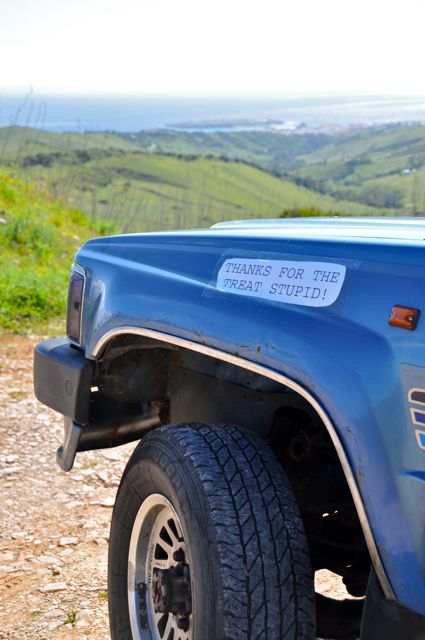 Most people prepare well in advance for such an endeavor. But not us, Team Honey Badgers are going to Africa by the seat of our skirt/pants (we are also both amazingly great procrastinators!) We signed up for the rally four months ago, thought about the fact that there will be lots to do to prepare, but never actually began our preparations until last week! We had read the emails from other teams for months as they test-drove their cars, bought CB radios and spare parts. We should have been doing the same, but instead we were off playing in the snow. We contemplated seeking sponsorship for the rally, but in the end didn't bother as it just felt like too much work and was taking the fun out of the adventure.
We secured Honey Badger only three weeks ago on an online auction for $1100 Francs. Also included inside were 8 spare tires (2 are coming with us, the other 6 our on our balcony at home), and a mysterious box of random parts. Inside was a new starter motor and exhaust pipe. We wondered why and brought it along in case it needs to be replaced along the way. We figure once we sell the extra 6 tires and parts, the cost of the car will actually be $500 or less.
This past weekend we finally began our preparations. The first task was to build a bed into the back of the 4Runner for the obvious purpose of sleeping (we also have a tent) but also to provide extra storage space that is hidden from eyesight. Both are massive kitesurfing bags fit nicely under the bed, along with the 50L of water we are bringing. We also have pieces of carpet to help us get out of the sand when we get stuck (I don't think IF is a possibility, it is a guarantee). It was also recommended to bring gardening gloves versus a shovel to dig sand out from around sunken tires. We have a GPS, CB radio, tools, gas stove, medical kit, water purifying tablets, spare parts and fluids etc… We hope we haven't forgotten anything important!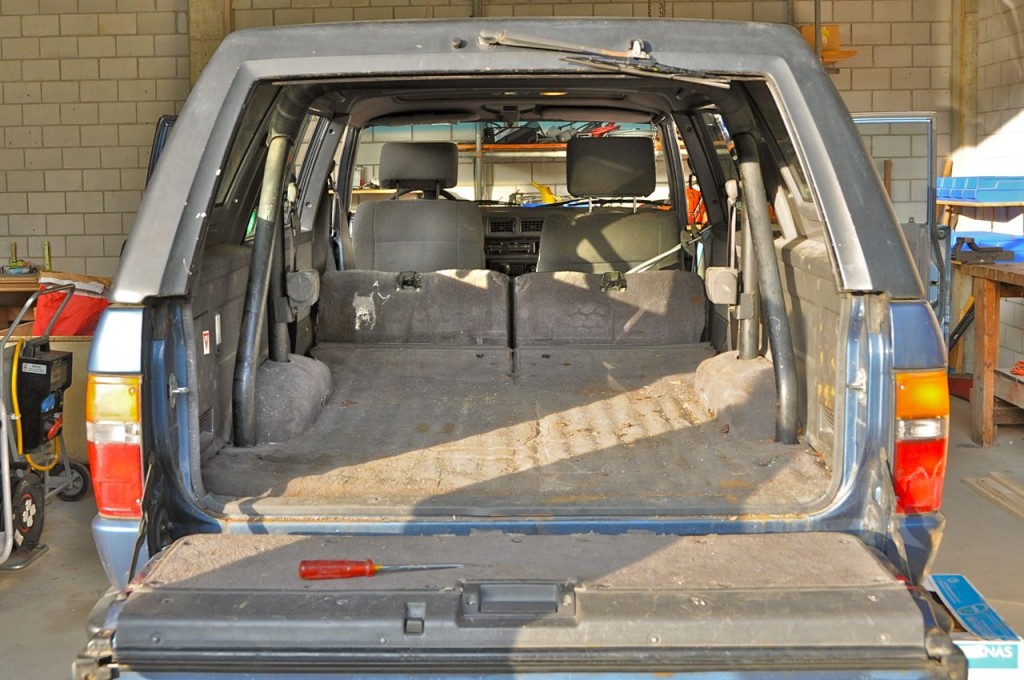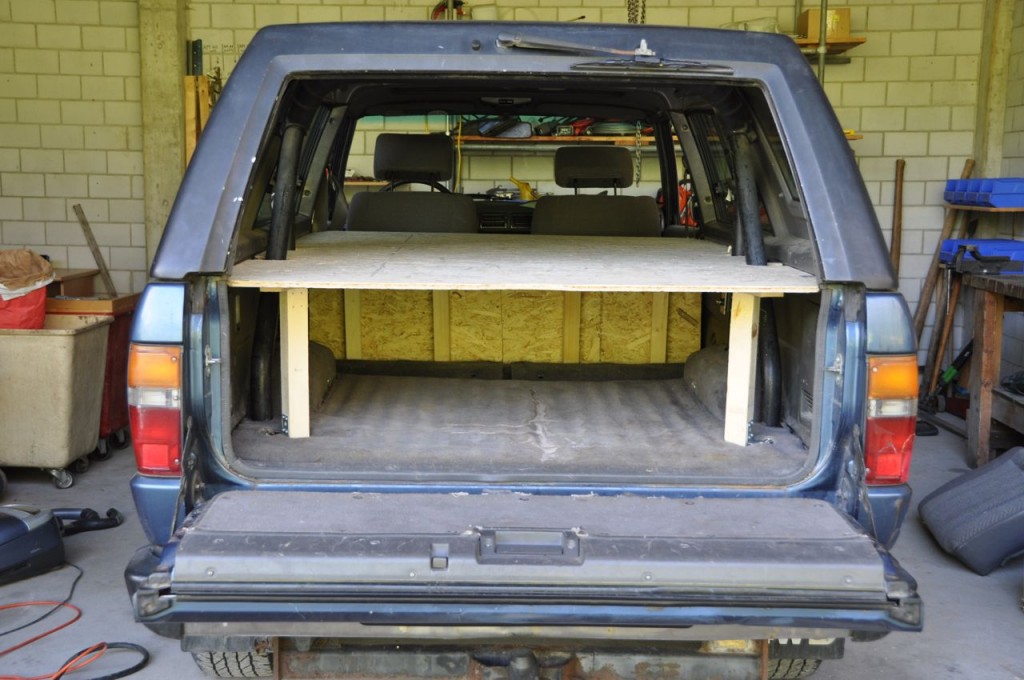 I quite enjoyed ripping out the back seats and working with power tools again.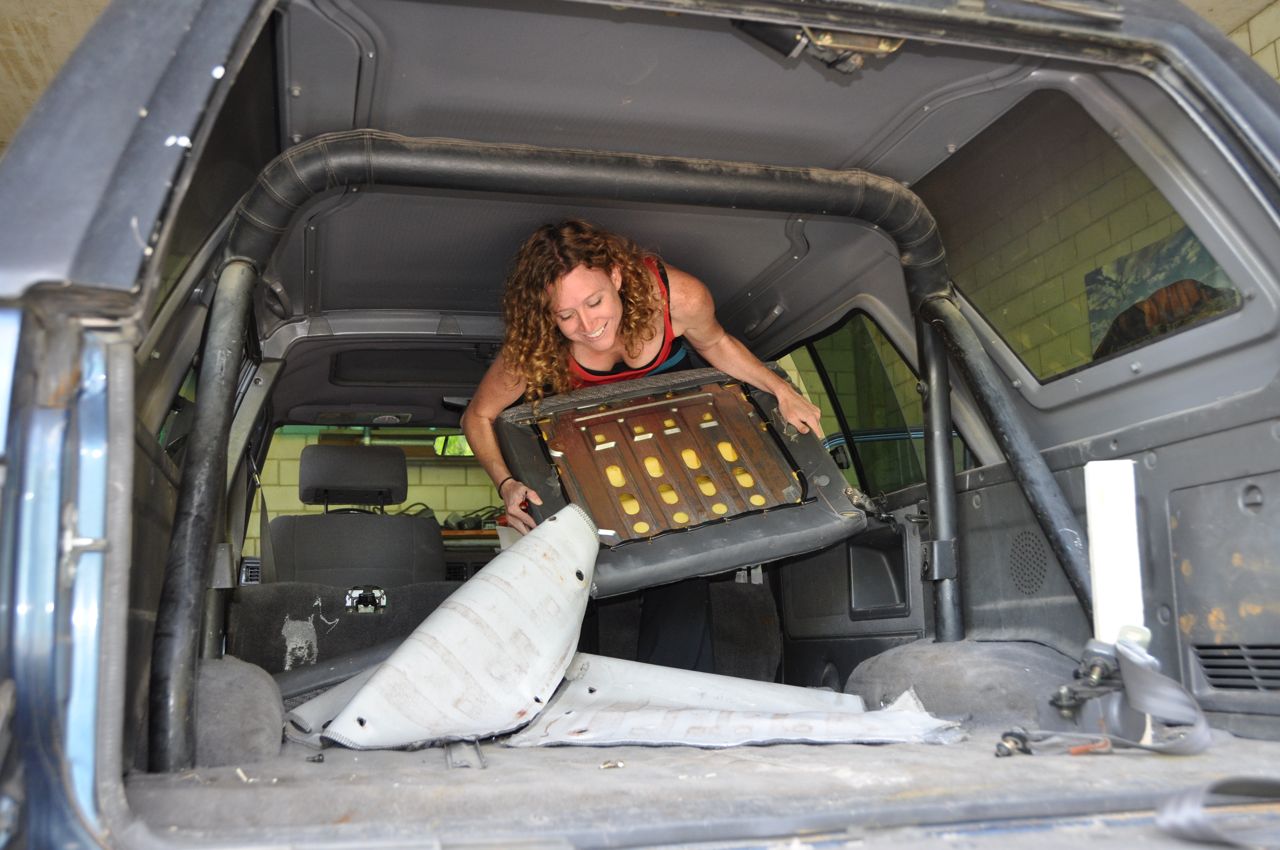 I also had to learn how to drive a manual transmission, well sort of! I think it is best that Thomas do all city driving that might involve quick starts and stopping and starting on hills! But what funner way to improve my manual transmission driving skills than offroading in the desert?
Naturally we got a late start on our departure due to last minute necessities to be secured. We drove along the Mediterranean coast of France and Spain. The drive through was unreal. I could live here, I thought over and over. The weather grew warmer in southern Spain, making the ride without air conditioning a bit uncomfortable, but was nothing compared to what we will experience in the desert.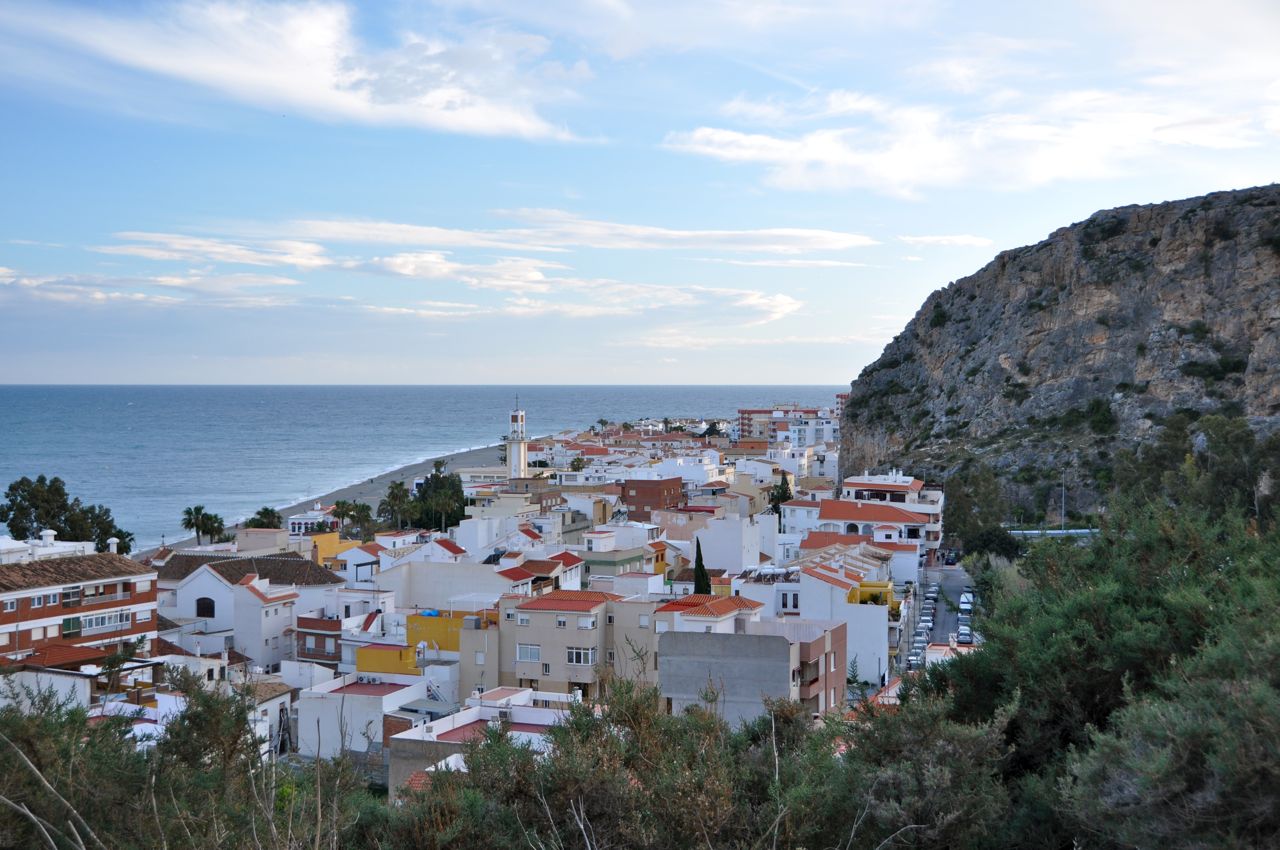 We arrived in Tarifa, Spain after 30-hours of nonstop driving and met up with the other participants at the hotel. I was disappointed and Thomas was happy to learn that our Honey Badger t-shirts I ordered did not deliver to the hotel. We did spend some time decorating Honey Badger with his most famous quotes.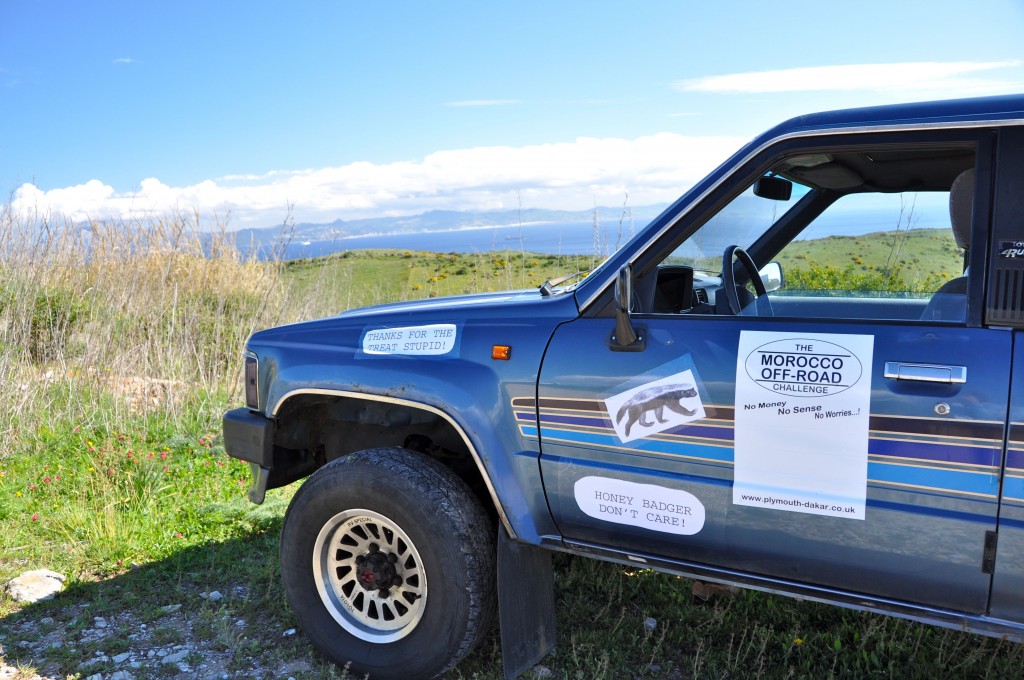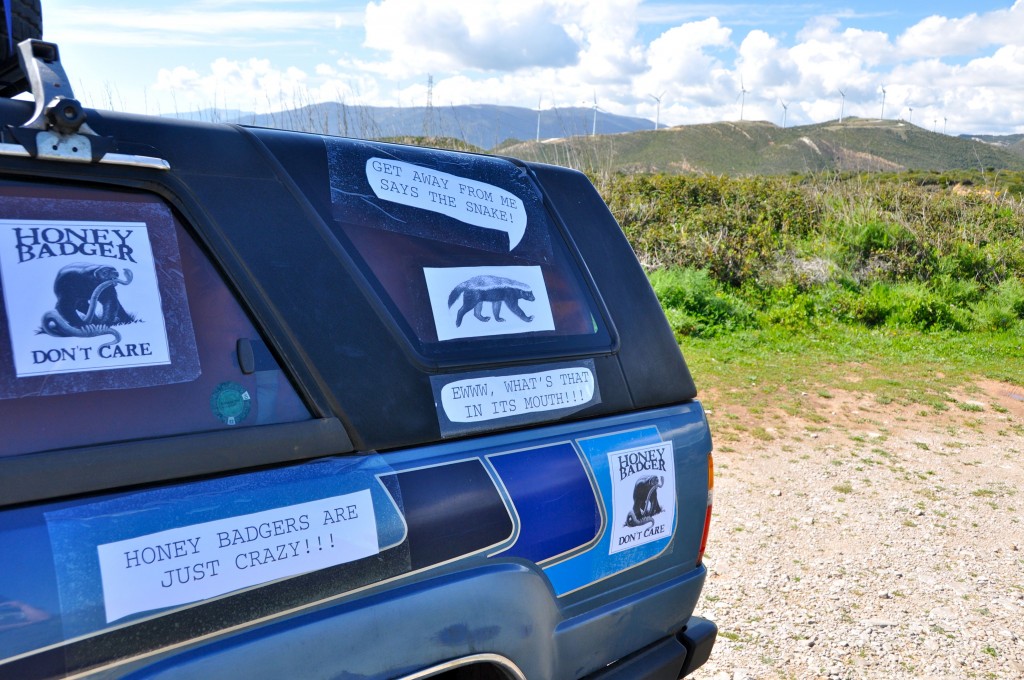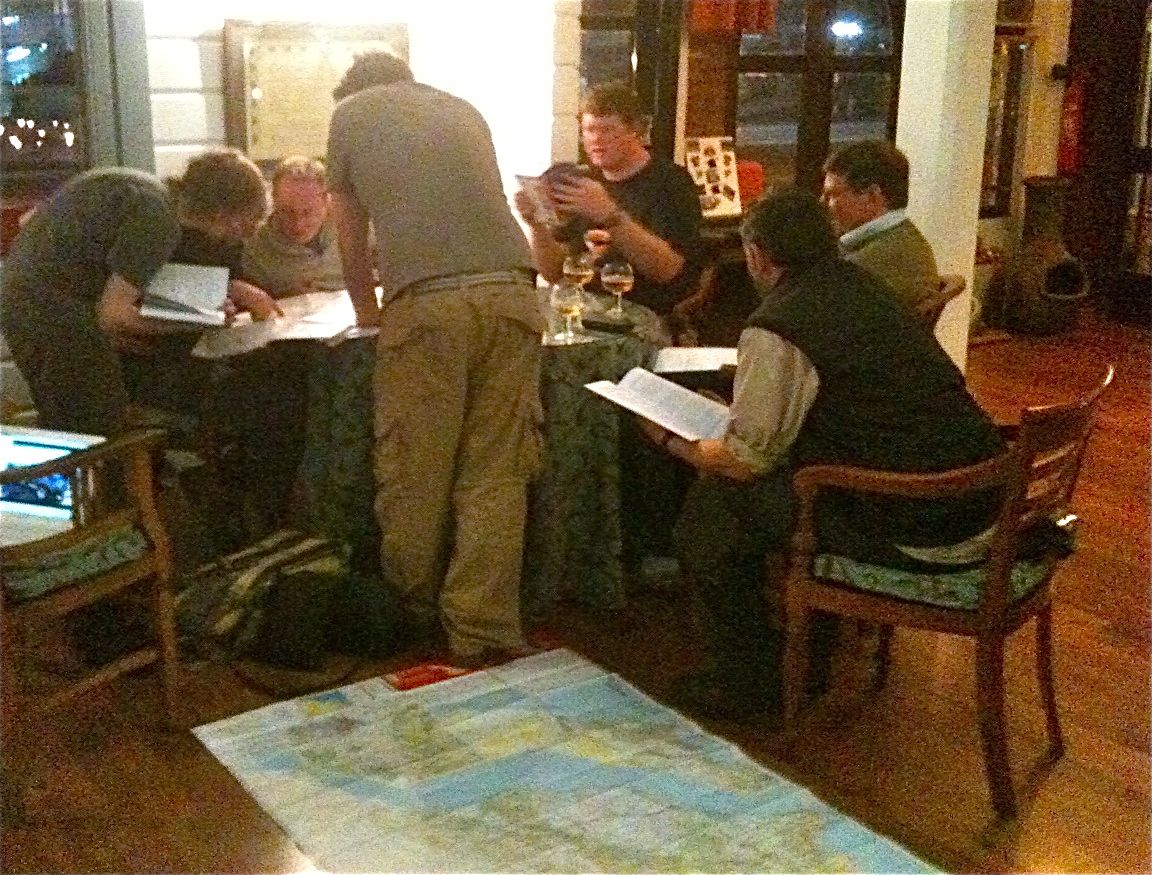 Last night the group divided to discuss possible routes, we opened our crisp map of Morocco for the first time. "Is there a specific route you guys want to take?" asked one of the participants. We explained that we hadn't actually looked at the route options and are flexible, the more challenging the adventure, the better for us. The group seems easy going and while we spent some time accessing routes, we decided to drink beers together instead of planning the details of the trip. I was happy about this because A) I love beer and B) I absolutely hate planning!
The Dakhla Challenge participants at a glance seem to be quite the eclectic group, one guy intends to try to waterski with carpet tiles while wearing a cow costume, and I wonder when team Budgie Smugglers will bust out into costume?
We did decide on a short-term plan to take the morning ferry across the straight of Gibraltar to Morocco … today! The rest is unknown, and exciting, and will surely make for an amazing adventure!
So you think we are crazy to attempt to drive a clunker across the Sahara? HONEY BADGER DON'T CARE!
No Money, No Sense, No Worries!
Follow our Dakhla Challenge Route, that will update daily thanks to SPOT GPS tracker and the script Thomas wrote that links our coordinates to the map in real time.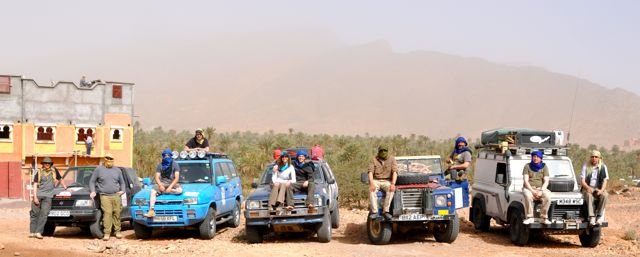 <?
echo implode(file("http://www.kitetrail.ch/gmaps5.php?trip=3"));
?>
You can also follow my tweets @seatofmyskirt and the entire rally group will be tweeting under #dakhlachallenge
To see more photos of Honey Badger CLICK HERE!
Tags: 4x4, adventure, adventure travel, dakhla challenge, Europe 2012, france, Honey Badger, kitesurfing, Morocco, offroad, spain, Switzerland