Europe
,
Europe 2012
,
Learned something new today
,
Switzerland
— By
Kelly
on July 30, 2012 6:27 AM
Do you know what city is the capital of Switzerland? I didn't until my recent trip to the land of cheese and chocolate. If you had asked me, I would have guessed Zurich or Geneva and I would have been wrong.
The capital of Switzerland is Bern, a city of about 140,000 people making it the country's fourth largest city located 1.5 hour drive southwest of Zurich. I  learned that Bern is ranked among the world's top ten cities for the best quality of life (2010). Another noteworthy fact is that Albert Einstein lived in Bern while developing the Theory of Relativity. His dwellings have been museumified and for $7, you can tour his restored house on Kramgrasse.
Bern is perhaps better known for the animals that reside here, for which it is speculated the city got its name. According to local legend, Berthold V,Duke of Zähringen (who founded the city in in 1191), vowed to name the city after the first animal he met on the hunt, which turned out to be a bear or Bär in the local dialect.  Since the 16th century, the city has had a bear pit known as the Bärengaben.
Near the Bear park is Altes Tramdepot, where  grab one of their on-site brews and enjoy the aerial view of the bears below and the Old Town across the river.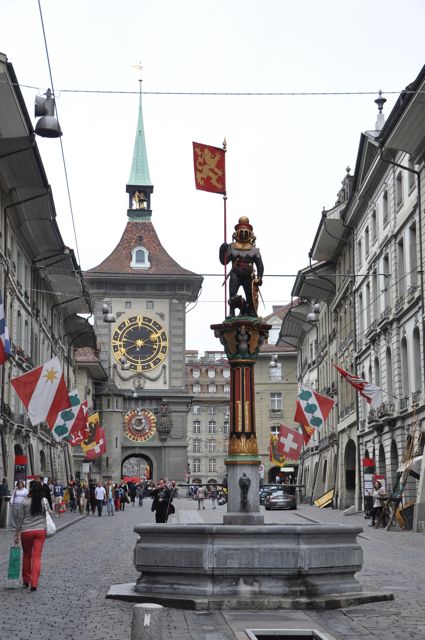 Bern's old town city center is largely medieval and houses many of the cities most famous sites. Perhaps the most famous site is the Zytgogge (Time Bell) an elaborate 800-year old clock tower with moving puppets that perform a different show before the bell strikes every hour.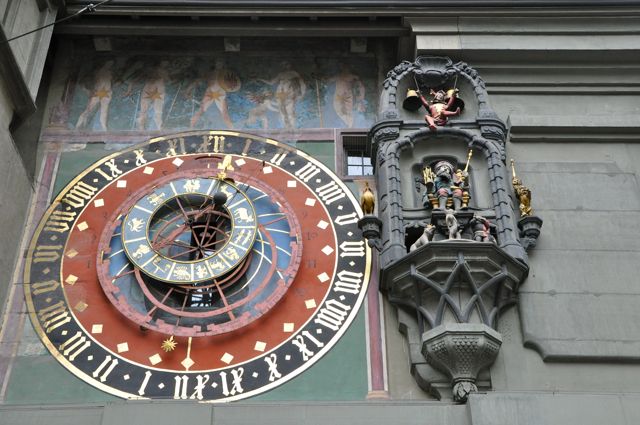 There is also a 15th century Gothic cathedral, the Münster, of which you can climb to the top for panoramic views of the pretty city.
I was lucky enough to have a local tour guide during my visit to Bern. Thomas' friend was kind enough to spend his entire day showing us the city he loves and calls home. As tourists, we were able to rent bikes for free. How cool is that??
A great place to just chill out and enjoy a great view over a cup of coffee is at the botanical gardens.
While Bern may not be as well known as other Swiss cities, the capital is certainly worth a visit and offers many opportunities to learn something new.
To see more photos of Bern CLICK HERE.
Tags: Europe, Europe 2012, Switzerland