Europe
,
Europe 2012
,
Switzerland
— By
Kelly
on March 29, 2012 2:48 AM
"Do you want to meet me at the castle to watch sunset?" read the text message I received from Thomas. Clearly a rhetorical question I thought, but still I responded "YES! You read my mind!"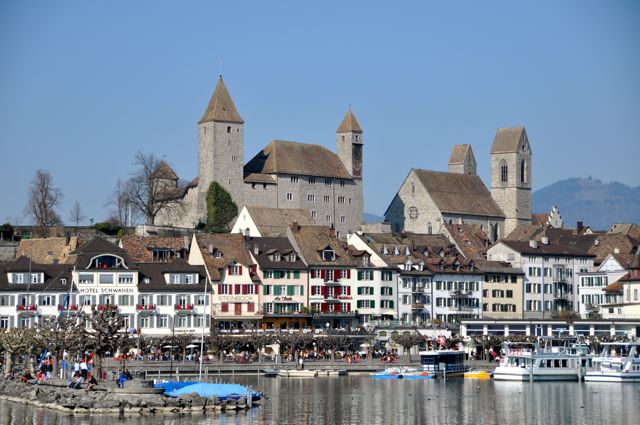 I had spent the afternoon wandering around the small town of Rapperswil, attempting to discover my new home away from home while Thomas was at work. While I usually love exploring a new place on my own, I hadn't been able to shake the feeling that in this particular instance, it was somehow wrong. With each new discovery I realized I would prefer to be exploring my partner's hometown with him, through his eyes and his stories. Local insight is what I crave when traveling and having a Swiss boyfriend afforded me a unique opportunity to experience his country as a local instead of a tourist, and to dive deeper into the culture.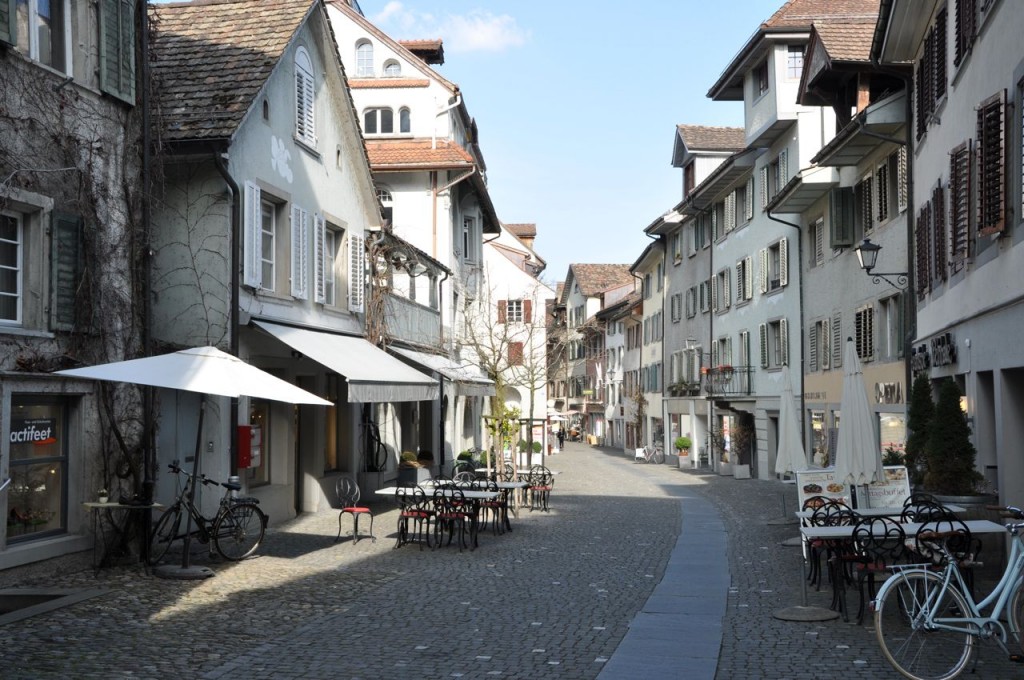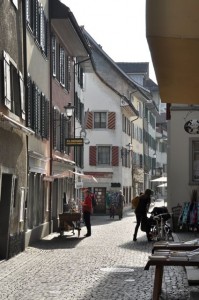 As I weaved my way through the cobblestone streets of the old town, I thought of him often. Laughing children peddled past me on push bikes wearing backpacks, excited school was out for the day. I pictured my blond haired boyfriend as a small child, roaming these same streets, acutely aware of  how very different our childhoods must have been lived out in so very different parts of the world. I had already heard many stories that made me exclaim "my mother would have never let me do that!" such as chopping down dead trees in the forest behind his house with an ax that he can't remember how he acquired.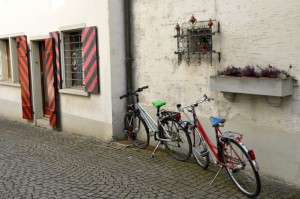 It seemed to me that he had a much longer leash than I did as a kid as he was free to roam the woods while I was usually confined to our backyard under supervision. I assume his parents were not privy to all of his childhood missions, such as the time he and his best friend built a fort inside a small cave in the woods and decided to get rid of the little roots hanging from the top by setting them on fire, which got "a little out of hand."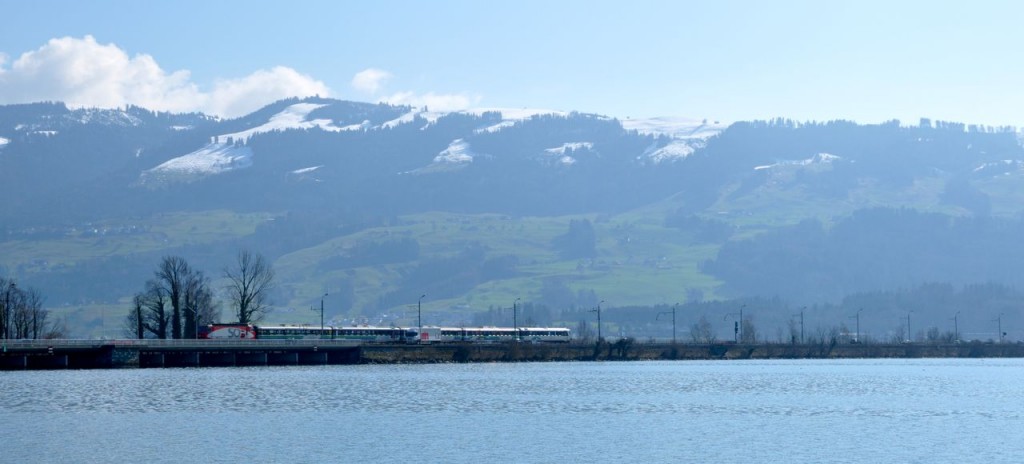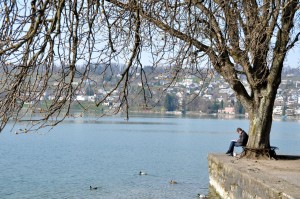 I decided to take a break from my wanderings to enjoy chocolate chip gelato beside the lake. Ducks and big white swans were sent in wild disarray by a woman tossing bread crumbs in the air. I watched the train descend toward the town, behind which lay the gorgeous Alps.
I thought about the question so many asked me "What will you do while you are there?" and remembered our friend Stevo, who lives nearby, said he worries I will get quite bored in such a small town. I contemplated boredom, a feeling I have not felt in a very long time. A feeling I wouldn't necessarily be opposed to experiencing as I am typically quite busy, and would enjoy doing nothing for a while. Opportunites always seem to arise. I have never felt the need to plan even a day ahead and I have no intention of planning out the next five months of my life. I have faith that my path here will evolve as it should, and the unexpected, unplanned experiences are the ones I feel are worth writing home about.  I am just grateful for the opportunity to experience a new country so intimately, to just be and to live somewhere completely foreign and new.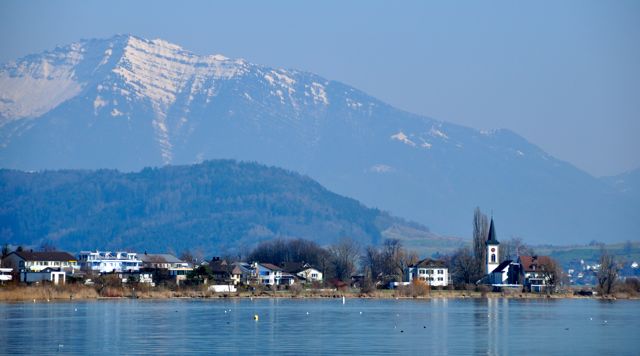 As I stared out across the still blue water, I thought about the first impressions I had of this country in comparison to my own. The Swiss appear to be minimalists, a refreshing opposition to  "you can have anything and everything you want" in American culture. I remembered Thomas was quite "freaked out" by the abundance of my possessions when we pulled open the storage unit door when I returned from my last big trip. I continue to feel that less is more as I slowly shed away years of unnecessary purchases. Switzerland is a very expensive country, but people seem to make more money, offsetting to cost to live here. Every Swiss person I have met to date have been incredibly nice, polite, and they really do love their chocolate. I remember the very distinct smells I experienced when I first arrived. I had asked Tom, "Is there a farm nearby?" He told me no, suggesting my city nose was to blame. Even after a few weeks here the air still feels and smells very different. The countryside is absolutely gorgeous, and while i have only been here a short while, I am quite enjoying the Swiss life.
I thought to myself … I could live here!
I love the intimate feel of this small quaint town of only 26,000 residents. I asked what make a place a town versus a village and was told to be considered a town at least 10,000 people must reside; however, Rapperswil has always been considered a town because it has a castle.
As the sun lowered, I made my way toward the castle that has dominated the town since the 13th-century. I was happy that I had not yet explored these grounds as I climbed to the top, looking forward to experiencing for the first time with Thomas.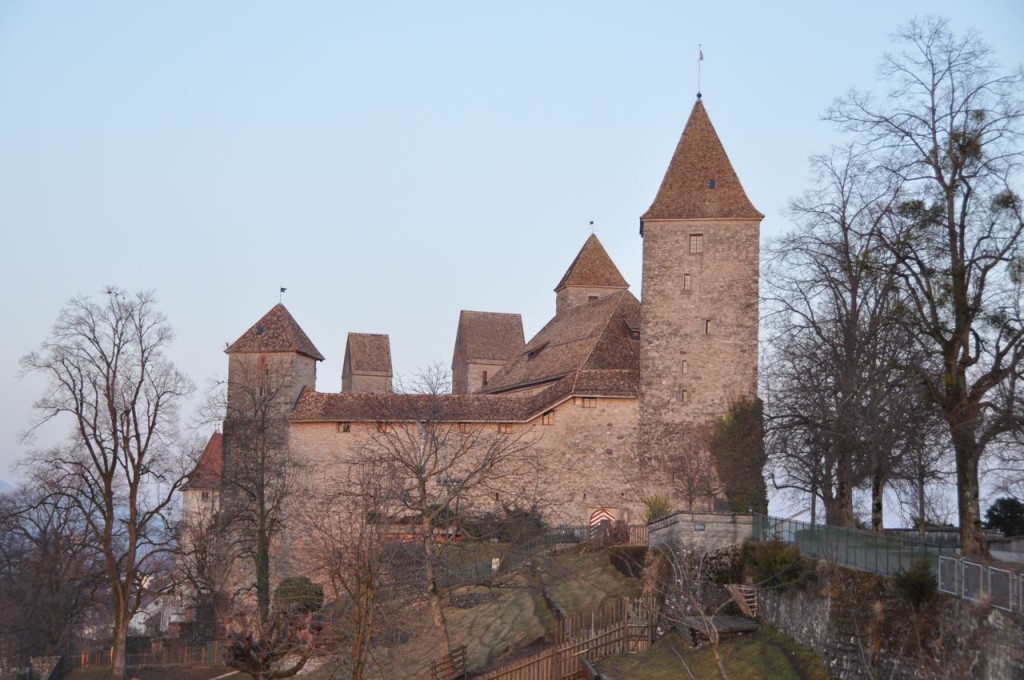 From the top, I took in the beautiful view that encircled me. I peered across rooftops at the snow covered Alps, lush green grass emerging at lower ground thanks to warmer weather. The sinking sun reflected in a long golden streak across the quiet lake.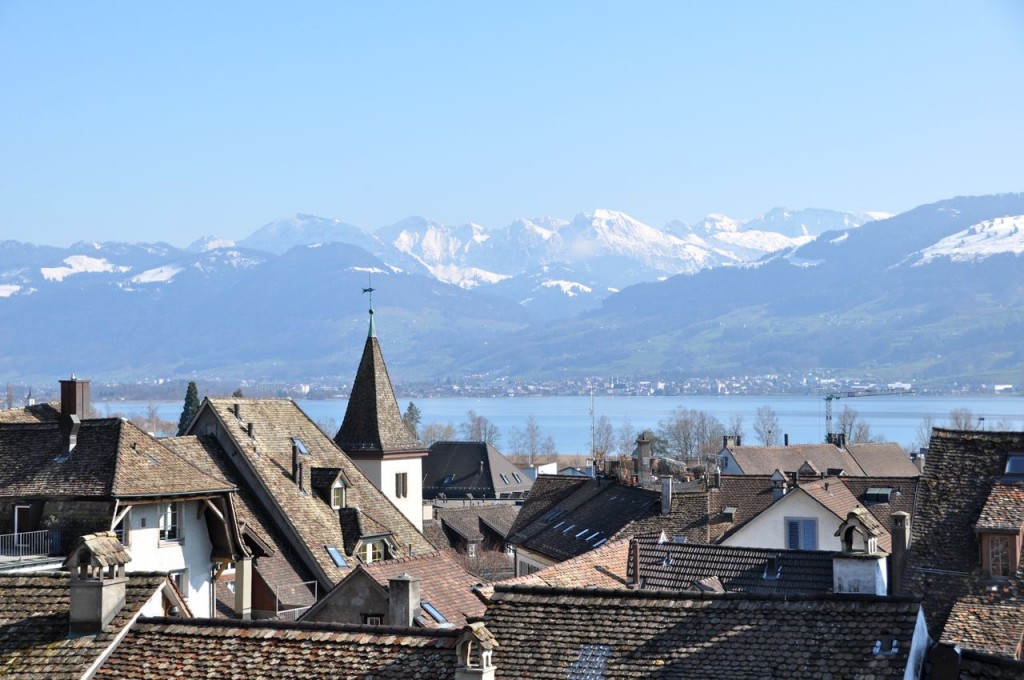 We sat together on a bench, holding hands as Thomas told me about Eis-zwei-Geissebei, a tradition that happens in Rapperswil each Spring.
In medieval times, when an army sought to overtake a castle, troops would surround the castle waiting for the inhabitants to surrender, which usually would happen when they ran out of food. The legend that inspires Geissebei tells a story of trickery, as the people inside the castle threw goat legs from the windows, in an attempt to portray that they had an abundance of food and could survive for a long time. Their cunning deception worked and the troops retreated from the castle.
Eis-zwei-Geissebei is celebrated annually on Shrove Tuesday (the day before Ash Wednesday), occurring for the 664th time this year. The town will gather at the base of the castle and sausages and bread rolls will be thrown down to the crowd.
His story made me smile, this is what I wanted.
Sunsets are beautiful and make for great photos, but are most special when a good memory accompanies the shot.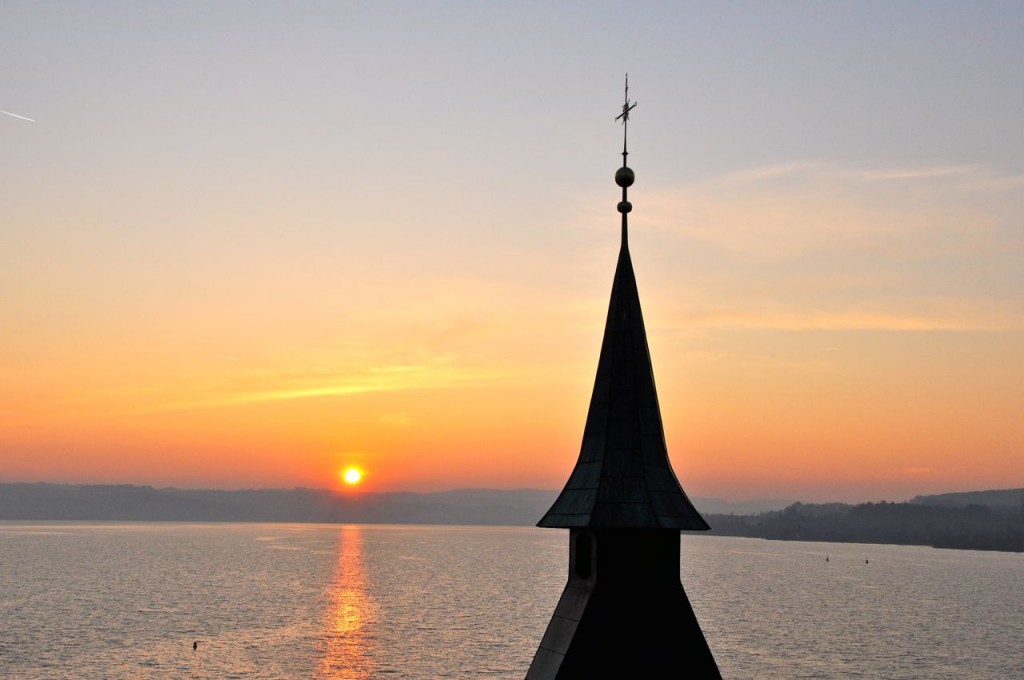 As the sun sank into the Lake of Zurich, we started our own tradition, to meet at the top of the castle to watch sunset at least once a week. Next time we will remember to bring beer.
To see more photos of Rapperswil, CLICK HERE.
Tags: castles, Europe, Europe 2012, living abroad, rapperswil, Switzerland, Thomas