California
,
Reviews
,
San Diego
,
United States
— By
Kelly
on May 28, 2010 4:53 PM
"Diva is a female version of a hustla…" I could not get the Beyonce song out of my head as I lay belly down on the nine-foot red foam board awaiting the lift of a wave. The mid-day sun rested high above the gently swaying palm trees that lined the dreamy California coastline. La Jolla's shore was awake and bustling with red shorts in training, bikinis tanning, and long boards eager to surf.
"Focus," I told myself, "you must remember the sequence of moves if you want to ride these waves." My mind had been clouded with multiple uncertainties lately challenging my ability to concentrate.

It had been two years since I surfed in Australia, and I was hopeful surfing would prove to be like riding a bike. My toes touched the end of the board; my hands firmly gripped the sides. I looked over my left shoulder and saw a wave was fast approaching. "Paddle, paddle, paddle," said the voice in my head as my arms obeyed with full circular motions slinging water behind me as I edged forward. "Paddle a few times more than you think you should," Jen, my surf instructor, had told me when she noticed I was attempting to get up before I fully caught the wave. I felt the board lift and I paddled twice more before putting my hands under my ribs. "Push up, jump, feet squared, knees bent." I was up for a few seconds before belly flopping into the ocean taking in a healthy dose of salt water. I emerged from the water blinded by the sting in my eyes, coughing violently and wondering what I did wrong that time? I struggled to reign in my unruly board by its leash, ready to try again.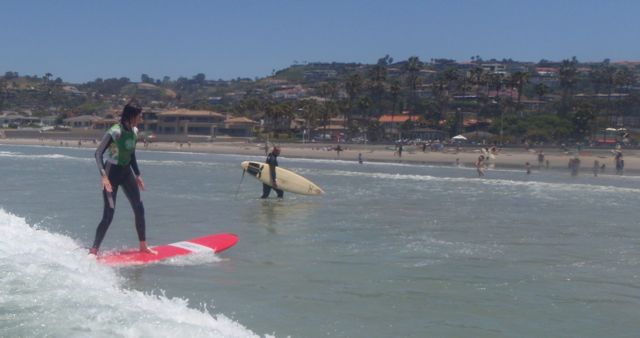 I looked around to see how the other divas were doing. Mary was standing up on her board, which didn't surprise me since she is skilled at yoga and very strong. Aine was getting pounded in the face by a big wave, and Christian was in position, patiently waiting for her perfect wave. I smiled, feeling lucky to have such great girlfriends and felt a surge of girl power.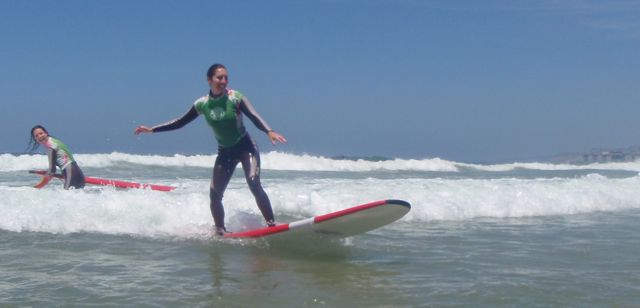 We had been looking forward to this weekend for weeks eager to escape the cold San Francisco summer for utopian San Diego weather. A fun girl's weekend away was in order as life over the past year had been hard for all of us. We each faced challenges in our careers and relationships, feeling unsure of which path to take next and asking the question "What are we doing with our lives?" While we were all at individual crossroads, we found comfort in the stability of our friendships. My desire for the weekend was to not only improve my surfing skills while having fun with my girlfriends but to find clarity in the solitude in the sea.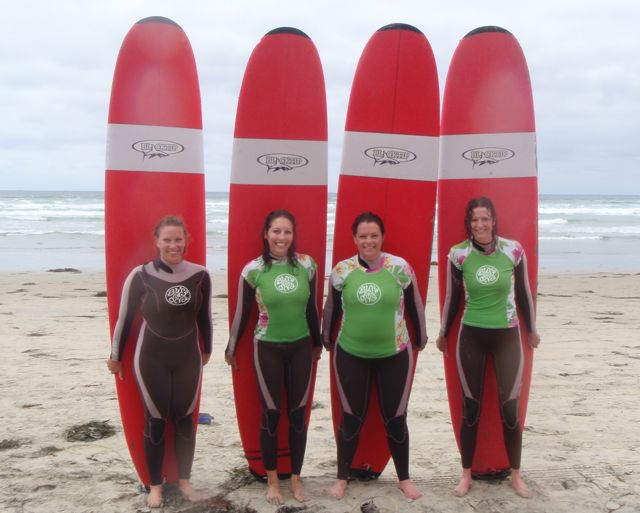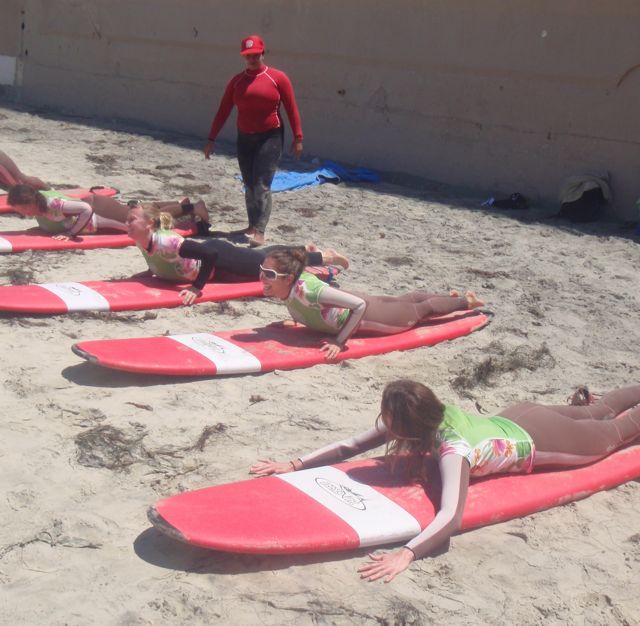 I learned about Surf Diva a few years back and loved the idea of a female focused surf school. Surf culture has historically been dominated by testosterone and while we have the same name, Kelly Slater is a surfer dude not dudette. Surf Diva School is estrogen driven: nurturing, encouraging, emotionally available, secure and fun! We couldn't have asked for a more positive and safe environment to learn to surf. Our experienced diva instructor, Jen, had been surfing for over 20 years. We attended the two-day Surf Diva Camp, which included demonstrations on the beach followed by two-hours of surf instruction in the water.
Twin sisters Izzy and Coco Tihanyi founded Surf Diva School in 1996. Surf Diva has introduced women of all ages to the sport and spirit of surfing in a fun and encouraging environment taught by professional, educated and passionate surfing instructors. Surf Diva has enjoyed its reputation as the world's number one surf school for women with locations in San Diego, Los Angeles and Costa Rica.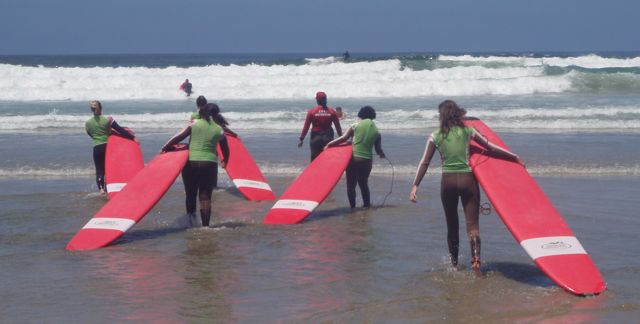 As I made my way back out I did the "stingray shuffle" and laughed remembering the look on Christian's face when we were told to shuffle your feet through the sand to avoid stepping directly on top of a stingray. With a look of terror, she had said "Oh great, another thing for me to fear!" adding stingrays to her list proceeded by sharks, jellyfish, and rip tides. Despite our individual fears we all agreed that any challenges we face in life are less daunting with your girlfriends by your side.By the end of the first day, we were all standing on our boards in a wide range of ungraceful poses, but we were surfing none-the-less! Being the ambitious divas we are, we were eager to learn new tricks. As women are known to do, we prefer to do things in groups, whether it's going to the bathroom in a pack or, in this case, catching a "party wave!" "Double-mint fun" Mary termed it when two or more divas caught the same wave. We had quite the party in the ocean that first day!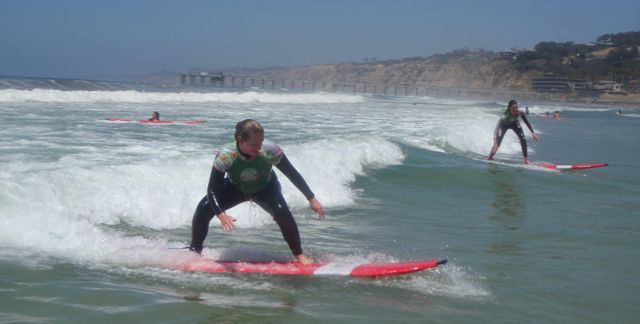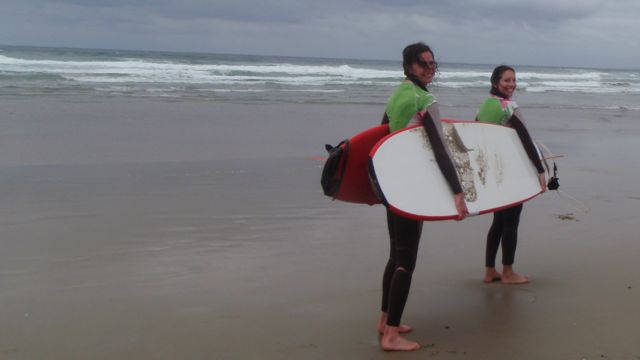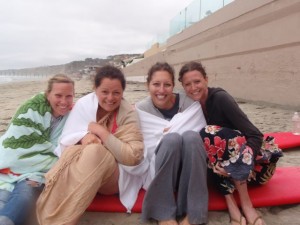 We awoke on day two to a chilly wet morning and we were reluctant to enter the choppy waters. Our sore muscles pleaded for the hot tub back at the hotel. Jen sat us down in the sand and read us the eulogy of the woman who inspired her to surf. She told us about
Rell Sunn
, a famous Hawaiian surfer who pioneered women's professional surfing. Faced with what they saw as frustrating inequities between male and female surfers, Sunn, along with other female surfers, founded the Women's Professional Surfing Association in 1979.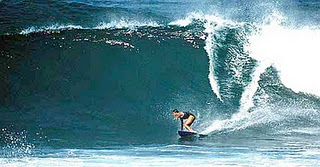 I had never heard of Rell but was greatly moved by the words spoken in her memory. I closed my eyes allowing a vivid picture to form in my mind of the woman many referred to as the Queen of Makaha.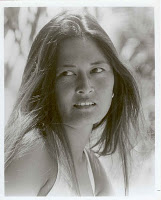 Rell Sunn, Royal Hawaiian Waterwoman, 1950-1998
Not since Queen Lilluokalani has a Hawaiian woman so personified the pure aloha spirit of old Hawaii. Rell was a surfer, storyteller, lifeguard, philanthropist, fisherwoman, hula expert, sailor, world traveler, cultural historian, canoe paddler, artist, celebrity, and an all time fun girl. Her work, her art, her family, her loves, and her career were a seamless tapestry, woven from varied strands into the integrated fabric of her life.
She lived in a world only a few ever see, a life most have only dreamed about; a life of freedom and adventure, unfettered by the modern concepts of material wealth or corporate status. Yet she lived regally, masterfully, to the envy and awe of anyone who knew her.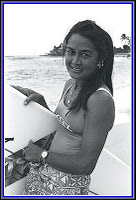 Like the culture she was spawned in, there were no boundaries in her life, no compartments that defined or limited her activities. Rell surfed waves on six continents, winning contests around the globe. 
She showed the whole world that wealth was experience not money; that living well is truly the best revenge; and that the waterman's life is one of achievement, vitality, and honor.
Rell Sunn had a gift, and it was the art of giving while living to the fullest.
By the end of the reading, my goose bumps had doubled. WOW, I thought, what an amazing woman Rell must have been; I found myself wishing I could have met her and knew we would have been friends.
With newfound inspiration we entered the rough water. The waves came quick and hard, like life at times. With each step forward we were knocked three steps back. I thought about Rell who despite a fifteen-year battle with cancer, never allowed her spirit to be broken. She paddled through the hard times with her indomitable will to live a full and wonderful life, defying countless prognoses giving her only months to live.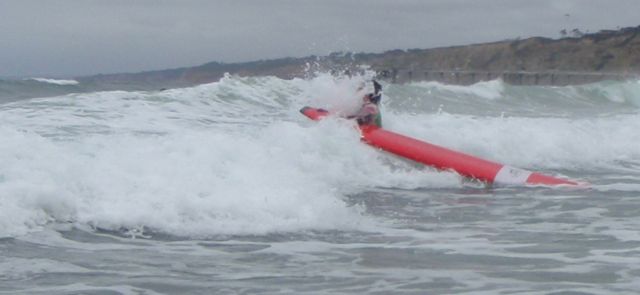 As a big wave attempted to knock me back, I "turtle rolled" flipping under my board letting the wave pass over me. I rolled back over, paddling harder than I had before. I was motivated to ride the waves of the sea and to embrace the waves of life to come. Rell reminded me that the world is as it should be, that life is a blessing in which we should live with purpose, and that laughter will always defeat sorrow.
The Queen of Mahaka, a legendary surf diva may be gone, but that day I felt her peaceful spirit riding through the waves.
A diva is a woman who rides the waves of life with grace and style, impressing upon those she meets an eternal desire to give to the world, while living each day to the fullest.
And the more party waves you can catch along the way the better!


If you are a diva and want to learn to surf visit Surf Diva site for more information – www.surfdiva.com or call 858-454-8273.
If you would like to help improve breast cancer awareness you can donate to the Rell Sunn Educational Fund.
To see more photos of Surf Diva Camp CLICK HERE.
Tags: adventure, California, curly girls, girl power, mind, reviews, San Diego, surfing, traveling with friends, waves