Inspiration
,
World - other travel posts
— By
Kelly
on January 30, 2010 8:35 PM
In the wake of the recent disaster in Haiti, we have all wondered…what can I do to help? Aside from making a small donation, most people do not feel empowered to do more when disaster strikes and are content in letting the Bill Gates and Warren Buffets of the world take the lead in philanthropic work. It is unfortunate that it takes a huge earthquake to literally shake us and remind us of that much of the world is in need each day. Ignorance is bliss for many and it is easy to feel removed from the problems of the world.
Throughout my travels I have seen and learned first hand of the daily tragedies and injustices in the world that do not make it to mainstream media. When I am feeling overwhelmed by the troubles of the world I find that I can find inspiration in the stories of individuals who have single handily made huge strides in the problems that challenge the world from education to fighting poverty, disease and hunger. I am reminded that one person can make a huge difference.
It is easy for me to feel restless and stuck in the confines of my cubicle when I long to be out in the world doing something more meaningful with my life.
My horoscope today is spot on as to how I am feeling these days:
You feel safe when you know that the foundations of your life are stable. Unfortunately, those things that you normally can count on are now undergoing a very slow transformation, making it more difficult to plan your next career move. You might be at your wit's end because you don't feel in control of your life and intense concentration doesn't seem to help. Fortunately, a breakthrough is possible if you aren't afraid of stepping outside of the box.
I invite you to find inspiration and opportunity through those who are passionate about changing the world.
ROOM TO READ – World Change Starts With Educated Children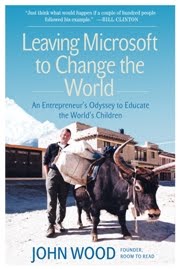 I recently had the pleasure of meeting John Wood, author of Leaving Microsoft to Change the World. I first learned of John's story while in Cambodia where his NGO has made great strides in educating children. John Wood founded Room to Read after a life changing trek through Nepal that started as a vacation and turned into a mission to educate the world's poorest children. He visited several local schools and was saddened by the shocking lack of resources and wanted to help. His drive and vision led him to leave his career behind while applying the business practices he learned at Microsoft to make his organization a success. Today Room to Read has provided educational resources to over 3 million children established over 7,000 libraries in impoverished regions of Asia and Africa and has granted over 8,000 scholarships for girls.
Room to Read's headquarters is in San Francisco and is looking for volunteers who are passionate about their mission:
"We partner with local communities throughout the developing world to provide quality educational opportunities by establishing libraries, creating local language children's literature, constructing schools, and providing education to girls. We seek to intervene early in the lives of children in the belief that education empowers people to improve socioeconomic conditions for their families, communities, countries and future generations. Through the opportunities that only education can provide, we strive to break the cycle of poverty, one child at a time."
I recently read about a story in the New York Times, about a family took a hard look at the question "What could you live without?" Through the persistence of an idealistic daughter the the Salwen family decided to downsize their house donating the difference to the Hunger Project, a New York City-based international development organization that has a good record of tackling global poverty. The father and daughter have since written a book The Power of Half.
EMAIL FOSTER PARENTS INTERNATIONAL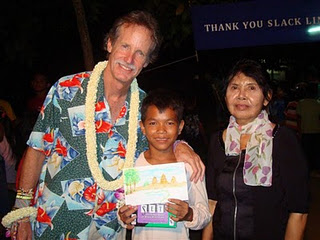 While volunteering at FLOW (Future Light Orphanage of Worldmate I met an inspiring philanthropist Ron Hail. Rob is founder of Email Foster Parents International an organization that links orphaned and vulnerable children in developing countries to compassionate and responsible supporters. Through the emotional and financial support of their foster parents, these children are afforded the opportunity to develop into more confident and self-reliant individuals. Rob has made a huge difference in the lives of so many children as well as the many individuals who have joined his program. I have found the experience to be hugely rewarding and also alot of fun!
Future Light Orphanage of Worldmate (FLOW)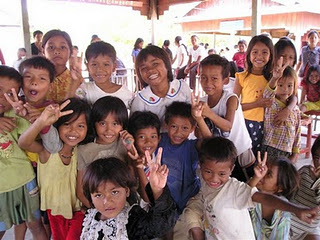 FLOW was founded by Nuon Phaly, an incredibly remarkable woman who has dedicated her life to helping orphans. Her story is heart-wrenching and heroic. She was one of the millions of Cambodians that were ousted from their homes during the Pol Pot, Khmer Rouge Era. She and her family fled to a refugee camp on the Thai border where she lost her husband and all of her children to starvation. Ms. Phaly returned to Cambodia in 1993 with 91 orphans in her care. She started her orphanage on her grandmother's land and today she supports over 300 Cambodian children.
FLOW is always looking for volunteers and the organization lets you decide how you would like to help the children. To read about my experience at FLOW CLICK HERE.
THREE CUPS OF TEA – One Man's Mission to Promote Peace…One School at a Time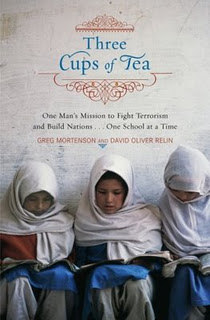 Three Cups of Tea is another inspiring story demonstrating the power of education in the fight over terrorism in the Middle East. Author Greg Mortenson has literally climbed mountains in the name of education.
~~~~~~~~~~~~~~~~~~~~~~~~~~~~~~~~~~~~~~~~~~~~~~~~~~~~~~~~~
When I think about how to fix a problem I want to get to the root of it. Education, or lack there of, seems to be at the heart of so many of the problems that face the world today. Knowing the stats that over 300 million children around the world do not have access to education makes me feel that things are only going to get worse. 770 million people lack basic literacy, 2/3 of which are women which has set into motion a vicious cycle to be passed along from generation to generation.
I am convinced that educating the world today will have an enormous impact on the world tomorrow. In the New Year I plan to volunteer my time in this effort. Maybe I will decide to be a teacher one day, who knows…the wheels are turning. TBD
Tags: children, education, volunteer