Africa
,
Dakhla Challenge
,
Morocco
,
Western Sahara
— By
Kelly
on April 22, 2012 9:52 AM
Honey Badgers have crossed the finish line in Dakhla, Western Sahara successfully completing the Dakhla Challenge and an AMAZING adventure!

We drove offroad across 5000 + km of dramatically changing and challenging beautiful terrain; through lush green valleys, snowy mountain tops, rocky riverbeds, steep hills, vast mountain ranges, towering gorges, Berber villages, giant sand dunes, palm tree oasis, sandy coast, and dry never ending desolate desert. We camped in the middle of nowhere on mountainsides and in the golden Sahara sands. We climbed to the top of 10,000-foot pass in the High Atlas Mountains. We experienced snow, extreme temperature changes, mirages, herds of camels, and a blinding sandstorm! We got lost in ancient medinas, shopped in souqs, ate lots of delicious tagine from steaming clay pots, drank heaps of sweet mint tea, and washed off the Sahara at a relaxing hammam. We made many new friends and unforgettable memories along our journey. Honey Badger was very good to us and we had no problems along the way, we wish we could keep him!
I have been told I am the only American woman to have participated in an offroad rally through these parts, perhaps ever!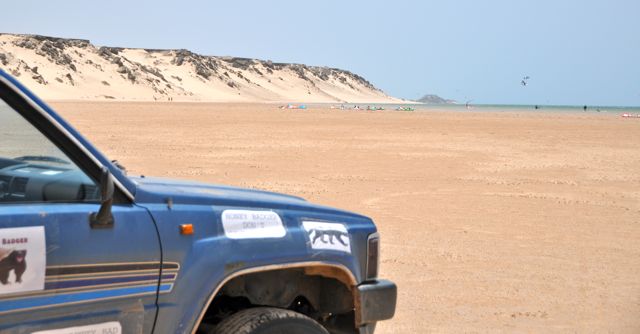 The wind is blowing strong here in Dakhla, and the fun is just beginning as we now get to kitesurf for weeks in a beautiful lagoon surrounded by Sahara sand dunes! Photos and stories to come …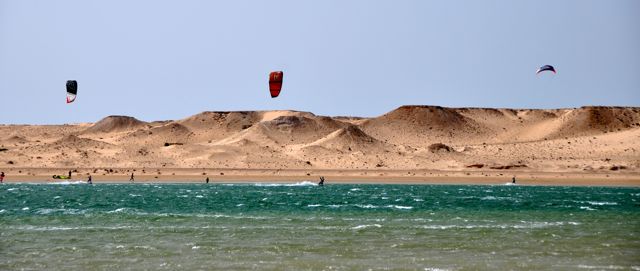 Tags: 4x4, adventure travel, dakhla challenge, desert, kitesurfing, Morocco