About Skirt
By the Seat of My Skirt is a collection of on-the-road adventures and encounters of a girl striving to master the art of spontaneous travel as she wanders the globe in search of new people, places, and experiences.
Stepping off the well-worn path and veering into the unknown can be intimidating but encountering the unexpected is perhaps the most rewarding part of unplanned travel. Traveling the world without an itinerary, map or expectations – choosing instead to trust your instincts to navigate your way to unique experiences that cannot be replicated. Be prepared for the misadventure by packing your sense of humor and embracing the unexpected. Welcome adversity as a chance to learn valuable lessons in flexibility, resourcefulness, open-mindedness, and resilience. Talk to the locals and gain a new perspective.
I hope these tales inspire you to leap into the unknown and "fly by the seat of your skirt" (or pants!)
Enjoy the ride! ~~~~
THE GIRL BEHIND THE SKIRT ~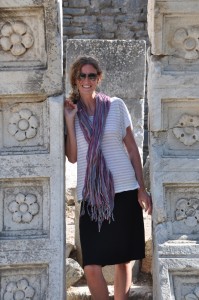 Kelly Wetherington is a fun loving gal with insatiable curiosity for the world at large – a lover of life, people and the open road. A travel junkie addicted to the thrill of discovering new places, adventure, and inspiration. My wanderlust  and thirst for adventure has led me to trek, dive, sail, zip, surf, climb, kite and paddle her way through 41 countries across Central America, Europe, Southeast Asia, Africa, and the Pacific.
My most recent adventures were in east Africa where I summitted Kilimanjaro, kitesurfed in Zanzibar, and hung out with the worlds coolest creatures Madagascar.
Skirt's other epic adventures include driving across the Sahara in a clunker named "Honey Badger" in an off-road rally through Morocco, kitesurfing wherever the wind blows, motorcycling through the Alps, driving a 4WD through the Aussie Outback, becoming a certified scuba diver, living in an octopus painted campervan in New Zealand, and sailing across the South Pacific while crewing on yachts.
I have always been a by the seat of my skirt kind of girl. Born with a free spirit not easily tamed, I am always one to say "Why not?" Raised a southern belle in conservative Georgia but at home in liberal San Francisco. When I am not gallivanting around the world you can find me managing a marketing campaign in between daydreaming of far off lands.
Despite having a horrible sense of direction, I love the freedom of wandering on my own. I enjoy getting lost to see what I can find. I was first bitten by the travel bug while traveling alone in Costa Rica. I started blogging in 2007 when I wandered the globe for a year.
My journeys abroad not only taught me about new places and cultures but also about myself.  I hope to inspire others to step outside of their comfort zones, explore the world with an open-mind, and gain new perspectives through the eye's of a stranger.
I have no idea where my travels will take me next, but I invite you to follow my journey as I continue to travel by the seat of my skirt!