Corsica
,
France
,
Recipes
— By
Kelly
on October 19, 2014 11:53 AM
Discovering new places to eat in foreign lands is as much fun for me as trying new foods. I am not the kind of person who researches where to eat before traveling somewhere new. I find the hunt for food a fun adventure in itself. As it is with travel and love, I prefer serendipity in my food finds as well. I go wherever my nose leads me, where a local insists I must try, the hidden cafe I stumble upon, and in the recent case in Corsica, where my curiosity is elicited.
While hungrily wandering through the old streets of Bonifacio one warm lovely evening in June, I was drawn to a warmly lit rustic restaurant filled inside and outside with patrons happily eating from large glass bowls. "What is in those bowls?" I wondered, that seemingly brought such delight. Caught starting at a stranger's food, the man told me "It is Corsican vegetable soup, you must try it, absolutely delicious!!!"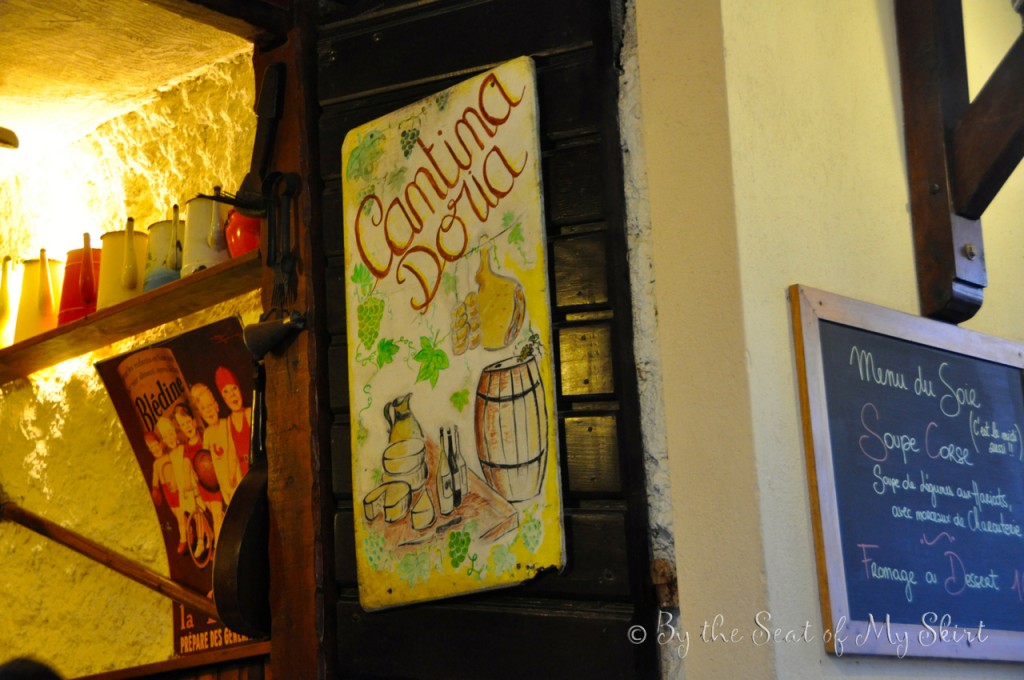 And that is how it came about that I discovered "Soupe Corse" what I must say is the best soup I have ever had! A hearty and rich soup containing chunky vegetables: zucchini, carrots, onions, turnips, potatoes and the largest beans I have ever seen. The vegetable soup is not vegetarian, as the key ingredient to the soup my server told me, is the small end pieces of cured meats, which give the dish a robust smoky flavor.
Located above Italian Sardinia and only a four hour ferry ride from mainland Italy, one would presume Corsican cuisine would be quite Italian, but it is more of an mix of French and Italian with many aspects that are distinctly Corsican. Every menu I browsed had at least one dish containing wild boar, the islands most celebrated and classic dish. Naturally fish dishes are in abundance being a Mediterranean island; however Corsicans have never been people to eat much fish. The reason I learned is that historically Corsicans steered clear of the sea as with it brought danger and invasions and for centuries the people found refuge by living in the mountains where Corsican cuisine evolved and was defined. As a result, the local cuisine can be described as earthy taking inspirations from the land, utilizing local fruits vegetables, herbs, cured meats and cheese (goat cheese is very common).
Regarding cost to dine out in Bonifacio, many restaurants are on the pricier side for a budget backpacker like me. I would recommend the "menu of the day" offered by most restaurants, consisting of a starter, a main and a dessert for 20€. Each meal I was served was quite hearty, filling and delicious.
I do not know how the Corsican Minestra soup served at Cantina Doria compares to other recipes; I just know I could have eaten it every night I was in town.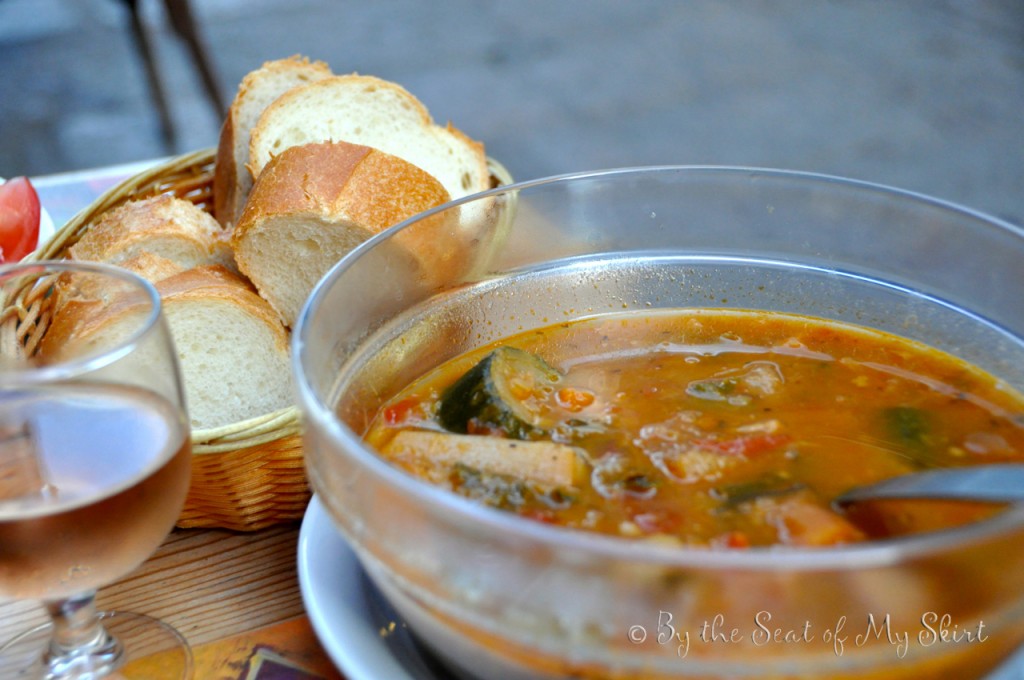 When I got back to Switzerland, I was determined to replicate the quintessential Corsican soup. The main problem I faced … where to find the cured meat, the recipes I found online all required smoked ham hock. I was unsuccessful in my search for smoked ham hock in Zurich, so I substituted with smoked streaky bacon.
I recommend the minestra traditional Corsican soup recipe I found online, along with reading the post that tells more about Corsican cuisine with an emphasis on those ingredients, specifically meats and cheeses that are unique to the island. The author also describes soup to be a staple to a Corsican family's diet, many choosing to eat soup each night for dinner.
"There is a Corsican saying, "Eat your soup—or jump out the window," which sounds better in Corsican, "O mangia a minestra, o salta a fenestra," as it has the advantage of rhyming. What it actually means is "Put up with it or shut up." – Clark Z. Terry from Inspiring Thrirst
From Recipes from Corsica – Rolli Lucarotti Corsican Country Soup – Minestra 
200 g dried beans (borlotti or white beans)
1 ham bone or 100 g diced panzetta or streaky bacon
500 g potatoes
250 g carrots
250 g turnips
1 large onion
1 stick celery
1 large leek
2 cloves garlic
3 courgettes (zuchini)
2 or 3 shredded leaves of Swiss chard or cabbage
2 tomatoes peeled and chopped or 1 tbsp tomato purée
2 tbsp olive oil
200 g pasta (macaroni or thick noodles)
salt and freshly ground black pepper
herbs of your choice (fresh if possible)
Soak the dried beans in cold water overnight or for at least six hours. If using a ham bone, cover it with cold water, bring to the boil, drain and discard liquid. Reserve. Peel and dice the potatoes, carrots and onions. String and slice the celery. Split and wash the leek and cut into rounds. Crush the garlic and dice the courgettes. Heat 2 tbsp of oil in large saucepan and gently cook the onions, leeks and bacon or panzetta until the vegetables start to wilt.
Add the other vegetables and tomato purée and stir for a few minutes. Drain the beans and add to the soup together with the ham bone if using. Cover with water (about 2 litres) and bring to a boil. Skim the top carefully and add herbs. Lower the heat and simmer, covered, for about 2 hours until the beans are meltingly soft. Add the past about 20 minutes before the end of cooking time. Correct the seasoning (the ham bone is salty), scatter with chopped herbs and serve very hot with crusty bread.
My attempt to make Soupe Corse was successful and paired well with Corsican beer! The soup was yummy but not nearly as good as the bowl I had in Bonifacio. I must go back for the soup and all the other reasons I love Bonifacio, Corsica.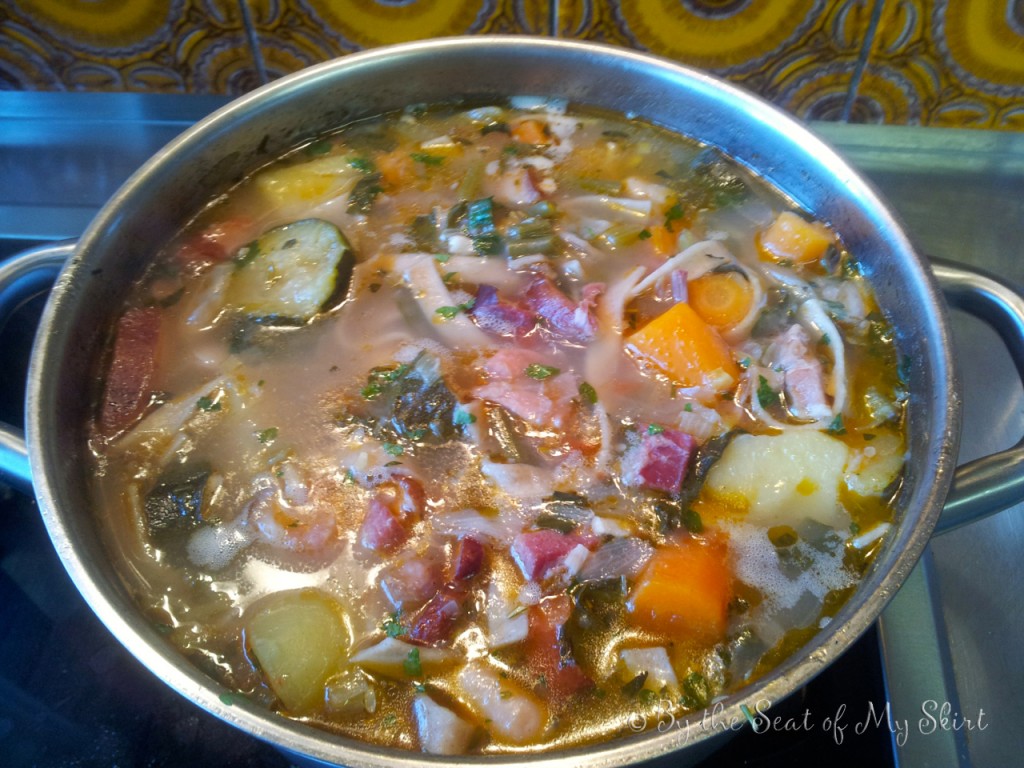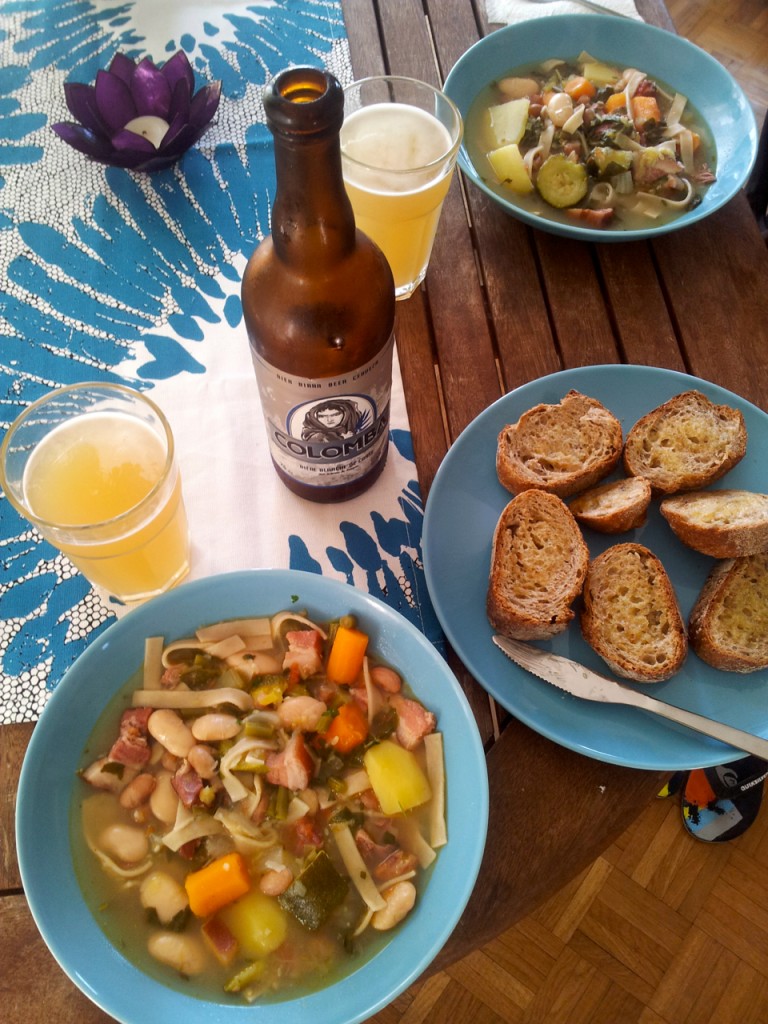 Tags: Corsica, Europe, france, Mediterranean Sea, recipe