Africa
,
Madagascar
— By
Kelly
on February 5, 2014 12:38 AM
I fell in love with a monkey at a very young age and have been obsessed with monkeys ever since. We first met at the county fair, she was wearing a red and white gingham dress and matching bonnet. I was wearing pigtails and Velcro sneakers. I squealed in delight as she pinched a penny out of the palm of my hand. I would have given her my entire allowance for the cheap thrill she afforded me.
I begged my parents to please please let me have a monkey; instead they bought me a bunny. And let me tell you that bunny did not hold a candle to a monkey. He was boring, lazy and never wanted to play nor did he do any cool tricks. Throughout my life, I have sought out monkeys whenever possible. I love their adventurous spirit and the freedom they exude while swinging from tree to tree. I even once trekked for days through mud and rivers searching for gibbon monkeys in the jungle of Laos. I didn't see a single monkey, they eluded me; however, the leeches did not. I was beginning to think I would never find my monkey love.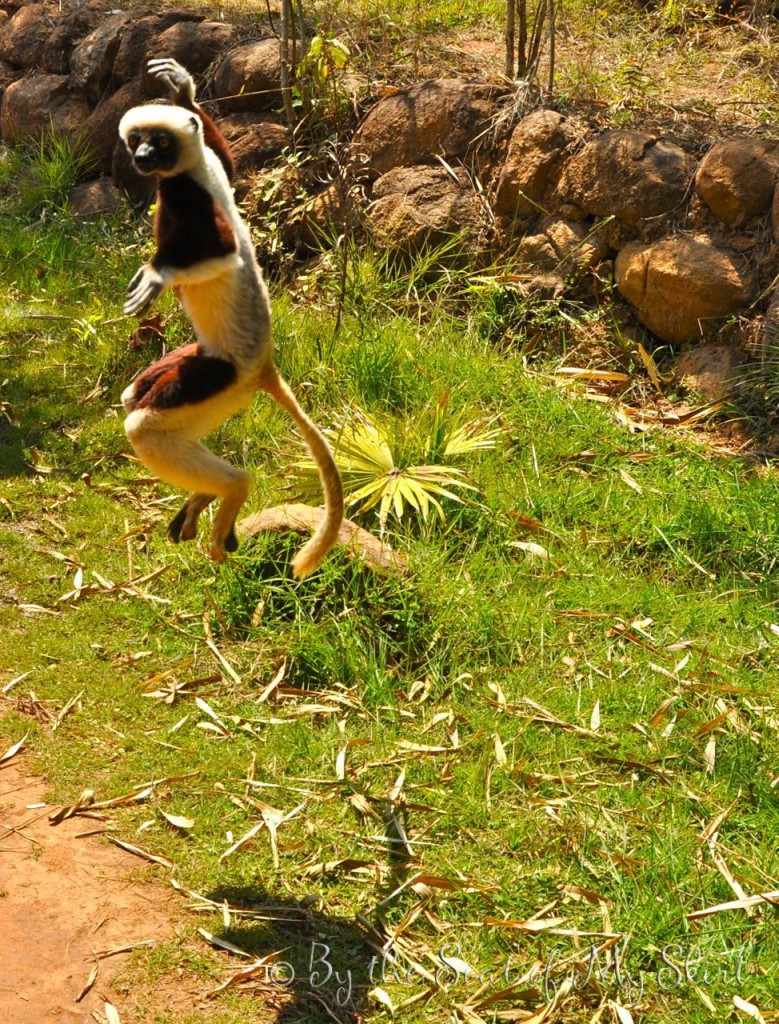 But alas when one door closes another opens … and in the summer of 2013 I fell in love again. I did not think it was possible to love another creature as much as I had loved the monkey; that is, until I met the lemur.
Those traits I had loved and cherished so deeply of the monkey, I found again in the lemur! I was shocked by how similar yet different they are in many ways. I had never expected to meet a creature as fun, playful, silly, funny and a bit crazy (in a good way) as monkeys, but … the lemur is all that and more! AND unlike the monkey the lemur can dance! The monkey never took me out dancing and now that I think about it all she did was take all my money and buy herself new dresses.
The lemur is extremely exotic and lives on a beautiful island in the Indian Ocean!! Lemurs are so darn cute, furry, full of energy and are so hysterical they make me laugh out loud! They hang upside down, stick out their tongues and sit in the most amusing of positions. And the lemur has got moves! The lemur is a super sexy dancer, he jumps and throws his hands in the air … they like to move it move it! I have never seen anything like it nor have never met a creature so happy and full of life!
My heart skips a beat when I see a Zen lemur in lotus position. How very wonderful it is to discover such a fun loving energetic creature that can also be calm and find peace in meditation. The perfect creature if you ask me!
The lemur is quite special and extremely rare, you will not find any of his 103 species anywhere outside of Madagascar. Unlike monkeys, lemurs don't get around; they are loyal and committed to staying with their beloved kin in Madagascar.
There were many other very cool creatures on the island that tried to woo me; however, there is only one creature that makes my heart flutter …. nothing compares to the lemur. The coolest creature in the whole wide world!
Places to find your very own lemur:
National Parks are in abundance on the island and is a great place to see lemurs in the wild.
Lemur Park is a private reserve 20 minute drive outside of Tana and is a great place to get up close and personal with the lemurs and if you are lucky like me, they will ask you to dance!
Many thanks to Nolavy Robène for helping me to identify each of the lemur below and for being a great driver and tour guide during my visit to Madagascar. I high. recommend him:
Nolavy Robène
Phone: 00 261 33 01 970 93 / 00 261 34 03 186 29
Email: nolamadatrip@yahoo.com
To see more photos of adorable lemurs CLICK HERE!
Tags: Africa, animals, cool creatures, lemurs, Love, Madagascar, wildlife