Europe
,
France
,
Kitesurfing
— By
Kelly
on June 30, 2013 4:29 AM
In 2011 Honey Badger passed quickly through Leucate, France, during the great escape from Dakhla.  We were happy to find  a large flat water spot, a salt water lake, but sadly there was no wind on the day we were there.
Two weeks again, I had the opportunity to return to the same spot and this time it was windy … even too windy at times!
There are several kite spots in the area; however, we chose to kite at La Palme the entire time, located about 5km north of Leucate.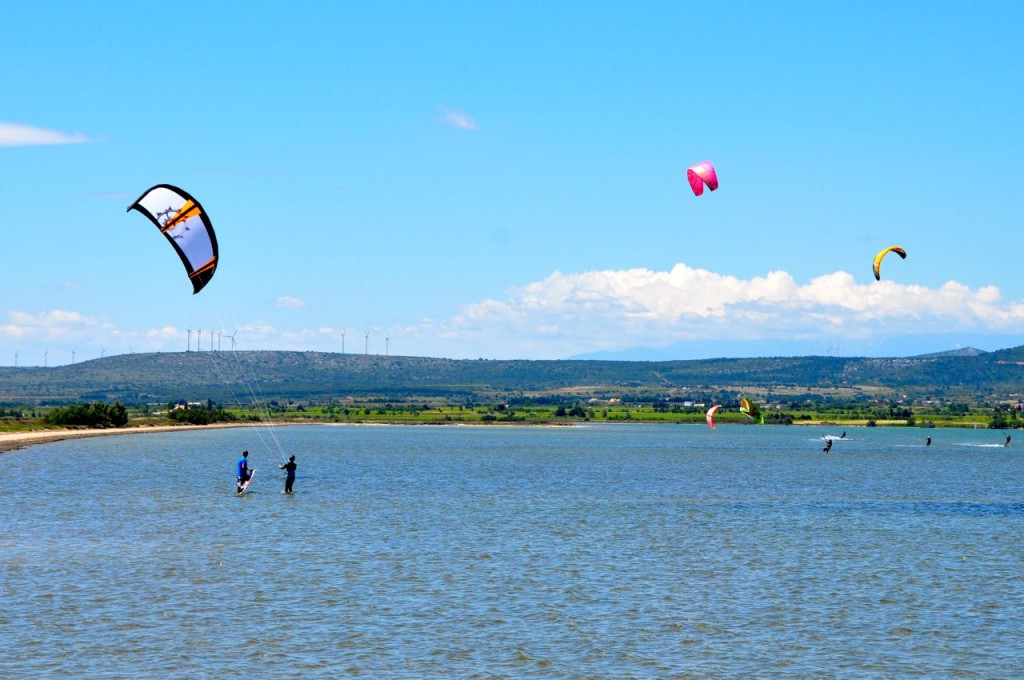 THE GOOD
Shallow water (knee to waste deep in most spots, chest high in the middle)
Flat water
Very windy
Great for beginners
THE BAD
Can be too windy (we had gust of 40 knots)
Often gusty
Can be too shallow in some spots
You need a car to get around
No shade at the kite spot
No facilities
Beginners need to wear booties as sharp shells will get ya
WHO'S ON THE WATER
European, mostly French
WIND CONDITIONS
There are two main wind patterns. One wind comes from the mountains (north or northwest) called the Tramontane and is known to be strong, dry, cold wind and gusty at times. The other, Marine, comes from the southwest and is more constant but lighter.
WEATHER CONDITIONS
Average temperatures in Leucate by month can be viewed here.
WHAT SIZE KITE?
Definitely bring a small kite! I saw many 4m kites on the windiest day. Wind strength does vary so pack all sizes! I switched between and 6m, 8m and 12m and could not kite on the windiest day.
WHAT  TO WEAR?
I kited here in June and switched between a 4/3 long suit and a 2/2 shorty as the weather changed from day to day. I imagine you can go without a wetsuit in the heat of summer. Booties are recommended for beginners due to shells.
BEST TIME TO KITE
Consistently windy year round, slightly more windy in Autumn & Spring. February is the windiest month BUT it is really cold!
See  monthly wind statistics here. Check the local forecast here.
GETTING THERE
We drove from Zurich in nine hours. Closest airport is Perpignan, a 30 minute drive.
KITE CLUBS/SPOTS
There were a few kite schools who drove vans to the site with equipment. I don't know the names.
ACCOMMODATION OPTIONS
Camping: I stayed at Domaine de La Palme and would recommend. The owners are kiters and are very friendly and helpful. There is wifi available for an additional charge or you can just ask the owners for the wind forecast for the day and they will happily check for you. The campsite is only a two minute drive to the kitespot.
FYI: Naturist = Nudist …  there is a nudist camp site available in La Palme (Camping des Naturist) if you are so inclined!
WHAT TO DO IF THERE IS NOT ENOUGH WIND?
Land kite
Eat fresh seafood (lots of oyster options)
Hiking
Biking
Explore other nearby coastal towns (Montpellier, Perpignan)
To see more photos of the South of France CLICK HERE.
Tags: kite spot guide, kitesurfing, south of france