Turkey
— By
Kelly
on November 14, 2012 1:08 AM
Barfing in a bag on a bus would prove to be a bad omen. I blamed the hamburger I ate my last night in Egypt for my upchuck, and considered once again becoming a traveling vegetarian.
Dasha tried to comfort me with the image of a stunning blue lagoon on the cover of her guidebook, our inspiration to make Ölüdeniz our next stop in Turkey. A few days spent relaxing on the Agean sea seemed like just what the doctor had ordered.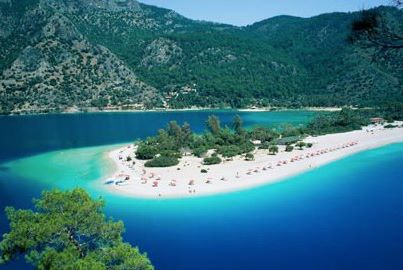 But it wasn't.
In reality, the peaceful idyllic sandy beach was littered with tourists and hundreds of white plastic chairs you must rent or else rest upon a pile of rocks. The streets around town are lined with screaming touts selling tours and restaurants and bars blasting the latests Top 40 pop music. Perhaps my sickness attributed to my unhappiness at the time, but my traveling buddy Dasha also says "eh don't go here."
While I did not have time to explore other beach towns along the coast, I am certain there are spots that would offer a better experience. If you do find yourself in Ölüdeniz, I would suggest catching one of the three boats that leave daily to Butterfly Valley. I found myself puking in public on yet another mode of transport, during the 30 minute boat taxi ride to the valley. "No I did not drink one two many cocktails last night" I corrected the smirking gentleman beside me who was trying but failing to be funny in my time of sorrow. "No I do not get seasick," I informed the captain of the boat … "I ate a bad burger!" Despite feeling horrible, the first sight of the valley lifted my spirits.
Butterfly Valley is a small but fertile land nestled between a deep canyon on the coastline. Named after the unique Jersey Tiger butterfly that flutters through the flora. A dusty trail weaves its way from the beach through lush gardens to a tumbling waterfall. The tranquil natural setting, far removed from the commotion of Ölüdeniz, was exactly what we had been looking for. We wished we would have came to the valley first and camped out for the two nights we had instead stayed in town. You can rent a tent or a bungalow within the valley and there is a small beach bar serving food and drink.
The Lycian Way, an ancient walking trail, starts in Ölüdeniz stretching across 500km of rugged coastline to Antalya. If I hadn't been so ill, I would have loved to have trekked along this trail and quite possibly would have had a different perspective of Ölüdeniz having viewed the town from cliffs high above. Next time! 
To see more photos of Ölüdeniz and Butterfly Valley CLICK HERE.
Tags: Butterfly Valley, Dasha, travel sickness, Turkey