Inspiration
,
Reviews
— By
Kelly
on November 1, 2012 9:53 PM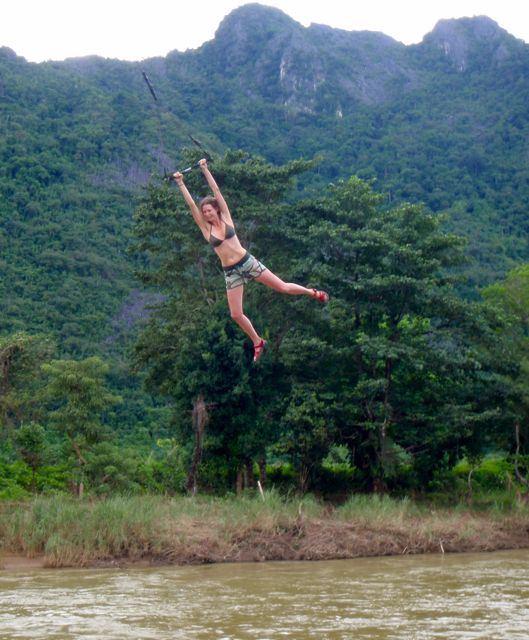 My father says that I have never met a stranger.
I suppose he is right.
I love meeting new people and I can talk to anyone, an innate ability that has served me well as a traveler. Life on the road is full of chance and brief encounters with truly remarkable people. By not being shy and connecting quickly with "strangers," I have been blessed me with many friendships all over the world.
So it comes as a surprise to most to learn, that I am terrified of public speaking!
It really makes no sense at all that a "babbling brook" who deems herself fearless in her pursuits of adventure should end up red faced, shaky voiced, and in worst case scenario … in TEARS, when forced to speak in front of a group!?
When my friend Kristin Zibell, host of  Meet Plan Go San Francisco, asked me to speak at this year's annual event, I was both flattered and frightened! I had volunteered at the event the year prior, where I had overheard many aspiring and seasoned travelers excitedly sharing their travel dreams.  I was honored to again be a part of the event and help support the mission of  Meet, Plan, Go! , to lead a career break movement across North America; encouraging and teaching others how to travel the world and have it be beneficial to your career.
One of the topics of the evening was overcoming fear. As I looked out into the sold out crowd, 240 eyeballs stared back at me. I could feel my body temperature rising, my arms felt heavy with anxiety, I was scared … the irony of which did not escape me.
I thought of all the crazy adventures in my life thus far, and the many even crazier notions I had in mind for the future, any of which most would argue to be more frightening than speaking in front of a crowd of my peers. I did not hesitate when I jumped out of a plane 12,000 ft above Queenstown, New Zealand, absailed into dark wet caves teeming with eels in Waitoma, trekked through leech infested jungles in Laos, kitesurfed in the middle of the South Pacific 200 miles from land, waded through waist deep water filled with fresh water crocs to explore an underground cave, drove a clunker across the Sahara, rode a motorbike through the Alps, went scuba diving through dark caverns, and set sail into the South Pacific on a tiny yacht knowing I would not see land for over two weeks!
But still the mere thought of public speaking had me shaking in my flip flops. Go figure!?
I have pondered the root of my fear and all I can dig up from the past are some almost comical scenes filed away from college days when I took a public speaking class in Chicago. The class enjoyed mocking my thick southern accent, often requesting that I "Say y'all again!" I have always been one to laugh at myself and I don't recall being particularly traumatized by that experience.
Regardless of why any fear may exist, I have always been of the mindset that fears must be conquered!
"Expose yourself to your deepest fear; after that, fear has no power, and the fear of freedom shrinks and vanishes. You are free." ― Jim Morrison 
In spite of my fear, I knew my story was important to share and I was confident in my experiences and steadfast belief that people should explore the world and travel for longer than two weeks at a time. If my efforts inspired just one person to take that fearful leap into the unknown, to take a break from their normal lives and dare to challenge themselves to explore the world with an open mind and heart, I believe that I have in a small way made the world a better place.
Travel changes you for the better.  Travel forever changes your perception and desires for the world and your role in it. Travel makes you more compassionate. Travel opens your heart and mind. Travel provides more lessons than any textbook. Travel makes you more confident in yourself.  Travel teaches you skills that make you more employable. Travel is one the best experiences you can ever have that you will not regret.
I hoped in overcoming my fear of public speaking and sharing my story, I could help others overcome their fear of leaving their jobs to enjoy long term travel.
As the panel discussion began, I was forced to face my fear. I found comfort in sitting alongside two other notable Bay Area long-term travelers Ted Beatie, and Francis Tapon who also shared their experiences and advice as to why each person in the audience should take a break from their career and a long trip. With the help of a glass of wine, and the support of many dear friends in the audience and a trusty stool, I took a deep breath and I told my story …
~~~~~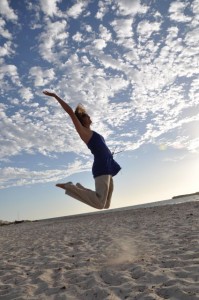 Long term travel has become a way of life for me. I have taken three career breaks in the past five years, spending 2.5 years traveling "by the seat of my skirt" all over the world.
I am a spontaneous, free spirited,  adventure traveler junkie. I love to take risks and I do not travel with an itinerary, guidebook, or maps.  I prefer instead to trust in myself and fate, to let my travel experiences unfold and lead me where I should go next. I seize travel opportunities when they arise and leave the rest up to chance and adventure. If I discover a place I like, I stay there until I don't want to be there anymore.
I was first bitten by the travel bug in 2007, while traveling alone and volunteering in Costa Rica on a two week heart healing holiday. While in Costa Rica I realized a few profound things … 1. I love traveling alone 2. There are people out there traveling for much longer than two weeks at a time and 3. There was so much of the world I had yet to explore and I needed to make up for lost time.
And I did.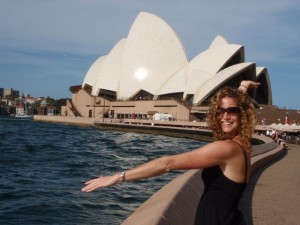 Up until about this point, I had always been a very ambitious, goal-oriented planner, but for the first time in my life I felt completely lost having experienced much change and unexpected loss. I decided to embrace my anchor free situation as my ticket to exploring the world. It wasn't a logical decision, I didn't have much money saved, I didn't have a plan, I didn't know when I would be back, but I did have a working holiday visa and faith in myself. I arrived in Sydney, Australia with  a backpack, open mind and my adventurous spirit . The rest as they say is history!
Having now taken three career breaks to experience the world, my perspective on career has forever changed. I no longer think of long-term travel as a career break but instead I see my career as a break from travel and the means by which I will fund my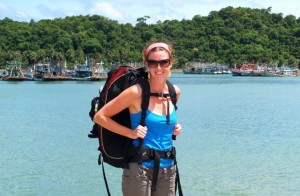 next big adventure.
My BIG Adventures at a Glance
1st Big Adventure – 11/07 – 11/08 (Australia, New Zealand, Thailand, Laos, Cambodia, Vietnam, Malaysia, Singapore, Indonesia)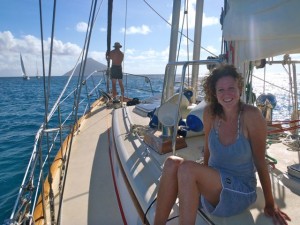 2nd Big Adventure – 9/10- 8/11  (Australia, New Zealand, Thailand, Tonga, Fiji, Vanuatu)
3rd Big Trip – 3/12 – 8/12 (Switzerland, Morocco, Western Sahara, Egypt, Italy, Portugal, Austria, England)
4th Big Trip – March 2013 – ? : TBD
~~~~~~~~~~~~~
Questions asked of the panelists and my responses:
WHAT DID I FEAR THE MOST BEFORE I WENT TRAVELING?
"Anything I've ever done that ultimately was worthwhile … initially scared me to death. – Betty Bender
I feared that at the end of my travels, I would have no clearer idea of what to do with my future.
Through meeting new people and experiencing new parts of the world, I developed new interests any my desires for myself and the world changed greatly. At the end of my travels I had more opportunities than ever before and while my future was more uncertain than ever, BUT I had grown to be comfortable with the unknown.
I no longer fear the uncertain, instead I have learned to embrace the unexpected and I am open to everything.
"When nothing is for sure everything is possible" – Margaret Drabble
WHAT DID I LEARN WHILE TRAVELING?
Destiny is not planned 
Not to overplan, or have too many expectations, things will inevitably change and not work out how you might have hoped.
A rigid itinerary restricts your freedom and being flexible will make a huge difference in your trip satisfaction.
My best experiences were those I left up to chance and adventure and let my experiences unfold as they should.
Encountering the unexpected is perhaps the most rewarding part of unplanned travel that leads to unique experiences that cannot be replicated
Planning does not always save money, plenty of times I booked a ticket only two weeks ahead and ended up changing my plans and loosing airfare. Also, so many times I have found cheap tickets booking the day before I want to go somewhere.
Travel is addicting. No matter how many countries I cross off a map I add three more I must explore.
Employers love my story and during  interviews I have found we discuss my trips than my work related experience.
People around the world are more alike than different.
There is so much more to life than career and material possessions.
HOW DO I PAY FOR YOUR TRIP?
I work contract jobs in between long trips.
While at home in San Francisco, I live very frugally (no taxi's, no Starbucks, lots of PB&J)
I am a budget traveler on the road. The less money I spend per day, the more days I can travel.
HOW DO I DEAL WITH RE-ENTRY?
Re-entry is always hard for me. Reverse culture shock is real and can leave you feeling depressed, bored, and restless.
I have found it helpful to be in the company of other like minded travelers and to attend travel events and meetups.
I daydream about my next big adventure and focus on saving my money to travel again!
WHAT IS MY BEST SINGLE PIECE OF ADVICE?
Travel slowly and take a vacation from your vacation!
Travel can be hard. You will get burned out and hit a wall. Don't feel bad about this, it happens to the best of travelers.
It is helpful to travel slowly and stay in one place for longer than constantly being on the move.
If I discover a place I really like, I stay until I don't want to be there anymore.
The beauty of long term travel  is you have a LONG time, and can go slow, relax for a change, go where you want when you want. Don't restrict your freedom.
Bring a traveling hammock!!!
After the panel discussion, attendees broke into small groups to discuss various travel topics led by an expert on that specific topic.
I spoke about Itinerary NOT planning: How to travel by the seat of your skirt (or pants!)
At the conclusion of the event I was smiling, no tears were shed, and I was proud of how well the evening had gone . I was reminded that with anything in life, practice and experience help to boost our confidence in areas we do not feel strong.
 "Do one thing everyday that scares you." ― Eleanor Roosevelt 
Below is a summary of the nights events organized by Kristin Zibell, author of Take Your Big Trip, who did a fantastic job getting everyone fired up about travel!
This list of links from Kristin's  Recap of Meet Plan Go.
Introduction
Keynote Speakers
Panelists
If you missed this year's annual event and are interested in learning more about how to take a career break of your own, there is a good chance there is a local Meet Plan Go Meetup Group in your city. You can also find great articles on the Meet Plan GO! website to help you plan and inspire you to overcome your fears and GO!
Tags: embrace fear, inspiration, Meet Plan Go, MPG, spontaneous travel, travel planning, travel tips