Reviews
— By
Kelly
on October 25, 2012 7:57 AM
I was recently one of three panelist at the Meet Plan Go San Francisco event, in which I spoke about my travel experiences, hoping to inspire the 120 guests in the audience to take a long career break. I also led small group sessions on the subject of itinerary planning, from the perspective of NOT planning:
Itinerary NOT Planning: How to Travel by the seat of your skirt (or pants!)
So you think you are a planner? I asked the groups. Most people thought they were indeed planners and were curious how I had managed thus far to travel the world for 2.5 years by the seat of my skirt. Just because you are a Type A personality or planner in the "real world" doesn't mean you have to be or even will want to be on the road. I am a project manager and my entire job revolves around planning, but the last thing I want to do before a big trip is plan.
Skirt  says "Don't plan, just go for it, JUMP! and the rest will all fall in place as it should, I promise!"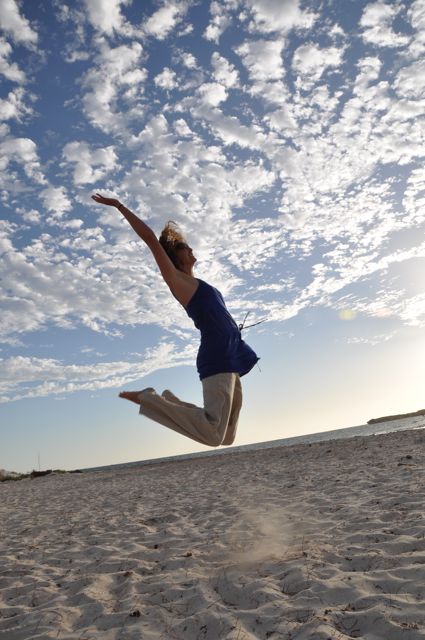 Many people ask the question … How much should I plan?
By the seat of my skirt says:
Excessive/detailed itinerary planning is not necessary and not advised. The less planning the better!
There are really only a few things you need to think about in advance, but most of your trip can be left up to chance.
Know ahead of time things will never go as planned or expected. Understanding this helps prevent disappointment. Embrace the unexpected.
Encountering the unexpected is perhaps the most rewarding part of unplanned travel and leads to unique experiences that cannot be replicated. My best travel experiences were those I left up to chance and adventure.
Part of beauty of long term travel, is you have a LONG time, and can go slow, relax for a change, go where you want when you want. By leaving the chains of your desk you are free to roam the world however you please, so don't restrict your freedom with a rigid itinerary. From my experience, I can guarantee anyone who plans to be on the road for an extended time that things will change, nothing will go as expected (you may end up driving back to Europe from Western Sahara instead of flying) and you will be very thankful if you have a very loose itinerary. You will meet so many new people, learn of so many new adventures, and inevitably your path will be altered. Being flexible in your itinerary and expectations will make a HUGE difference in your happiness and overall satisfaction at the end of your trip.
"When nothing is for sure everything is possible" – Margaret Drabble
I asked myself the question, "If I were a planner, what would I need to plan?" I decided there are five basic questions that one would need to consider in planning a travel itinerary.
Where to go? When to go? How to get there? Where to stay? What to do once you are there?
I have pondered each of these questions from a NOT planning perspective to help define what really needs to be planned/considered before taking a long trip. Traveling by the seat of your skirt encourages you to leave as much open to chance and serendipity as possible.
Where to go?
This is the fun easy part, I consider this daydreaming, not planning. Where does your mind drift to while you are gazing out your office window? Somewhere warm and tropical? On the top of a mountain overlooking Machu Picchu? Trekking through the Amazon rainforest? Exploring the underwater world in French Polynesia? Eating your way through culinary delights on the coast of France? Wine tasting in Italy? Exploring a culture through a cities architecture, history, and art? The world is your oyster, don't limit your possibilities, remember when nothing is for sure everything is possible!
I am guessing most people considering a big trip have an idea or two as to where they would like to go if they could get away.
In deciding your destination you will want to consider:
How long can you be gone?
 How much can you afford to spend per day?
Your interests: cultural, adventure, beach, outdoors, natural wonders of the world, city vs rural
 How to decide where to go by the seat of my skirt?
I prefer to stick to a region for a few reasons:
I don't want to spend all my money or time on long airplane rides.
I like to stay longer in one place to get to know a culture better
I don't want to have to pack for different seasons
When to go?
In deciding where to go you will want to consider:
How to decide when to go by the seat of my skirt?
Be spontaneous and be ready to take off  on short notice when an awesome travel opportunity presents itself\
How to get there?
In deciding how you will get there you will want to consider:
Airfare: To RTW Ticket or to Not RTW Ticket, that is the question?
I have heard much debate over the pros/cons of RTW tickets. I have personally never booked a RTW (Around the world) ticket as I believe it would hinder my freedom and spontaneity. Booking a RTW ticket requires one to plan way ahead, something by the seat of my skirt never advises.
Expense:  it is not always cheaper to book airfare well in advance. It is possible to book last minute especially small airlines within a country.
How to get there traveling by the seat of my skirt?
How to get around once you are there?
Ask a local, trust in the kindness of strangers, this has never failed me
Rely on free maps at visitor centers, hostels, etc. there is no need to buy ahead of time.
Plane, train, automobile, ferry, buses – your preference, I go cheaper route which often slower but why hurry
In my big trips traveling by the seat of my skirt:
I rarely use maps. I have a horrible sense of direction but I am also really bad at reading maps rendering them useless. I figure if you don't have a destination, then you really aren't lost, you are just wandering about!
Allow yourself to get lost, some of my greatest finds and experiences came about as a result of ending up somewhere random.
Take local transport whenever possible. This option is cheaper and best way to meet locals and get insider tips of what to do and see.
Where to stay?
In deciding where to stay you will want to consider:
The type of accommodation options you are willing to slumber. There are enormous variations in accommodation options abroad. Budget hostels, guest houses, B&B, Couchsurfing, resorts, all inclusive resorts, hotels, motels, etc.
Booking in advance ONLY if you are traveling to a big city on a major holiday or if you have a specific accommodation in mind.
Otherwise, I have found it incredibly easy to book a room upon arrival in a new place.
There are often hotel touts at major bus stations and ferry landing ready to show you brochures and drive you to their accommodation. This recently worked very well for me in Turkey and I made a new local friend..
Ask a taxi driver to take you to the city center, usually a ton of options nearby.
Find a local visitor center that can help you book accommodation based on your preferences and budget
How to decided where to stay by the seat of my skirt?
What to do once you are there?
In deciding what to do once you get there you will want to consider:
Know the things you  "must do/must see" but leave lots open to chance
Talk to locals and other travelers for ideas
Toss out your guidebook (it is weighing down your backpack anyway, right?)
How to decide what to do by the seat of your skirt?
 Misconceptions about planning vs. not planning
Planning in advance saves you money. This has not proved true from my travel experiences.There are many times in my travels that I have actually lost money when I have booked a flight too far in advance and things changed and I had to forfeit the ticket.
You won't be able to get a room if you don't book in advance. This has not proved true from my travel experiences. I have NEVER been without a room and I rarely book in advance.
You need to book tours in advance or risk not getting to see/do what you want. This has not proved true from my travel experiences. I have found instead, that there are many smaller tour groups/guides found locally that may not be on the web and can offer cheaper and better experiences.
Complications/thinks to consider when traveling by the seat of your skirt (or pants):
Visas/Vaccinations/Budgeting 
Visas
There are some countries in which securing a visa for entry can take longer than others. In general, I would say visas are not something you really need to plan for way in advance. So long as you have a loose itinerary with wiggle room if you have to stay put for a week on a beautiful island while you await for your visa to be approved you will be fine.
I have never had a problem getting a visa to a place I wanted to go last minute. The longest I had to wait for a visa approval was 3 days in Cambodia while my Vietnamese Visa was being processed.
Some countries are harder than others. I hear Russia and China Visa approvals are more complicated and take longer.
Many countries have Visa upon arrival (be sure to have US dollar
Some countries require an exit ticket out of their country before they will grant you entry and a visa. Your travel relationship may be put on the spot by an immigration at the port of Fiji!
Vaccinations
Some people feel pressured to decide where they will go before they leave their home country so that they can be sure to be immunized accordingly. From my experience, this is not necessary.
You can get immunizations across the world in most major cities.
Depending on your home country, you may find it is cheaper to get immunizations abroad (this was the case for me, my travel insurance World Nomad covered all of my injections I received while in Sydney in preparation for my Southeast Asia trip.)
Budgeting
It is harder to budget when you don't know where you will go. Since I rarely know where I will end up when I hit the road, I budget on the high end.
 I have managed to get by on daily budgets ranging from $35-$65, country depending.
The type of accommodation you are comfortable with will impact your budget the most. I am willing to sleep in hostels, cars, couches and any other budget accommodation I can find! If you know you need a Five Star hotel, then your budget will be much higher.
Some "problems" I have encountered traveling by the seat of my skirt, and solutions I have found that work.
Problem: Your travel buddy is a big planner and you are not.
Solution: Life is about compromise. I have also allowed my planning travel partner to take the lead. I recently met a girlfriend in Turkey and she planned much of our 2 week trip in advance. I was okay with this because she was also okay with deviating from our plans if better opportunities arose.
Problem: Your friends back home want to meet you on the road during your big trip and are trying to force you to plan ahead.
Solution: Put them off as long as possible! I have often regretted committing to meet a friend in X country by X date as my desires and timing always change on the road, and my preference is to let my plans evolve organically versus conforming to a preset itinerary.
OTHER ADVICE
Don't do hardest trips at the end
Take a vacation from your vacation
Stay longer in one place
Be flexible, go with the flow
Know ahead of time things will never go as planned or expected. Understanding this helps prevent disappointment. Embrace the unexpected.
Bring extra passport sized photos for visas and US dollar
BE OPEN TO EVERYTHING!
I wish you all the best of luck in traveling by the seat of your skirt (or pants!) If others out there have had success in spontaneous travel too, I would love to hear your stories!
Happy spontaneous trails to you!!!
Tags: Meet Plan Go, MPG, spontaneous travel, travel not planning, travel tips