Turkey
— By
Kelly
on September 13, 2012 3:35 PM
"Give your phone to a Turk and I will give mine to one too.  They can talk and figure out where we both are," Dasha suggested in a creative attempt to find me. It had seemed like an easy enough plan to meet each other at the Otogar (bus station) in Izmir to begin our Turkey travels together. Dasha had come from Istanbul having spent time with a friend and her newly adopted Turkish "baba" (dad). I had come from Egypt having spent two weeks kitesurfing. I am eternally grateful to the city of Istanbul for providing long term baggage storage at their airport where I left my kitegear. Free of my beast of a bag, I had hopped on a plane to Izmir, feeling lighter than I had in months.
After twenty minutes of wandering around the surprisingly large multilevel bus terminal, we still hadn't found each other. I was convinced I was on the ground floor in front of terminal 133 and Dasha thought the same to be true for her. But clearly one of us had it wrong. At that time I had been worried that we might actually be at completely different stations,  not positive that I had boarded the correct bus back at the airport.
I looked around wondering who I might ask for help. "Excuse me sir, do you speak English?" I asked the tall dark man wearing a red polo shirt.
"Yes, can I help you?" he responded.
"I hope so! Would you be able to talk to the person on the phone and explain to him where I am?"
I was raised in a culture that teaches "don't talk to strangers" and I am pretty sure most people in the USA would not be receptive to such a request and would walk on by. Not in Turkey. In Turkey everyone is willing to go above and beyond to help someone, even a complete stranger, asking nothing in return. The sincere kindness I received from so many during my two weeks spent in this magnificent country was completely opposite of what I had expected. A coworker of mine had drilled in my head to "beware of Turkish men!" describing them as extremely aggressive towards women, handsy, and out for only one thing. He insisted if I ever visit Turkey I must go with a man or say I am married.
My Good Samaritan spoke rapidly in his native tongue, shaking his head laughing as he handed me back my phone. "That guy was crazy," he concluded.
"Did you find out where my friend is?" I asked. "No, but I found out what kind of work that guy does and he tried to sell me something." He shrugged and walked away.
Well that didn't go as planned, I thought. I called Dasha once again, thankful that we were lost in an Otagar in the 21st century. What did people do in such situations before cell phones?
"Your guy was crazy!" I informed her. She laughed.
What now? we both wondered. I walked to the wall of windows and peered outside.
"Okay, new plan" I said, "I see a red awning outside, do you see it?"
"Yes," she said, "but where are you if we both see this??"
"I don't know, but let's just meet there." I instructed.
I arrived first, ducking under the shade, stripping off my 60L backpack dropping it to the ground. My t-shirt was glued to my back, and it was way too hot for socks and sneakers. I pulled out my favorite black flip flops letting my toes happily breathe.
I looked back toward the terminal wondering where the heck Dasha had been, spotting  her through the tall window on the floor above where I had stood! She noticed me at the exact moment and we both waved excitedly.
As she walked toward me, I noted how pretty my Russian friend is even when playing the role of a dirty backpacker. She wore a bright red t-shirt, a wispy black skirt that fell just below her knees, a floppy hat over her blond hair, and a big smile.
"YAY! We found each other!" we both laughed as we hugged. We hadn't seen each other in two years when we had first met over dinner in San Francisco when Dasha had been visiting from NYC. A mutual friend had suggested we meet, predicting correctly that we would get along well.  We both find it equally special that before our Turkey travels, we had only spent a total of five hours together in person. Although one would presume we couldn't know each other very well, I did consider Dasha a good friend and we had managed to stay in touch over Skype and email. There had been an immediate connection between us, perhaps a result of our mutual love for travel? Or maybe we were just destined to be travel buddies and friends? I was thrilled that our travel paths had finally crossed after a missed connection in Southeast Asia a few years back.
When we both took off on our most recent trips (she to Thailand and me to Switzerland) we had no idea if or when we might meet up. We were both flexible, without set plans, which made it both easy and hard to determine the best place and time to travel together. It was only right before I left for Egypt that we concocted a loose plan to find each other somewhere in Turkey. Dasha did all the research which I greatly appreciated, and I trusted her suggestions of what we might do during our time together but was happy that she was also up for anything.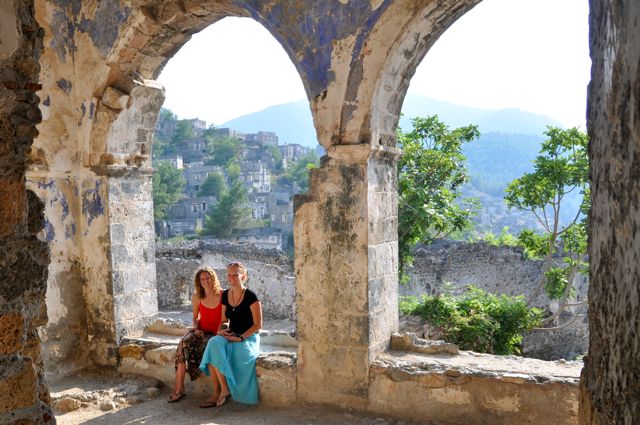 We took a two hour bus ride from Izmir to Selcuk. As we exited the bus we were greeted by the usual guys touting their hotels. Of course we had not booked anything in advance as neither of us roll that way. I have learned to be on the defensive in this familiar traveler's scene and prefer to find my own accommodation without the help of the touts. But there was something different about one man; he was not pushy but polite. He did not follow us around lowering the price another $5 with each step we made. "Hello ladies, my name is Ramazan" said the man with a friendly smile. He had ginger hair and matching scruff. I would have guessed him to be in his mid to late 30s; however, we would later learn he was eagerly anticipating his BIG 30 birthday bash. I decided for a change, to listen to his spiel about Nur Pension. With a calm demeanor he explained "My family has a very nice guest house nearby, I think you would like it." He offered to drive us there to show us the available room and if we decided that we did not want to stay there, he promised to drive us back to the Otogar. Dasha and I exchanged knowing glances and we both agreed … Why Not?
Ramazan insisted that he carry our backpacks, leading the way through a cheerful courtyard and up a flight of stairs. His family lives on the ground floor of the building. The room was simple, airy, bright, and clean, with two twin beds and a private bath. We agreed to the room at a price of €15 each for one night, including breakfast and transportation back to the Otogar the following day.
Ramazan invited us to join him in the courtyard for apple tea, his treat, assuring us it is the best apple tea in all of Turkey. I was unaware that Turks love their apple tea, assuming everyone drank the thick black coffee the country is known for. He watched in anticipation as I took my first sip of the sweet tea. "Thank you, I like it a lot" I told him with a smile. Being that it was my first cup of apple tea ever, I was able to say to confirm his claim to his delight "yes, this is indeed the best apple tea I have ever had."
He inquired about our plans while in Turkey, what sort of things did we want to see and do? For a second I thought … here we go, he is going to try to sell us a tour. I don't like tours. I knew there had to be some sort of catch to his kindness. But there was no catch, and he didn't try to sell us a tour. Instead when he learned we wanted to go to Ephesus, he offered to drive us there whenever we were ready.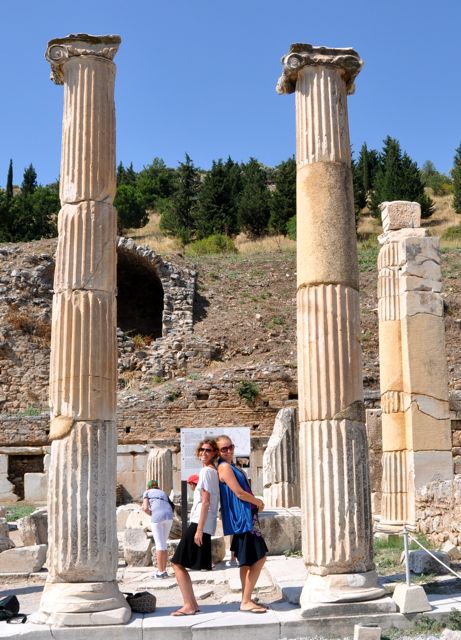 As we climbed out of his car in front of the ancient Greek ruins, we offered to pay Ramazan for the ride. He dismissed us with the wave of his hand  only asking from us to enjoy our time.
In writing this review, I visited the website for Nur Pension for the first time, learning that Nur means light, and the owners of Nur Pension aim to be the light in your travels around Turkey. I thought is was a sweet and also very true.
I have always believed the old saying: people come into our lives for a reason, a season, or a lifetime. I believe in destiny, as "living by the seat of my skirt" would suggest. I have faith in fate and that everything happens the way it is suppose to, and there is no reason to stress or plan too much in life or in travel. Through my experiences, I have found that even the details like where to stay upon arrival in a new city, tend to play out best when left to evolve organically.
Dasha and I were certainly destined to be  friends, but as I have learned, good friends do not always equate good travel buddies.  I had wondered if we would travel well together, my instincts suggested we would.  The scenario reminded me of my five month adventure across Southeast Asia with Nicole, a friend, who similarly I hadn't spent much time with prior to our travels together. You certainly get to know someone quite well on the road.
Travel experiences have a way of bonding two people for life. There is something very special about sharing unique experiences with someone familiar in an unfamiliar land.
By the end of our two weeks together in Turkey, I wondered where Dasha and I are destined to travel together next?! Thanks for being a great friend AND a great travel buddy Dasha!!!
More of Kelly & Dasha's Turkish Adventures to come!
Tags: Dasha, destiny, fate, travel buddy, traveling with friends, Turkey