Africa
,
Egypt
,
Kitesurfing
,
Reviews
— By
Kelly
on August 24, 2012 12:02 AM
In June I took a short, cheap flight from Zurich to Hurghada to participated in my first KB4girls Global Event in El Gouna, Egypt. Warm sun, wind, and water combined with energizing girl power from 22 incredible ladies from three continents made for a fabulously fun experience!
I first learned about KB4girls (Kiteboarding 4 Girls) when I returned to San Francisco in 2010 with much more luggage than I had left with a year prior. Once again I had found adventure on the road, picking up a new sport addiction and a whole lot of gear! Pulling behind me a bag large enough to fit a human inside, I was eyed suspiciously as I cleared customs with nothing to declare. Inside the black bag were my two brand new kites, a kiteboard, and all the required accessories I had purchased in Thailand.
Back then I could easily tell you the best places to kitesurf in Australia, New Zealand, Thailand, and the South Pacific Islands; but I hadn't the faintest clue as where to kitesurf at home.  I had been told by many that I was so lucky to live in San Francisco as the bay area is windy with many great spots to kite. But I wondered … where exactly were these spots? How would I get there without a car? And who would I go kitesurfing with now that favorite kite buddy was at his home in Switzerland?
I needed new local kitesurfing friends, and my preference was to find cool kiter girls in a male dominated sport.
While googling the topic on the web, I stumbled upon the KB4girls website and became a member straight away. I was immediately impressed by the organization that seemingly had the answers to all my questions, supported women just like me, and did it all for charity! I was even more thrilled to learn there was a local chapter in the bay area.
Established by world champion kiteboarder Kristin Boese in December 2009, the KB4girls Foundation is a non-profit associaton driven by the passion to help others and unite females around the world through the sport of kiteboarding. Kristin continues to volunteer her time not for profit, but out of her passion for kiteboarding and her desire to teach and inspire women around the world to get into and excel at the sport.
The KB4Girls Foundation's mission is to empower girls and women through the sport of kiteboarding. Our goal is to give females around the world a platform in the sport, help them to take up the sport, improve their kiting skills and even get to a competitive level. Through our events and through the KB4girls local chapters we want to further the motivation, self-confidence and courage of the participants and through fundraising we support women in need around the world.
Kirstin confirmed my thoughts exactly when she said, "Like most other sports, kite-boarding is pretty male dominated and from my own experience I know how tough and intimidating this can be for female kiteboarders. It can make all the difference if they are in an environment with other females who can encourage them and give them the confidence they need to excel." – Kristin Boese quoted on BestKiteboarding.com
KB4girls Global Event – El Gouna, Egypt  
WATCH THIS TOTALLY RAD VIDEO by mwillis productions – AWESOME job Miguel!
KB4Girls El Gouna was hosted by the Kiteboarding Club, which also holds weekly KiteGirl social evenings and kite sessions as part of the KB4Girls global network.
The goal of the three day advanced clinic was for each girl to improve their skills on the waters, specifically on tricks and jumps. The flat shallow waters of the Red Sea in El Gouna made for ideal conditions to practice. The only complaint I had was the evil porcupine like shells laying on the sandy bottom that managed to cut the feet of many of the girls including myself. We could have wore booties to protect agains all things prickly but I myself find it every challenging to ride with booties as I loose a feel for the board. The  event included on and off the water coaching with pro-coaches, including KB4girls founder and 9x World Champion Kristin Boese and BEST Kite's UK TeamRider Andrina Kelly,  as well as simulator training and a video lesson.
I told myself I was not allowed to leave Egypt until I was able to finally jump, a feat I would eventually accomplished after the frustration of countless crashes. Timing is crucial in jumping with many deliberate moves needing to be completely in sync. Thanks for the tips and your patience Daga! It wasn't a big jump, but I was happy to finally be off the water! I was also able to ride toeside for the first time, I left El Gouna with a few new tricks as souvenirs!
There was also lots of fun to be had off the water with fun organized events including a catamaran snorkeling excursion, go karting, girls dinners, and a beach BBQ. It was great to meet the girls and make new friends from all over the world who share my passion for the sport. The local hotels also helped support the event by providing everyone a generous discount on accommodation. I stayed at the Fanadir, a four star hotel for the unbelievable price of 28€/day breakfast buffet included!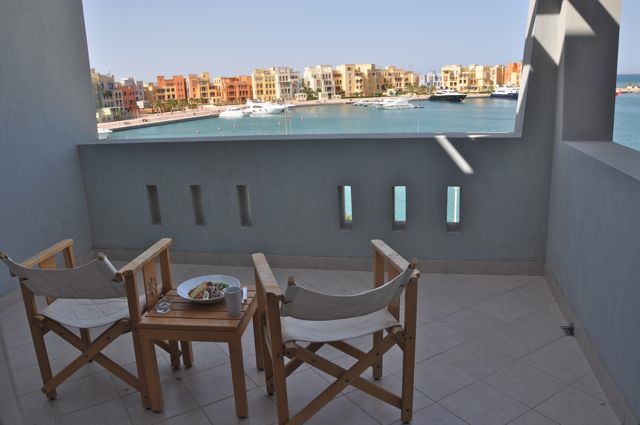 The event was free of charge for the participants; however, each girl is asked to give back by raising funds for a local charity. Kitesurfing in the Red Sea for the first time was an incredible experience, but doing so for a good cause made my time on the water even more fulfilling. I created a personal fundraising goal in support of  the KB4girls foundation and their mission to help the Hope Village Society. This charity is based in Cairo and aims to assist children in difficult circumstances. I raised $295 toward the cause, exceeding my goal! Many thanks to all who supported me and my apologies to those "mystery donors" who I am unable to thank individually as I do not know who you are!?
If you are a kiter girl and would like the support of other female kiters, I recommend that you become a member of KB4girls and attend an event in 2012! If you are thinking about becoming a kiter girl, DO IT, kiting is incredibly fun and we need more girls on the water!
Jenny Cooper wrote a fantastic review of the event Women Who Harness the Wind.
To see more photos of the KB4girls event CLICK HERE.
For girls looking to learn to surf I would recommend Surf Diva, an all girls surf campin La Jolla, California.
Tags: Egypt, el gouna, extreme sports, fundraising, girl power, good cause, KB4girls, kitesurfing