Europe
,
Europe 2012
,
Italy
,
Photo of the week
— By
Kelly
on July 27, 2012 9:33 AM
Photo of the week: Lake Carezza is in the Dolomites mountain range in South Tyrol, Italy.
The surface of the lake gleams with colors of the rainbow for reasons that can only be explained by local legend.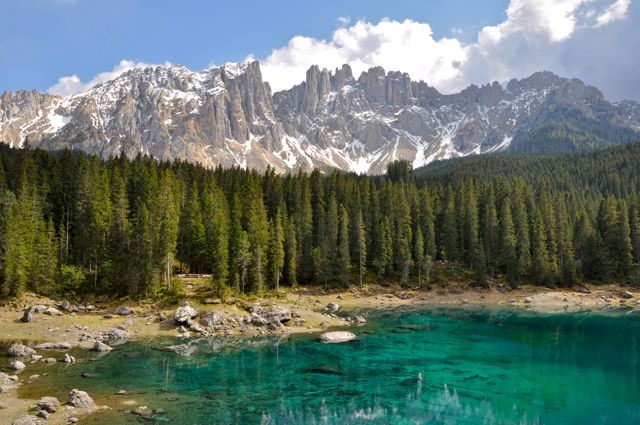 According to legend … in Lake Carezza there once lived a beautiful water nymph, who often sat and sang on the shores of the lake. She was however very shy, and whenever anyone approached, she would immediately vanish into the water. Now one day, as the sorcerer of Masaré  was passing by, he heard the nymph singing and fell in love wiht her. But not even all his magic arts were enough to capture the maid. Finally, the witch Langwerda gave him some advice: "Stretch a rainbow from the Latemar to Lake Carezza. The little nymph will become curious and want to know what it is. Disguise yourself as an old merchant and innocently tell her what the rainbow is made of and how to make jewels in the air. Once she is close, you can easily catch her." The sorcerer obeyed this advice, but forgot to change his form and was recognised by the water nymph. She promptly disappeared into the lake, never to be seen again. The sorcerer was so furious that he tore the rainbow from the sky and hurled it into the lake. The rainbow however dissolved in the water and spread out over the surface of the lake. Since then the Ladin name for the lake has been "Lec de Ergobardo" (the Rainbow Lake).
Tags: Europe 2012, italy, motorbike, motorbike tour