Europe
,
Italy
— By
Kelly
on July 20, 2012 3:21 AM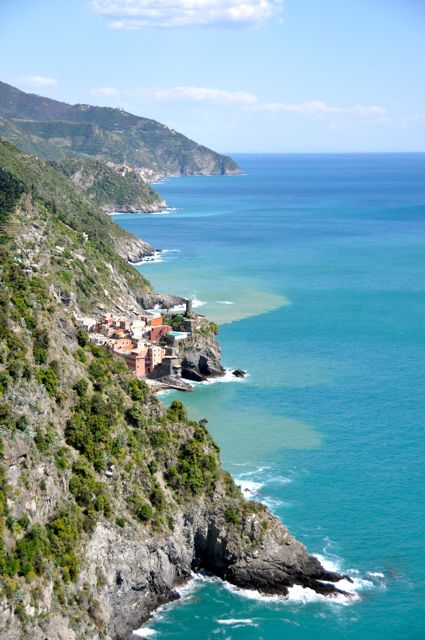 Cinque Terre is a rugged portion of coast on the Italian Riviera, west of the larger town La Spezia.
"The Five Lands" is composed of five villages: Monterosso al Mare, Vernazza, Corniglia, Manarola, and Riomaggiore. A popular walking trail called Sentiero Azzurro runs along the coastline connecting "The Five Lands".  The path offers incredible views of the villages that were built on the rugged, steep landscape right up to the cliffs that overlook the sea.
I did this hike in May of 2012 and the trail was closed between the villages of Vernazza and Manarola as the path was severely damaged at the end of 2011 by torrential rains which caused floods and mudslides. You can still access all villages; however, you will have to take a train or boat between the villages of Vernazza, Corniglia, and Manarola. Cars cannot reach the villages from the outside.
I found the area to be quite touristy, but gorgeous nonetheless.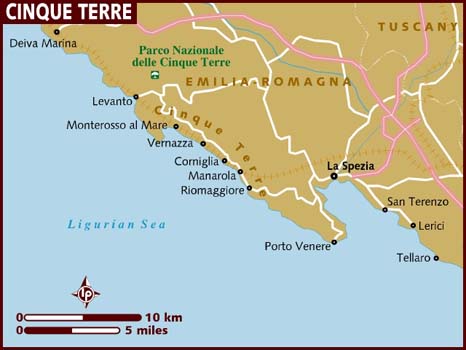 My friend and I chose to stay in the town of Monterosso al Mare, which turned out to be the most developed and populated of the five lands. Monerosso is the most northern of the five lands.
The path between Monterrosa and Vernazza takes about two hours and is relatively easy depending on you fitness level. I forgot my proper hiking shoes and was fine doing the walk in my converse.
One of my favorite views on the trail is the one below looking down upon the village of Varnassa. We decided Varnassa is a great place to stop for gelato.
Perhaps the best photo opp is found on the north side of the village of Manarola.
The path between Manarola and Riomaggiore is called Via dell' Amore  (the pathway of love).
There has been a tradition in Italy for many years in which two lovers secure a padlock to famous sites.  The symbolism here is that their love is forever joined together at the site by the act of locking the padlock.
Along the pathway of love, there is a "graffiti wall" where you can leave their own graffiti love.  Lining the path are thousands of padlocks marking the site where love was securely locked in the hearts of two lovers.  There is even a hardware shop in Riomaggiore that sells specially engraved padlocks.
I have always been a romantic at heart and thoughts of Italy have always inspired ideas of love and romance. The natural beauty of Cinque Terre did not disappoint my romantic ideals and I feel this place would even make a cynic of love a little sappy.
To see more photos of Cinque Terre CLICK HERE.
Tags: CInque Terre, Europe, Europe 2012, hiking, italy