Africa
,
Dakhla Challenge
,
Kitesurfing
,
Morocco
,
Western Sahara
— By
Kelly
on July 6, 2012 6:07 AM
When we drove from Switzerland to Dakhla, Western, Sahara on the Dakhla Challenge, we had no intention of doing the same trip in reverse. The plan was to sell the car at the Mauritania border and fly back to Europe.
Our Route on the Dakhla Challenge had taken us across Europe and North Africa over 5000 km.
As it often is in life, plans change and Honey Badgers chose to trust their instincts and escape Dakhla!
So we drove the route in reverse, modifying our route slightly to experience and see different places on our long drive home.
This was our reverse route.

It was tough to leave Dakhla on a windy day with kites in the air.

Our goal was to get out of Morocco as soon as possible. Apparently we left with a blaze of glory.
I felt a strong sense of déjà vu as we drove many of the same roads in reverse. We encountered the same cheeky policy officer at the same check point south of Layonne. He again asked for souvineers and we again refused to pay his bride. We drove through the same seemingly endless desert, this time watching the sand turn from white to orange.
I was not exactly excited to drive back across Morocco; however, we did make the most of the trip by seeing those places we missed on the way down. Timing had not allowed us to stay at Le Roi Bedouin campsite just north of Tan Tan on our drive down; however, we were able to spend a night on the way back. The campsite is very cool and completely secluded in the middle of the desert. Available to rent are neat bedouin tents; however, we chose instead to sleep inside Honey Badger. The campsite is run by a Belgian couple who serve excellent Moroccan cuisine in their restaurant/tent.
From Marrakesh we took a different route than before, heading north to Casablanca and then to Tangier.
We drove 2100 km from Dakhla to Tangier arriving in Tangier, Morocco 36 hours later. We slept as little as possible, one night at the campsite, the other in a fuel station outside of Casablanca. From Tangier we took a one hour ferry ride to Tarifa Spain.
We arrived in Tarifa at 2:00 in the afternoon and went straight to the kitesurfing beach.
We woke up the following morning inside Honey Badger to pouring rain and decided to head northwest to Portugal! In hindsight, it would have been smart for us to have actually checked the weather there first as the entire coastline was rainy with no wind.

We stopped in Lisbon for dinner and had a little time to explore the waterfront. I still can't get over how similar the city is to my beloved city by the bay.
We continued north along the coast toward  Porto, a spot known for strong winds and good kiting.
We stopped in just south in Ovar, there was no wind, but we enjoyed relaxing at a pretty beach amongst white dunes.
We decided to cut our wind loses and head east across Spain to Barcelona where strong wind was forecasted.
With only a few days left before Tom had to return to work, we headed north through France stopping in Leucate, a small town nestled between the Mediterranean sea and sea pond backing the Corbières mountains.
I decided I could live in the South of France or Spain. I am not picky either will do.
Honey Badger was happy to return home and needed a long rest after driving over 10,000km in three weeks! What will become of Honey Badger, no one really knows.
But we were inspired by this pimped out offroader we spotted in Tarifa … perhaps Honey Badger needs a makeover?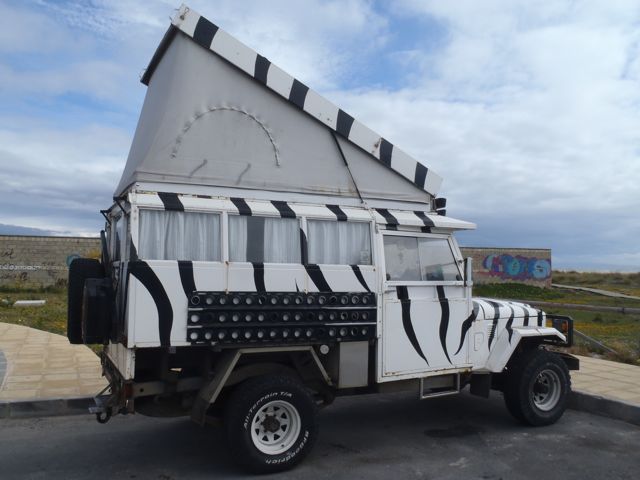 To see more photos of our drive from Dakhla, Western Sahara to Switzerland CLICK HERE.
Read all stories related to Dakhla Challenge 2012.
Tags: 4x4, Dakhla, dakhla challenge, Honey Badger, Morocco, offroad, Western Sahara