Africa
,
Dakhla Challenge
,
Kitesurfing
,
Reviews
,
Western Sahara
— By
Kelly
on June 27, 2012 1:34 PM
Dakhla is located in Western Sahara, a disputed territory claimed by Morocco. The main kitespot is located about 30km north of Dakhla city pretty much in the middle of the Sahara. I kited here in late April and would guess that we had 20-25 knots every day. We rode comfortably on a 6m Cabrinha Switchblade and were sometimes overpowered on the 8m. There were a few 5m kites on the water as well.  We were surprised that we needed to wear long wetsuits (I wore a 4/3) as the wind and water could be quite chilly but should warm up later in summer.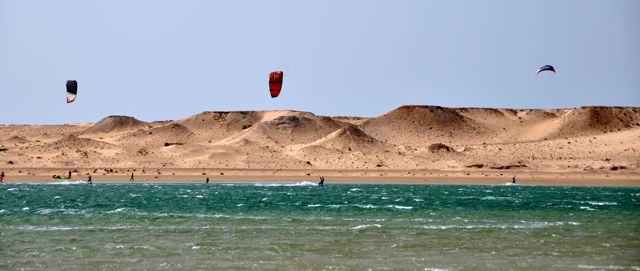 THE GOOD
consistent strong side shore wind
large flat lagoon great for freestyle and beginners
shallow spots
cool to kite in water surrounded by the Sahara desert
coastal wave riding spot 5 minutes drive from lagoon
cool accommodations convenient to kite spot
THE BAD
difficult to get to (long transport from most countries)
water can be quite choppy in strong winds
very crowded in the spots closest to accommodations, best to head downwind for more space but water gets choppier outside of lagoon
accommodations options are limited and book out way in advance
visited predominately by the French making communicating challenging if you don't speak their language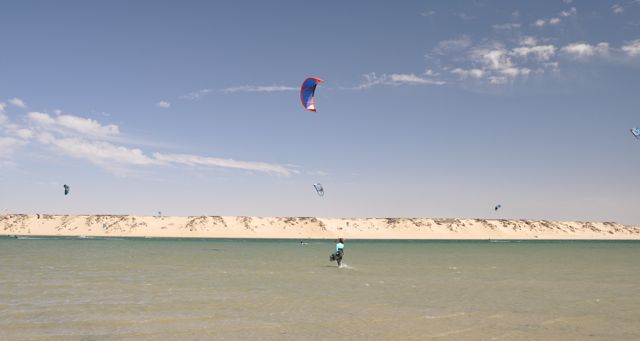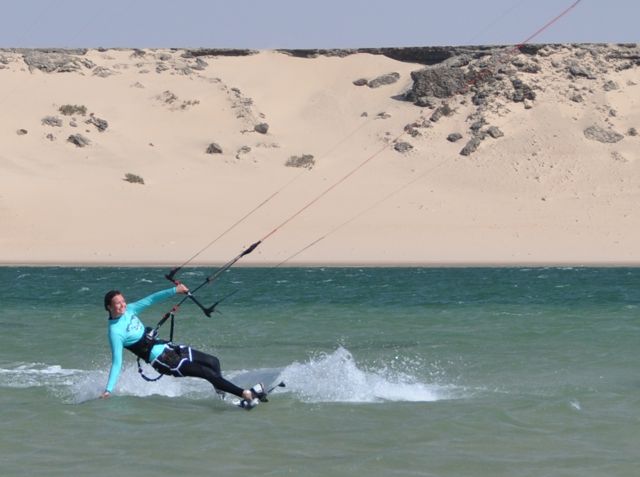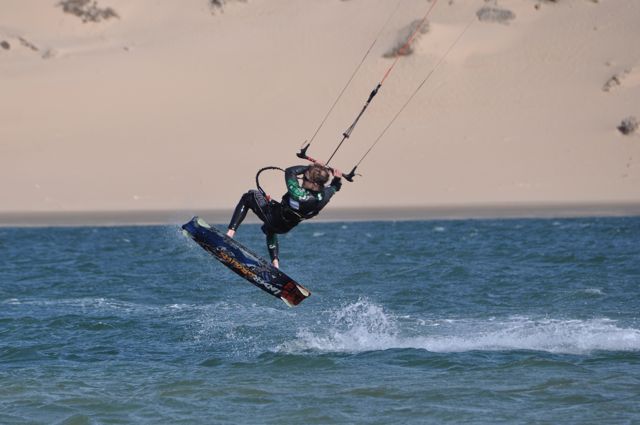 WHO'S ON THE WATER
During my visit the French dominated the water with a lone American and Swiss fighting for space.
WIND CONDITIONS
The wind generally blows from the northeast, and averages around 15 to 25 knots, which is said to increase during the summer months of July and August. Recommended kite sizes for the average rider would be 6m, 8m and 12m. Kite equipment rental is available.
WEATHER CONDITIONS
The temperature in Dakhla ranges from 18 to 26C and drops significantly at night. I wore a 4/3 wetsuit in April but no wet suit is needed in the summer.
BEST TIME TO KITE
The wind blows consistently all year so decide the best time to visit based on your temperature preference. April felt too cold for me and I think I would enjoy more in July or August.
GETTING THERE
From Europe: You can do what we did and drive (Dakhla Challenge 4×4 adventure highly recommended!). From Tarifa, Spain it is about 2100 km away, you can do the drive in four-five days if you boogie down. Flying to Dakhla is also an option but will require an inconvenient overnight stopover in either Casablanca or Marrakesh. Royal Air Maroc offers flights several days a week (it varies) with a stopover in Casablanca and a maximum allowed baggage weight of 30kg.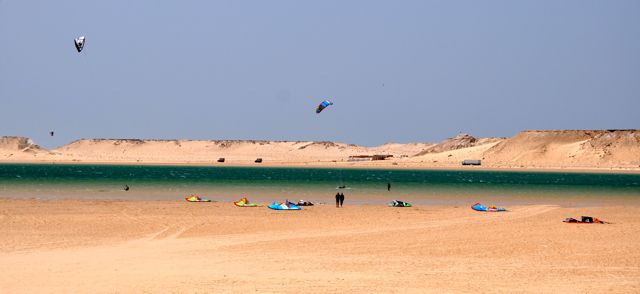 ACCOMMODATION OPTIONS
I would highly advise booking in advance. By the seat of my skirt rarely books ahead and regretted not doing so upon arriving in Dakhla to discover that all of the accommodations near the kitespot had been booked for months. There is a free camping spot very close to the kitespot; however, there are no facilities available there.
We spent two nights in Dakhla city driving to the spot each day before we got lucky and scored a Bedouin tent at Kite1Max that came available thanks to a cancellation. We really enjoyed our stay at Kite1Max!
*Kite1Max – Bedouin camp, we stayed here for 36 Euro per person per night. This included breakfast, lunch, and dinner. Bungalows are currently under construction. *RECOMMENDED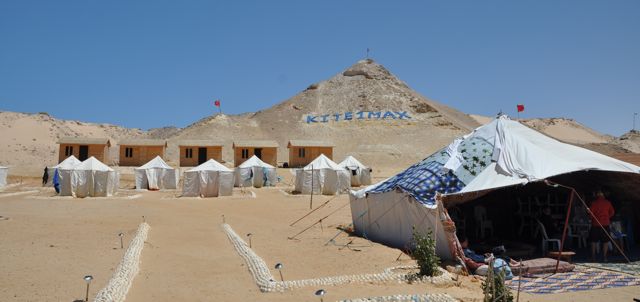 The tent camp is build along with the Oriental Saharaoui tradition, very basic but very cool! The only downside is no hot water; however, the owner plans to have hot water running this year. I often go without hot showers during my travels, but in the desert the temperature drops quickly as the sun goes down and the wind is quite chilling. I was usually freezing when I peeled off my long wetsuit and the last thing I wanted was a cold shower! Inside our tent it was warm and our mattress and provided bedding was very comfortable.
The best part about staying at Kite1Max is the food! Laetitia is an outstanding cook and I was constantly amazed by the tajine dishes she prepared daily. Breakfast was basic with crepes and bread but lunch and dinner was always a delicious three course meal served family style. I would go back to Dakhla just to have Laetitia cook for me again!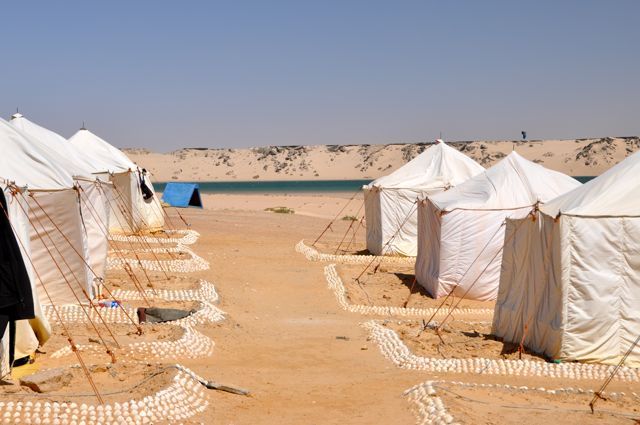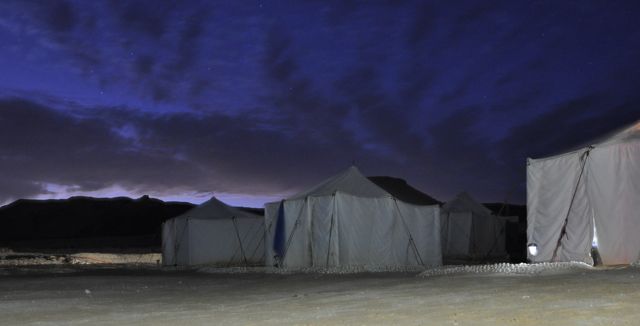 Ocean Vagabond – 60 Euro per person/per day all meals included.
Very nice new bungalows located directly on the kiting beach with electricity, hot water, and WI-FI (slow).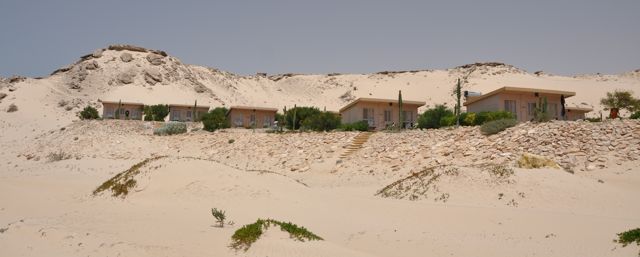 Dakhla Attitude – Also very nice bungalows that rent for 60 Euro per person/per day all meals included. Bedouin tents available too, I am not sure how much these rent for.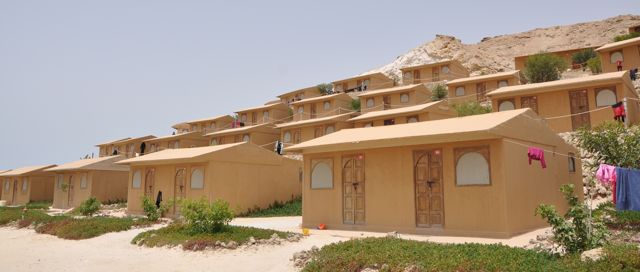 Nomads – Bedouin camp, 35 Euro per person/per day, all meals included.
Kite Xperience – Bedouin camp, 35 Euro per person/per day, all meals included.
KITESURFING IN WESTERN SAHARA VIDEO

To see more photos from kiting in Dakhla, Western Sahara CLICK HERE!
Tags: adventure travel, Africa, Dakhla, extreme sports, kiteboarding, kitesurfing, Western Sahara