Africa
,
Dakhla Challenge
,
Morocco
— By
Kelly
on June 4, 2012 9:45 PM
I was surprised that Yousof was still there when I awkwardly emerged from the rear window of the 4Runner, blinded by the early morning sun. It was Day 7 of the Dakhla Challenge. It seemed he might have stayed at our camp all night. I wondered if his mother had worried when he hadn't return home?
We had wild camped the night before near Fezzou, on route MS4. That night I had stood in the middle of the vast barren desert, turning slowly in a complete 360 noting that there was literally nothing around us for as far as the eye could see. I loved the feeling of isolation, watching the sun sink into nothing.

We were convinced we were the only people in this desert for miles until we saw the silhouettes of two boys on bicycles  in the distance. I was shocked. I had yet to meet a child who owned a bicycle and I couldn't imagine where they had biked from.
They kept their distance at first, but crept closer to our camp as the night darkened.
"Your name is Yousof?" I asked the oldest boy, noticing the name he drew on the side of the dusty Suzuki (aka "Sand Doom"). He nodded shyly, avoiding eye contact.  It wasn't long before he opened up to our group, explaining to each of us individually that he studies English and wanted to practice and learn more. I was sad that I had no English books to give him when he asked. I added school supplies on the growing list of items I must bring on my next visit to Morocco.
He sat cross legged in the dirt next to his younger brother, watching me intently as I prepared dinner on our tiny gas cooker.  I made extra with the intention of sharing, handing each boy a heaping bowl of pasta covered in a sauce of peppers onions and spicy sausage. A dish I guessed they had never eaten before and feared they might not enjoy. They were either being polite or liked my cooking when they accepted seconds.
They were still sitting by the campfire with the guys when I had decided to call it a night.
That following morning I asked Yousef where he lives. He explained to us that his family's house was "nearby" and where they have cows, goats, and a watering well.
Steve and Dougie needed drinking water and firewood. Steve asked Yousef if he could buy both from his father. I loved the idea of giving money to his family instead of the shop owner in the next big town. Yousef said this was possible and excitedly jumped in the back of Dora (the topless Land Rover) along with James, seemingly eager to take his new friends to his home.  Up until this point, we had spent so much time on the road and limited time in one location that I had not been able to connect with the locals; which is one of my favorite things to do while experiencing a new place. I jumped into the front of Dora, not willing to miss the opportunity at a glimpse inside a traditional Berber home and hopefully a glimpse inside the local culture. We drove through the dusty desert for about fifteen minutes when Yousef instructed Steve to turn right.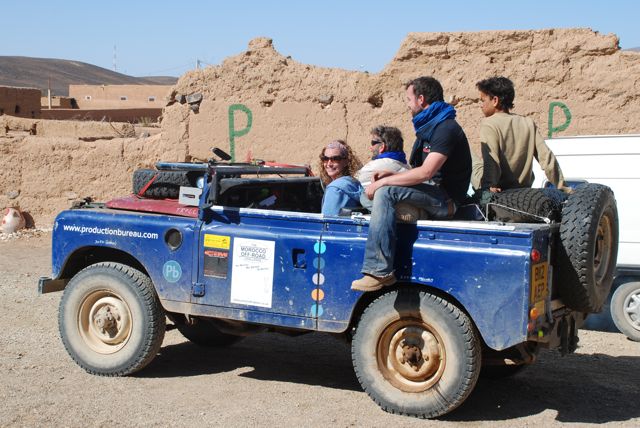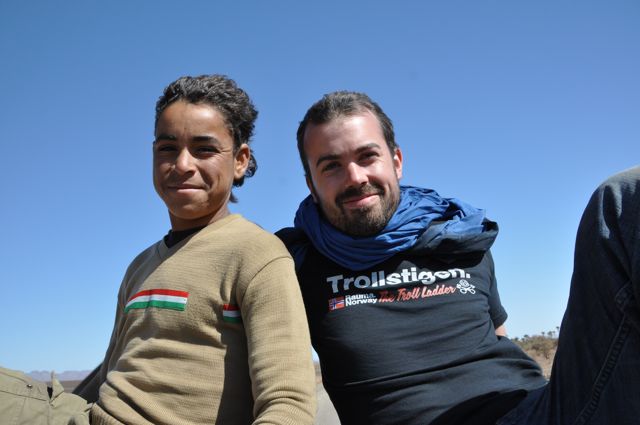 At first I didn't see a house, but as we drove further, I spotted three small buildings seemingly molded into the earth made of clay the same color as the desert.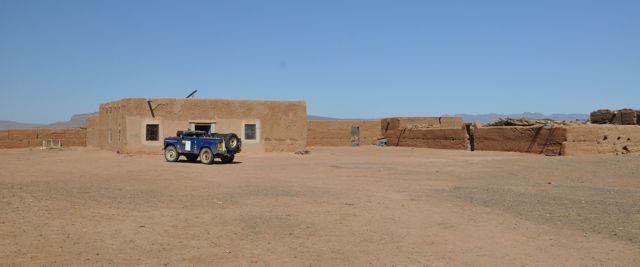 My curiosity was high as we climbed out of Dora. Yousef smiled with pride as he introduced us to his father Bart. Bart wore a white scarf draped loosely around his bare head revealing kind eyes and a big smile. His stance was tall and proud and he enthusiastically shook our hands as he led us through the front door, welcoming us into his home.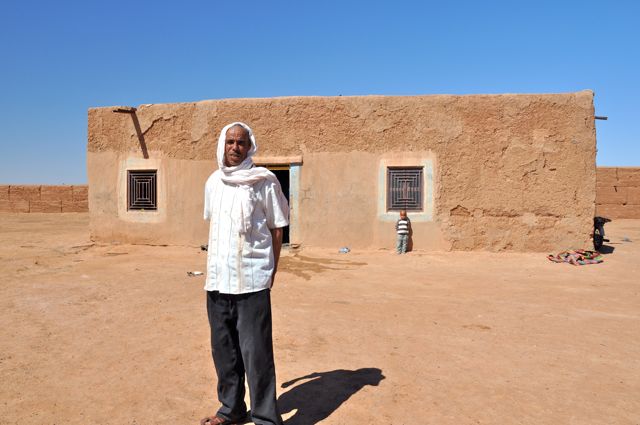 Inside we met Yousef's mother and his youngest brother Sinbad. We were instructed to take a seat upon floor mats that were spread about the main room. The walls were the color of denim from the floor to about halfway up where it turned to white before meeting a wooden thatch ceiling. Sun streamed in through two small windows giving the room a warm and cozy feel. Yousef explained this is where his entire family sleep and eat. I glanced around and noted how little the family owned. To my right was a small wooden stool with stack of blankets on top.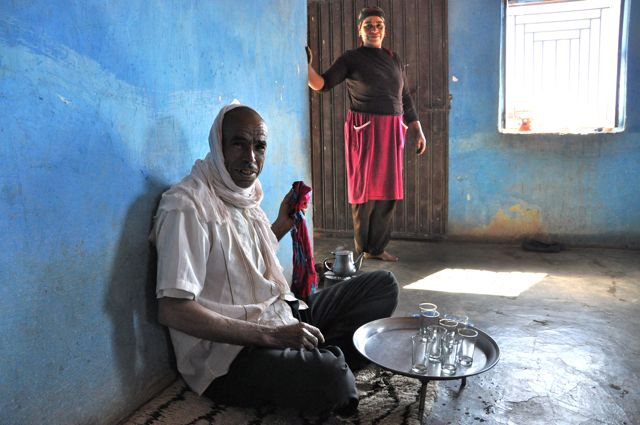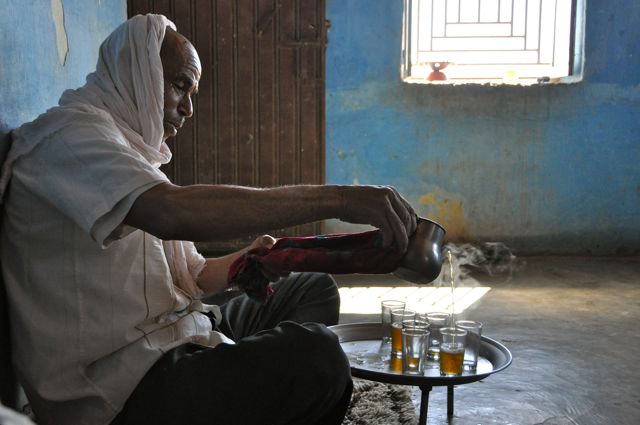 His father dutifully began the Moroccan tradition of serving mint tea. When traveling through Morocco, you will undoubtedly be invited for tea at least a hundred times by everyone you meet from shop owners to the person you ask for directions. It is considered impolite to refuse but tempting to decline if you are in a rush. Moroccan's drink their tea quite leisurely, and it can take hours to finish an entire pot over conversation.
I sipped the sweet minty tea from a small glass with gold etching. Yousef's placed a small white bowl filled with argon oil on the small round wooden table between us. He tore off a small piece of bread, dipped into the oil and encouraged us to do the same. It was warm and delicious. Bart noticed I was out of tea, and insisted I have another glass. I noted and wondered why the mother did not join us for tea, she had scurried out of the main room as soon as she delivered the bread.
Yousef proudly showed us his school workbook and English writing journal. He had already impressed us all with his ability to speak English so well and I was equally impressed by his ability to write the foreign language. I understood his eagerness to talk to us when he told me no one else in his family spoke English.  He loves to attend school and travels over 30km each way to attend class times a week. He explained that school was in recess that week. I was so impressed by the boy and touched by his desire to learn.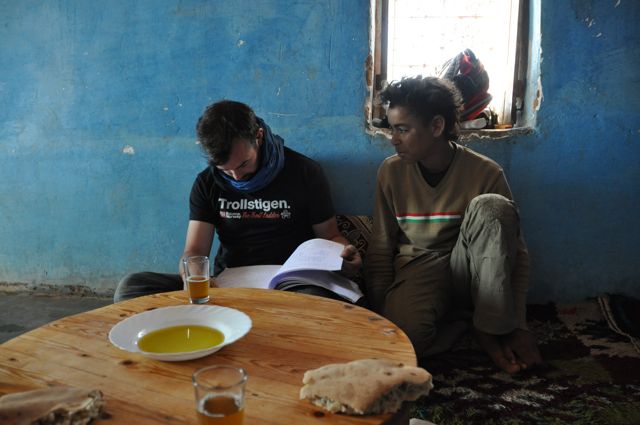 Yousef wanted to show us around his family's property. He took us to sort of barn where the cows, goats, and chickens live. He helped Steve fill up a few water bottles from the well. We also collected some firewood and strapped to the back of Dora. Steve gave Bart 200 MAD (the equivalent of about $20 USD) and thanked him for the tea.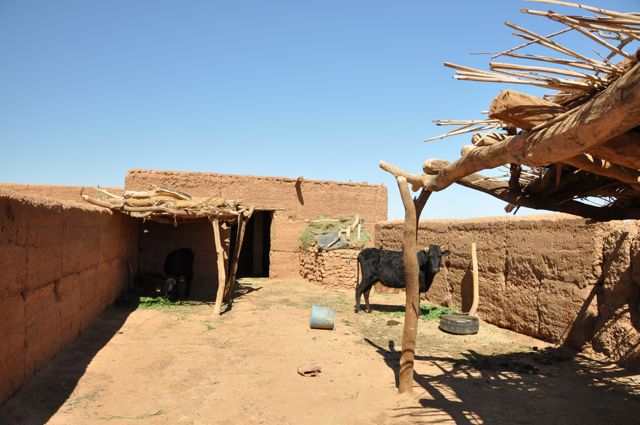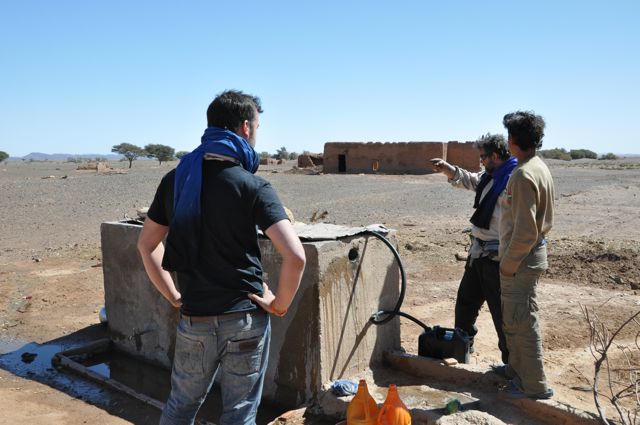 Yousef seemed disappointed, maybe even sad when it was time for us to leave. I wished I could have stayed longer too, but we knew the rest of the guys were waiting for us in the next town, eager to get on the road again. We found them outside a small cafe drinking coffees under the shade of an umbrella. Thomas was talking with the shop owner who asked to trade email addresses.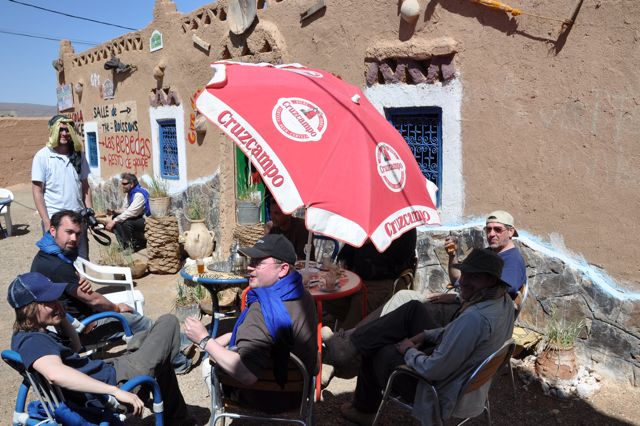 As we continued our journey through the Sahara I would often think of Yousef. I felt sadness for his struggles to educate himself and worried about all the children who had even less opportunities. I wished I could do something to help. It only occurred to me many hours later, that I should have asked for his address so that I could send him English books. I expressed to Thomas my regret and desire to help Yousef and he as he always does found a solution. He would email the shop owner and ask for the boys address. It is a very very small town and he was confident the man must know the boy.
I am hopeful to receive the family's address soon to be able to surprise Yousef with a huge box of English books, pens, and paper. I wish I could be there to see the smile on his face when he opens the box and hopefully realizes that he is special and thought of from across the world.
Tags: 4x4, dakhla challenge, desert, Morocco, offroad