Africa
,
Dakhla Challenge
,
Morocco
— By
Kelly
on May 5, 2012 8:23 AM
We said goodbye to the 2WD teams on a surprisingly cold morning in Ifrane, Morocco. They all watched in envy as we sped away into a thick fog. It was time for the five 4×4 teams to go offroad, which is no place for a small Peugeot or a Fiesta. We were eager to trade tarmac for dust. The paths we were taking were filled with unknowns.
The five daring 4×4 teams and their vehicle
Honey Badgers (car named Honey Badger) – 1989 Toyota 4-Runner (Kelly and Tom)
Amani (meaning peace in Swahili) – 1995 Land Rover Defender (Jim & Dave)
Cheap as Chips (car named Emma but always called Maverick) – Ford Maverick (Gordon & James)
Unhinged (car named Dora) 1980 topless Land Rover (Steve & Dougie)
Sand Doom – 1997 Suzuki Vitara soft top (Gavin & Durand)

Gavin and Durand of Sand Doom led the way consulting a small laptop mounted to the dash equipped with Garmin GPS map system. They entered waypoints into the GPS  found in Chris Scott's Sahara Overland roadbook and looked for key markers as vague as "turn left after the third camel!"
As we headed south, the fertile valleys of the north turned to shades of red and browns.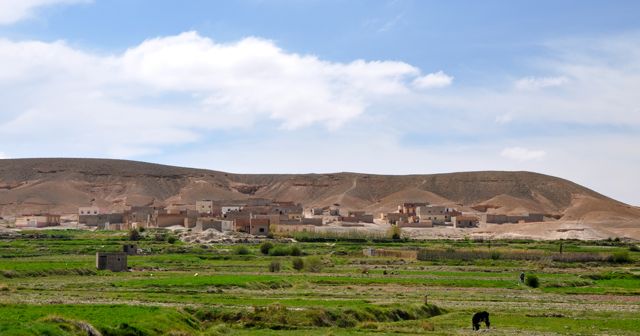 We drove on tarmac from Ifrane to Midelt then turned right onto an unmarked gravel, the start of route MH1.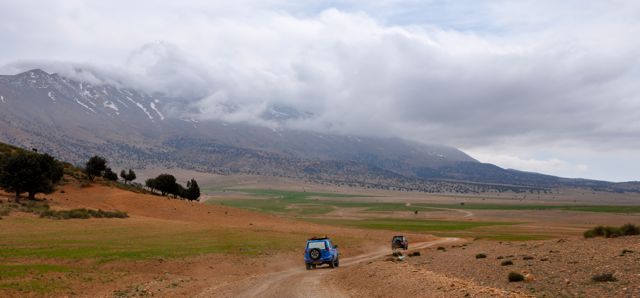 The route started out flat but we quickly ascended into the High Atlas Mountains.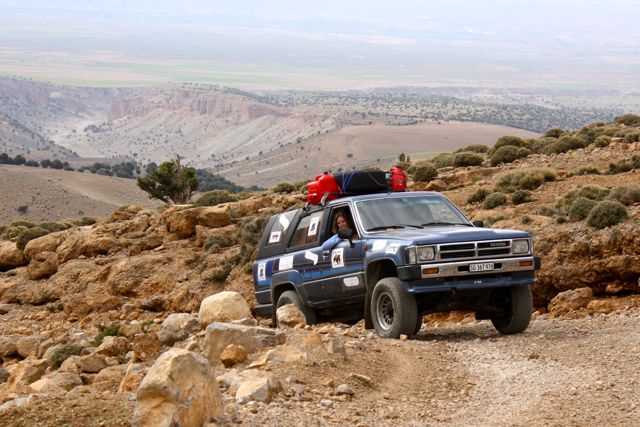 We reached a pass of sorts where we encountered two guys hearding sheep who asked us for cigarettes and clothes.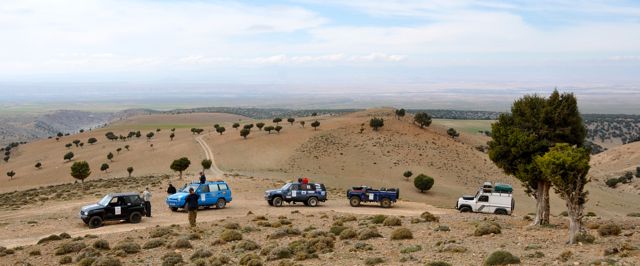 As we continued, the path narrowed and to the right was a steep drop off , visible far below was a small Berber village. The village children  had spotted us and with eager excitement their tiny figures ran up the hills.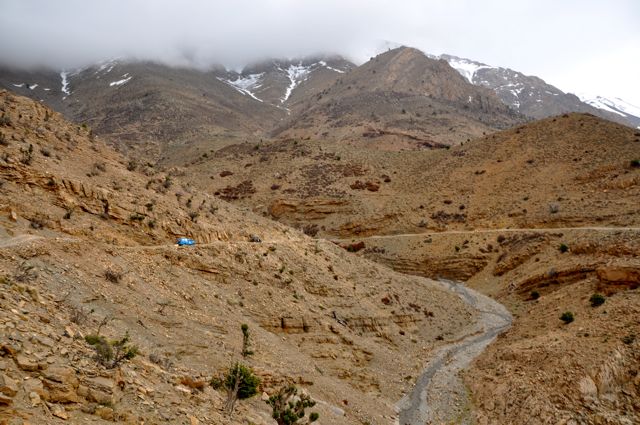 We started to descend and our paths eventually met. This was the first of many experiences to come with children begging for "bon bon (candy)" and "stylos (pens)". We were quite startled by their persistence and aggression as five children jumped onto a moving Maverick refusing to let go.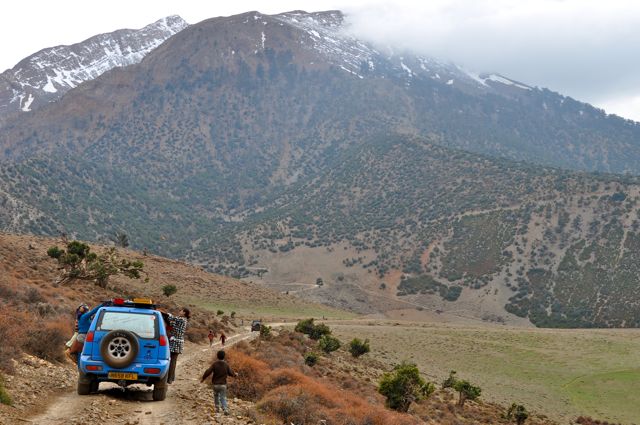 After the village we came to another steep incline. Honey Badger made it over the top without a problem as he is pretty bad ass.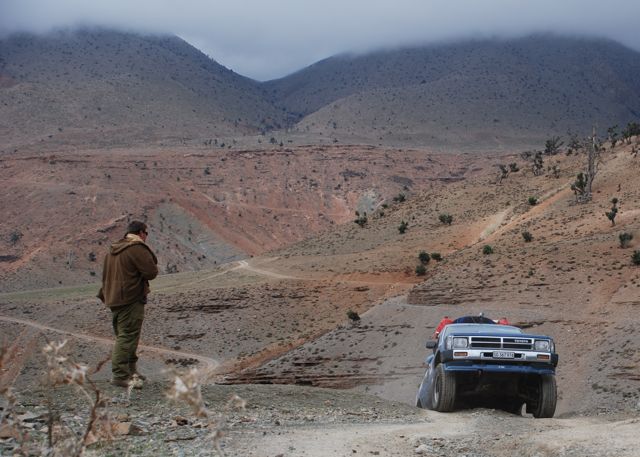 So did Dora trailed by billowing black smoke.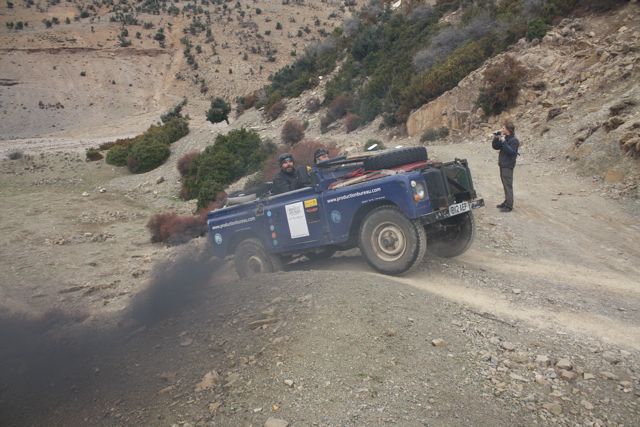 Amani had troubles rising to the ocassion in the Defender, the third time was finally the charm! I think the extra push they needed was to hear our warnings that "QUICK! The children are coming again!"
We were only halfway through the MH1 when we began to run out of light and decided to look for somewhere to camp.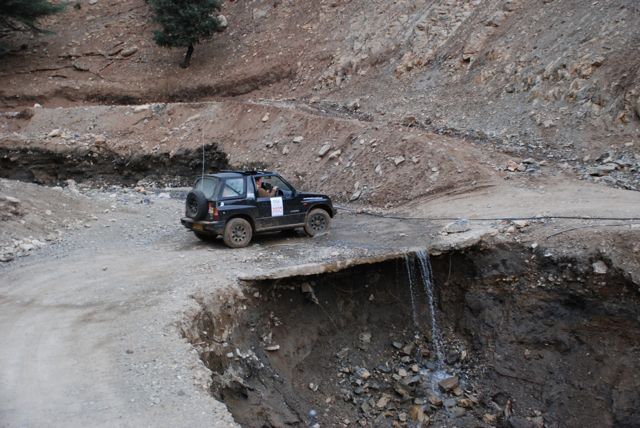 We ventured into a dry riverbed and hoped there would be no rain during the night. At the time, we had no idea the entire next day would be spent in another riverbed …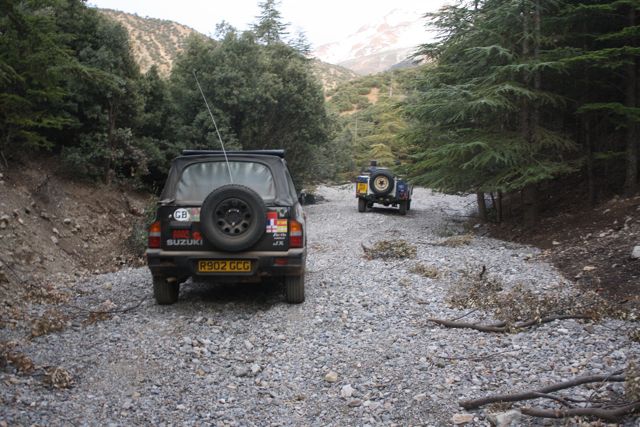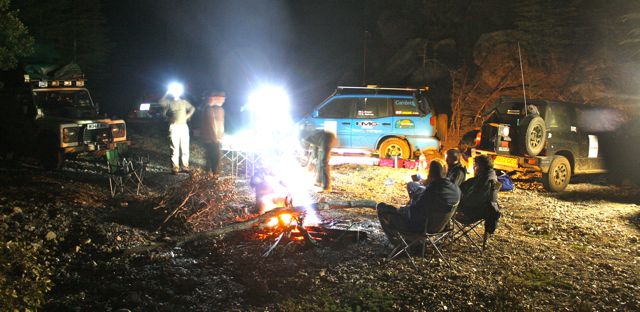 To see more photos of Day 3 of the Dakhla Challenge CLICK HERE.
Tags: 4x4, dakhla challenge, Honey Badger, Morocco, offroad