Africa
,
Dakhla Challenge
,
Morocco
— By
Kelly
on April 28, 2012 4:43 AM
My curious eyes scanned the ten assorted clunkers and their respective owners lined up across the empty parking lot of the ferry terminal in Tangier, Spain. We were all strangers from different parts of the world, but I knew at the core we must all be somehow similar to sign up to do something as crazy to drive from Europe to Western Sahara, Africa in vehicles we all purchased for less than $500. We were adventure seekers, risk takers, daring to set forth into the unknown, united in our desire to complete the Dakhla Challenge!

Barry aka "Uncle Bazza" returned with a smile, announcing to the group he had negotiated a group discount for our ferry tickets. He was quickly emerging as the leader of our ragtag convoy, and I was glad for it. We were a wild group, and someone needed to rein us in. Being older and a distinguished Englishman Barry fit the part, and I hoped would also deem respect from Moroccan authorities.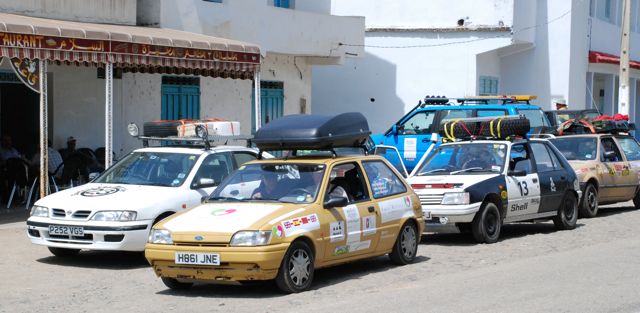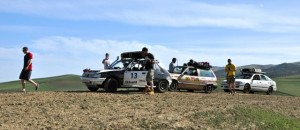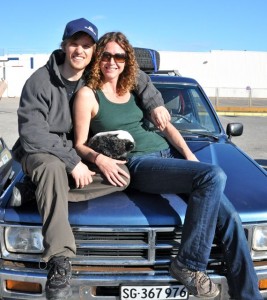 This rally was on Barry's bucket list, and his two sons had agreed to help him check it off by driving "Piglet", an old Ford Fiesta, across Morocco. Eight of the ten teams were from the UK, three teams of which were twenty-something English lads, highly energetic in their 2WD cars "Marco the Polo" , "B23" and "Scrappage Scheme Survivors". Team Budgie Smugglers had a forth passenger aboard, a life size cardboard cutout of a WWF wrestler.
Patrick and Chris of "Team Bullet" had traveled the farthest from snowy Sweden in a Saab 9000. Tom and I were the most random pair it seemed, explaining Tom is Swiss, I am American, and we met in Australia.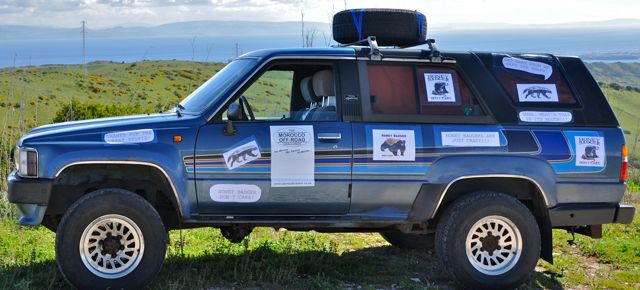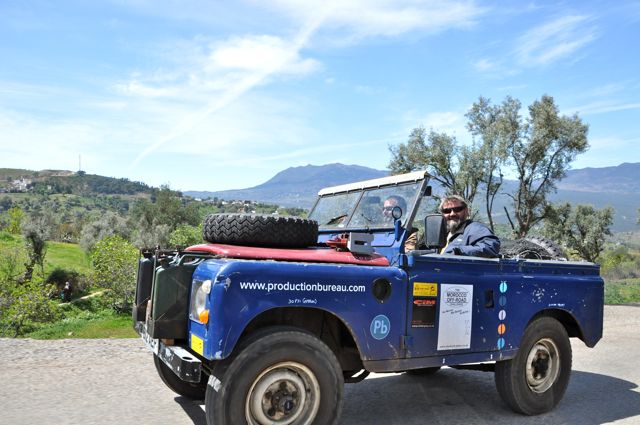 The cars were all quite shit in their own way, decorated in random flare. Honey Badger's best quotes adorned the 4-Runner and a talking badger doll rode on the dash.
"Dora" the old topless Land Rover driven by team "Unhinged" quickly became my favorite. Brothers Steve and Dougie arrived freshly showered after driving Dora through pelting rain in Spain.
Team Two Spanners overslept having drank too much the night before and missed the ferry, no one would see them again until Dakhla. The team with the only other woman departed a day before the other teams, and never reunited with our group, making me the only 4×4 chic on the rally! I don't think the boys minded … did you guys???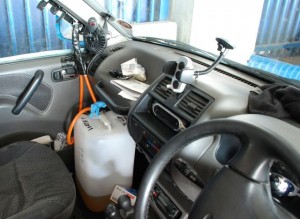 We had briefly met everyone the night before departure at the hotel in Tarifa. "Maverick" arrived late after having major fuel problems delaying them in Madrid. After seeing Gordon & Jame's quick fix to a fuel line leak, I knew they were a determined team. All teams had some last minute repairs. With the help of Jim of Amani (a father and son team) Tom finally found the source of the terrible screeching noise that occurred when Honey Badger went over 3000 RPM. The fan belt needed to be tightened.
Many of the guys are engineers, which I was thankful for. I have a long sorted history with engineers … a love/hate relationship really. I have come to accept the fact that I can't live with them and I can't live without them! An engineer's brain operates entirely differently than my creative and often illogical thought process.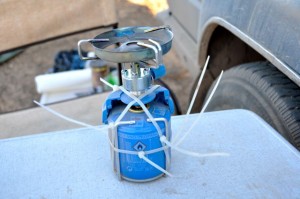 This has and still does make mutual understanding between an engineer and myself quite difficult at times. I flunked calculus, as theories do not work with me. You can tell me the logic behind a theory a hundred times and it will never stick until I figure it out on my own through experience. In general, I have found that an opposing engineer actually compliments me and vice versa as together we have the perfect brain and balance each other nicely! I appreciate how different Thomas and I are, I am glad he knows how to do all the thing I don't and happy he has info stored in his brain that I don't have space for in mine! And he appreciates my more outgoing personality, and leans on me in social situations saying I am his "ice breaker". As they say … opposites attract!
For a challenge like this, with the likelihood of mechanical problems and situations requiring intense problem solving, I said the more engineers the better! Thomas proved his ingenuity the first night, when he creatively "macgyvered" our gas cooker with cable ties to fit the too large gas canister that we purchased by mistake. He simply said, "I can fix it", as he often does, and I never have a doubt that he will indeed find a solution no matter how big the problem.  Now if only I can get him to understand how my brain works …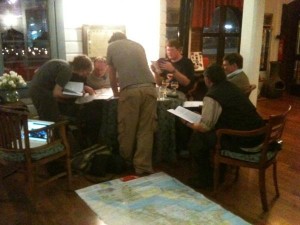 Neither Thomas or I had done any previous research or planning for the rally, as always we just figure things out as we go and it seems things just happen as they should. It wasn't until each individual team joined a sub-team (4WD or 2WD) to discuss routes did we actually crack open our Michelin map of Morocco. A few teams had highlighted routes in neon orange and pink as potential offroad routes as suggested in Chris Scott's Sahara Overland book. It is said this book is the "bible" for overland trips in the Sahara region. Unlike us, Gavin and Durand of team "Sand Doom" had spent alot of time reading this book appeared to be the most prepared and knowledgable. I would come to trust  and like them both very much. Together the 4×4 group formulated a loose route plan for our offroad adventures. It was decided that the entire gang would stick together for the first two days until we reached Fes and then we we go our separate routes, the 4×4 attempting to drive on as little tarmac as possible all the way to Dakhla.
On April 8, 2012, we loaded our vehicles onto the ferry and after a short ride across the straight of Gibraltar, we arrived on the continent of Africa.
Our arrival port of Ceuta is technically still Spain so we had to cross the border overland, a tiresome process taking almost three hours. I sat in the car while Tom dealt with immigration. I laughed hearing two local guys discussing "what is a Honey Badger?", as they tried to make sense of the stickers posted all over our car.
We waited for all teams to get clearance and then we were on our way!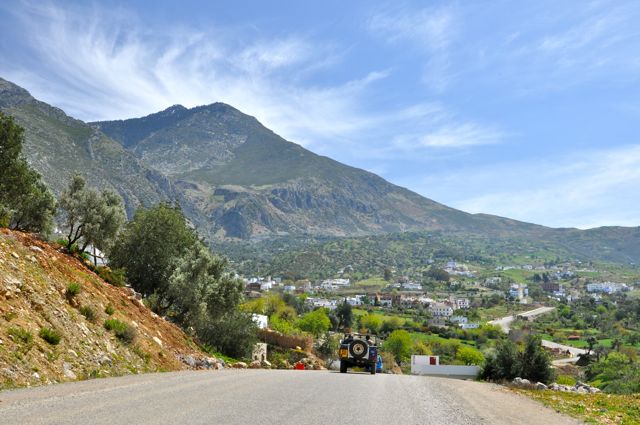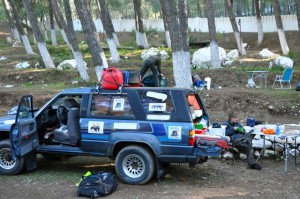 While driving through the town of Tetouan, we all took a wrong turn and our large convoy found ourselves driving through a crazy busy market in the town center. It was a white knuckle experience as each car dodged pedestrians who showed no fear in brushing against your car as they slowly walked in the path of oncoming traffic!

We camped the first night in Chefchaouen. The custom made bed we built inside Honey Badger was quite comfortable thanks to the baby bed mattresses we bought at IKEA. Thomas and I laughed remembering the sales lady's eyes lighting up when we told her we needed to buy three baby bed mattresses. I can only imagine how different my life would be with three babies!! I am guessing I certainly wouldn't be offroading through Africa!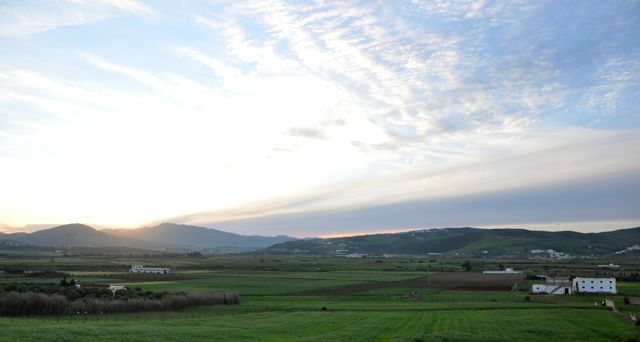 On day two of the challenge, we all went our separate ways during the day and met in the evening at a campsite outside of Fes. Several teams still needed to secure Moroccan auto insurance, "Cheap as Chips" needed to buy a replacement fuel hose for Maverick, and I wanted to get lost in the medina in Fes.
As we headed south, I was surprised by the how green northern Morocco is! I had expected more arid terrain, but would come to realize soon that Morocco has an amazingly diverse terrain. Mountains, sea, and desert!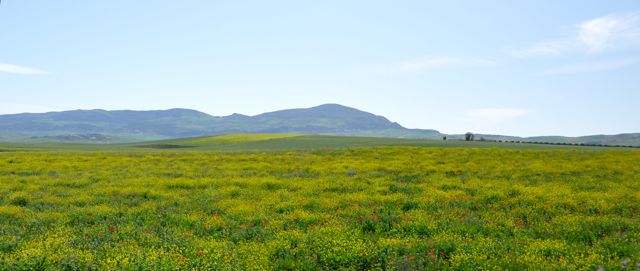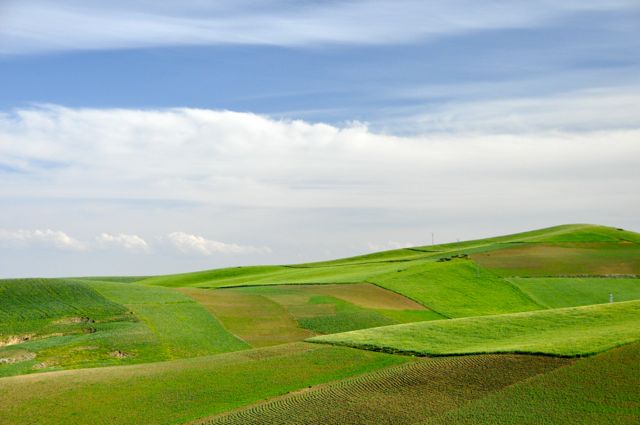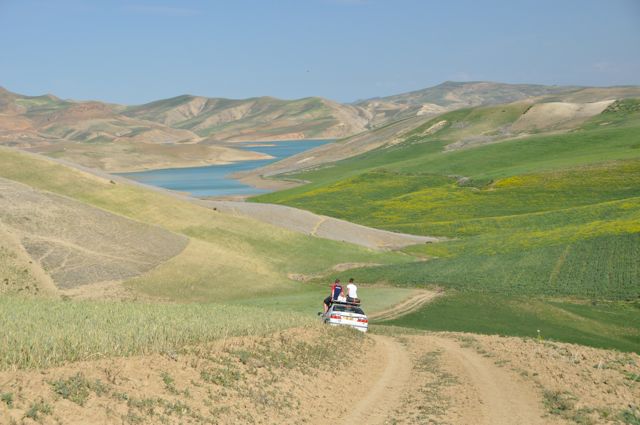 Thomas and I arrived at Fes' medina early evening as the sun was setting over the foothills of the Atlas Mountains. We didn't have a lot of time to explore, but we were able to visit the world's oldest tannery which dates back to the 11th century. I could have wandered the narrow alleys of the medina for days, slowly unearthing hidden treasures and overloading my senses with each turn. The ancient medina hasn't changed since medevil times and it has a way of transporting you back to its origin immediately upon entry.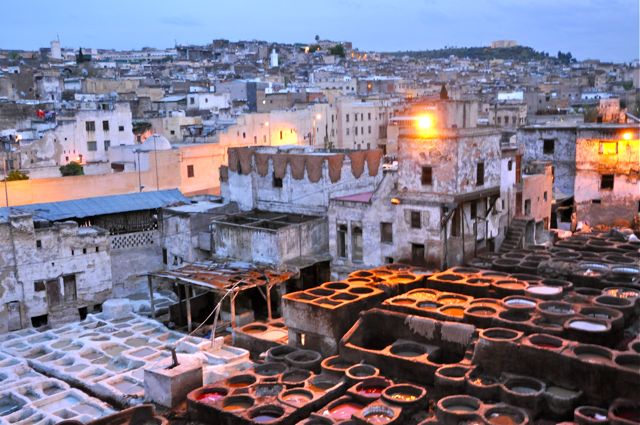 All teams survived the first few days with only a few minor complications …  one overheated Land Rover that only needed a short break and the Peugeot's exhaust pipe fell off, but was creatively reattached. Our CB radio didn't work, which was a bummer as I had planned to provide entertainment with the talking honey badger doll and perhaps a song or two. Probably a blessing in disguise for the other teams; however, not having a CB to communicate with the others would prove inconvenient down the road.
Our crazy offroad adventures to come next!
NO SENSE, NO MONEY, NO WORRIES!!!
To see photos from Day 1-2 (Tarifa, Spain to Fez, Morocco) CLICK HERE.
Tags: 4x4, dakhla challenge, Fes, Honey Badger, Morocco