Fiji
,
Kitesurfing
,
Reviews
,
Scuba Diving
,
South Pacific
,
South Pacific Sailing
— By
Kelly
on October 7, 2011 4:07 PM
Safari Lodge is located on beautiful Nananu-i-ra, a remote island of Fiji. Blessed with consistent trade winds, Nananu-i-ra island is a wind-sport enthusiasts paradise!  From April to December, winds blow at a steady speed of 15-30 Knots, attracting wind addicts from around the world to the tropical waters of the South Pacific.
Australian windsurfing legend, Warren Francis, has been living the good life in Fiji since he opened Safari Lodge in 1991. Safari Lodge is a boutique resort housing a maximum of 40 guests at a time with a variety of accommodation options to suit any budget.
Available are bunk style dorm rooms, private double rooms, and charming private villas with gorgeous ocean views. Guests have the option to buy package deals that include three meals a day, airport/boat transfers, and other inclusions depending on the package chosen. Package options include: Windsurfing, Kitesurfing, Sailing, Sea Kayaking, Snorkeling, Diving, Fishing, Day Spa, and Eco Tours.
Warm tropical water, wind, and sunshine provide perfect conditions for the water sports focused resort. The lodge itself is located steps from the sand, surrounded by swaying palm trees to shade you as you relax in a comfy hammock. Safari Lodge offers quiet seclusion within a world of opportunities to make your ideal paradise.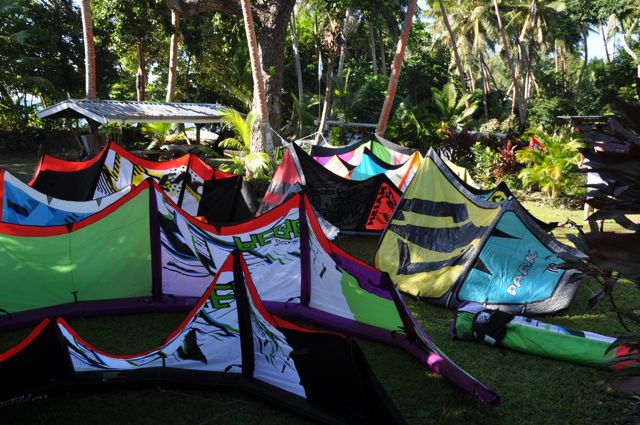 I purchased a kitesurfing package at $1480 FJI ($796 USD when this post was written) which included a week of kiting supported by the Safari Lodge staff, daily boat support, a private double room, three delicious prepared meals per day, and airport/boat transfers to and from the resort.
After spending three months roughing it at sea, cooking for a large crew, sleeping in tiny spaces, forfeiting all sense of privacy … I basked in the luxury of being taken care of by the friendly staff at Safari Lodge. There is nothing better than waking up on a beautiful island with a view of the ocean, having a great morning kite session, coming "home" to a prepared lunch, enjoying an afternoon nap in a hammock before heading out for your afternoon kiting session, and finishing your day with a glass of wine and a delicious dinner (always with dessert) as you watch the sun sink into the South Pacific. PARADISE! There is nothing better except knowing you get to do it all over again the next day!
Besides the undeniable beauty of the island and the crystal clear Fijian water, I was also very impressed with the professionalism of the Safari Lodge staff. The daily activities are very well organized and the staff did a great job keeping everyone on schedule to allow for the most time on the water during the windiest part of the day. To ensure a great day, the staff heads out early each morning in the kite boat to scout out the windiest spot to kite that day. After the best location is decided, Warren holds a meeting for all kitesurfers in which he briefs the group on weather conditions, points out the kiting spot on the local map, and explains any challenges one might encounter (don't kite past that house as the wind dies there and you have no chance of relaunching) all the while getting everyone super excited for a new day on the water.
There are so many great options for kitesurfing near the island. Depending on the wind conditions we could head out in the yellow dingy to off-shore reefs or kite the deep blue waters of Kite Point. On lighter wind days we were taken to upwind launching points for  fun down-winder sessions. This was my first experience pumping up and launching my kite from inside a small dingy. The staff have perfected the process and are quite efficient in getting a large group of kiters off the boat and on the water quickly. It is also possible to kite right off the beach directly in front of the lodge; however, the wind typically blows onshore here and at high tide the beach disappear making this option better suited for more advanced kiters.
With such a great support system at Safari Lodge,  it is a great place to travel as a solo kiter. Besides the support you can expect from fellow kiters, you feel safe knowing that the Safari staff is on hand to provide a boat rescue if needed.
Not into wind sports? Safari Lodge is sure to keep you entertained without the help of the wind. Additionally, you can choose t0 stand up paddle board, relax at a day spa, snorkel, scuba dive, fish, explore the area in a sea kayak, or go on a hike in search of beautiful sunset!
I experience one of my best dives with Safari Lodge which way surpassed my previous dives in the South Pacific. The dive team took us out about an hour from shore where we did a 2 tank dive at Vatu-i-ra Passage. I knew we were in for a treat before we jumped in as the water was crystal clear showing us brilliant reef for as far as the eye could see! Sadly, it is common to encounter dead  coral in the South Pacific due to climate change (warming waters), predators (spiny starfish), pollution, and destruction due to human-related activities. But the coral we saw at this dive spot was teaming with life and glittering with color!
Being even more environmentally conscious after spending 5 weeks aboard Infinity (a sailing expedition vessel whose mission is to promote global awareness of issues that affect the environment), I was pleased to learn that Safari Lodge is focused on passive recreational sports. They do not Jet Ski, drag net Fishing, or encourage clients taking of precious resources, in particular our marine life on the reefs.
Thank you Safari Lodge for protecting your beautiful surroundings and for an unforgettable time in paradise!

CONTACT Safari Lodge to make your reservation at Fiji's best windsurfing, scuba diving and kitesurfing resort!
+679 628 3332  or  Skype: SafariLodgeFiji
To see more beautiful photos of Safari Lodge CLICK HERE!
Below is a video I found by Maniac Films featuring Safari Lodge.
Tags: accommodation, Fiji, kitesurfing, resort, reviews, Safari Lodge, scuba diving, snorkeling