California
,
Point Reyes
,
Reviews
,
San Francisco
,
Tomales Bay
,
United States
— By
Kelly
on July 18, 2010 6:48 AM
"It's not a matter of if" I told Spencer, "but rather when I will be tipping over our kayak just for the fun of it!" With a nervous laugh he replied, "Very funny Kel," knowing me well enough to be moderately concerned.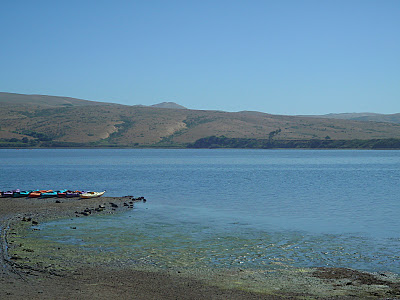 Halfway over the Golden Gate Bridge, the morning fog parted, giving way to clear blue sky and rolling green hills of Marin County. We continued north on Hwy 1 toward Point Reyes for kayaking fun on Tomales Bay – located about 40 miles from San Francisco. I was thrilled to get out of the chilly city, always up for any sort of outdoor adventure and eager to explore a new part of beautiful Northern California.
Spencer got shotgun as usual, thanks to his claim to chronic motion sickness. Today was a big day for my friend as he isn't the outdoor adventure type of guy. My lovely Spence has velvet hands he uses for painting sweeping Jackson Pollock-like brushstrokes and for twirling his dates on the swing-dancing floor. He does not deem himself a metro-sexual but will surely tell you whenever he is having a good hair day. I was proud of him for being open to trying something new. Spencer was determined to shed his "delicate flower" image and become a rugged outdoors man. As his best female friend, I took it upon myself to assist in his metamorphosis.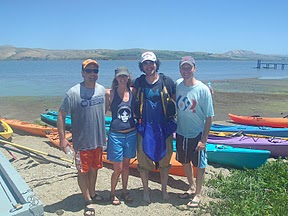 My buddy Brett and I giggled in the backseat, we always bring out the silly in each other. Brett is my #1 dawg! Andrew eyed us suspiciously through his rear view mirror wondering what other evil acts we were plotting. I had just met Andrew and my first impression was – very nice, funny guy – definite friend potential. He told me he would need until EOD to decide if he would grace me with a Facebook friend request. Married with two little girls, but determined to never be seen as the "old boring married guy". He and his wife have seemingly mastered balancing time with family and friends, I found their relationship inspiring.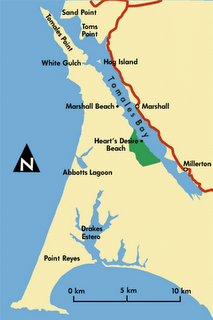 An hour later we were getting close to our destination. One of the many perks of living in San Francisco is there are so many great places to visit only a short drive any direction you head out of the city. We stopped for coffee in the quaint town of Ross before continuing through the small town of Inverness. A right turn just past the Golden Hinde Inn landed us at
Blue Waters Kayak Company.
It was just before 10 am when we checked in for the
Inverness Morning Paddle
, a three-hour guided tour of the West side of Tomales Bay.
Tomales Bay is a 6800-acre estuary, twelve miles long, occupying the seaward end of a valley created by the San Andreas fault. The northern end of the bay opens to Bodega Bay and the Pacific Ocean, while the southern end is fed by Papermill creek and marked by wetlands. Black Mountain rises at the southern end of the bay above the community of Point Reyes Station. Sir Francis Drake was the first explorer to land in this area in 1579.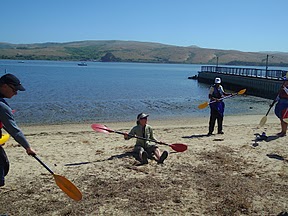 The owner of
Blue Waters Kayak Company
, John Granatir, warmly greeted our group and the dozen others who would be joining us on the tour. Jon asked us all to introduce ourselves and tell about our kayaking experiences thus far. I had not been kayaking since Vietnam, when as Danny would tell the story – I made him paddle for hours around Halong Bay while he had the mumps. The memory made me smile.
We were each given a skirt, life jacket, and oar. Our guide for the day, Page Flood, gave a very helpful demonstration on the proper way to hold the oar and how to paddle. Some people in our group paid better attention than others as later demonstrated on the open water.
We walked toward the water where a rainbow of kayaks lay warming in the sun. I picked a turquoise kayak and was happy Spencer agreed to sit in the back as I was feeling rather lazy and didn't want to have to steer the boat.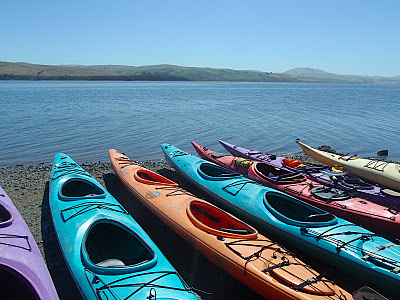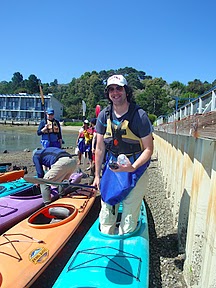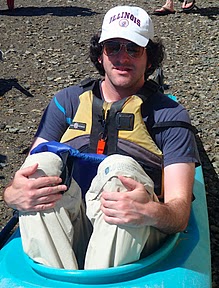 Then came the moment of truth … can a 6'4" Jewish man fit into a tiny kayak? I was not sure, but knew it would be amusing to watch him try. Spencer straddled the kayak eyeing the small opening suspiciously before attempting to fit a square peg into a round hole. One long leg at a time stepped into the kayak. He sat down struggling to stretch out into the boat. John came around to adjust the rudders, needing to extend the rudders as far as possible to accommodate Spencer's long limbs. Spencer pushed hard on the rudder and we all heard him sheepishly say "UH OH – I think I broke something". John confirmed he had indeed broke the rudder saying that had never happened before…but then again the 18' kayaks are not made for such a tall guy.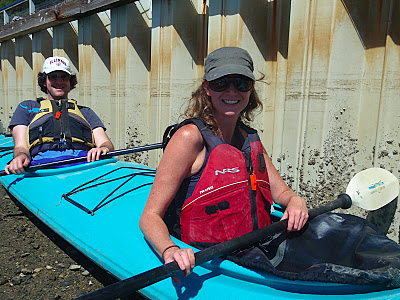 John called for a replacement boat and told me I would need to sit in the back and steer. So much for my lazy day on the bay! Once we were all secured, skirts in place, John push our boat into the water until we were floating. I looked out into the big blue abyss, the bay was calm, reflecting the beauty of the land.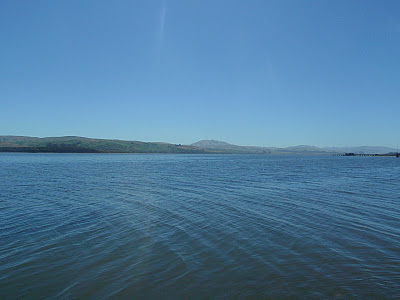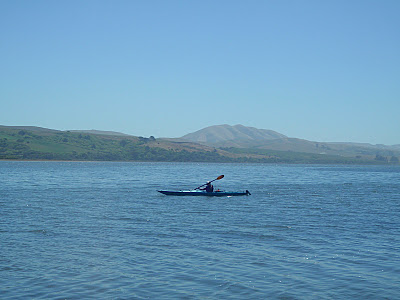 We began paddling but headed in the wrong direction. Paddling in unison is certainly like a dance. First steps can be awkward, out of sync … with no understanding between partners. Slowly you warm up to your dance partner, you get more comfortable and acclimated to their timing. It becomes a goal to make sure you match step for step, or in our case, oar for oar.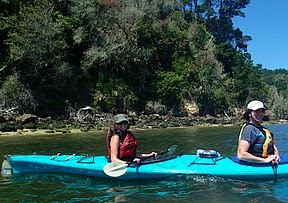 Paddling was proving to be a challenge in my kayak. Spencer was performing more of a canoe paddle, digging deep into the water and slinging massive amounts of water in my face. Not wanting him to become discouraged, I assured him I found it refreshing. Andrew found the scene amusing and described our kayak as a wet and wild ride. Eventually Spence got the hang of things and before too long our strokes were in sync as we were swiftly gliding across the water.
As we edged closer to the others I was surprised to hear singing, bad singing at that. Andrew sang a rendition from the Jefferson's and the normally shy Brett challenged him as he belted at the top of his lungs "Come sail away…". It became a variety show at sea – a singing duo. They howled ridiculous lyrics, serenading everyone that had no choice but to listen. If anyone had expected a quiet day on the bay, they were surely going to be disappointed. One woman asked if we had been drinking and Brett told her "No, we are just high on life, it's gorgeous out!"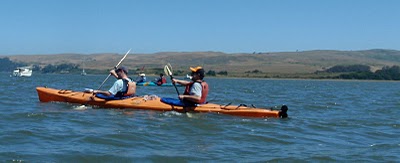 While Spence and I did not feel the need to sing, I understood the feeling of elated happiness. Looking around at the sheer beauty surrounding me, I was overcome with gratitude my very blessed life and friendships. Spencer was also moved by the beauty of the bay and told me "It's like I am in a dream Kel, I don't see stuff like this everyday". The commentary in my boat grew more amusing with each paddle and I could not stop laughing.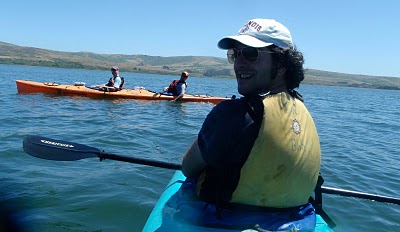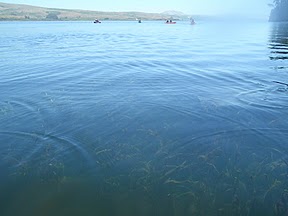 We decided to stop at Chicken Ranch beach for a rest. The water became shallow as we approached the sand the thick eel grass got tangled in our oars. Page told us to keep a look out for bat rays and leopard sharks. At the first mention, Spencer's turned to me, his face angst in fear. No one had told him such scary creatures would be encountered on our adventure. Two large bat rays swam up to our kayak. I wanted to stop and watch but Spencer told me to keep paddling exclaiming "this is the scariest thing I have ever done in my whole life!". Trying hard to keep a straight face I asked him what we were going to do if one of the rays jumped into our kayak – not believing for this was actually possible. Seconds later a large ray jumped frighteningly close to my head causing me to scream out loud – payback for picking on him, Spencer concluded.
By the end of the three-hour tour my arms were very tired and my stomach growled with hunger. The region is known for oysters and we were eager to get shucking! Page suggested that we drive 15 minutes further north to The Marshall Store for lunch. We passed several other Oyster shops on the beautiful drive north all situated right on the water overflowing with patrons.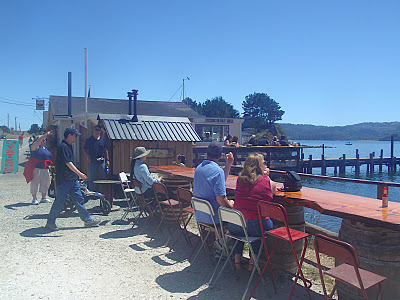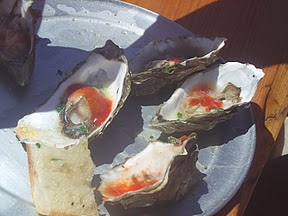 The Marshall Store
appeared just off the road, right on the water with many boats docked to be served. It was a meager shop with long narrow wooden tables lining the road, filled with people enjoying the food and the views.
A few of our new friends from the tour joined us, and Spencer wasted no time in asking the Australian woman if her daughter was single. None of us were surprised, Spencer is a dating machine. He told her he would love to take her swing dancing at the Top of the Mark.
We ordered six dozen oysters, all varying in preparation: raw, bbq, topped with chorizo, cheese, spinach … all delicious! We also had clam chowder, crab sandwiches, fish tacos, and many bottles of local beer. Needless to say, we were happily stuffed in need of a nap. We unanimously agreed that the day could not have been more perfect. We wondered why in the world we had never done this before and vowed to return very soon!
Although we were content to stay much longer, it was time to head back to the city by the bay. Fourth of July fireworks were in order; however, we knew from many years experience that the fog could crash our party. As we neared the city, the fog was thick and rolling in quickly. I rolled up my car window as the temperatures abruptly dropped and knew it was going to be another cold night. I found comfort knowing warmer weather is always just a short drive away.
If you are interested in kayaking on Tomales Bay contact:
Phone: 415-669-2600 or 1-888-546-2252
Email: info@BWKayak.com

For over 20 years Blue Water Kayak Company offers kayaking classes and tours and rentals.
To see what "pulsating fog" looks like be sure to visit San Francisco on July 4th!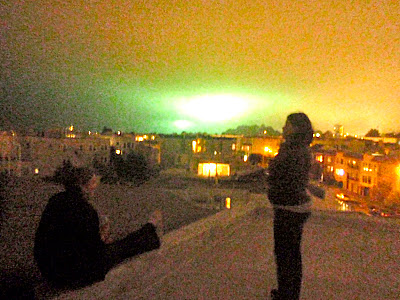 Tags: kayaking, San Francisco, Tomales Bay