Mexico
,
Reviews
,
Scuba Diving
— By
Kelly
on June 29, 2010 6:15 PM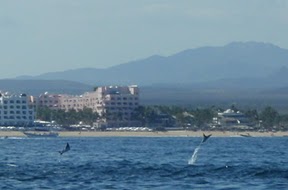 My eyes darted back and forth across the deep blue water, each time a little too late – catching only the ending splash. Mobula rays were putting on a show in the water off the coast of Cabo San Lucas, eliciting a chorus of "OOOHHS" and "AHHHHS" from the boats and jet skies that stopped to watch. With a great burst, a giant black ray launched itself high into the air, flapping its large pectoral fins in vain before belly flopping into the water with a splash.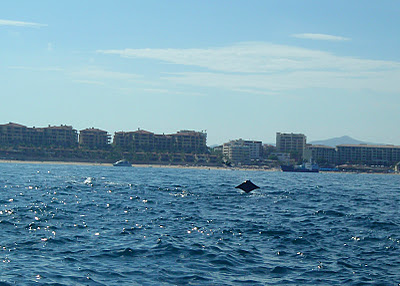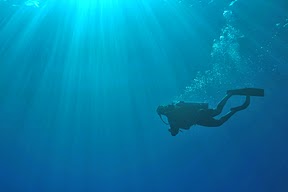 Minutes earlier I had been 60-feet under in the Sea of Cortez and I wanted nothing more than to dive back in and play with the rays! During the last dive I had exclaimed in excitement, almost dropping my regulator from my mouth when I noticed a squadron of diamond silhouettes above me, their bodies draped like a curtain over the sea. I have seen few underwater sights as impressive as these beautiful creatures gracefully gliding through the water. (Photo to the right by Amos Nachoum.)
Manta rays mysteriously disappeared from the area in 2002 and are only seen now in chance encounters a few times a year and are thought to migrate with the warm currents. Divers can see their relatives the mobula, spotted eagle, and cownose rays roaming the waters year round.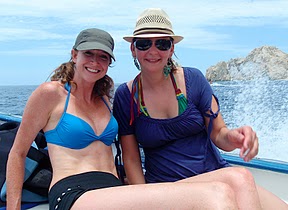 As we headed back to the marina, the warm breeze dried the salt on my face. I happily stretched out on the front of the boat soaking up the late afternoon sunshine, not wanting the day or our trip to come to an end. A four day vacation was way to short by my travel standards and I was having too much fun to consider the reality of another forty-hour work week.
This was my first trip to Mexico's Baja Peninsula and I was struck by the beauty of the desert dipping it's scorching hot toes into the cool blue sea. With three major ocean currents converging in one area, the Sea of Cortez is blessed with abundant marine life – called the "world's aquarium" by legendary diver Jacques Cousteau.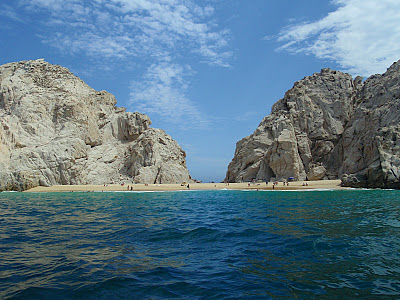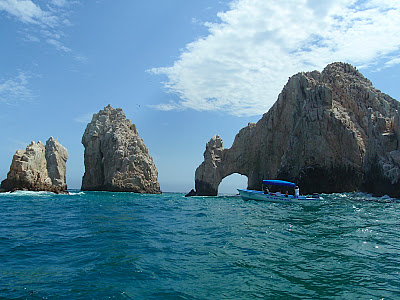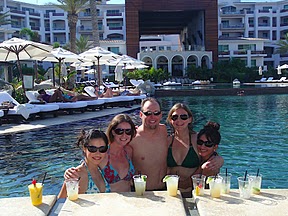 My friends were all laughing (jajaja) with the boat crew; everyone was in great spirits after a fun filled day in the ocean. I couldn't help but wonder what the MANTA dive team thought about our crazy group. I would imagine it's not everyday they meet a guy who travels with a posse of beautiful women! Amanda, Tanvi, Lillian and I joke that Jon is our Travel Husband ("TH"). Most would say he is a lucky guy but Jon will tell you the role of TH is overrated and he is definitely not getting the perks. His wives insist he is privy to invaluable insider knowledge of what women want but he just rolls his eyes at us every time.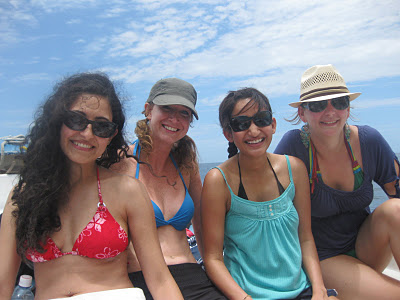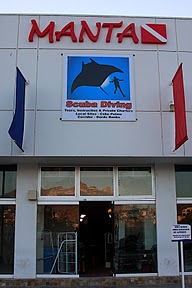 Jon, Tanvi, and I went diving with MANTA Scuba Dive, which was by far the best dive company I had yet to dive with. I had not been diving since my heart stopping experience in Indonesia in 2008 with the "cowboy guide" when I dove much deeper than the 12 meters (40 feet) my scuba certification allowed at the time. In Cabo I upgraded to PADI Open Water Certification level which allows me to now dive to 18 meters (60 feet).
Photo above by Amos Nachoum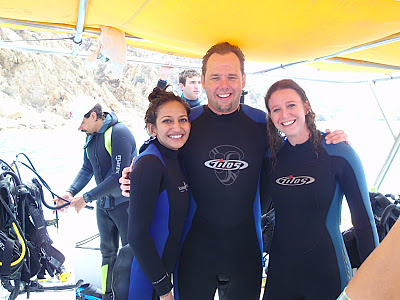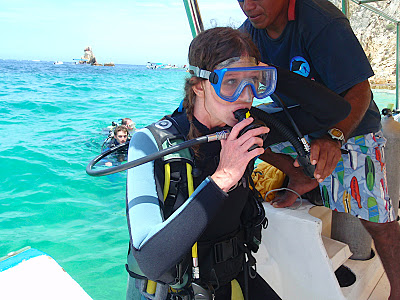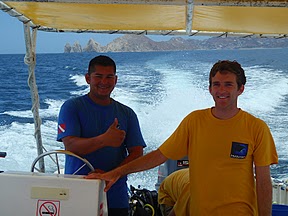 My MANTA dive instructor Dan takes his job very seriously and proved to be a patient teacher. Dan began diving when he was only twelve, when he was tossed into the Red Sea in Israel. Today he is a dive master with over 1000 dives under his belt. I immediately trusted Dan and we experienced many firsts together during our dives. I felt I was in good hands.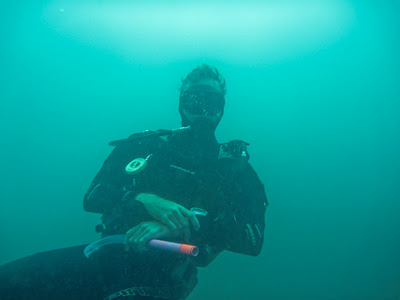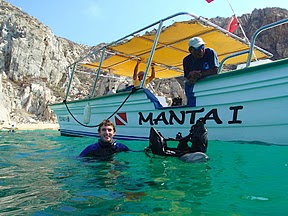 Dan taught Jon and me the additional skills we had to master for the certification. We practiced taking off our weight belts and gear underwater and then had to put back on without fail. We also practiced the "controlled emergency ascent" – the worse case scenario for a diver who has run out of air and their dive buddy is too far away to provide an alternate air source. I was very fearful of having to practice this skill in the ocean but Dan was calm and reassuring and gave me the confidence that I could AHHHHHH my way all the way to the top safely. He made me do the emergency accent three times from twenty feet until I was comfortable with this very critical survival skill.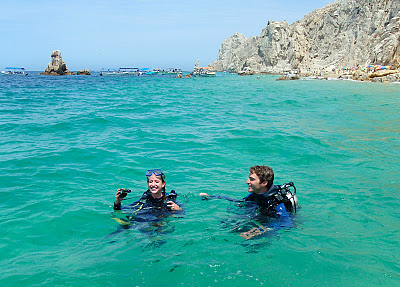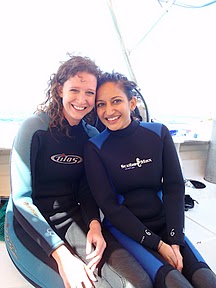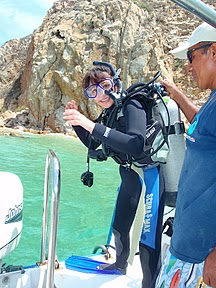 Tanvi also got certified for open water and had a great experience with her dive instructor … NAACCHHOOO!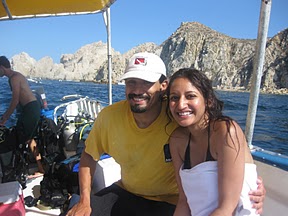 "Nacho was my fearless dive master for two days and made sure that I was able to safely and confidently complete all of the skills needed to become an Open Water Certified Diver. He was patient, hilarious and made the two day experience so much fun. Not only did I pass all of my skills, but I had so much fun doing it. Nacho is the BEST!!" – Tanvi Patel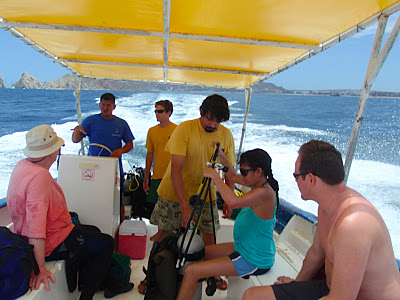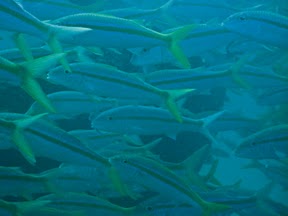 We dived locally at Pelican Rock where scorpion fish, guinea puffer fish, and moorish idol fish roamed the waters. We were engulfed by massive schools of Mexican goat fish, their small bodies striped in yellow, leaving me curious as to how they got their name. They swam around us as we did not exist despite my efforts to make eye contact. The most exciting sight was the spotting of two white tip reef sharks, one of which was peacefully sleeping on the ocean floor and the other swimming away from us as quickly as possible (as seen in video below.)
Photo above by Amos Nachoum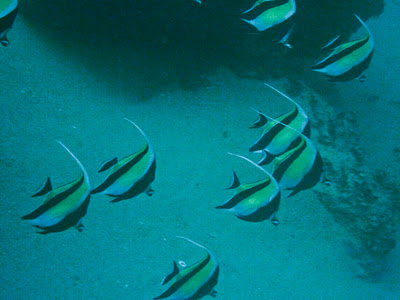 Photo above and below by Jon King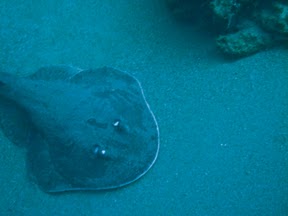 We went diving at North Wall where we hung out on the sandy bottom with a torpedo electric ray. I struggled with my buoyancy and worried about what hidden creatures I might accidentally step on buried in the sand. An eel emerged from behind the rocks hissing a warning to not get too close.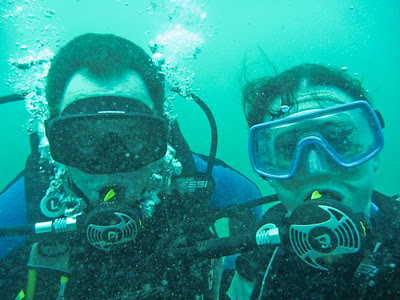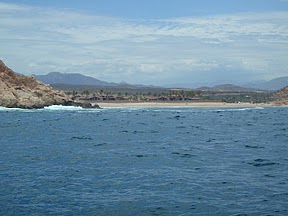 We dived at Santa Maria Bay, located in the Corridor region. Normally, the bay is considered calm, but the day we were there the currents were strong and the waves very choppy. It was a strange sensation to feel rolling waves while deep underwater. I felt exhausted from the constant struggle to stay on course and we were all left feeling very sea sick.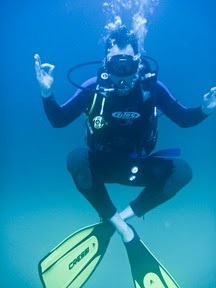 Perhaps the best known dives sites in the area are Cabo Pulmo and Gordo, the best time to dive is August-November with water temperatures a tempting 85 degrees. Cabo Pulmo National Marine Park is at the southern tip of Baja, just 60 miles northeast of Cabo San Lucas and is a sprawling marine protected area. The shallow bay gives way to one of three living reefs and the only hard coral reef in North America. The reef is known to be home to sea life such as whales, sharks, manta rays, sea turtles, sea lions and more than 256 species of fish. MANTA dive offers a dive package to Pulmo that includes the 2 hour boat ride to the site and includes three tank dives.
Diving Gordo involved more advanced conditions and the legendary sea mount of Gordo Banks lies at 115ft under the surface. Gordo is best known for schools of hammerhead sharks but turtles, rays and Whale sharks are occasionally seen as well. Advanced diver certification is required for the conditions and depth of this dive site.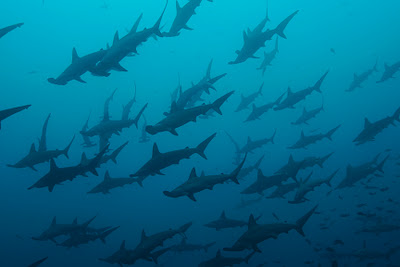 Photo above by Amos Nachoum.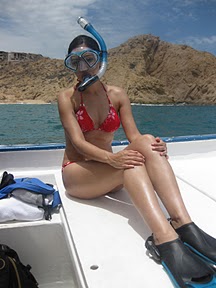 If you aren't a scuba diver, Cabo has many other fun activities to make your vacation enjoyable. While we were diving, Amanda and Lillian entertained themselves by snorkeling and jumping off tall rocks at Pelican Bay. The MANTA dive boat driver, Jamie, refuses to do the jump himself, but he was quick to encourage Amanda to jump off the rocks. She ended up jumping three times because Lillian and Jamie kept "missing the picture" and insisting they needed just one more jump.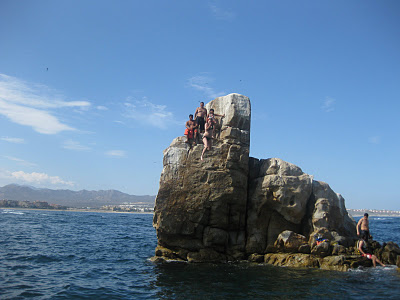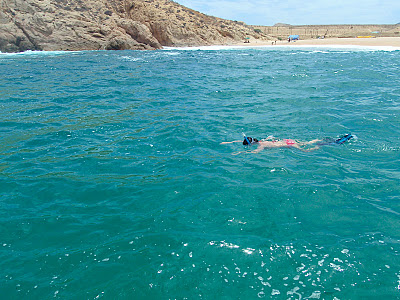 After each fun day out at sea we looked forward to hanging out at our luxurious resort. We stayed at Cabo Azul, located in San Jose del Cabo – quite a change from the hostels I usually stay in during my travels! The resort had three huge pools, all varying temperatures, hot tubs, swim up bars, hammocks, and huge rooms with private patios. We were all content spending a leisurely day in a bed in the pool as Miguel brought us tasty margaritas, chi chis and guacamole.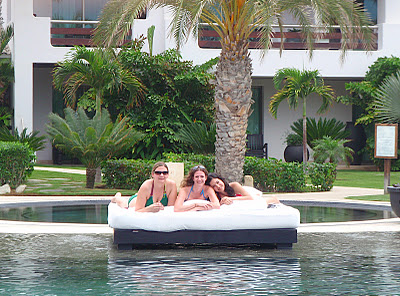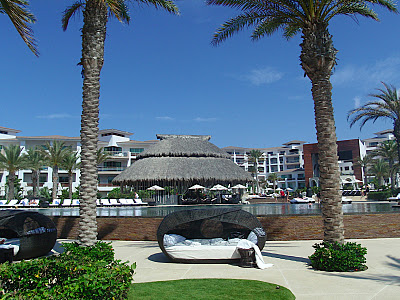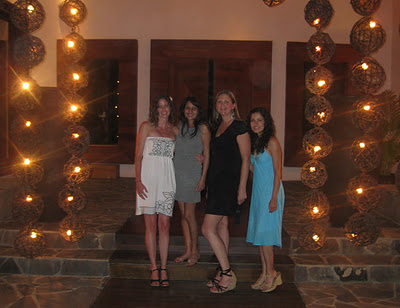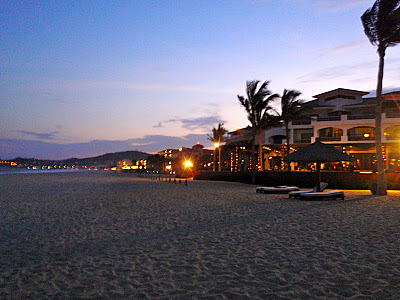 We cheers to a great trip with mucho cervezas and tequila at Cabo Wabo, dancing our last night away.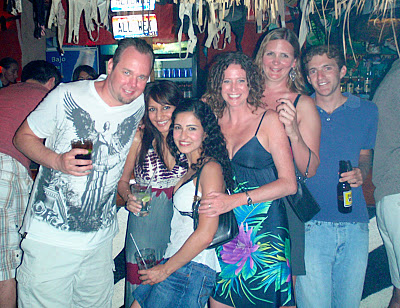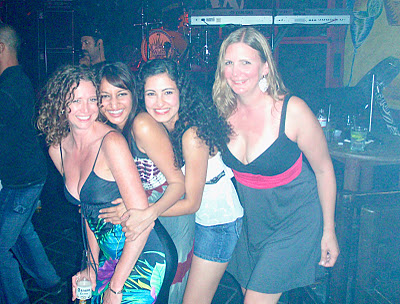 After such an amazing trip, I am already trying to find my way back to Cabo. I want to dive Pulmo and swim with the mantas again. Thanks MANTA Scuba Dive for an unforgettable dive experience!
Interested in diving in the Sea of Cortez?
Contact MANTA
Phone- 1-877-287-1120
Email: mantascuba@gmail.com
DIVE SHOP LOCATION: MAP
Blvd. Marina #7D Local 37 Int. Plaza Gali.
Col . Centro CP 23450 Cabo San Lucas, BCS
To see more photos from the trip CLICK HERE.
Watch the cool underwater video of our dives created by Jon King!
Tags: Baja, Cabo San Lucas, Mexico, scuba diving