Inspiration
,
World - other travel posts
— By
Kelly
on March 14, 2010 6:22 PM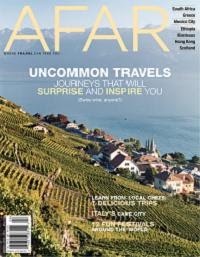 A new travel magazine recently launched in San Francisco.
AFAR is a different kind of travel magazine that guides and inspires those who travel the world seeking to connect with its people, experience their cultures, and understand their perspectives.
"Through my travels, I have learned that it is not the physical surroundings or the iconic sights that give a place meaning. It's the people and their stories that make each trip memorable. Afar will go beneath the surface of a place and offer readers the real experience of travel." Greg Sullivan, Afar Founder and CEO.

Get your free copy…but be warned, it will awaken the wanderlust within.
Tags: inspiration, Travel, travel publications