Australia
,
Inspiration
— By
Kelly
on February 25, 2010 9:15 PM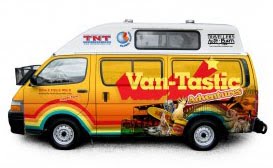 A chance to go back down under? The wanderlust in me reckons that would be
FAN-VAN-TASTIC!!!
Nicole and I have applied for the Van-Tastic Adventures contest sponsored by World Nomads Travel Insurance.
CHECK OUT OUR FANTASTIC VAN-TASTIC VIDEO!
Also, you can vote for our video through this link under the discussion tab.
If we are selected, my travel buddy and I will be road tripping together in the Van-Tastic van "Geoff" through Western Australia. I have backpacked through New South Wales, Queensland, Tasmania, Victoria, South Australia, and Northern Territory, and Australia Capital Territory but neither of us have ever been to the West!
Read about my previous Aussie Adventures!
We will go on an outback expedition in the Kimberley, ride camels on the beach in Broome, swim with the whale sharks, island hop, savor great wines in Swan Valley, explore the city of Perth and so much more!
Jealous??? Don't be! We promise to let you live vicariously through our blogs, videos and pod casts!
This is my chance to return to the country I love and complete my Aussie tour! I am also looking forward to traveling with Nicole again! We are great travel buddies with a history of getting into good trouble! We learned in SE Asia we need each other for balance, emergencies and laughs!
The 6 week road trip would start in Darwin and end in Perth. The goal is to have heaps of fun along the way while filming and documenting our sure to be crazy and entertaining adventures through blogs, podcasts, and video diaries. The perfect job for me and my fellow blogging buddy… Range Commander Voyages!
Van-Tastic Peeps PICK US! We're more fun than a van full of roos!!!
Tags: adventure, application video, extreme sports, Travel, Western Australia