Belgium
,
Europe
— By
Kelly
on May 19, 2009 11:59 PM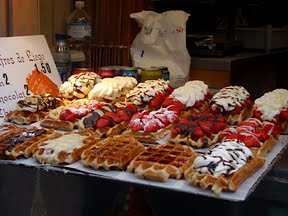 A short train ride later, we were in Belgium…one of the many reasons I love Europe! The land of great beer (the best in the world in my opinion) chocolate, fries, and waffles! What else does a curly girl need?
We began our exploration of Belgium in the capital city of Brussels. Brussels has grown from a 10th-century fortress town into a metropolis of more than one million inhabitants making it the largest city in Belgium. The city is also the administrative center for the European Union and NATO earning the city the title of the Capital of Europe. There is a coexistence of French and Flemish culture here. A big city feel with medieval streets, lively squares, impressive monuments dating back to the 10th century.
Grand Place, also known as Grote Market, is the central market square of Brussels. It is surrounded by guild houses, the city's Town Hall, several outdoor cafes, and lots of chocolate shops!
Manneken Pis is a famous Brussels landmark. It is a small bronze fountain sculpture depicting a naked little boy urinating into the fountain's basin. On many occasions the statue is dressed in costume. Apparently his wardrobe now consists of several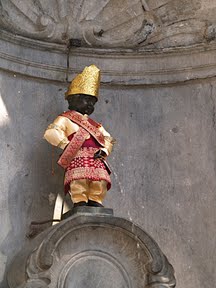 hundred different costumes. He was sporting Indonesian attire when we saw him. Also on occasion the statue is hooked up to a keg of beer. cups will be filled with the beer flowing from the statue and given out to anyone passing by. Unfortunately for us there was no beer flowing upon our visit!
*There are several legends behind the stature, but the most famous is the one about Duke Godfrey III of Leuven (who was only 2 years old). In 1142 his troops were battling against the troops of Berthouts. The troops put the infant lord in a basket and hung the basket in a tree to encourage them. From there, the boy urinated on the troops of the Berthouts, who eventually lost the battle. *Wikipedia.
The current statue is actually a copy as the original was kidnapped by French soldiers in the 18th Century.
Kapellekerk La Chapelle
The Palace of Justice functions as the supreme court of law for Belgium.
The Royal Palace is the official palace of the King of Belgians; however, the King does not actually live here.
To see more photos of Brussels CLICK HERE!
Tags: Belgium, Brussels, Europe