Europe
,
The Netherlands
— By
Kelly
on May 16, 2009 9:25 PM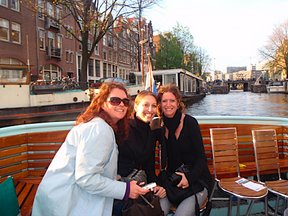 Two of my best girlfriends (and fellow curly girlies) decided to join me in the Netherlands for a mini Euro vacation! I have traveled with Mary and Aine in the past but this was the first time the three of us collectively traveled together and we had a blast! Us curly girls have to stick together as curly girls have way more fun! The three of us met up in Amsterdam where we got the party started!
Amsterdam is known for its famed tolerance for alternative lifestyles and ideas that even surpasses our beloved San Francisco! A fun city filled with nightlife, music, art, and a rich history.
What a beautiful city, a work of art in itself – a living monument with some of Europe's finest 17th and 18th-century architecture. We took a canal tour through the city taking in the beautiful Dutch architecture surrounding us! Amsterdam has 160 canals and over 1200 bridges!
Bikes are the most common form of transportation in the city but we chose to walk throughout the city seeing the main sights…Dam Square, the Jordan, the "coffee" shops, outdoor cafes and markets.
We visited the Anne Frank House which was a very moving experience. The Frank's were a Jewish family that went into hiding from 1942-1944 to escape deportation from the German's. I cannot imagine having to live in the dark, drafty house never being able to go outside or see the light of day. Perhaps the saddest part of the story is that the Frank family was captured only weeks before the liberation. Anne's Father, Otto, was the only member of the family that survived and after the war he published Anne's diary which was found among the rubble in the house.
We visited the Van Gogh and Rijksmuseum.
And thanks to good ole Facebook I was able to reconnect with my English friend Claire!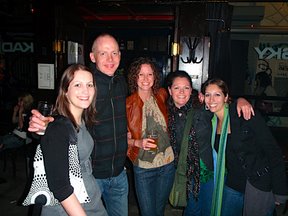 I met Claire while traveling alone through New Zealand and then we randomly ran into each other on the street in Bangkok last year. Ironically Claire was visiting Amsterdam too and when she saw my Facebook update that I was there too she sent me a message suggesting me meet up again! Claire and I are obviously destined to not only be friends but to travel together in as many countries as possible! We all had a fun night out in Amsterdam! We took a late night stroll through the Red Light District where I realized there literally were red lights a glow.
Amsterdam truly is a picturesque city…to see all of my photos from Amsterdam CLICK HERE!
Tags: Amsterdam, curly girls, Europe, friends, traveling with friends