Europe
,
Recipes
,
The Netherlands
— By
Kelly
on May 15, 2009 3:32 PM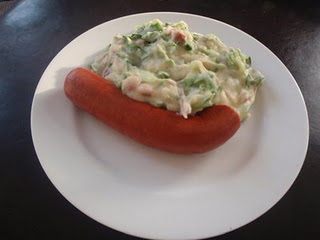 Stamppot or mash is a classic Dutch dish and a popular winter meal. My friend Evelien prepared Andijvie Stamppot for me during my stay with her in the Netherlands. Not only was the food delicious but super easy to make!
ANDIJVIE STAMPPOT
Ingredients:
3 lb potatoes, cut into chunks
14 oz endive, washed and chopped
1 x 12 oz smoked cooked sausage
7 oz bacon, cut into cubes
6 fl oz milk
2 oz butter
Salt and freshly ground black pepper
Pinch of nutmeg (optional)
Preparation:
Bring potatoes to a boil in salted water. Turn down heat and cook until soft, about 15-20 minutes.
Cook the bacon. Warm the sausage as per the instructions on the packaging.
Drain the potatoes. Warm the milk and butter in the saucepan, add the potatoes and mash until smooth.
Add the endive and stir into the mash until it is warm and wilted, about 5 minutes. Add salt and pepper to taste and a pinch of nutmeg (optional).
Mix the bacon into the mash and divide between plates. Place sausage on top of the mash.
Tags: Europe, food, recipe, The Netherlands