Africa
,
Australia
— By
Kelly
on January 13, 2009 5:06 AM
I recently submitted an essay for the G'Day USA story contest. Contestants were asked to tell an Australian travel story or experience in 200 words or less (very hard task!) for a chance to win tickets to the G'Day USA 2009 New York Gala Ball and have your story published in the New York Times. The winner was selected on January 8th, so I am assuming I did not win. I thought I would at least publish my essay on my blog although the Times would have been cooler!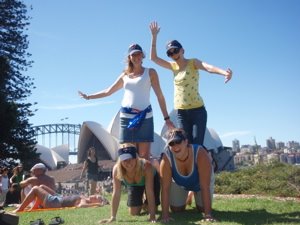 Australia Day… as celebrated by three Americans, a British girl, and an Aussie bloke. The five chill out on a beautiful day in Sydney's Botanical Gardens with an esky and a box of goon. The view of the harbour and Opera House is postcard perfect.
To the Brit's horror, the Americans decide to pose for a photo in a pyramid formation. She sighs with embarrassment and grudgingly mounts the top of the pyramid but refuses to smile for the camera.
The Australian seems very entertained by the foreigners. The girls love to hear him talk, as his accent is very sexy but somewhat difficult to understand at times.
"Do you reckon I can eat this entire pizza myself?" asks the skinny America girl who has noticed everything is "mini-sized" compared to where she comes from.
We all complain to the Aussie about the annoying and aggressive flies that inhabit his country. "Can't you get your flies under control?" asks the Brit.
Despite our individual differences we unanimously agree that Sydney is perhaps the most beautiful city in the world. I had heaps of fun that day and celebrated OZ for the beautiful country that I have come to love.
Tags: Travel, travel publications, travel writing, writing