RTW: 2007-2008
,
Southeast Asia
,
Vietnam
— By
Kelly
on September 22, 2008 11:50 AM
We ended our four day motorbike tour in Hoi An, a small port town in the middle of Vietnam. Hoi An is a very cute and charming town with a pretty river front, and quaint streets lit by brightly colored lanterns showing off the towns French influenced architecture. I became very excited as we whizzed by many cute shops displaying handmade crafts, and beautiful clothes and shoes! Perhaps Hoi An is best known for it's many tailors who produce made-to-measure clothes for a fraction of the western price.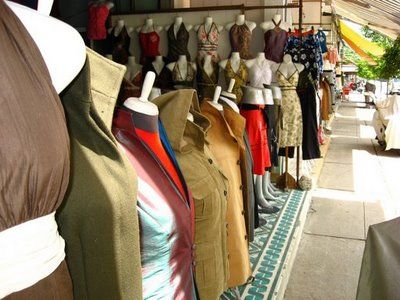 Yes, Hoi An is indeed a shoppers paradise but is also an indecisive person's worst nightmare! I being an avid shopper immediately loved Hoi An and thought I was in heaven. You have the luxury of knowing that whatever you buy will fit you perfectly, and that every detail will be as you wish. The hardest part is picking the color and my indecisive side reared its ugly head! Once I saw all of the clothes, jackets, and shoes to pick from I felt overwhelmed by the options! When I finally decided on a piece of clothing or shoe I then had to pick the fabric, color, type of heel, length, etc. It made my head spin!
SHOES, SHOES, SHOES!!!!
Shoes make me SO happy and seeing all the cute shoes made me miss all my shoes that I have in storage back home! I can't believe i have been surviving with only three pairs of shoes!
I knew that I wanted tall boots as I can never find boots in stores that fit my skinny legs! I also have issues with jackets as I am thin but with long arms so I planned to buy a jacket; however, I left with many! Of course I then saw beautiful dresses, shirts, skirts, and pants I wanted too! I even bought a suit for the job interview that I will have to go to one of these days!
Where my boots were made…

Where my clothes were made…
Danny, like most guys, entered a store without being distracted knowing, exactly what he came there to buy. He bought three suits, a wool jacket, five dress shirts, 5 ties, and two pairs of dress shoes with matching belts. I noted and appreciated his patience as I fretted about what to buy and what color it should be!
If I were to return to Hoi An again one day (which I admit I have already gone back a second time on this trip!) I would come prepared with a knowledge of specifically what I wanted and I would bring pictures from a magazine. Otherwise, it is too easy to want everything you see and extremely difficult to narrow down all the choices!
Most of our time in Hoi An was spent going back and forth between the shops for fittings. It was quite exhausting! We left Hoi An with an additional bag that weighed 30 kilo!
From Hoi An we took a cheap Vietnam Air flight to the capital city of Hanoi.
To see my photos from Hoi An CLICK HERE.
Tags: Hoi An, shopping, southeast asia, Vietnam